A birthday party held in a park can be so much fun! Parks contain everything kids love such as exciting play equipment and plenty of space to run around on, plus a party in a park can be put together on the smallest budget!
Fenced Parks for Birthday Parties
Planning a party for smaller children? These fenced playground options will help keep your little party goers contained.
Optus Stadium Sensory Playground
33 Victoria Park Drive, Burswood
A fenced playground with lots to play on, a barbecue area and shade. The kids will be kept busy for a few hours playing and exploring!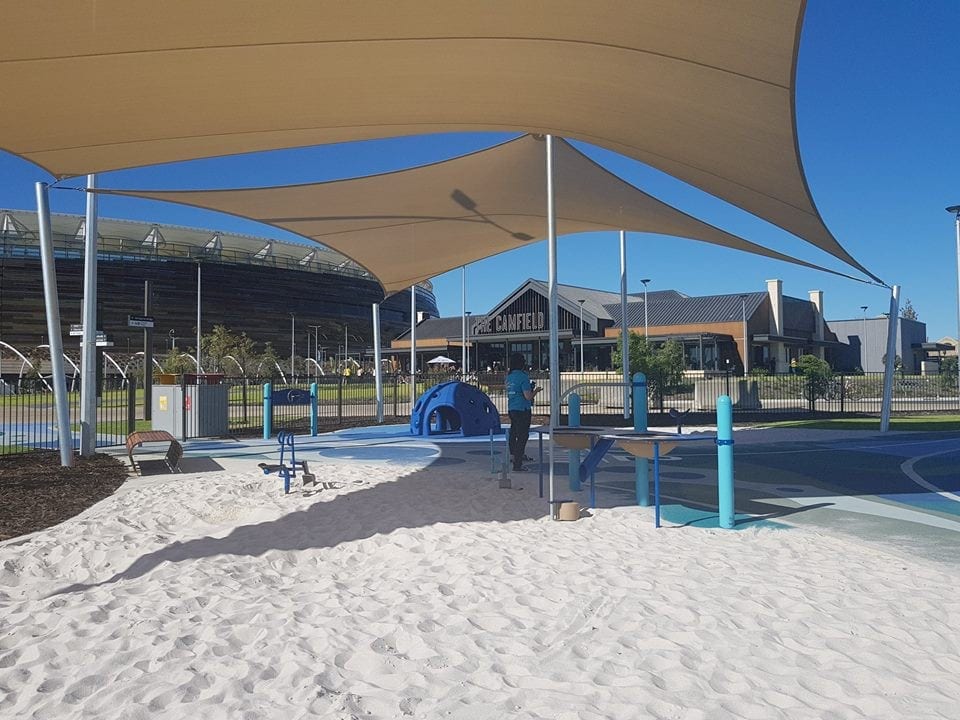 Yokine Play Space – Yokine Reserve
100 Wordsworth Avenue, Yokine
This playground is fully fenced and double gated. It features two picnic areas within the fenced area, one with a barbecue, as well as a mix of play equipment to suit most ages. With a water-play section, this one will be a winner on those hot summer days!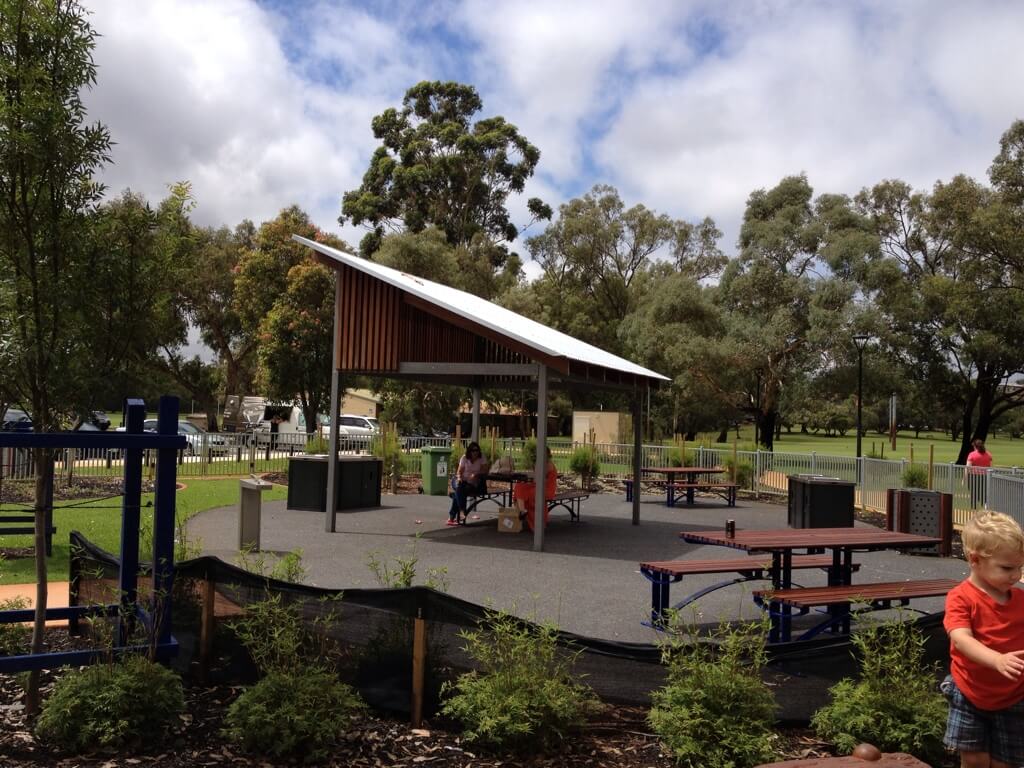 Bibra Lake Regional Playground
Progress Drive, Bibra Lake
Equipped with a shaded barbecue and picnic area, this all-abilities playground has something to suit everyone! Kids will love exploring the many climbing areas and the skywalk slide, splashing in the water-play sprinklers, and visiting with the giant turtles.
Ivey Watson Playground
Kulunga Grove, Kings Park, West Perth
Ivey Watson Playground has loads of play equipment suitable for kids under 5. There is a large undercover area for hire as well as gazebos and a barbecue area just outside the fenced section.
Somerly Park
Celebration Turn, Clarkson
This shaded park has a barbecue area with picnic tables adjacent to the playground. The play area is well away from the road, and has play equipment and a large grassed area for kids to play on.
Tomato Lake Reserve
Oates Street, Kewdale
Tomato Lake Reserve has plenty of equipment to suit toddlers, as well as older siblings. There are barbecues and picnic tables, and lots of parking. There's a café available later in the week if you need a cool drink or a coffee.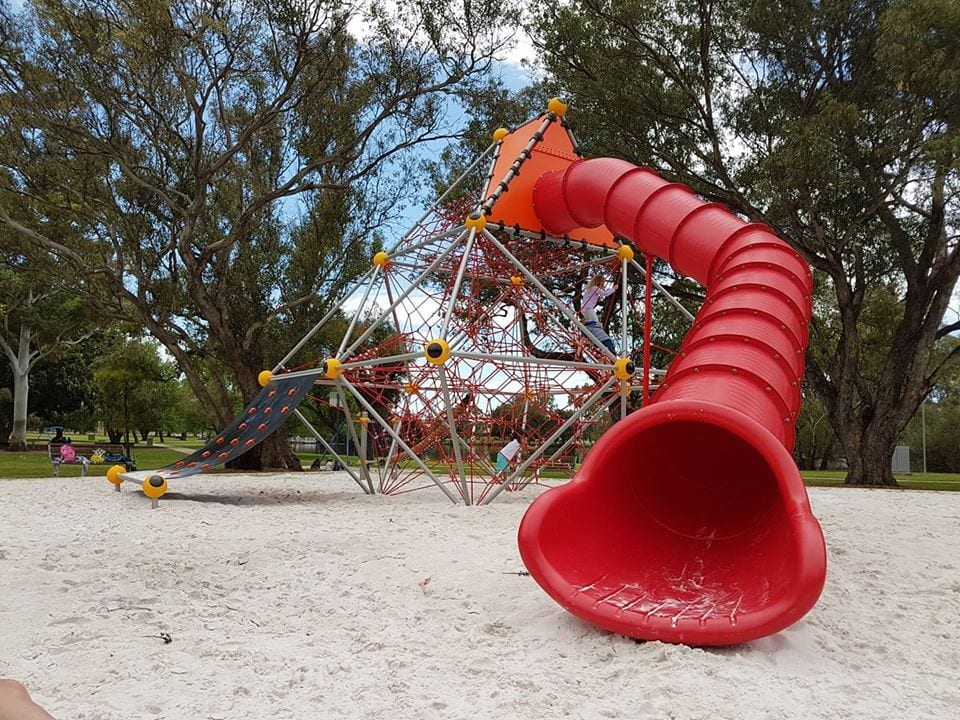 Rossiter Pavilion and Playing Fields
Tuberose Road, Piara Waters
Pack your sand play toys! Rossiter Pavilion has a great sandpit with a mud kitchen, nature play and a play structure. There is a great barbecue area with picnic tables and plenty of space to spread out a picnic blanket.
Shorehaven Boulevard Playground
Forestay Turn, Alkimos
This shaded park has lots to offer for toddlers and pre-schoolers. Bring down some sand toys for extra fun! There is a covered barbecue area with picnic tables and plenty of grassed area to spread out a picnic rug.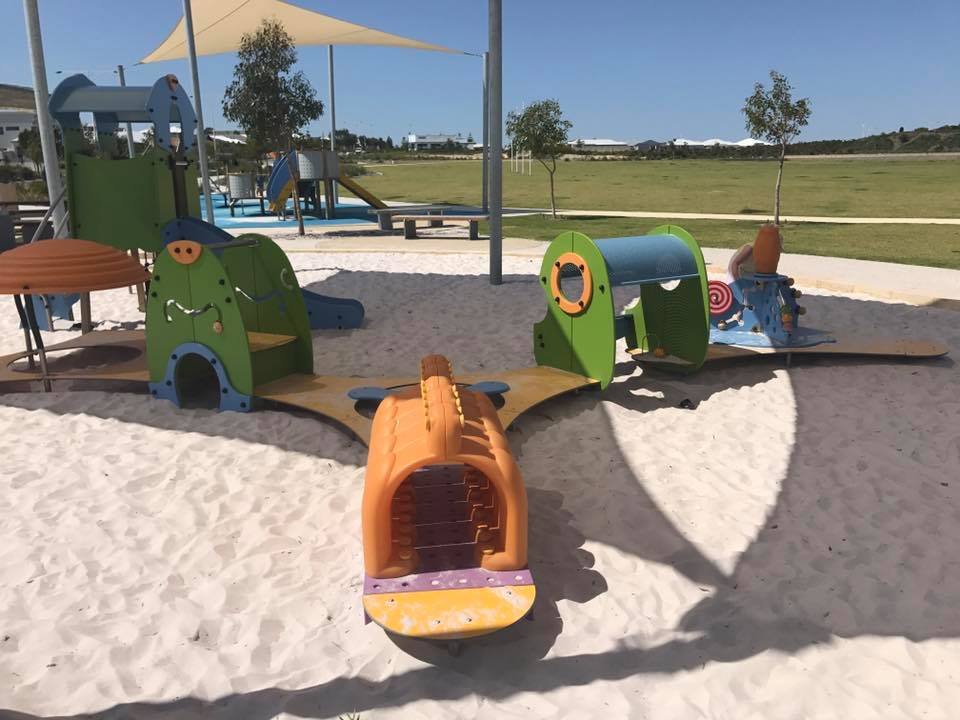 Sea Themed Parks for birthday parties
Are you planning a pirate, mermaid or ocean themed party? Don't walk the plank. Check out these sea themed parks.
Shipwreck Park, Sienna Wood
Corner of Forrest Road and Eleventh Road, Hilbert
Fly your pirate flag and pack the esky for a barbecue or a picnic at Shipwreck Park. The kids will enjoy exploring the pirate ship, zipping along the flying fox or playing in the little creek water-play section.
McIntyre Park
McIntyre Avenue, Burns Beach
McIntyre Park features a nautical themed playground with seagulls and shipwreck play equipment and shaded picnic areas.
Heath Park, Amberton Scooter and Pirate Park
Cinnabar Drive, Eglinton
Pack your scooters and a picnic for birthday parties at Heath Park. There are shaded picnic areas with barbecues, and lots for kids to climb, including a wooden pirate ship.
Mullaloo Beach Playground
Mullaloo Drive, Mullaloo
This playground close to the beach features two separate playgrounds, one with a ship theme. It is close to Dome Café and a drive through Coffee Kiosk, and has lots of shaded picnic shelters and barbecues.
Train or Car Themed Parks for birthday parties
Train fans and little rev heads will love partying at these parks!
Morgan John Morgan Reserve
Corner of Hardey Road and Glenway Parade, Glen Forrest
Known locally as The Train Park, Morgan John Morgan Reserve features a life size replica train with a large sand pit and play frame. There are shaded picnic tables and barbecues.
Neil Hawkins Park
200 Boas Avenue, Joondalup
Neil Hawkins Park is perfect for little children, with a miniature train to climb and play on, and three barbecues and seven picnic stations to choose from.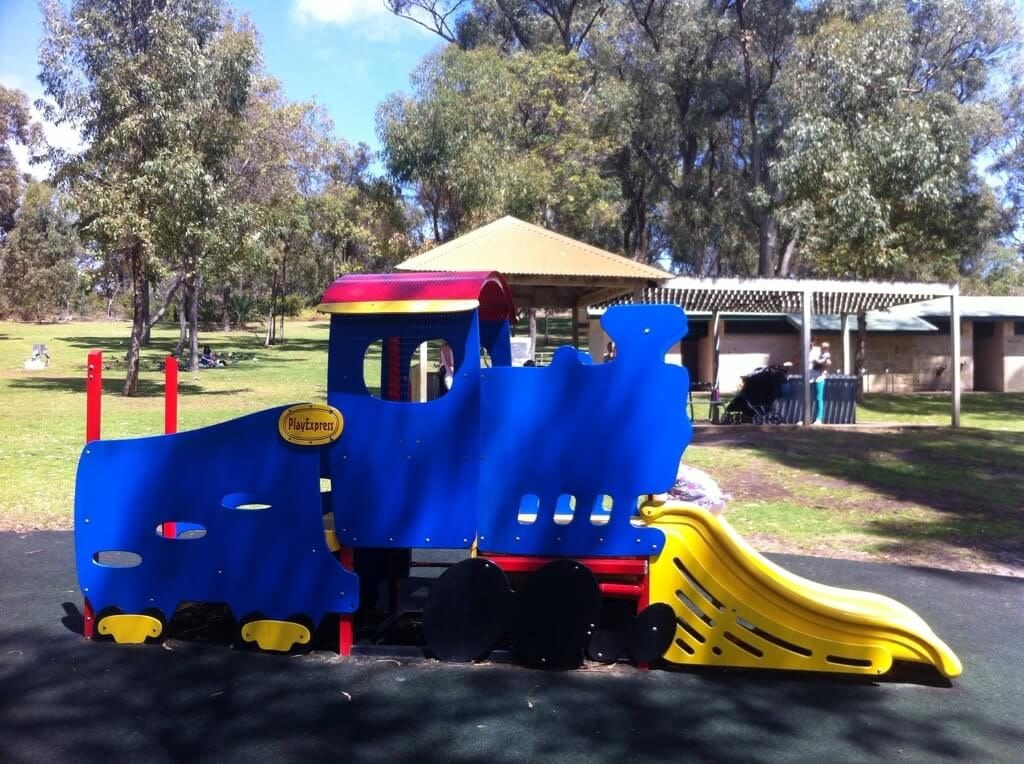 Shepherds Bush Park
Barriedale Road, Kingsley
Pack your scooters and bikes for a fun-filled party on the road-like scooter track at Shepherds Bush. There is also a jump track for bigger kids, and some traditional-style play equipment, along with a covered barbecue area.
Dinosaur/Adventure Themed Parks for birthday parties
Is your child the adventurous type obsessed with Jurassic Park? Consider these parks for a themed party they will love.
Vale Adventure Park
Egerton Drive, Aveley
Vale Adventure Park is packed with fun, including fossils to hunt in the sandpit. There are covered tables and barbecues, and an IGA close by if you need supplies.
Jungle Park Whiteman Edge
Corner of Glouster Approach and Everglades Avenue, Brabham
Jungle Park is a playground packed with adventurous fun! It features giant dinosaur footprints and lots to climb and explore, with covered picnic tables and barbecues available for get togethers.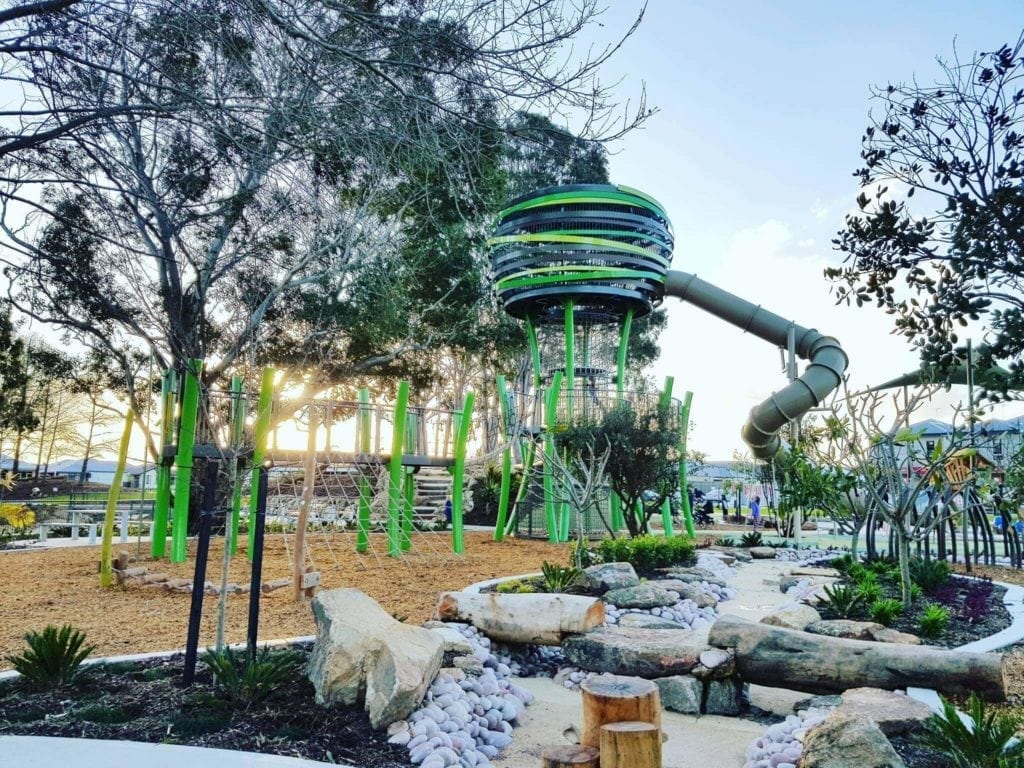 Woodbridge Riverside Play Space
First Avenue, Woodbridge
In addition to being a great park for nautical themed parties, Woodbridge Riverside Play Space also features dinosaur bones just waiting to be discovered.
Synergy Parklands, Kings Park
May Drive, Kings Park, West Perth
Featuring a two-tiered fort and large scale dinosaur and extinct Australian animal replicas, this park will be a hit with any dino fan! There are plenty of barbecues and open space for friends and family to gather together and celebrate.
Faulkner Park
Progress Way, Cloverdale
This exciting, gated park has something to keep kids of all ages busy! It features a large volcano structure, turtles, tiki statues, a pirate ship and lots more. Perfect for a big adventure party!
Kingsway Regional Playground
Spectator Drive, Madeley
Kingsway Regional Playground is a great naturally shaded park for kids of all ages, and features a dinosaur statue, dino footprints and a sandpit with a dinosaur fossil to dig up!
Splishy Splashy Water Playgrounds for Birthday Parties
Pack your swimmers and a towel and get ready to party at these water play parks!
Kwinana Adventure Park
Walgreen Crescent, Calista
If you're looking for that's accessible to all ages and abilities, and includes water-play, this is the one for you! Kwinana Adventure Park features a big splash pad, nature-play, loads of equipment to play on, and an amazing picnic shelter to hire which includes kitchenette with a fridge, microwave and sink.
Kinkuna Adventure Park
Revolution Avenue, Eglinton
Kinkuna Adventure Park has a splash pad with jets and sprayers that the kids will love! The park is packed with swings, climbing frames and has a large picnic area to host your party.
Rainbow Waters Playground
Library Avenue, Ellenbrook
Rainbow Waters is an award-winning free to use water park with fifteen interactive water features, including fountains, bubble jets and spray guns.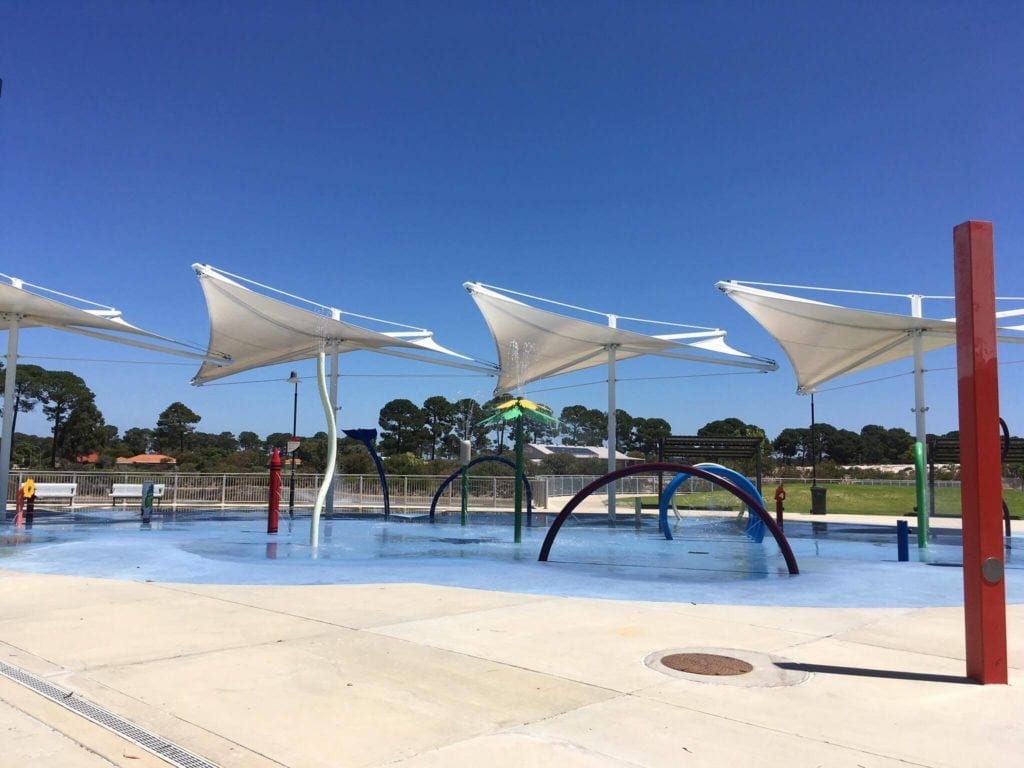 Whiteman Park Water Playground
Lord Street, Whiteman
This water playground features as 30cm deep paddling pool with squirty water jets which kids will love!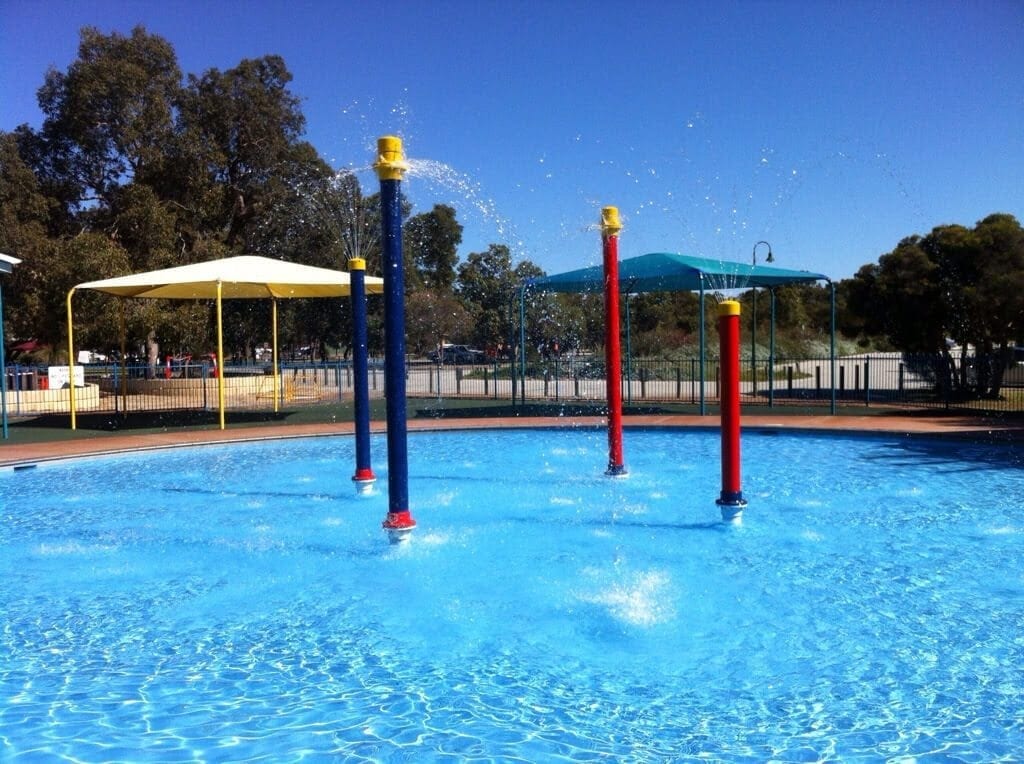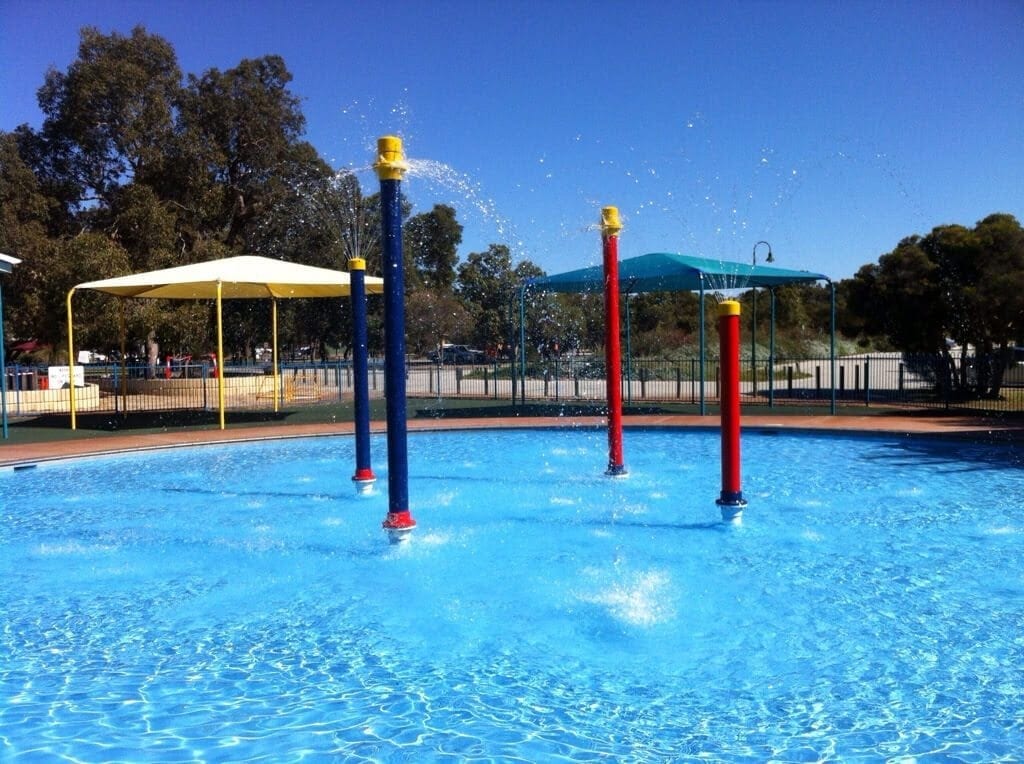 Hyde Park Water Playground
Vincent Street, North Perth
This shaded splash pad has lots of water jets, spray guns and tipping buckets to keep the kids amused. Barbecues are closely adjacent and a playground is close by, also in Hyde Park.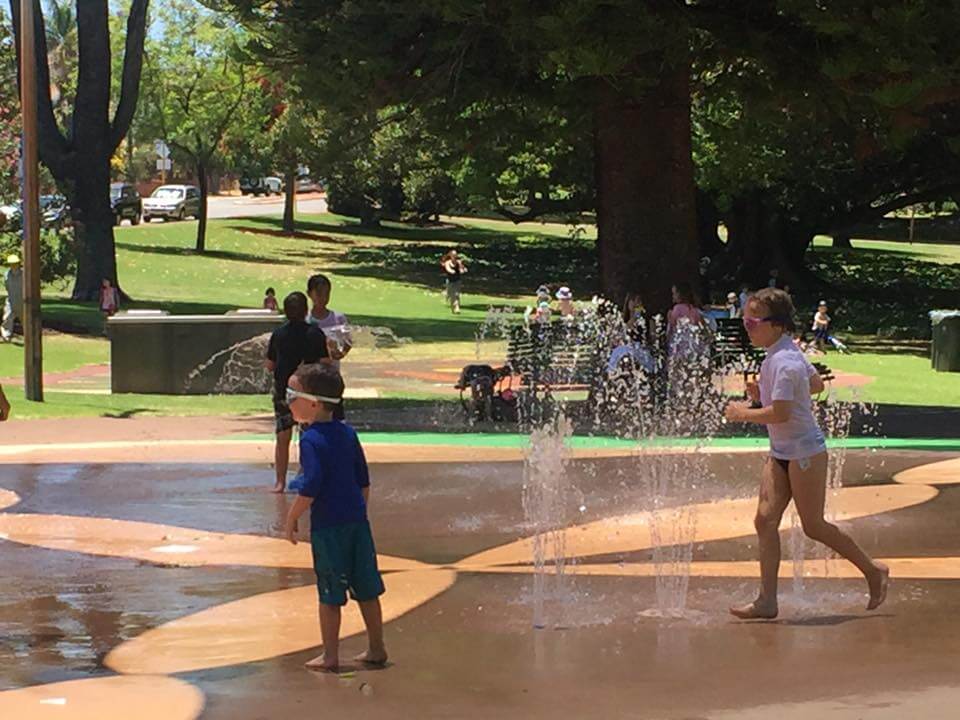 Beach-side Parties for Birthday Parties
If you're planning a party around a play at the park and a splash in the ocean, these parks are your best bet.
Floreat Beach Playground
Challenger Parade, City Beach
This lovely little park adjacent to the beach has a large green area with several picnic shelters and a playground with traditional play equipment and water-play.
Hillarys Boat Harbour Playground
Southside Drive, Hillarys
Hillarys Boat Harbour has one of the best beaches for kids, with a calm shallow beach with a small playground. There are grassed areas to spread out a picnic rug, with shops close by in the shopping precinct on the boardwalk for a coffee or ice cream.
Coogee Beach Playground
Poore Grove, Munster
This small playground with a nautical theme close to the beach would be perfect for a casual birthday barbecue or picnic.
North CY O'Connor Beach Playground
Rollinson Road, North Coogee
A fun nautical themed playground with a large grassed area perfect for a picnic by the beach, this park is dog friendly and is located adjacent to dog friendly beaches.
South Beach Playground
Ocean Road, South Fremantle
With a playground perfect for little pirate lovers, this park has grassed area and barbecues with covered gazebos, all walking distance to the beach.
Burns Beach Foreshore Playground
Beachside Drive, Burns Beach
This park features a playground, barbecues and a large grassed area. Head down early to grab a spot for your next party!
Watermans Bay Playground
West Coast Highway, Watermans Bay
This party friendly park close to the beach features barbecues and picnic tables and a fully fenced playground with a grassy area.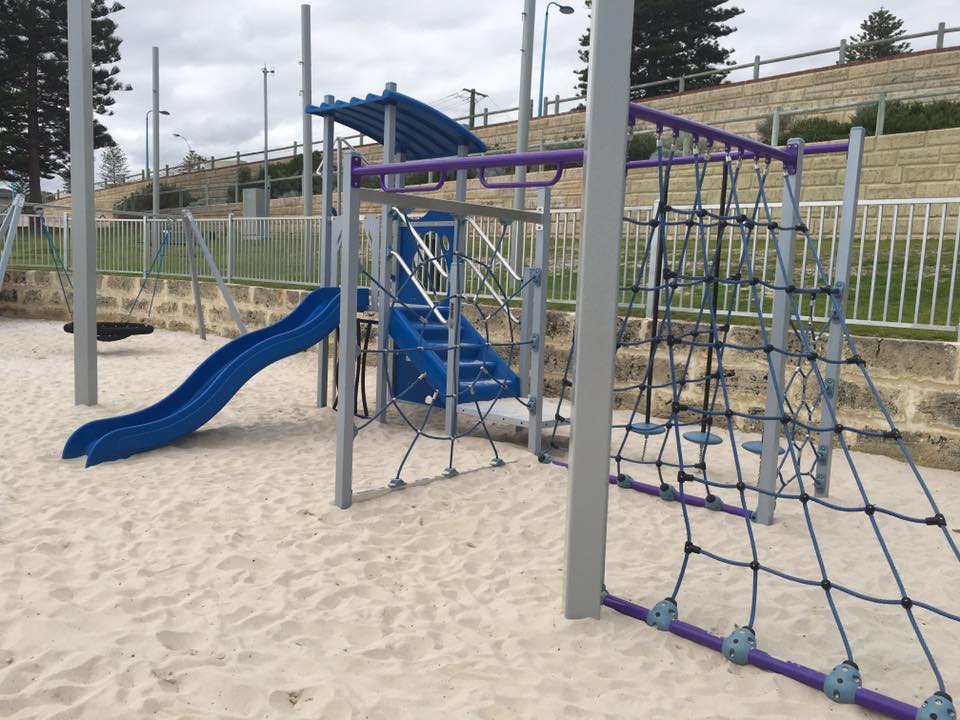 Superhero Themed Parks for Birthday Parties
It's time to be a hero! Your little Batman or Spiderman will love partying at these parks.
Escarpment Park
Bristlebird Circuit, Alkimos
Little Spiderman fans will love this park packed with climbing ropes, swings and a flying fox that is perfect for a birthday adventure! Set up under a covered picnic table or throw a rug down on the grass.
Millet Park
Grant Street, Innaloo
Known locally as "Spiderman Park", this playground with a huge rope web will be a big hit with Spiderman fans. There's a smaller playground for toddlers, a large grassed area and barbecues with picnic tables.
Crimea Skate Park and Playground
139 Crimea Street, Morley
A playground full of climbing webs and an adventurous skate park for bigger kids is sure to be a winner! Pack a picnic lunch and set up under one of the covered picnic tables.
Enright Reserve Playground
Corner of Wilkies Street & Ingram Street, Hamilton Hill
An adventurous playground fit for a superhero, full of climbing webs, balancing logs and tunnels. Set up your party under the covered picnic table area or throw down a picnic rug.
McDougall Park
20 Clydesdale Street, Como
Little superheroes will love zipping along the flying fox, climbing the many spiderman ropes and webs. The park has a covered picnic area and barbecues, and plenty of grassed area to throw down a picnic rug.
Meadow Springs Quarry Adventure Park
Grandmere Parade, Meadow Springs
This adventure park has something for superheroes of every age! There is a shaded, grassy barbecue area at the top of the park, and two playground Find out more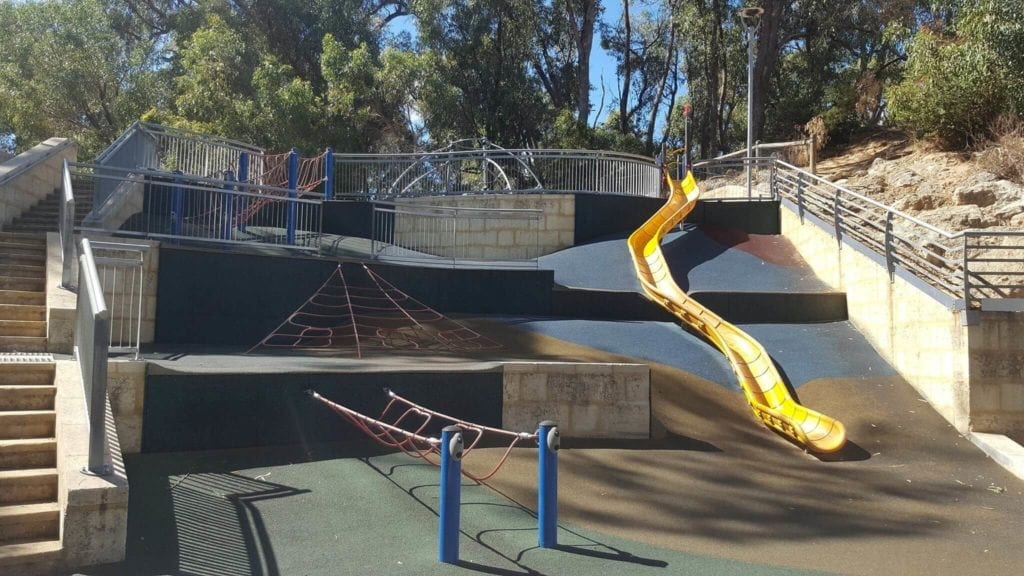 Cockburn ARC Playground
Midgegooroo Avenue, Cockburn Central
A perfect playground for adventurous kids, this park is packed with climbing ropes big and tall, tunnels and a rock climbing wall. There is all abilities access, covered picnic tables and free barbecues.
Riverside Parties for Birthday Parties
Breezy locations close to the water that are perfect for relaxed kids parties.
Keanes Point Playground
Lilla Street, Peppermint Grove
A riverside playground with play equipment for kids of all ages, this park has picnic tables, barbecues and plenty of space to spread out a picnic rug. A café is located close by, and don't forget your swimmers if you're planning on paddling in the calm, shallow water.
Sunset Heritage Precinct
80 Birdwood Parade, Dalkeith
This naturally shaded nature play park overlooks the river. It includes a treehouse and lots to climb, and plenty of grassed area to kick a ball or lay out a picnic rug. A semi-covered picnic area with barbecue is available a short walk from the playground.
Jo Wheatley All-Abilities Play Space
The Esplanade, Dalkeith
With a huge new all-abilities playground, this park is sure to have something for everyone. It's located close to the river, has picnic tables and lots of shade. New barbecues are slated to be installed soon.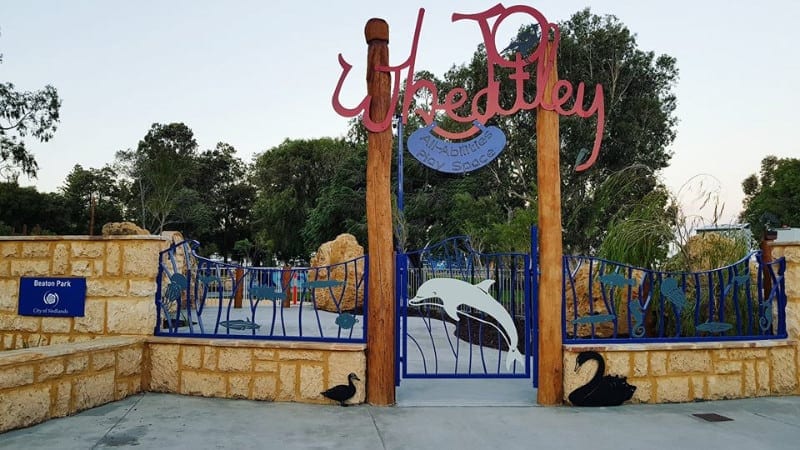 Bayswater Riverside Gardens
Milne Street, Bayswater
This park has a fully fenced playground with equipment suitable for toddlers to tweens. There are picnic tables and barbecues, and a gazebo for hire, and easy access to the river for a paddle. Don't forget your swimmers!
Bicton Quarantine Park
Phipps Street, Bicton
Pack your swimmers! This lovely naturally shaded playground has a path leading down to the river with shallow water perfect for a paddle. There is a fenced playground, plenty of grass to lay out a picnic rug and barbecues with picnic tables nearby.
John Tonkin Reserve
110 Riverside Road, East Fremantle
This lovely shady park has easy access to shallow waters for paddling and a great kids playground suitable for most ages. Covered picnic tables and barbecues are located nearby, and a café is adjacent if you need a cool drink or caffeine hit.
Have we missed your favourite park to hold a party? Tell us about it in the comments below
Find more playgrounds in Perth