The Jo Wheatley All Abilities Play Space is an amazing
park purpose built for all ages and abilities. Carefully built around and under existing trees, covering 10,000sq m with wheelchair access throughout, a sensory garden, flying fox, climbing obstacles, slides, swings, picnic areas, water play, toilet facilities and fully fenced… it certainly ticks all the boxes!!!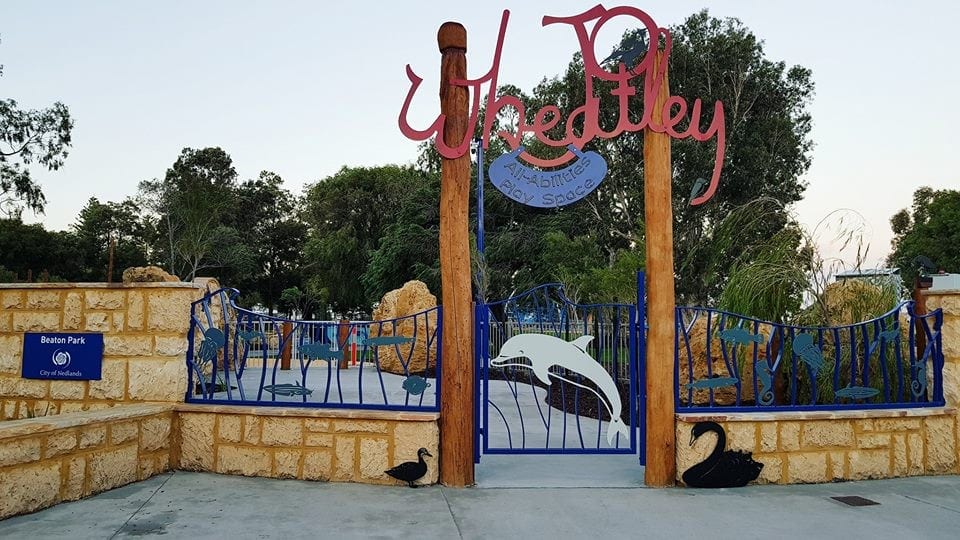 The main wooden structure has ramp and stair access, decks, two slides, and a balancing beam. Underneath there is a cubby house with a shop window and fun coloured glass blocks.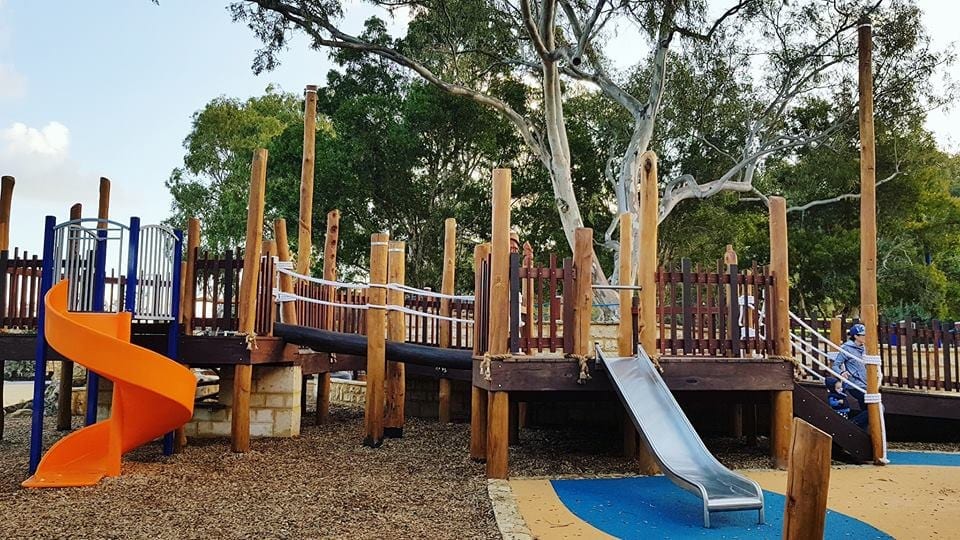 There is a nature play area that backs onto the wooden structure, it is step up like an obstacle course. Miss 7 loved this space, timing herself as she swung across the monkey bars, leapt and stepped across logs, followed a rope and raced down balancing beams.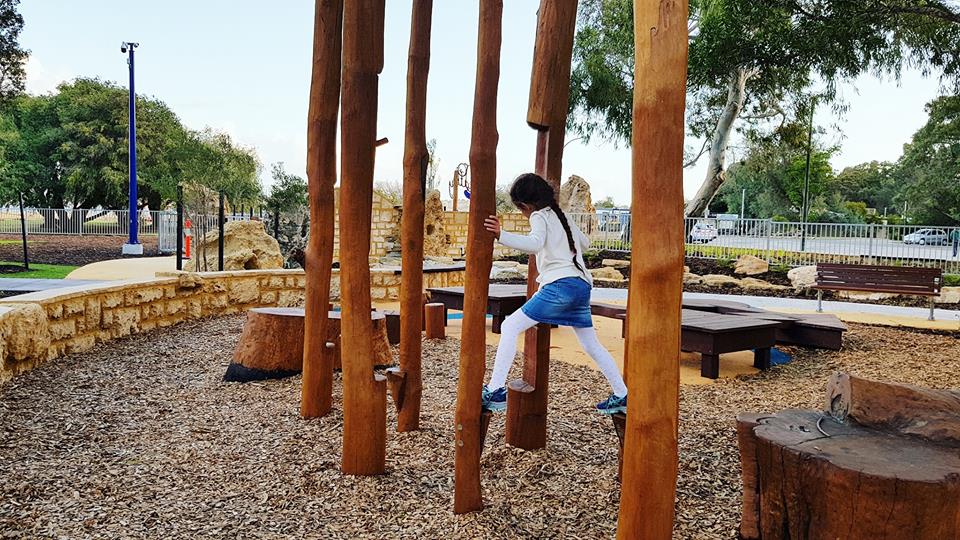 The water and sand play area was very popular with my 2 year old… even on a freezing cold day. This area is tucked away in the corner, so unless your child has visited before it is easy enough to keep them away from this space (clean and dry). The water play is on a limestone table, it is the perfect height for small children to stand and play, although my toddler insisted on climbing on top of the table, following and jumping in the paths of water. The water overflows into a large sandpit, children can introduce sand onto the table to change the direction and flow of the water.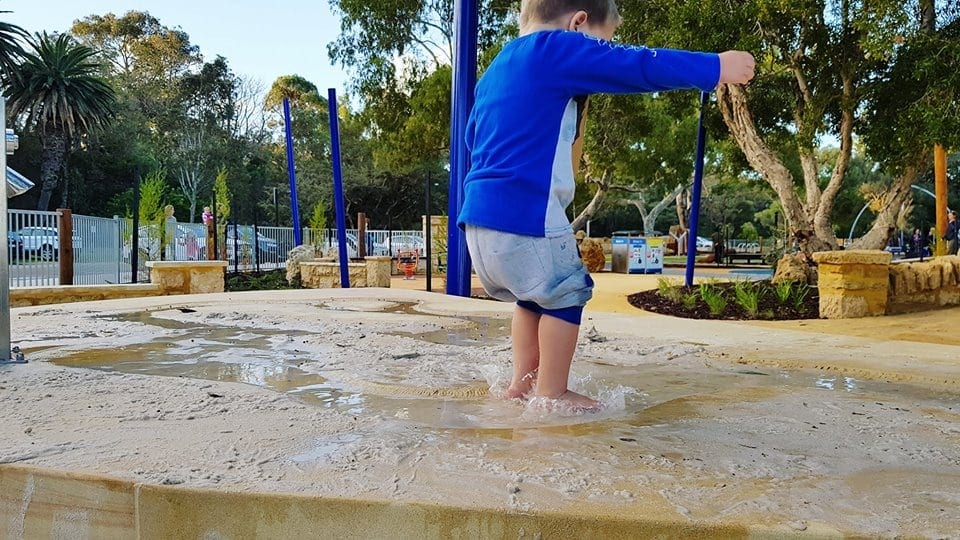 The games area is fantastic! There are two ping pong tables, when we visited there were bats and balls available but I can imagine it won't be long until they are lost so it might be best to bring your own equipment. Two funnel ball activities, I loved the idea of having them at different heights making the game inclusive for children of different ages and abilities. To play, toss the ball into the mouth of the funnel and wait for it to exit, each exit hole is marked with a point value. Sensory challenges on the floor to encourage kids to challenge themselves and help develop key gross motor skills while having fun.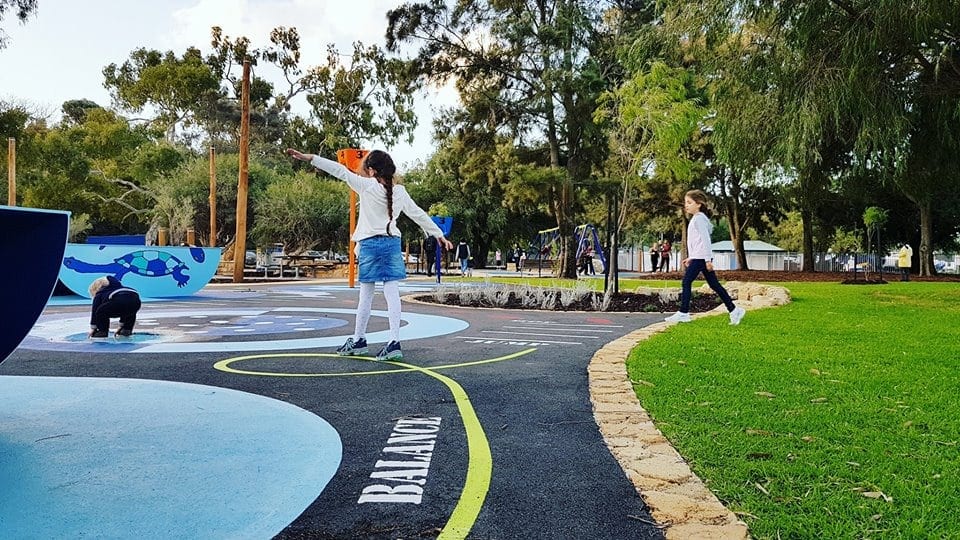 There are loads of swings, a double toddler (perfect if you have twins or little ones close in age), two regular swings, two bright orange upright boat seat swings designed for children who require additional support, a bird's nest swing and parent + child swing.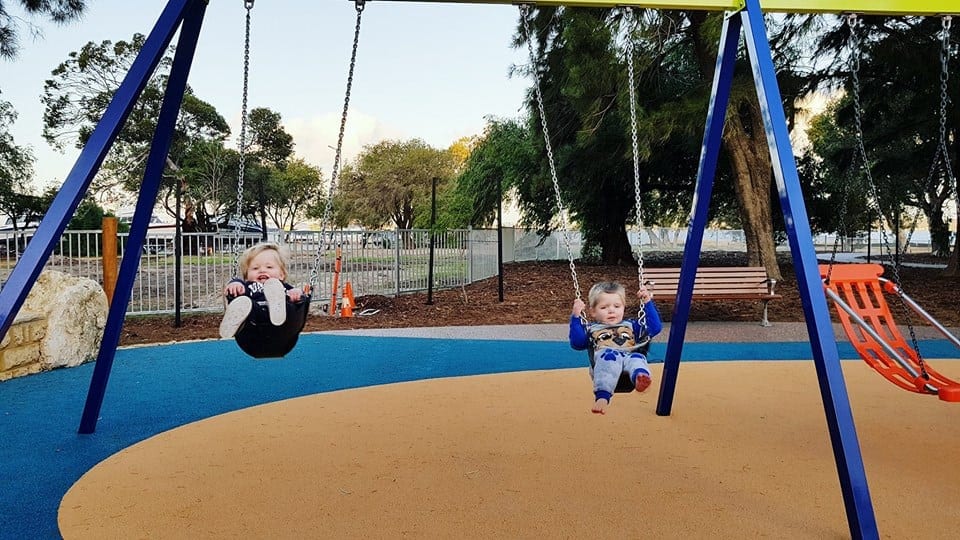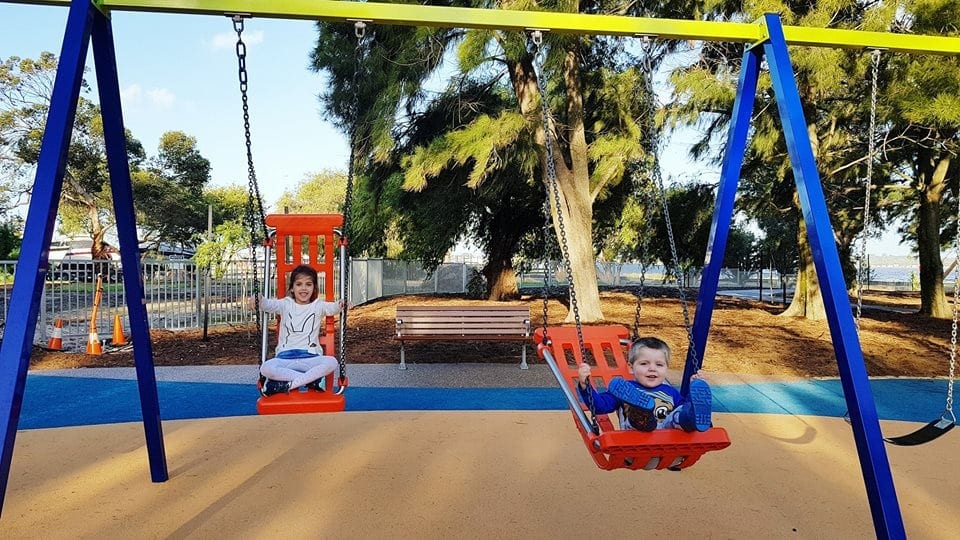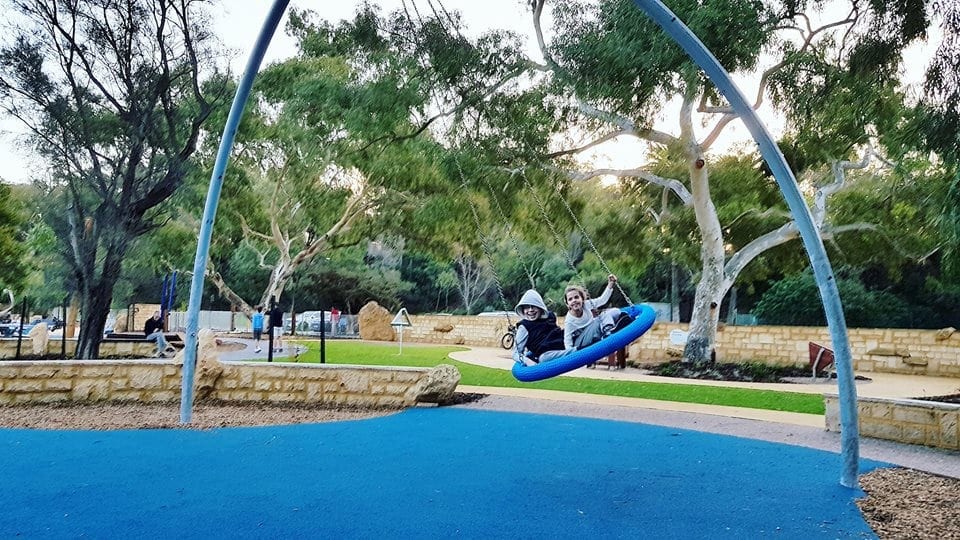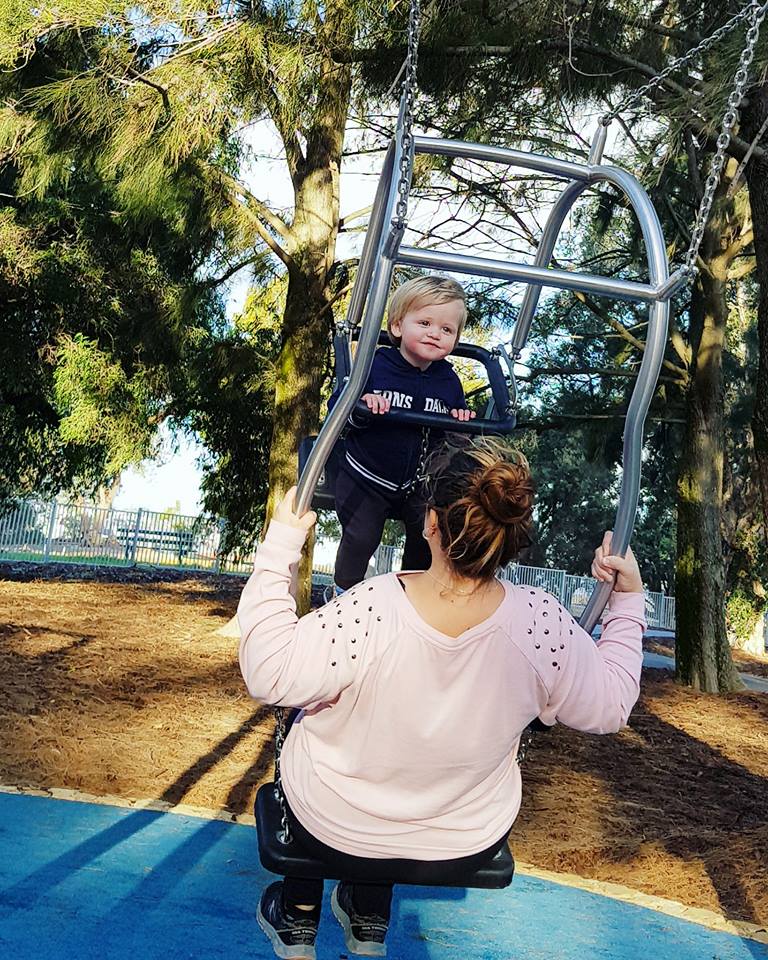 Little music lovers will have a ball playing different tunes in the Simon Lee Foundation Sensory Garden, there are different types of instruments including drums and a xylophone.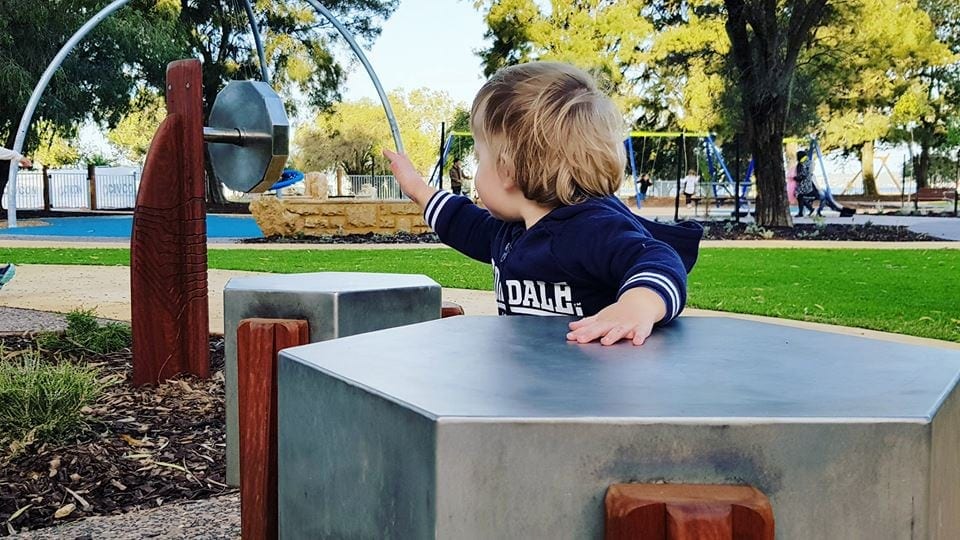 Older kids will love the challenging rope climbing net, from the top they can take in views of the playground and Swan River.
The double flying fox is also a popular one for the older kids.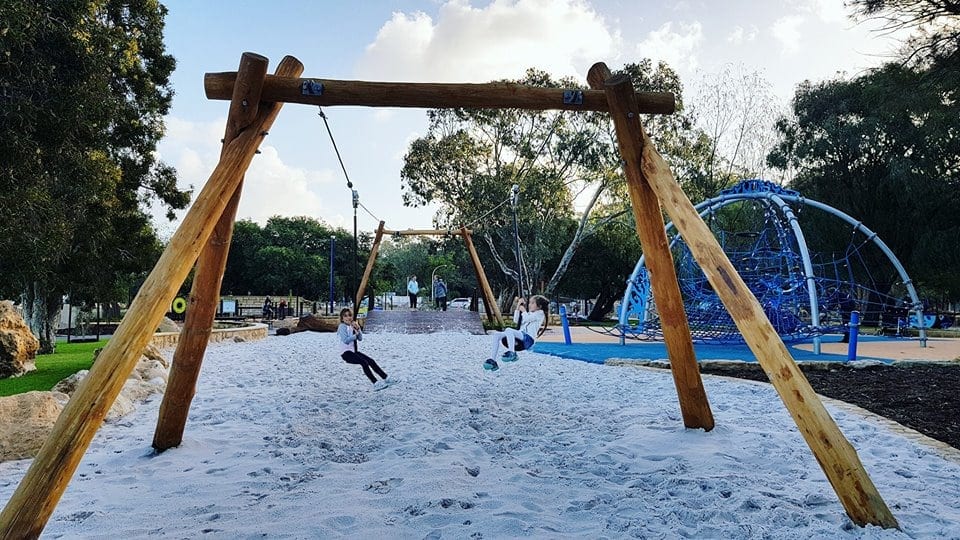 Other equipment include a wheelchair accessible roundabout, spinners, individual rockers, a buddy rocker and the triangolo impossibile which my 7 year old thought was very cool.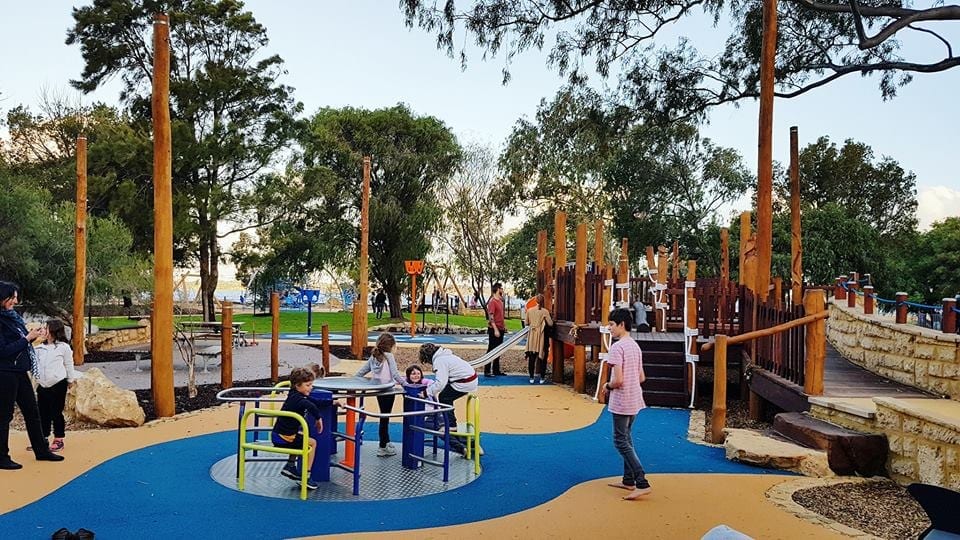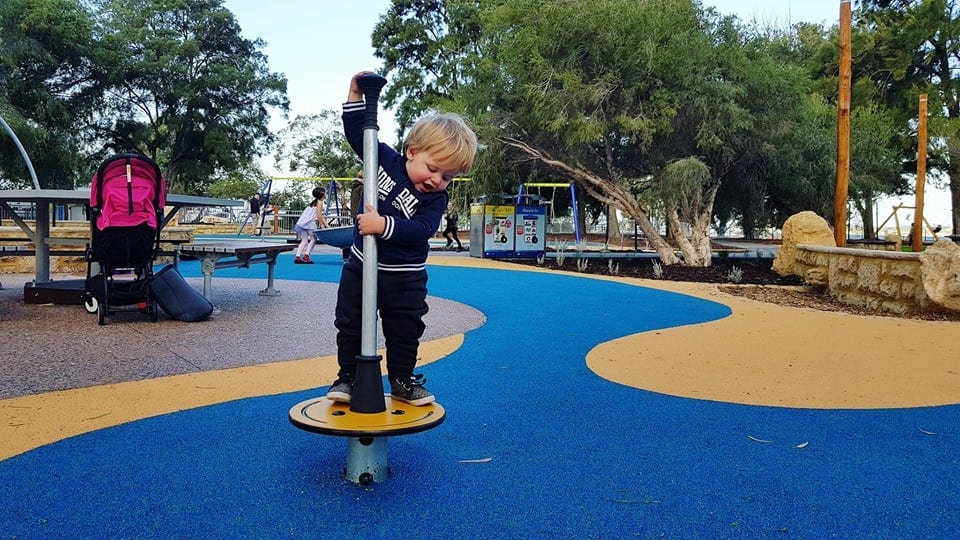 There is even equipment for the parents and grandparents! The Jo Wheatley Senior Park is similar to an outdoor gym featuring a range of equipment to improve balance and strengthen motor skills, all designed to enhance mental well-being.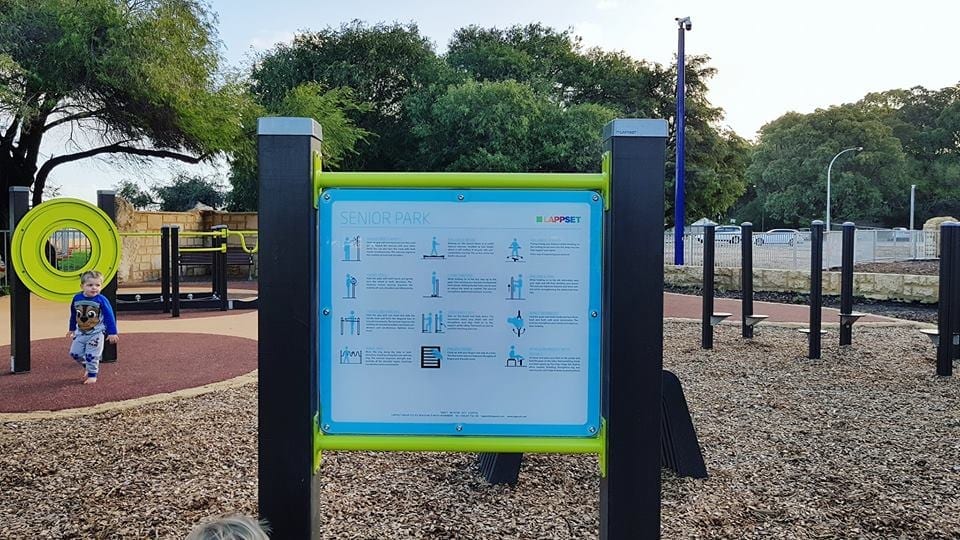 There are toilets located outside the fence, new toilet facilities are planned for phase two. There are picnic tables, drink fountains and lots of natural shade. (BBQs coming soon)
Jo Wheatley All Abilities Play Space
Jo Wheatley is located at Beaton Park, Esplanade, Dalkeith
Located only 3.5km from Matilda Bay, bring your bike or scooter and enjoy a ride along the river.
Find more playgrounds in Perth
Kellie Elliott is a busy mum of four who enjoys adventuring around Perth with her children and sharing her journeys and experiences on Instagram at Perth Mum Adventures.
Kellie Elliott is a busy mum of four who enjoys adventuring around Perth with her children and sharing her journeys and experiences on Instagram at Perth Mum Adventures.
Location
No Records Found
Sorry, no records were found. Please adjust your search criteria and try again.
Google Map Not Loaded
Sorry, unable to load Google Maps API.
Member Reviews