Ahoy Sailors! Shipwreck Park is a nautical-themed playground located 36km South-East of Perth in Sienna Wood, Hilbert.
As soon as we arrived the playground was already ticking all the right boxes;
✓ Great sized carpark
✓ Fully fenced with a number of entry/exit gates including a push button gate, perfect for wheelchairs and prams
✓ Unisex toilets and parent room
✓ Shade
The main feature is the 30 metre shipwreck surrounded by rocks, sand and shipping cargo.
I was amazed by the attention to detail from the engine controller to speaking tubes masked as water and gas pipes.
It is a great space for kids to play and let their imaginations run wild, it would also make for a wickered game of hide and seek as there are so many nooks and crannies – every time I did a walk around I found something new to discover.
The shipwreck is easily accessible for children of all ages and abilities, from stairs or ramps to ladders and ropes.
Other features of the shipwreck include elevators, as you step onto the platform it drops down to ground level, and once you jump off it returns back to the top.
Two slides, the first is double width slide so kids can slide down side by side, and the second is narrower and a little steeper.
A rock climbing wall.
Representing the sea, a soft fall mountain with blue pods.
And musical instruments, the drums were a big hit with my toddler.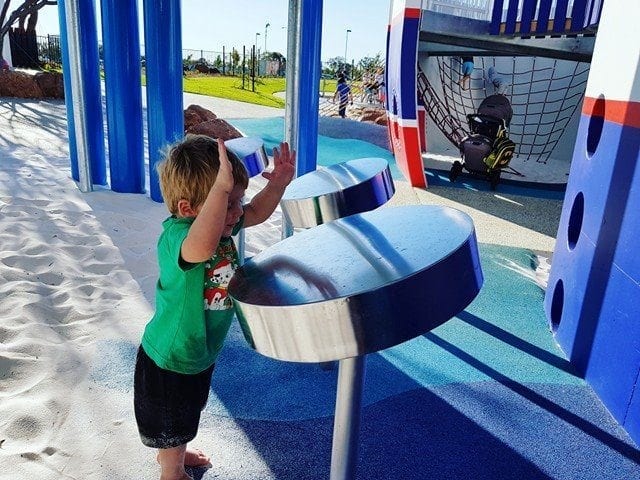 Other equipment around the playground included 3 in-ground trampolines set in rubber soft fall.
A multilevel sand play area with pulleys and funnels. Nearby there is a whale and seahorse rocker.
The water play area was definitely the highlight for the majority of the kids when we visited, I loved watching all the kids working together to pump the water and control the flow and direction.
Between the sand and water play areas is a stone creek that leads to a nature play area with large rocks, logs and balancing beams.
There are two swing sets, the first has a toddler bucket seat (hands down my favourite type of swing for my toddler) and a regular swing. The second swing set also has a regular swing and a high back all abilities swing with a harness.
In addition to the two swing sets there is a tripod swing, the older kids were having a blast pushing each other as high as possible. The nature play is continued here with some stepping logs.
Another favourite for my kids was the dual flying fox – according to my older children it is the fastest flying fox they have been on. The flying fox also has an all-abilities harnessed seat.
There are picnic shelters, BBQs and drink fountain towards the toilet block and plenty of seating around the playground as well as grassed areas for a picnic rug.
Outside the gates, there is a turfed area with table tennis and a basketball court, as well as a large enclosed off-leash dog park.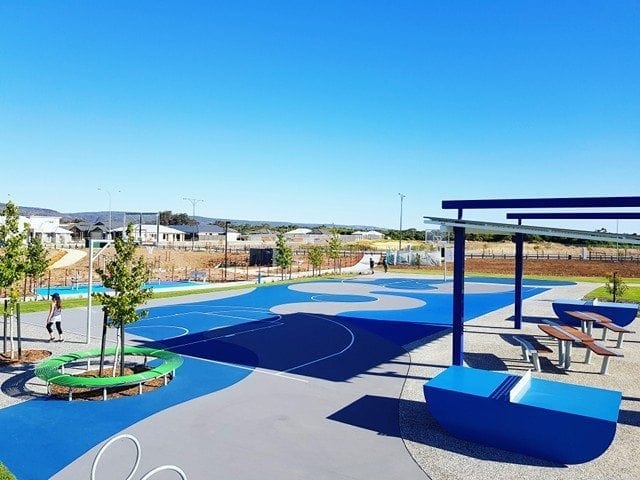 Stockland teamed up with the Touched By Olivia Foundation to ensure the playground was designed to meet the needs of children of all abilities, I think they have done a fantastic job and have created a wonderful all-inclusive playground.
Shipwreck Park
Corner of Forrest Road and Eleventh Road, Sienna Wood, Hilbert.
Discover more playgrounds in Perth here.
Kellie Elliott is a busy mum of four who enjoys adventuring around Perth with her children and sharing her journeys and experiences on Instagram at Perth Mum Adventures.
Kellie Elliott is a busy mum of four who enjoys adventuring around Perth with her children and sharing her journeys and experiences on Instagram at Perth Mum Adventures.
Location
No Records Found
Sorry, no records were found. Please adjust your search criteria and try again.
Google Map Not Loaded
Sorry, unable to load Google Maps API.
Member Reviews