Kalamunda Water Park, located in the Perth Hills is open seasonally from November – March
When we visited Kalamunda Water Park pools were crystal clear, with large beach balls and inflatable sharks to play on. There were several pools to explore including the toddler play area, the slightly deeper wading pools, the large lane swimming pool with a deep end section.
Kalamunda Water Park toddler area was strictly for children under 5 years old, so we didn't spend any time there, but it looked really nice. There was plenty of shade, shallow water, and loads of fun toys to play with in the kiddie pools.

My kids were most excited about the big water slides, the inflatable water slide, and the inflatable obstacle course. You must be 5 years old to ride the slides, so a swim only pass is available for those not sliding.
We must have travelled down the corkscrew and zig zag slides dozens of times each. They were quite fast and had us screaming and laughing the whole way down! I was able to ride with my 5-year-old the first couple of times down, but by the third time, he was on his own.
The inflatable slide was a blast too! There was a jump on the end that sent the kids flying. They loved it!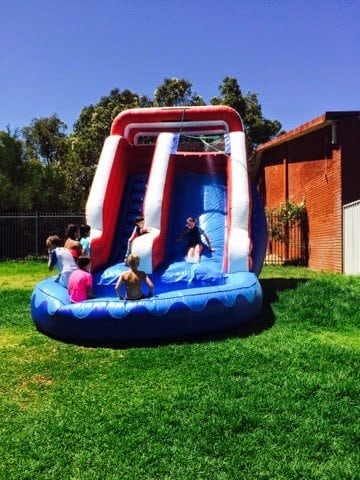 A bit later in the day, the lifeguards set up the inflatable obstacle course in the deep end of the lane pool. The kids ran through as the lifeguards squirted them with the hose and splashed them with buckets of water.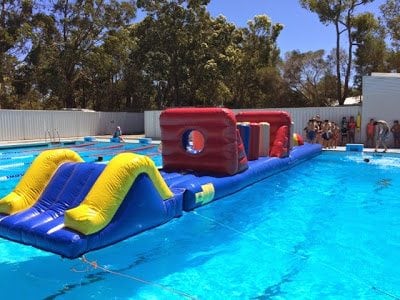 The kids were having such a blast, that my husband and I were able to switch off reading in the shade, and swimming in the deep pool by ourselves.
Kalamunda Water Park had a kiosk with the usual poolside menu of hot chips, ice cream, pies, cold drinks, and a selection of sandwiches.
The grounds and facilities at Kalamunda Water Park were impressive. The change room and toilets were large and clean. There were BBQs and plenty of shaded areas to enjoy a picnic with family and friends.
We had a fantastic day at the Kalamunda Water Park, and plan to put it on next summer's "to do" list again!

https://www.kalamundawaterpark.com.au/
Find more water parks in Perth