There's nothing much better than taking the kids down to the beach on a sunny day! Why not make it a trip to a dog beach in Perth, so that the entire family can join in on all the sandy fun. If your dog loves a dip on a hot summer's day, a stroll along the sand in winter, or a paddle in the river – there are plenty of dog beaches in Perth to choose from. Many Perth dog beaches offer mobile dog washers as well as coffee vans on weekends. Some dog friendly beaches are close to popular ocean-side cafes too.  So if you're wondering "where's a dog beach near me", see our ultimate guide here…
Dog Beaches in Perth – North
Two Rocks Dog Beach
Dogs are welcome to play at the area of Two Rocks Beach that's south of the southern groyne.
Find Two Rocks Dog Beach at Jordan St, Two Rocks.
Yanchep Dog Beach
Yanchep Beach, south of the northern end of Compass Park, is a designated dog beach.
Find Yanchep Dog Beach near Compass Circle, Yanchep.
Quinns Rocks Dog Beach
There are two entry points from car parks that lead onto the Quinns Rocks Dog Beach. The long dog beach has a few large rocks along the way.
Find Quinns Rocks Dog Beach at Tapping Way, Quinns Rocks.
Hillarys Dog Beach
This has to be one of the most popular northern dog beaches, and my dog beach of choice. Facilities include toilets, showers and drinking water (for humans and dogs). On weekends there's a mobile dog washer and coffee van too. At the northern end, horses are also allowed to swim.
Find Hillarys Dog Beach at Whitfords Ave, near Flinders Ave, Hillarys.
Watermans Dog Beach
Sheltered by rocky cliffs, this small beach area is found at the carpark between Margaret Street and Ada Street on West Coast Drive. Take a short stroll with your pooch to Little Bay Café, where there's a take away coffee and snack window.
Find Watermans Dog Beach at West Coast Drive, Watermans Bay.
North Beach Dog Beach
Go for "walkies" from this sandy beach to Flora Terrace, where you'll find popular coffee spot Tropico. North Beach Dog Beach doesn't have a lot of rocks in the water, making it perfect for a dip for dogs and people alike. Access the beach at the southern end, down concrete steps.
Find North Beach Dog Beach at West Coast Drive, near to Castle St and Malcolm St, North Beach.
Bennion Beach, Trigg
This small dog beach is opposite the busy Yelo Café. Access is via steep stairs, which may not suit old dogs. At the top of the stairs there is a bowl of water and drink water fountain.
Find Bennion Dog Beach at West Coast Drive, Trigg.
Peasholm Dog Beach, Scarborough
This wide, long dog beach is perfect for a game of fetch and a long walk too. The beach stretches a couple of km's south to the "Floreat Drain" at North Floreat Beach. Peasholm Dog Beach has public toilets and water fountains.
Find Peasholm Dog Beach at Peasholm Street, Scarborough
South City Beach
This 2km stretch of beach, often has calm waters. Found near to eateries Hamptons and Odyssea, you can grab take away from the café next to Clancy's Fish Pub.
Find South City Beach at Challenger Parade, City Beach (south car park).
Mosman/North Leighton Beach
Orange Box café is right next to the beautiful white dunes of Leighton Beach. The café has plenty of outside area to sit with your dog, for a post-swim treat. Neighbouring eatery, Bib & Tucker, has "dog parking" out the front.
Find Leighton Beach at Leighton Beach Blvd, North Fremantle
Dog Beaches – South
South Beach, Fremantle
There is a designated area for dogs to swim at the northern end of South Beach at Fremantle. It's handy for a drink or bite to eat from the nearby South Beach Café.
Find South Beach off South Terrace, South Fremantle
CY O'Connor Beach
Make a day of it at CY O'Connor Beach and make use of the bbqs and picnic shelters found at the reserve. There's toilets and water fountains too, as well as a playground.
Find CY O'Connor Beach at Robb Road, North Coogee
Jervoise Bay
This popular dog beach can be found near to the groin, where there's plenty of parking and public toilets. For a take away drink or snack, the Woodman Point Café is close by.
Find Jervoise Bay at Woodman Point Reserve, Munster.
Rockingham Dog Beach
Rockingham Dog Beach is usually calm, making it a great beach for small dogs that like to paddle. If your dog is scared by crashing waves, these shallow waters may tempt them into taking a dip.
Find Rockingham Dog Beach at Rockingham Beach Rd, near Governor Rd, East Rockingham.
Secret Harbour Dog Beach
The Secret Harbour Dog Beach is wide and spacious, perfect for very energetic dogs. There's lots of parking, as well as a water fountain and shower to get that pesky sand off feet and paws.
Find Secret Harbour Dog Beach at Siracusa Ct, Secret Harbour,
Golden Bay Dog Beach
At Golden Bay you'll find a white sandy beach that's begging for a long walkies or a swim. There's even a dog friendly deli across the road, handy for grabbing a drink and bite to eat on the go.
Find Golden Bay Dog Beach at Marillana Dr, Golden Bay.
Mandurah
The are many dogs beaches in Mandurah. See the City of Mandurah website for a detailed guide.
Swan River Dog Beaches
​If your dog is wary of waves, a calmer beach on the river may be a great alternative to an ocean swim. Please check the individual City Council website for locations dog beaches on the Swan River. Also, be mindful of changing river water quality and swimming restrictions.
Sir James Mitchel Park
Neil McDougall Park
Salter Point Parade
Canning River
Minim Cove, Mosman Park
Point Roe Park, Mosman Park
John Tonkin Dog Exercise Area, East Fremantle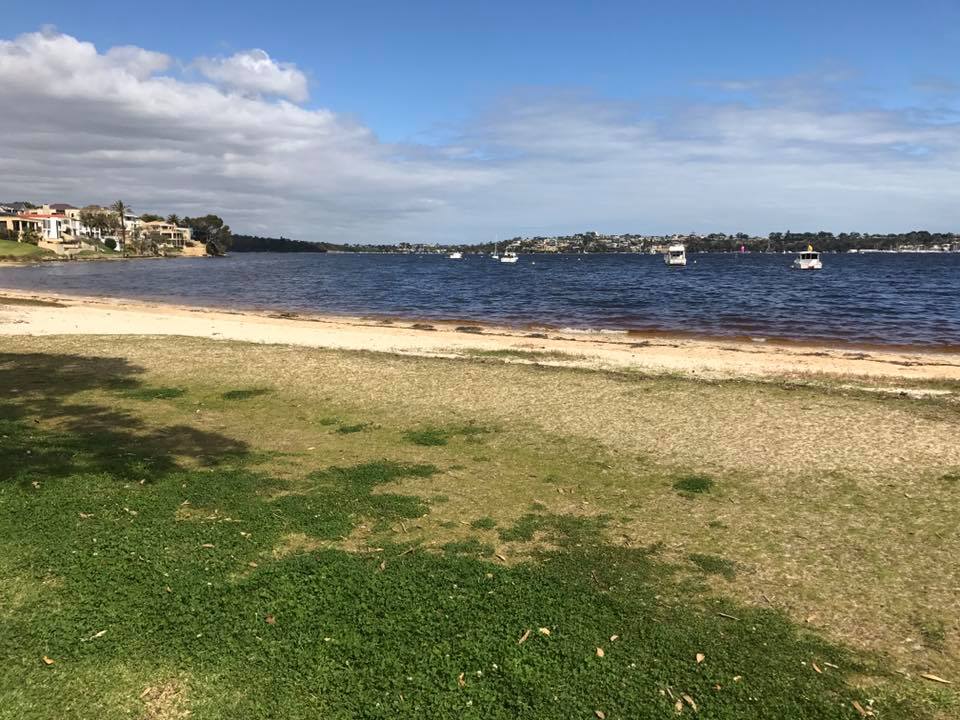 There are lots of dog beaches in Perth for your pooch and kids to explore – even if your dog doesn't like to swim, they'll love running free and digging in the sand – which is guaranteed to tire the whole family out! Petside recommends using a life jacket for your dog, if it's not a confident swimmer.
Have we missed your favourite dog beach in Perth? Let us know in the comment below!
See our guide to places to take your dog in Perth here.