Faulkner Park is better known as Volcano Park due to the large volcano that is the feature of the park.
It is quite a large park with a separate area suited to young ones and toddlers, making it a great day out for the whole family. There is water play, sand play, flying fox and plenty of playground equipment including swings and slides. It is fully fenced and has two entrances which are gated with self-locking gates.
Volcano park was recently closed and reopened on 12 May with brand new equipment installed.
The first piece is a wooden pirate ship play structure. The ship is surrounded by wood chips and is designed so it appears as though it has been broken in two and is stinking. Circling the sinking ship is a crocodile and hammerhead shark! The pirate ship has a climbing wall, ladder and a slide and really helps promote imaginative play. I love that this is bigger than the toddler equipment but small enough for my almost 2 year old to play on and enjoy without problems.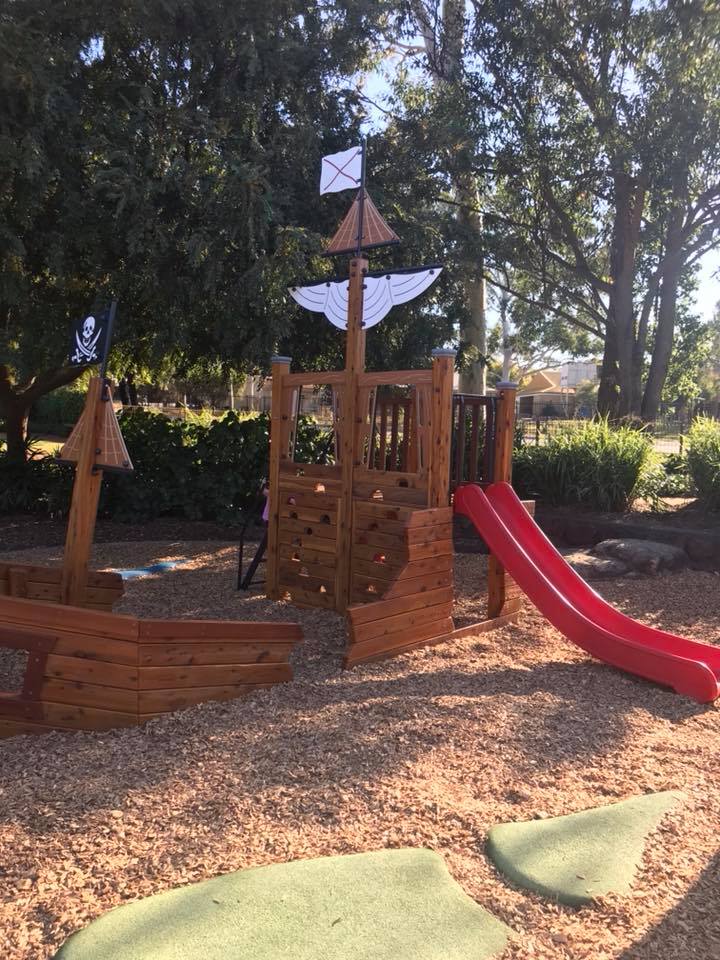 The other new equipment is located on the other side of the big volcano and is a couple of sand and water tables. The water has a water pump where you pump the water up onto the table, once ready the little gates can be opened and the water falls out, creating a waterfall, and flows down a rocky path.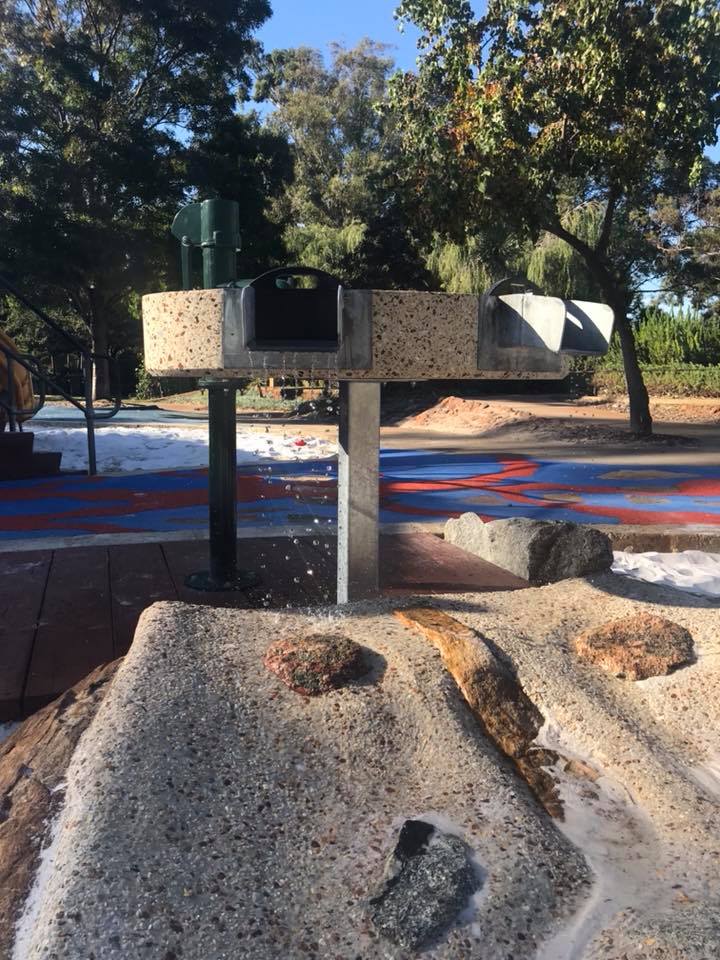 The other table is a sand table where the sand is loaded up at the bottom, hoisted up to the top and then poured through the funnel. I love that these tables teach cause and effect and promote teamwork.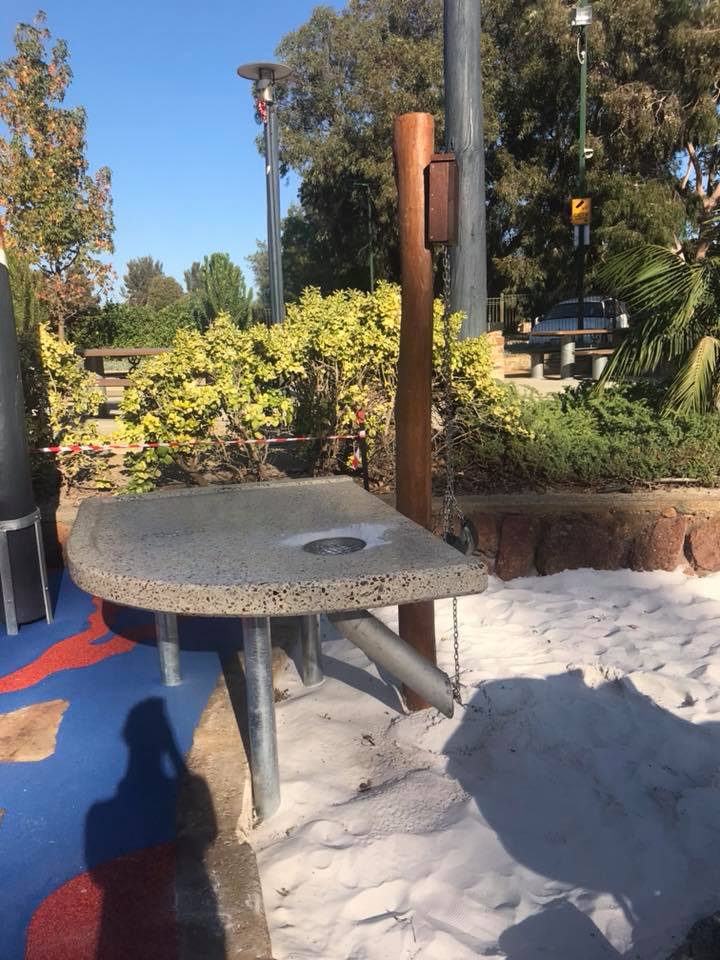 The volcano has a wide footpath that spirals to the top or you can take steps part the way. Once at the top there is a good view of the park and also a water mist that emerges from the volcano. The kids can take one of the three slides down.
Around the base of the volcano is sand and you will find some sand play equipment like the diggers. There is also a bouncy bug in the sand.
There is a little tunnel at the base on one side which the kids enjoyed playing in. There is a family of turtles that live near this too. In this section, behind the turtles, is a double swing set.
Near one of the entrances is a flying fox. Unfortunately one the day we visited it was too hot to sit on, even though we arrived early in the morning.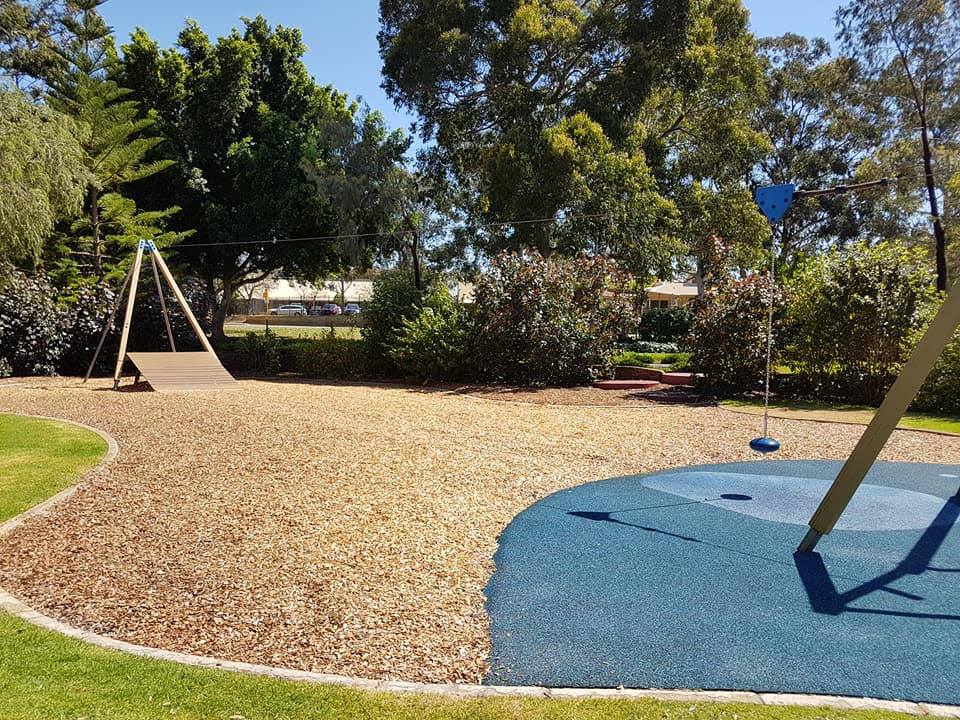 Near the flying fox was a shaded area with sand play. Good to keep the little ones occupied while the bigger ones are on the flying fox.
There is also a water play section where water spurts out of the ground on a timer. The kids had fun trying to guess which one was going to spurt water next. There are a couple of pads that they can run between using the balancing logs and stepping stones.  If your kids love water bring a change of clothes.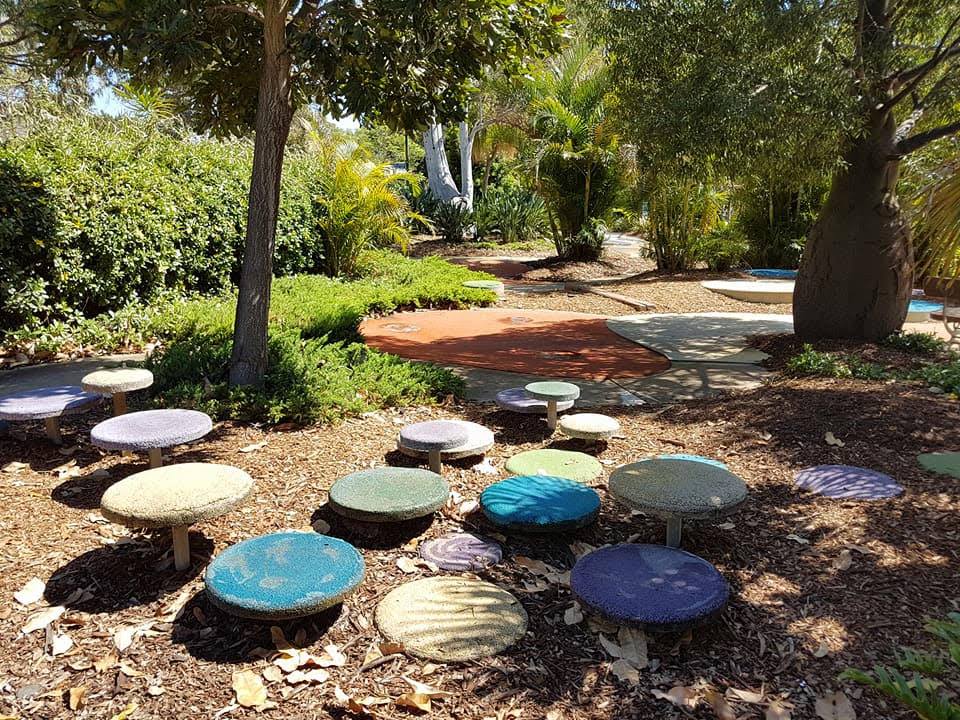 Also for the bigger kids is the brand new tree house structure. It is a huge structure with 2 main towers, lots of rope ladders, a suspension bridge and, the main attraction, a large tunnel slide.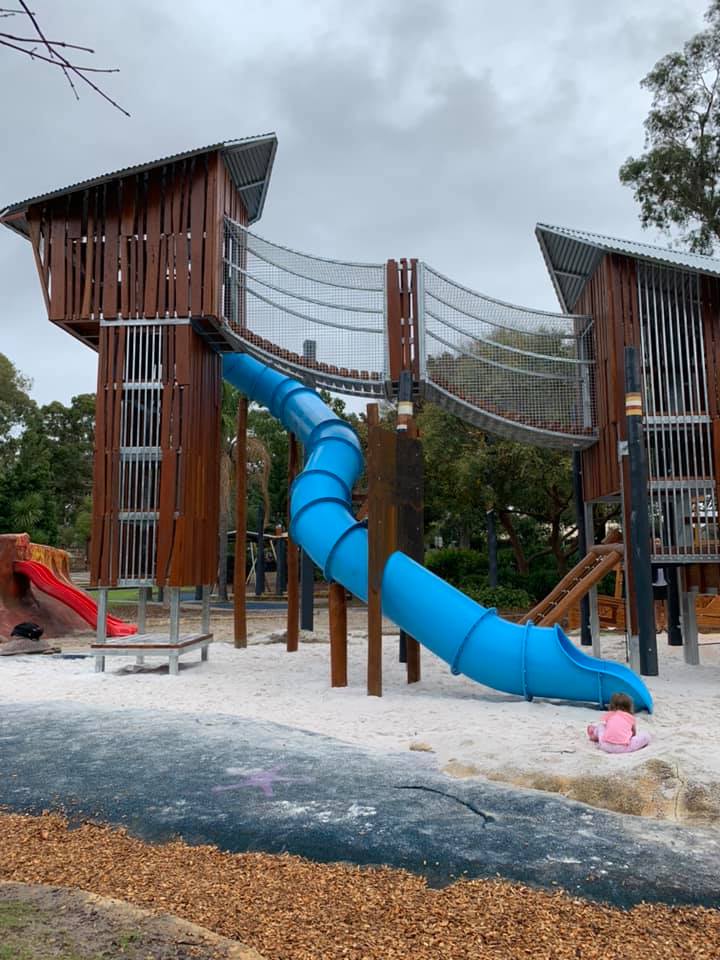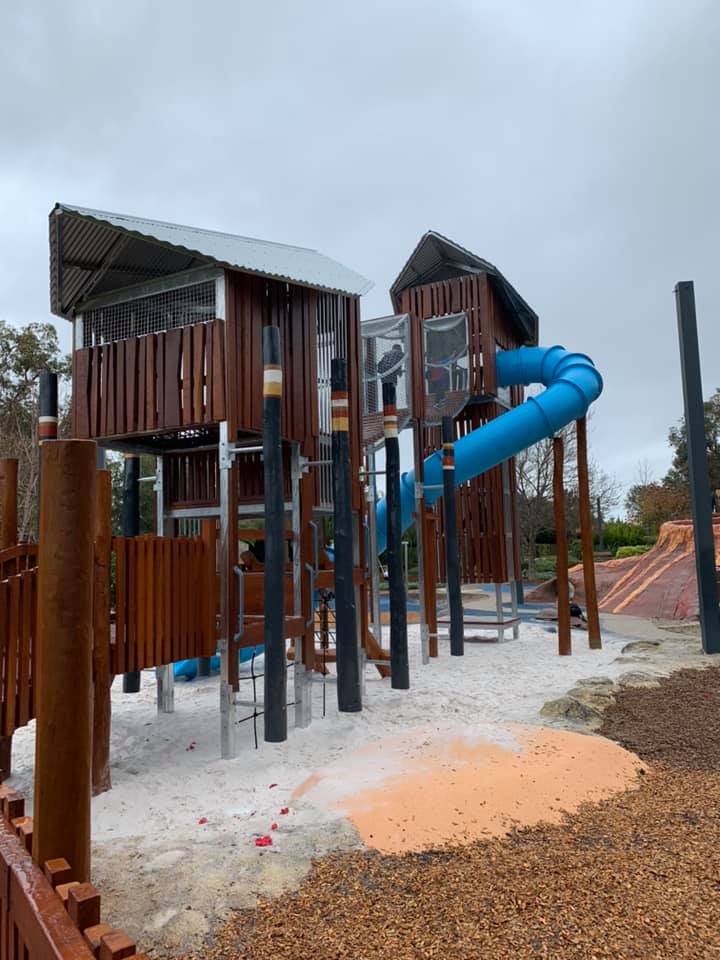 The height between levels within the towers will challenge the best of climbers, so if you're little one is keen, be prepared to be climbing with them. I'd say this is really best suited at kids over 6 or 7 but my almost 3 year old and almost 5 year old enjoyed climbing up and sliding down with our assistance.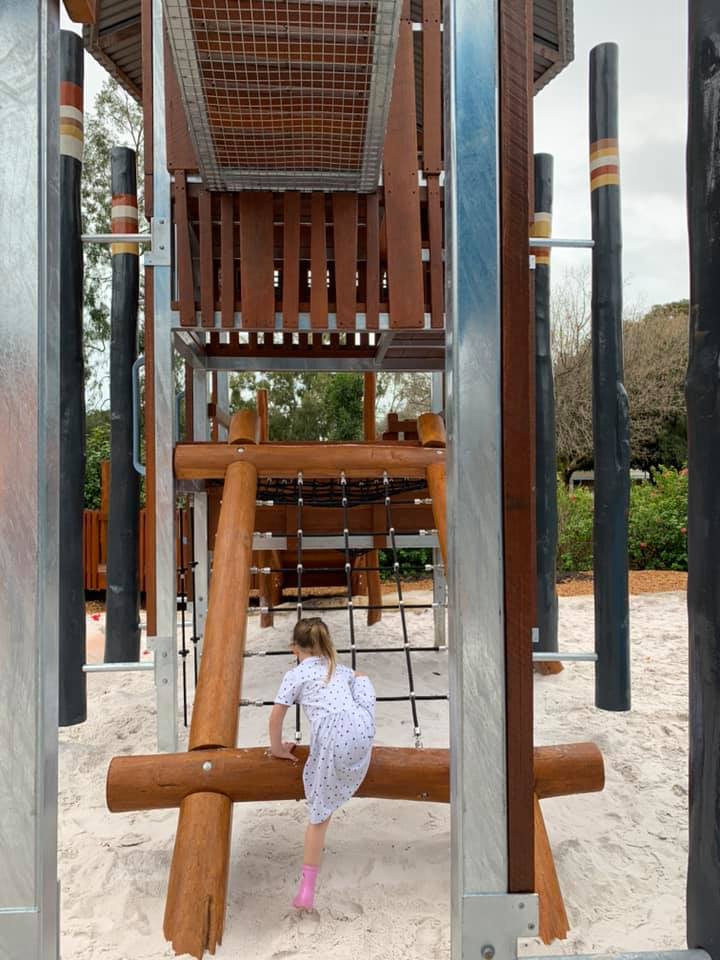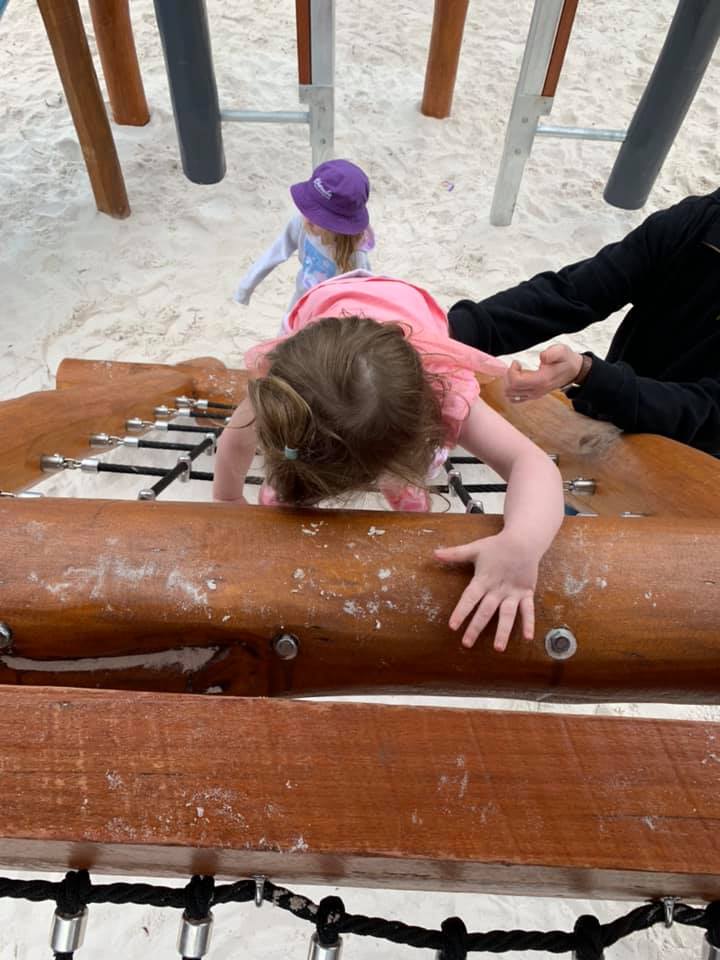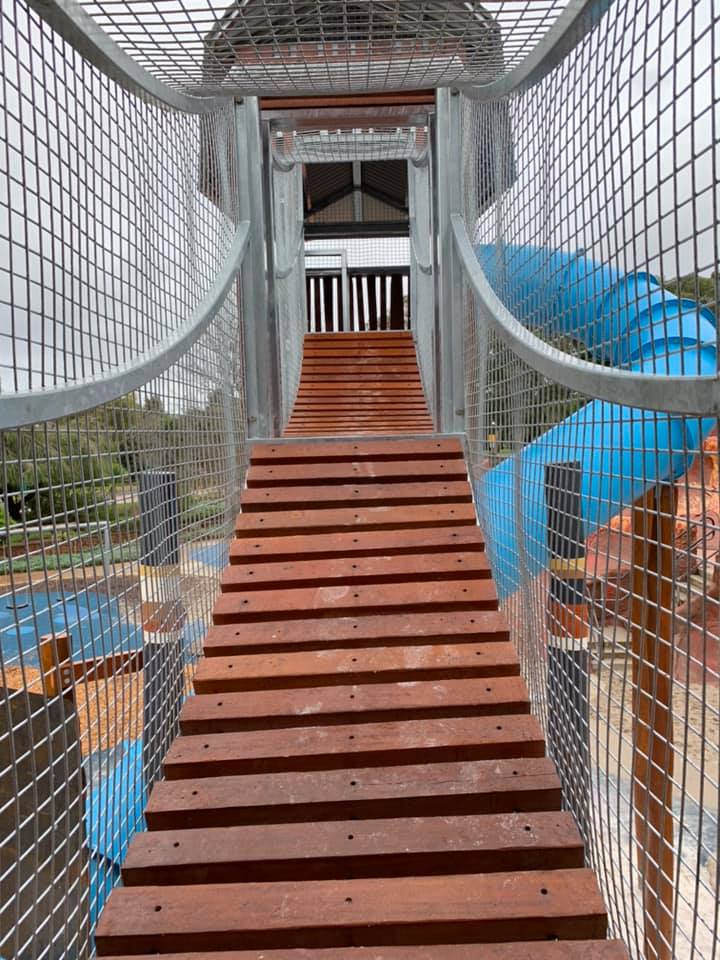 The slide down is super fun and fast but as a little warning, there is a bit of a bend that sort of throws you into the side a little. If you're not prepared for it you can get a a knock.
Overall, this is such an amazing addition to an already fantastic park. It looks great and it's good to see equipment that older kids are happy to use and play on.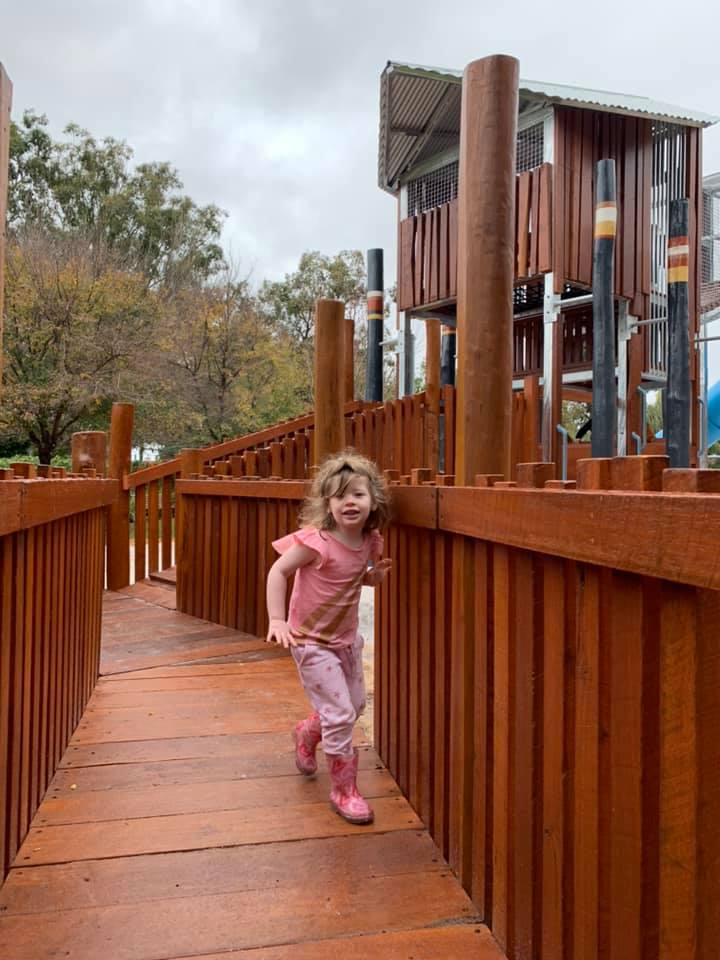 There is also a toddler area that is separated from the main area by hedging. There are two gated entrances directly to this area too.
The toddler area has recently been updated and it's so good! It's based on soft fall ground with 2 main structures. There's good shade over this area. One structure would be suitable for very young toddlers (from 1-3) and the other for slightly old or more adventurous children (3-5).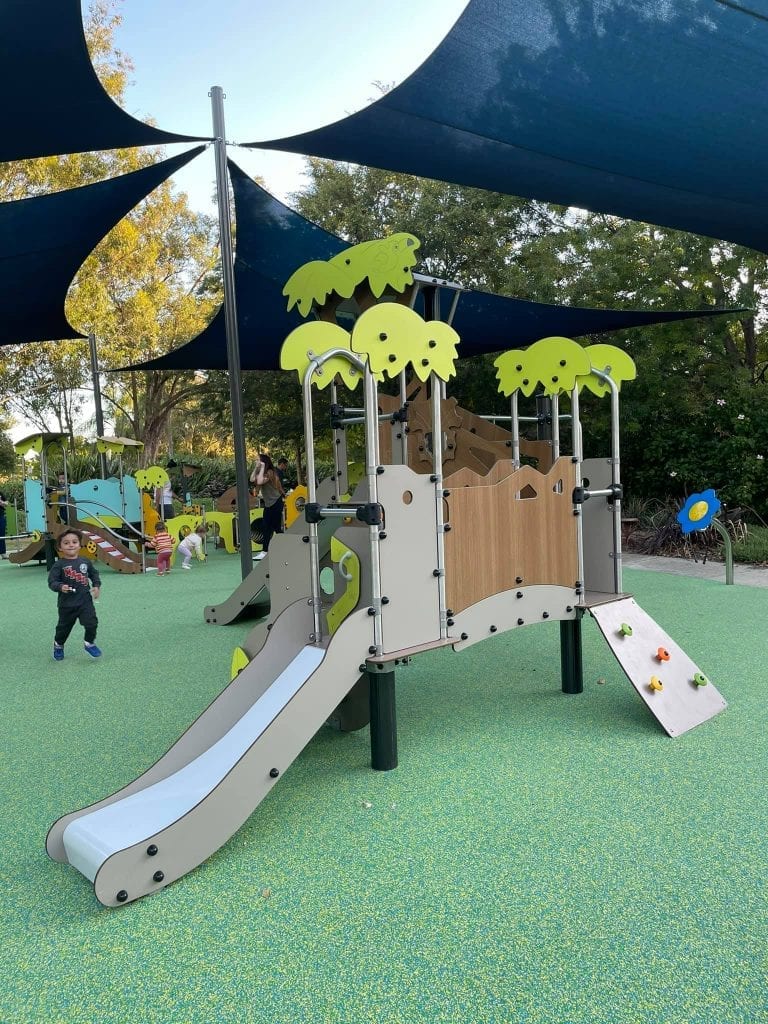 The smaller structure has been very well thought out. It has a low ramp with grips – this would be great for climbing for crawling toddlers or helps with walking up. There are then two small slides down, which sit side by side. There are also some steps to climb up – the steps are 3 big wide steps so plenty of space for a little one to pull themselves up and navigate easily.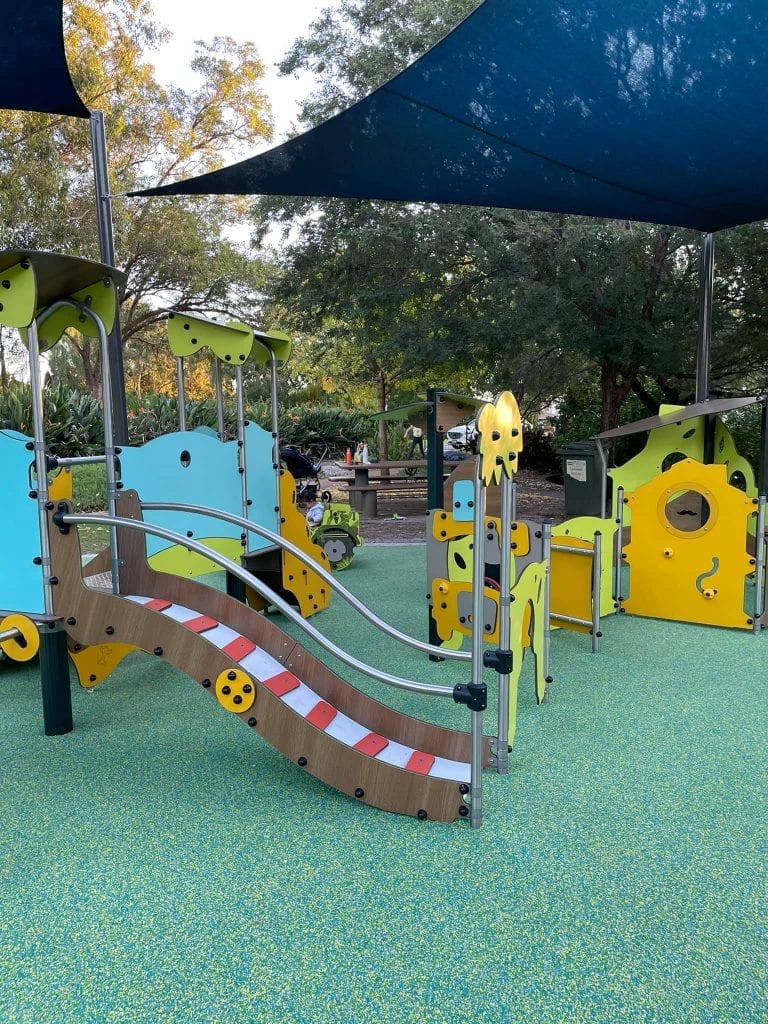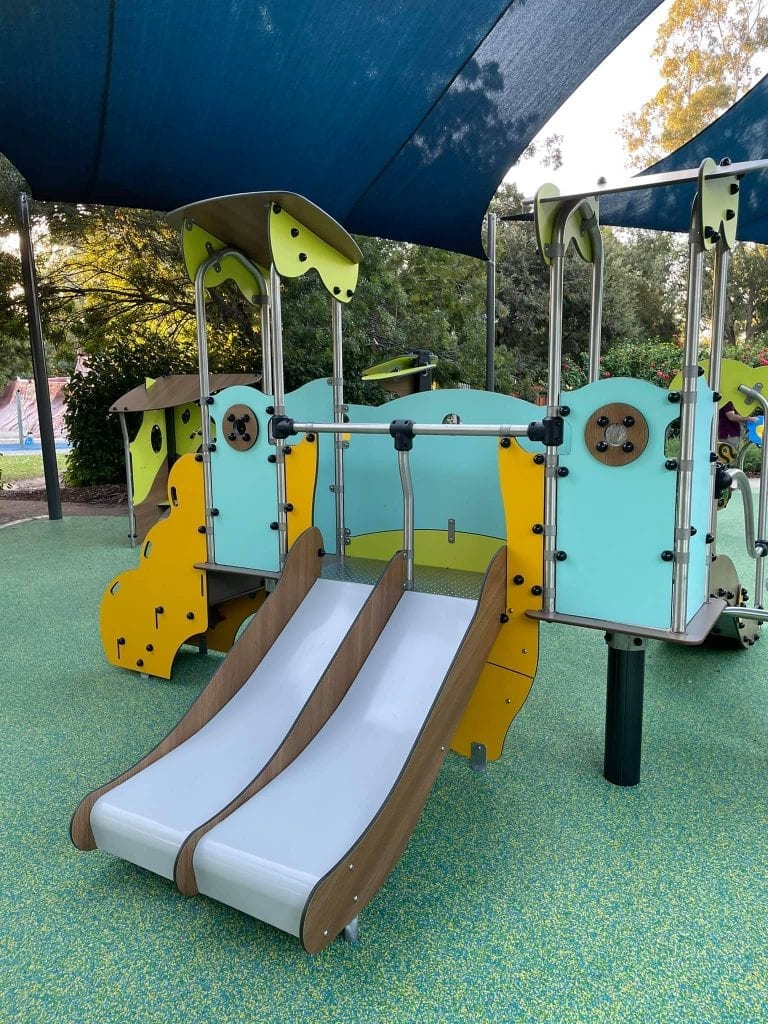 Attached to the smaller structure is also some tunnels and spaces to crawl through and explore. There are also some very cute little windows with moustaches to make silly faces/ photos.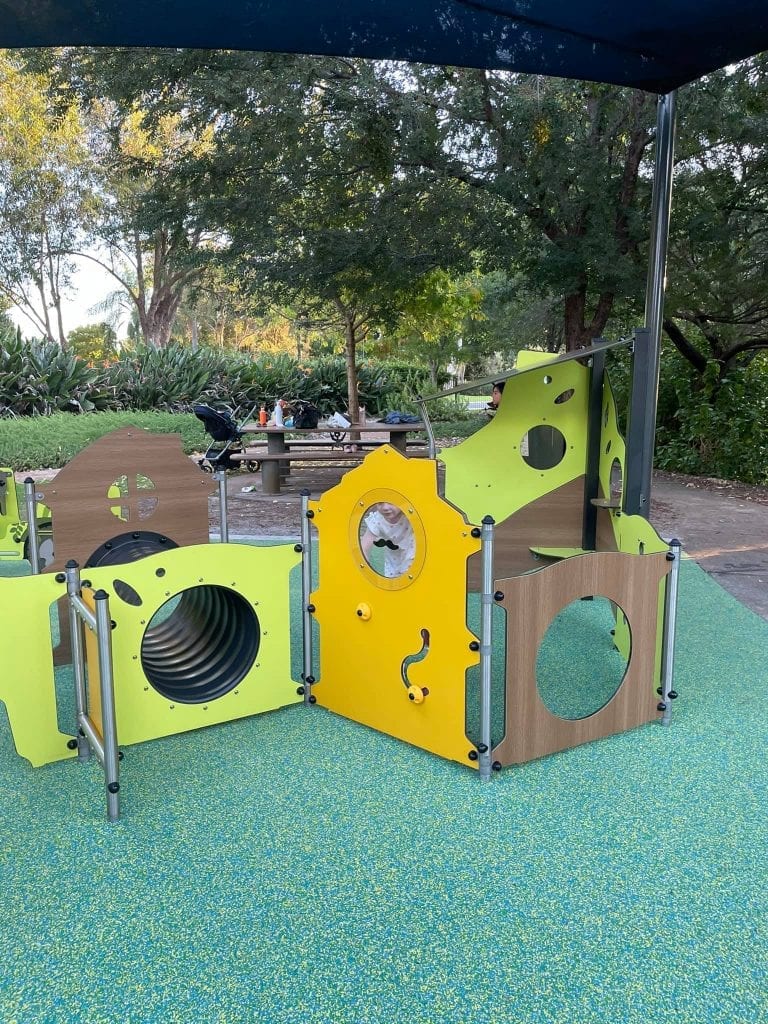 The larger structure has two platforms, the first is fairly low with a mini inclined rock climbing wall to climb up or a couple of steps. Off this platform, there is a small slide. The 2nd platform is a bit higher with a vertical rock climbing wall or steps from the lower level to get up. The slide off this platform is quite a bit bigger than the others in the area. Attached to this structure is also a rope wall which my 4-year-old loved!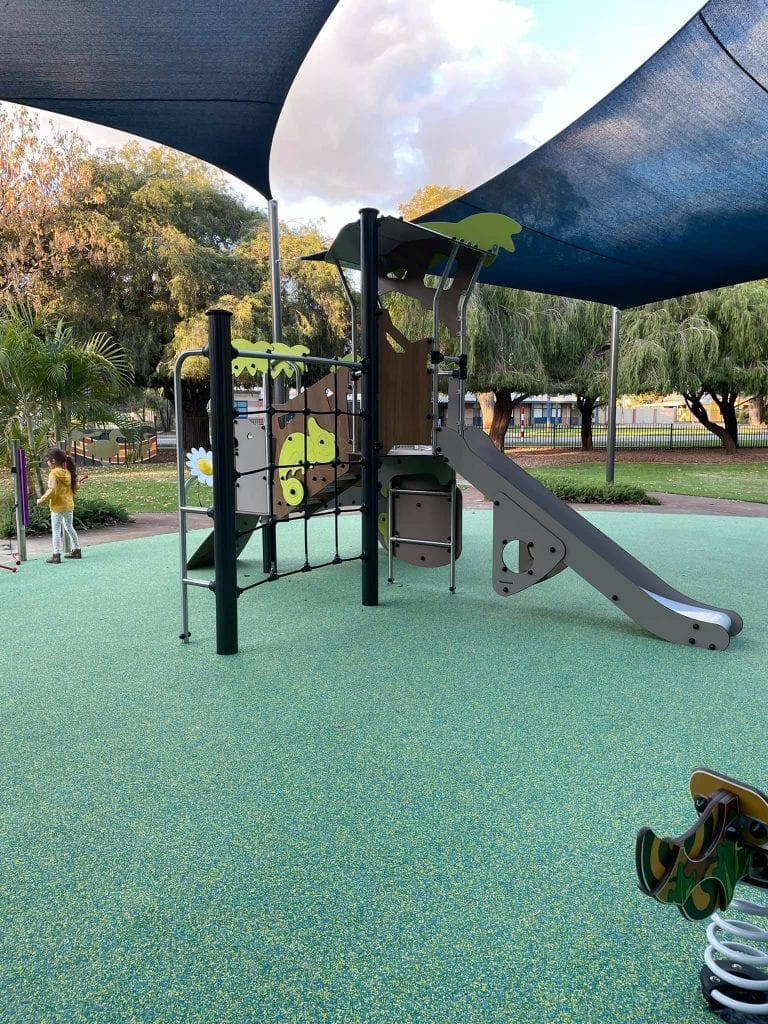 Around the toddler area, there are also bouncing animals, there are large colourful tubes to bang and make music, and swings.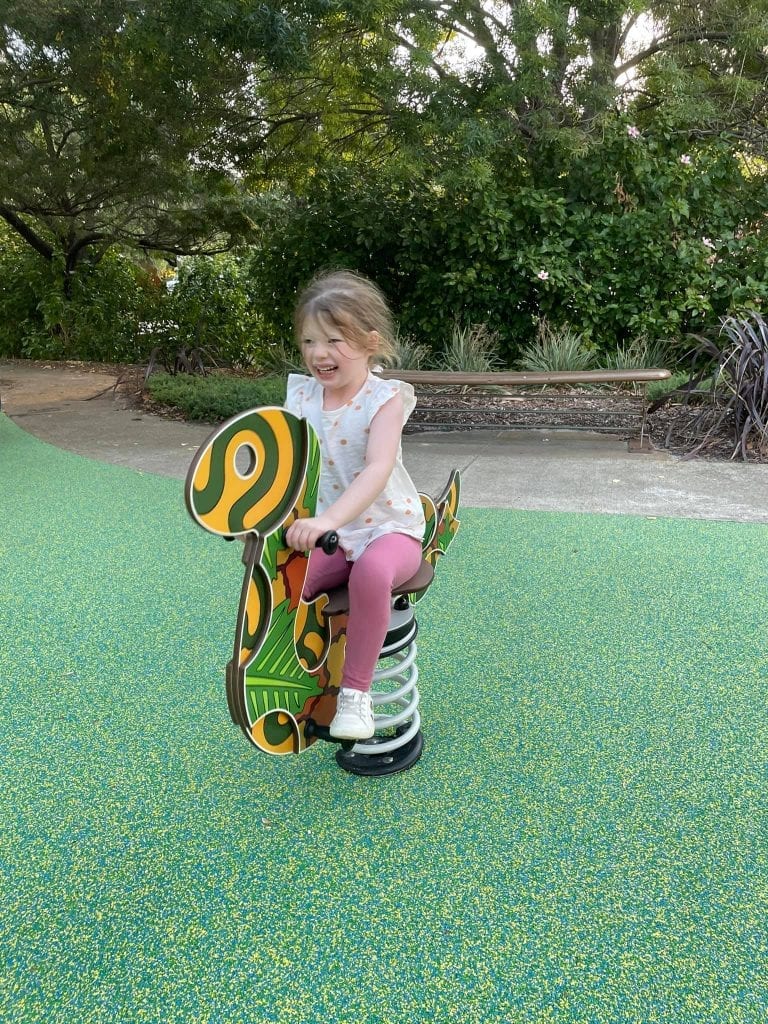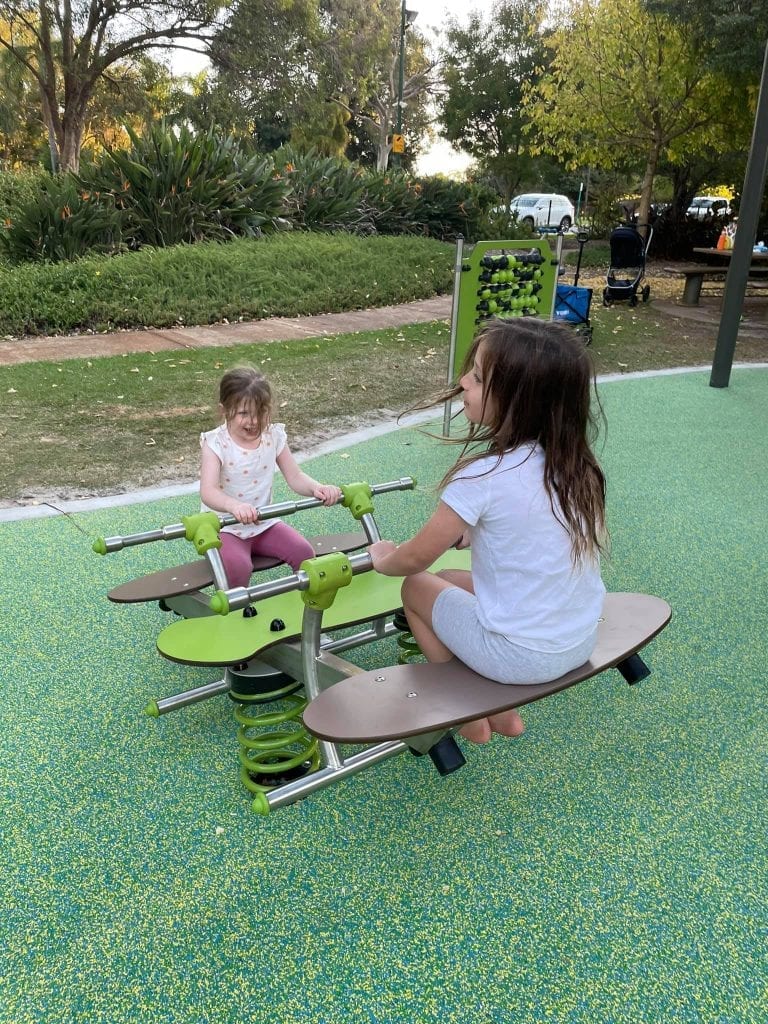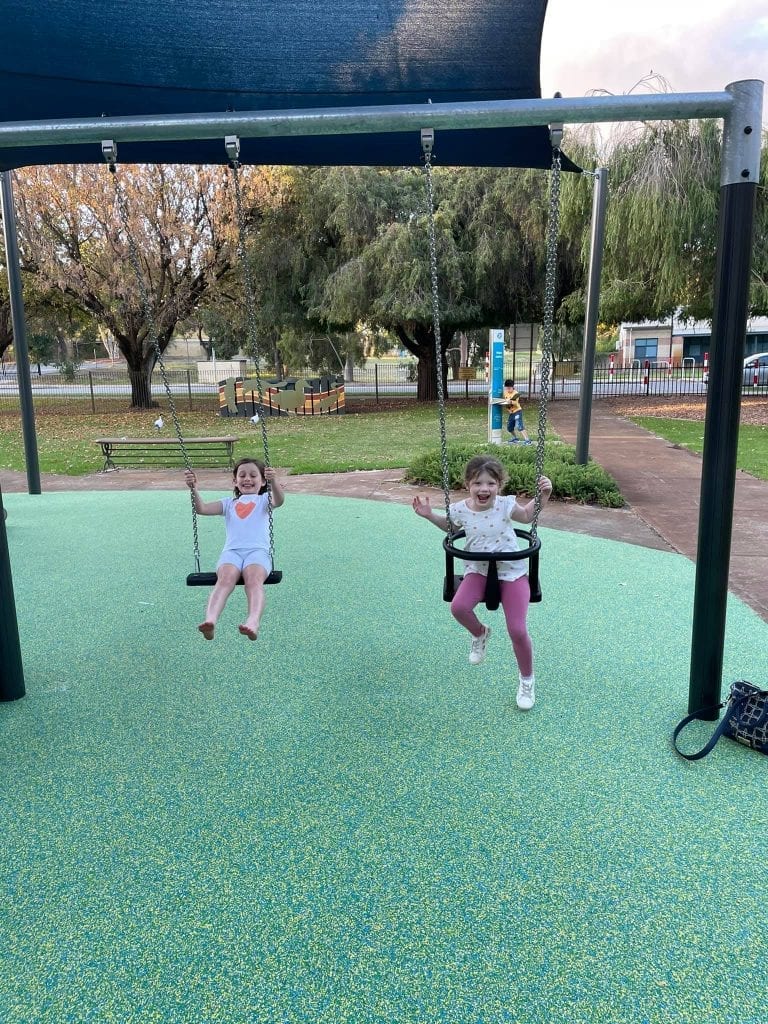 Surrounding the play areas are green grass and shady trees, where you can find park benches or picnic tables. There is also little paths around the edge so if it is busy you don't have to walk through the main play area with toddlers.
The park is well equipped with BBQs and picnic tables. There are BBQ facilities close to the toddler play area and near the front of the park by the volcano and water play area.
Throughout Faulkner Park there are 3D animals such as crocodiles and turtles and totem poles and tribal heads as points of interest to ignite kids imaginations. There is very little shade over the main play areas, except the toddler area so if you visit on a hot day like we did some equipment might be too hot to play on. We crossed the car park and went for a swim at Belmont Oasis after we'd finished playing at the park.
Plenty of parking available and toilets and a cafe are located at the Belmont Oasis Leisure Centre. The park is also very close to the Ruth Faulkner Library and Belmont Forum.
Faulkner Park – Volcano Park
Faulkner Park / Volcano Park, is located on the corner of Abernethy Road and Wright St Cloverdale.
Find more playgrounds in Perth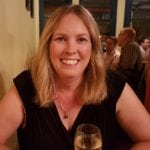 Claire Tondut is currently a stay-at-home mother of one daughter and a puppy. When she is not chasing little Miss around she loves to spend time with hubby, friends and family.
Claire Tondut is currently a stay-at-home mother of one daughter and a puppy. When she is not chasing little Miss around she loves to spend time with hubby, friends and family.
Location
No Records Found
Sorry, no records were found. Please adjust your search criteria and try again.
Google Map Not Loaded
Sorry, unable to load Google Maps API.
Member Reviews