Perth's next big adventure playground is here – Jungle Park Whiteman Edge! The new jungle-themed playground located in Whiteman Edge, Brabham offers a unique playing experience for kids – it is unlike any other playground in WA.
The nature based play equipment has been designed to challenge kids' skills and abilities. Created especially for children 5+ who enjoy climbing, jumping, and simply having fun outside – they will not want to leave this amazing playground!
The standout at Jungle Park is definitely the enclosed climbing tower, climb to the top platform to reach the amazing bird's nest with 360-degree views of the park, then slide down the 7-metre tunnel slide. The tunnel slide was the highlight for both my kids.
There are so many different ways to reach the timber boardwalk, on one side of the bird's nest is rope nets, slide down the fireman's pole or continue along the rope bridges.
On the other side there are more rope nets, a rock climbing wall or for the less adventurous limestone steps, at the top you can take in views of the playground (also a great spot for watching planes coming into land) or slide down the smaller tunnel slide.
There is a stone water play creek with giant dinosaur footprints that runs through the play area and balancing logs to cross.
A suspended tyre swing, with rubber in the middle of the tyre for children to sit while spinning up and down or around.
Big log see-saw, the kids were having lots of fun on this – a great modern take on a classic see-saw.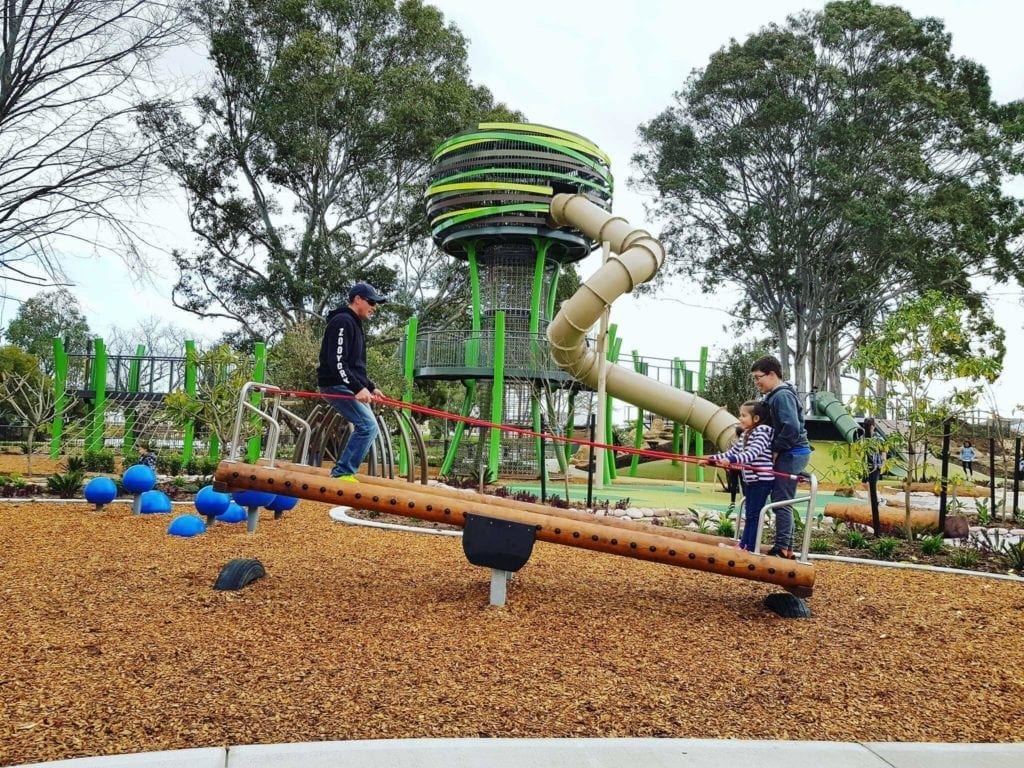 Snake Swing that could easily fit about 8 kids on at once.
Rope roundabout, the kids enjoyed spinning around as fast as possible while holding onto the rope trying not to fall.
Balancing bridge, my 6-year-old loved wobbling her way across trying her hardest not to hold onto the rope.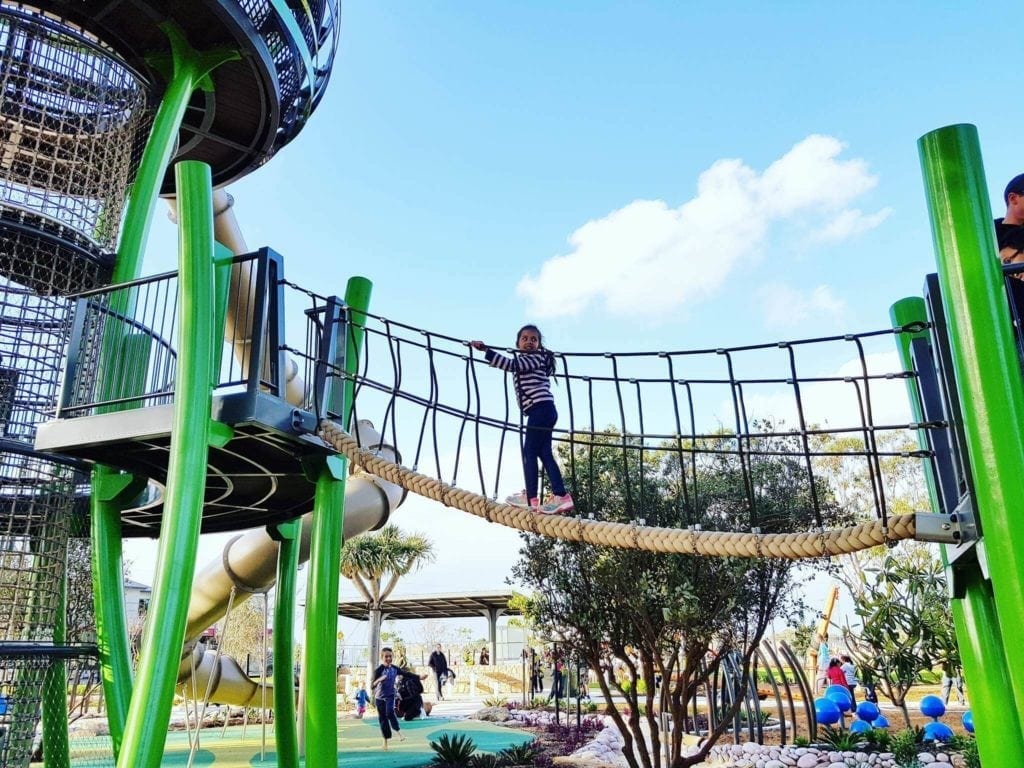 3 in ground trampolines set in rubber soft fall.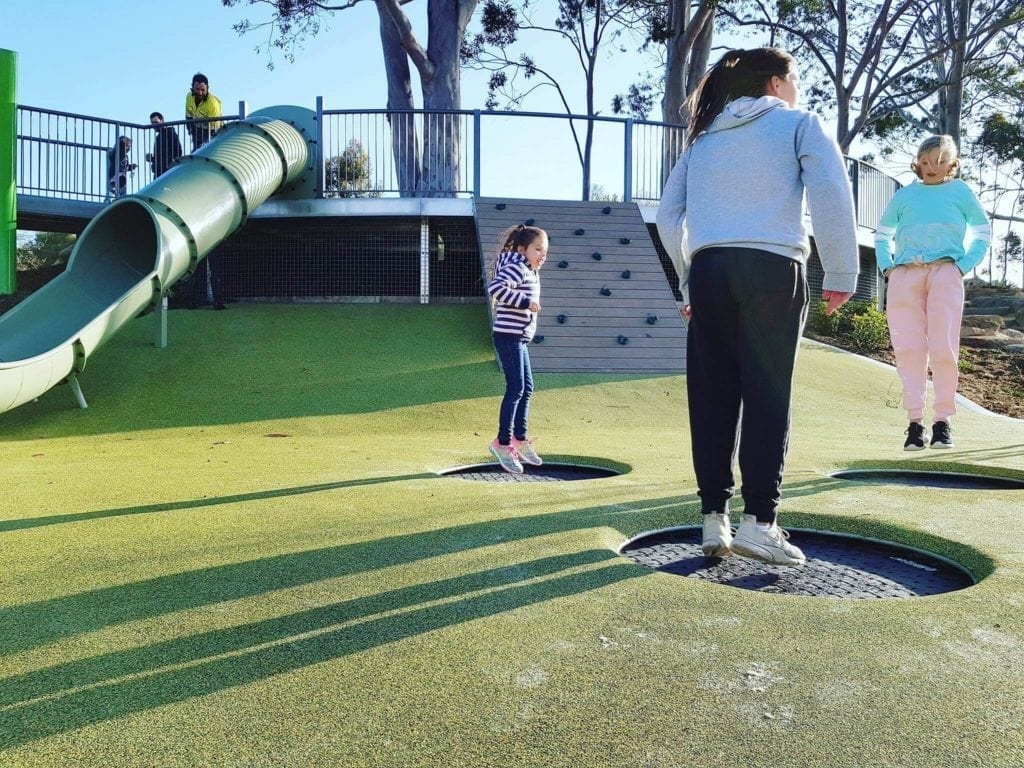 Although Jungle Park is designed for older children there is a dedicated toddler area, that consists of a cubby house, slide, sand play with pulleys and funnels, fossils to discover, small frog spring rocker, and stepping logs and pods.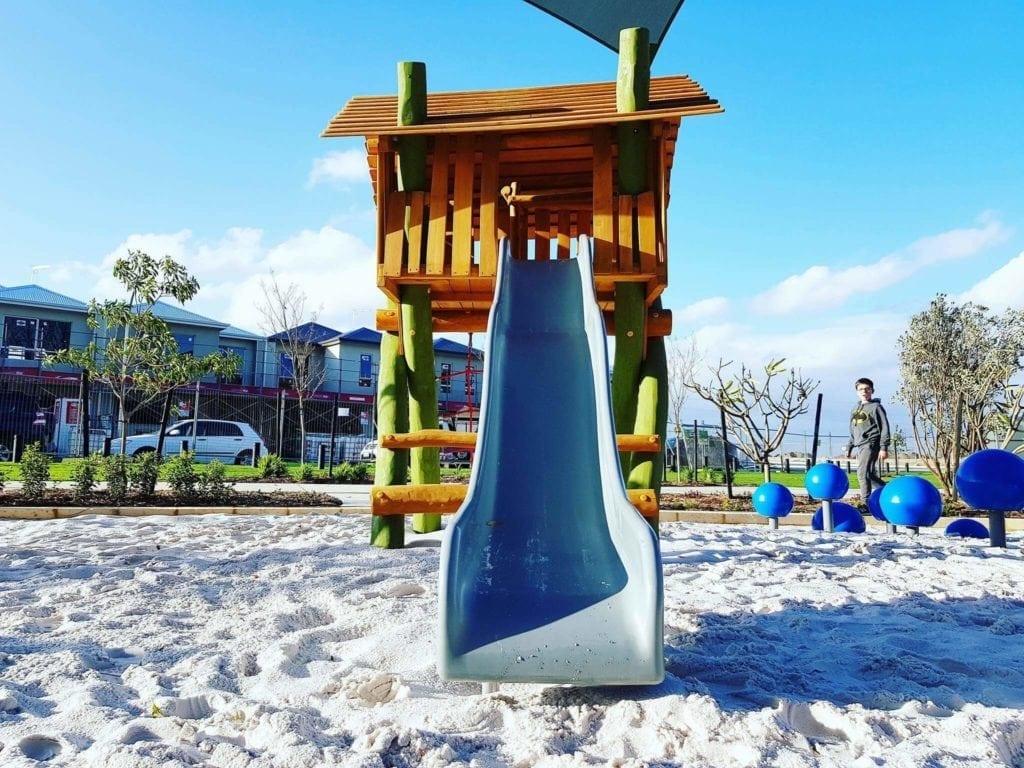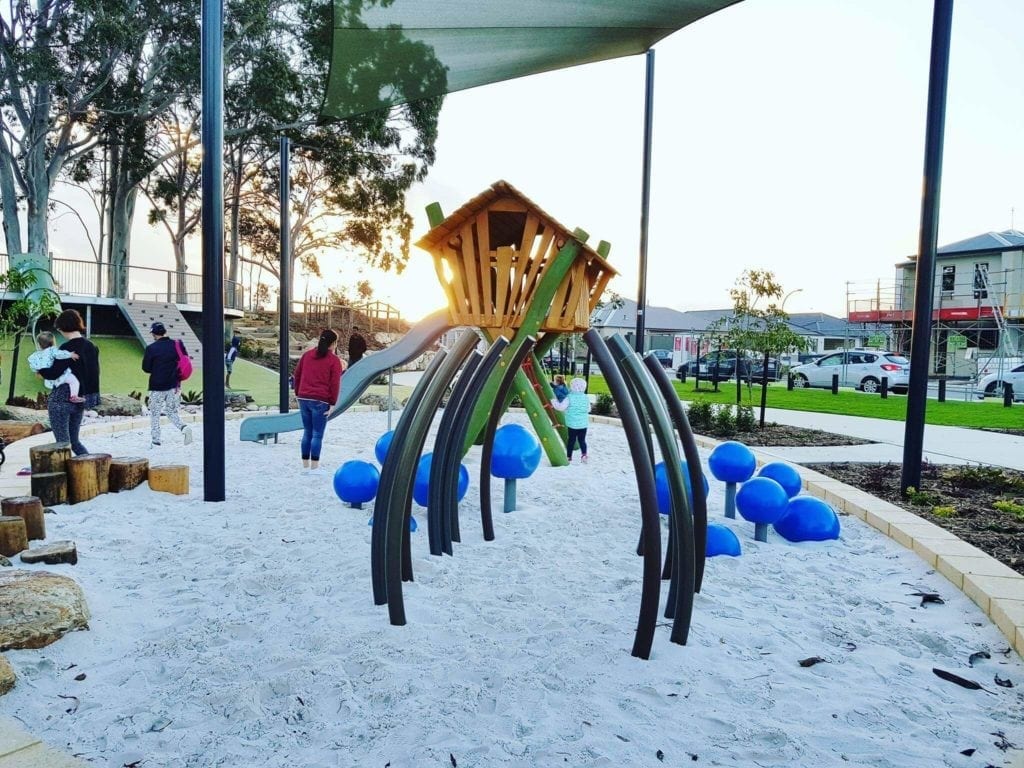 A winding pathway including bridges that lead around the play areas and parkland plus feature lighting highlights some of the beautiful retained mature trees.
BBQ facilities, drinking fountain and picnic tables with plenty of lighting for evening entertaining, as well as ample seating around the playground and grassed areas.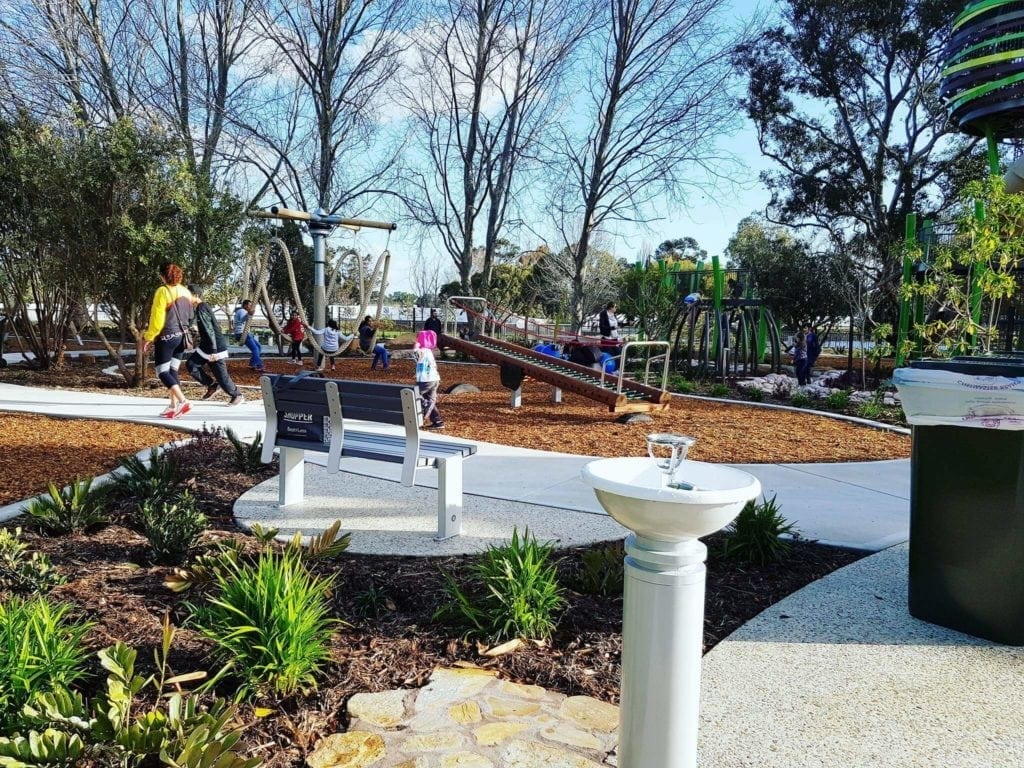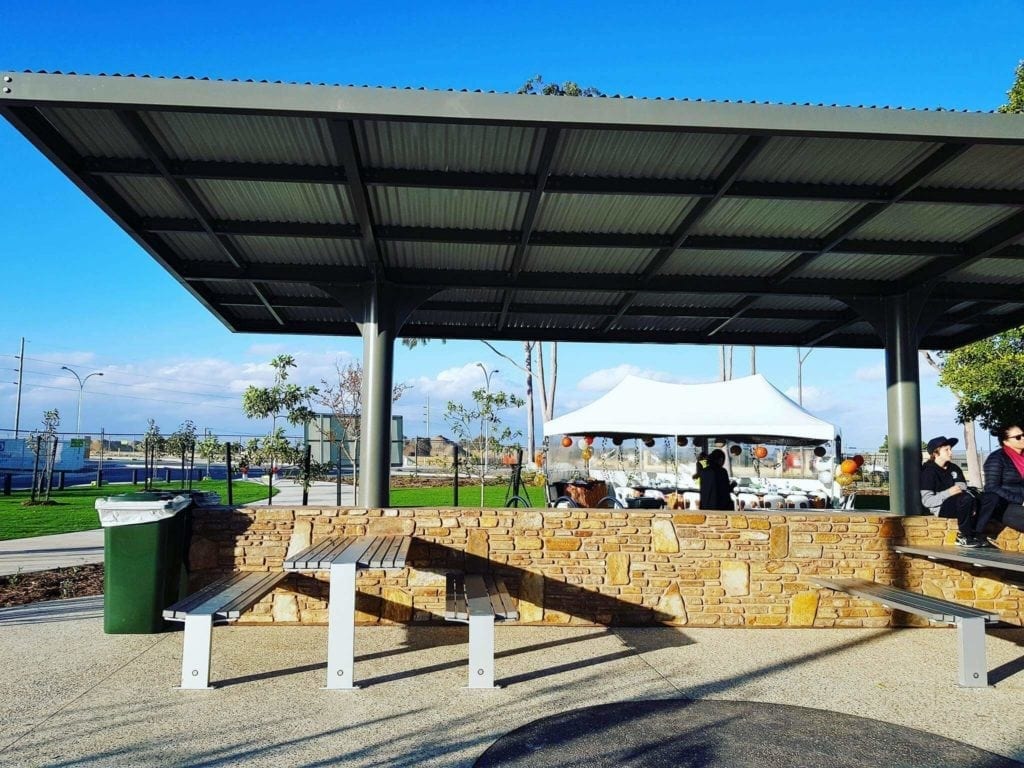 Temporary public toilets have just been installed. Whiteman Edge's Jungle Park is located on the Cnr Everglades Ave & Gloucester Approach, Brabham. This playground is guaranteed to be a new favourite for those near and far.
Find more playgrounds in Perth
Find more places to visit in the Swan Valley
Kellie Elliott is a stay at home mum of 4 she enjoys adventuring around Perth with her children and sharing her journeys and experiences on Instagram at Perth Mum Adventures.
Kellie Elliott is a stay at home mum of 4 she enjoys adventuring around Perth with her children and sharing her journeys and experiences on Instagram.
Location
No Records Found
Sorry, no records were found. Please adjust your search criteria and try again.
Google Map Not Loaded
Sorry, unable to load Google Maps API.
Member Reviews