Mullaloo Beach actually has two separate playgrounds, a fabulous beach with Kiosk, a Dome Cafe and full-service restaurant.  Mullaloo Beach Foreshore is a great location for family/group BBQ's and picnics as there's lots of open space for ball games and plenty of natural shade.
Shower blocks
Toilets
Beach
Good parking (although can get crowded on busy days)
Lots of shaded picnic shelters
Lots of BBQ's
2 playgrounds 1 x sand based, 1 x soft fall
1 playground has shade sails
Basketball hoop
2 swings (1 x baby, 1 x toddler)
Coffee & Cake – across the road at the Dome Cafe and Drive through Coffee Kiosk
Restaurant – across the road at the Mullaloo Beach Hotel
Kiosk – on the beach selling chips, ice cream and drinks
This is the playground nearest the larger car park, shower and toilet block and further away from the Dome Cafe and Mullaloo Life Saving Club.

This playground at Mullaloo Beach is set on a soft fall surface, has shade sails and is suitable for walkers/toddlers.

The play frame is a mixture of ramps, steps, climbing area and slides.

There are 2 rockers and a large abacus.

There are 2 swings, a baby and a toddler/child swing.  This area isn't shaded and is set on a soft fall surface.  This area is quite close to the BBQs, Basketball Hoop and plenty of shady trees and picnic shelters.
The second playground at Mullaloo Beach Foreshore is closest to the Mullaloo Life Saving Club, Kiosk, Dome Cafe and Mullaloo Beach Hotel.  The playground is sand based and consists of 2 wooden play structures in the shape of a boat and a ship.
The larger "ship" is more suited to 3yrs + There are 3 ways to get onto the sloping platform via a climbing ramp which is quite steep, wooded ladder or to pull yourself up onto it.

Near to the larger ship is a bird's nest swing.

The smaller boat play frame is more suited to older kids as you have to climb into the boat via a wooded ladder and there's a quite a big drop into the boat.

No playground is complete without a rocker.  Check out this wooden lobster, so cute!

Overlooking these nautical delights are two picnic tables and a large shelter.


There are also a few more picnic shelters and BBQs behind this shelter and throughout this side of the playground.

Directly opposite the playground is a new drive-through coffee kiosk part of the Mullaloo Beach Hotel where you can order from the kiosk on the roadside or go through the drive-through entrance and order from the hatch.
Find more playgrounds in Perth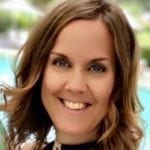 Lorraine is co-owner of Buggybuddys and is a mother to Blake (9) and Lollie (6).
Lorraine is co-owner of Buggybuddys and is mother to Blake (10) and Lollie (8).  Lorraine is passionate about health and fitness and loves exploring Western Australia in her Caravan.
Location
No Records Found
Sorry, no records were found. Please adjust your search criteria and try again.
Google Map Not Loaded
Sorry, unable to load Google Maps API.
Member Reviews