Love lazing in a beer garden at a Swan Valley Brewery? Or checking out hip inner city breweries in Perth with your family? Craft beer in Perth is HUGE and growing by the year. To enjoy a beer and a tasty lunch while your kids are occupied with a playground, games or activities makes the experience all the better!
We think there's nothing better than supporting local and drinking local, so we've put together the ultimate list of kid friendly breweries in the Swan Valley as well as the Perth metro area's north and south.
Breweries in the Swan Valley
The newest brewery on the Swan Valley block is incredibly popular and we can see why! The fun-tastic playground has been beautifully put together using vintage trucks. There's tones of grass for kids to play on, as well as mini picnic tables for children to enjoy their lunch.
Address: 9861 West Swan Rd, Henley Brook
Website: Bailey Brewing Co.
TXOKO Brewery
TXOKO is a small family-owned brewery found in an old rustic barn just outside Baskerville. With the most beautiful backdrop of vineyards, relax and enjoy their constantly rotating range of fresh beer and wood-fired pizzas or dine in the fully licensed restaurant. Read more in the Buggybuddys review.
Find TXOKO Brewery at 247 Haddrill Rd, Baskerville
Swan Valley Brewery
The rustic Swan Valley Brewery is very family friendly. Open Friday Saturday and Sunday for lunch or dinner, Swan Valley brewery is a great spot for a weekend lunch. The outdoor area has a sand-based playground and themed with a shipwrecked boat, jet ski and climbing frame for children of all ages. Read more in the Buggybuddys blog.
Find Swan Valley Brewery at 518 Great Northern Hwy, Middle Swan.
The huge Mandoon Estate has the best of both worlds, with a microbrewery and winery cellar door on the grounds. The brewery has a laid-back feel and out the back is an expansive lawn and picnic area. The fenced and shaded playground is sure to keep the little ones entertained. There is also a kids menu with cute lunch packs from the beer garden deli alongside kid's pizzas on the menu. Great beers and tasty food will ensure the big kids love Homestead Brewery too!
Address: 10 Harris Rd, Caversham WA 6055
Website: mandoonestate.com.au
You could plan an all-day outing to Mash, as it's found right beside the Oasis Supa Golf and a Mini Putt course. Mash has an outside playground and grassed area (in sight of tables), indoor kid's area with toys and a couple of PlayStations to keep the little and big kids happy. Whether you're stopping in for just a pint (the Freo Doctor is delightful!) or a meal, the whole family will love it.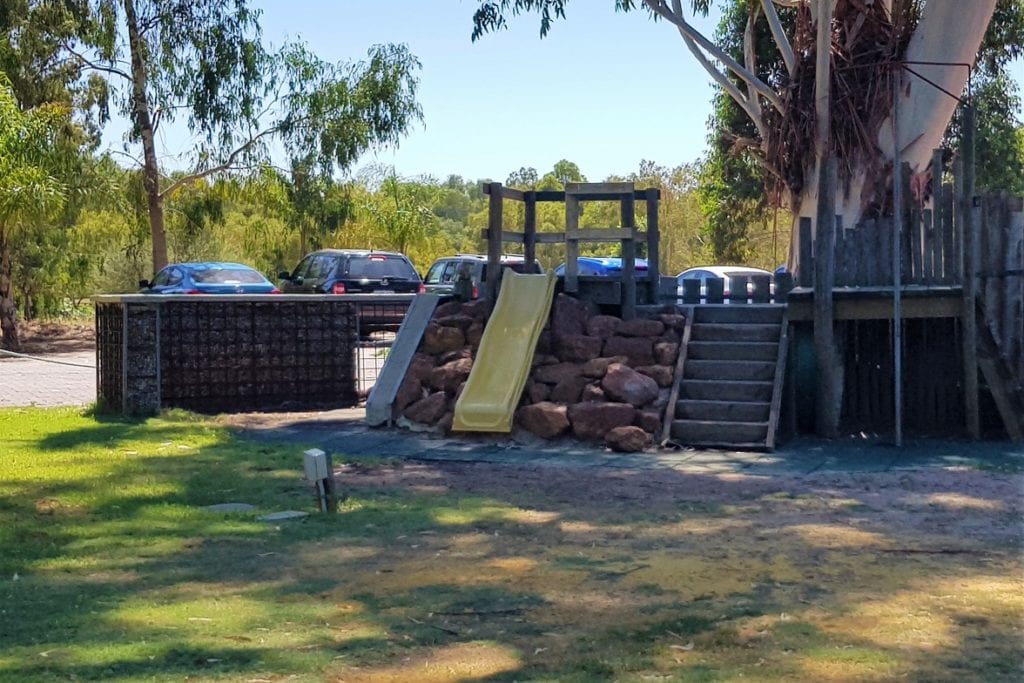 Address: 10250 West Swan Rd, Henley Brook WA 6055
Website: www.mashbrewing.com.au
Breweries in Perth (South)
Freo favourite Little Creatures is a hit with people of all ages. Chill in the back courtyard for views over the Fishing Boat Harbour while the kids spend hours playing in the huge sandpit. There's great craft beer, delicious pub style food (their pizzas are AMAZING!) and a fantastic atmosphere to keep your own little creatures happy.
Address: Fishing Boat Harbour, 40 Mews Road, Fremantle.
Website: https://littlecreatures.com.au/locations/fremantle/
The King Road Brewing Co is an incredibly popular spot to spend a lazy afternoon in Perth's southern suburbs. It's not uncommon for the gates to be closed on weekends, due to the venue reaching capacity. It's particularly popular with young families, with a huge playground, shaded sandpit, kids menu, bouncy castle and more.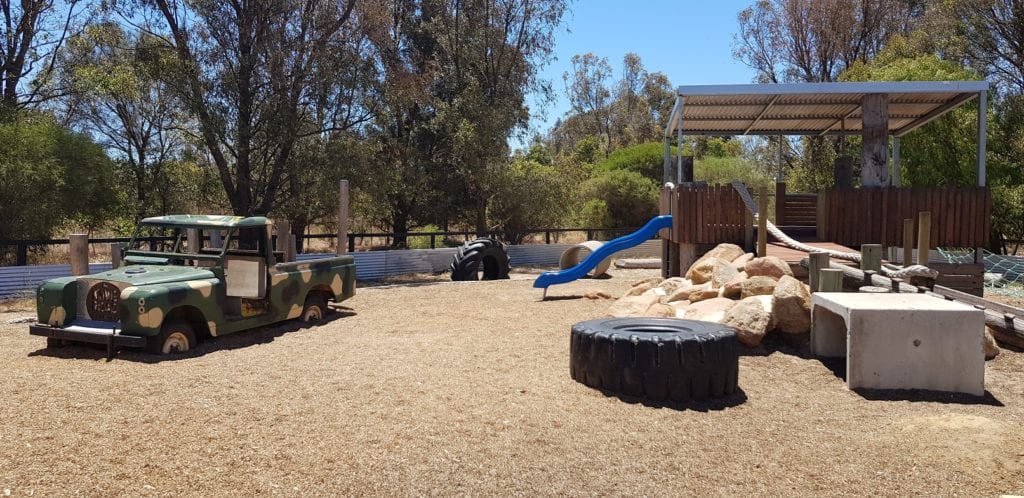 Address: 796 King Road, Oldbury.
Website: www.facebook.com/kingroadbrewingco
Blasta Brewing Company is a popular inner city spot close to the Burswood Train Station. Both the indoor and outdoor areas have plenty of room if you needed to bring a pram. Kids will gravitate towards the sand pit play area and there are also a few games and kids puzzles available to occupy the kids, while you chillax.
Address: 84/88 Goodwood Parade, Burswood.
Website: www.blastabrewing.com
Dutch Brewing Co, Victoria Park
While not strictly a brewery, the Dutch Brewing Co is the winner of Australia's best craft beer venue! It's a hip, kid-friendly hang out. In the back bar you'll find a kids' corner with a table equipped with colouring in materials, loads of toys and even a comic book rack! There's a sheltered sandpit out the back with plenty of toys to play with, as well as a little see saw and blackboard. Retro arcade games and a tasty children's menu will keep bigger kids happy too.
Address: 243 Albany Highway, Victoria Park.
Website: thedutchtradingco.com.au
Breweries in Perth (North)
With stunning views of the Swan River, Long Neck Brewery is perched at the "On the Point Complex". With a pub food menu designed to match the homemade craft beer brews, there are plenty of share plates and pizzas to choose from. The kid's menu is simple but with sides of chips and wedges, there is something for even the fussy eaters! For the little ones, a play corner will keep them busy, and a yummy kids menu.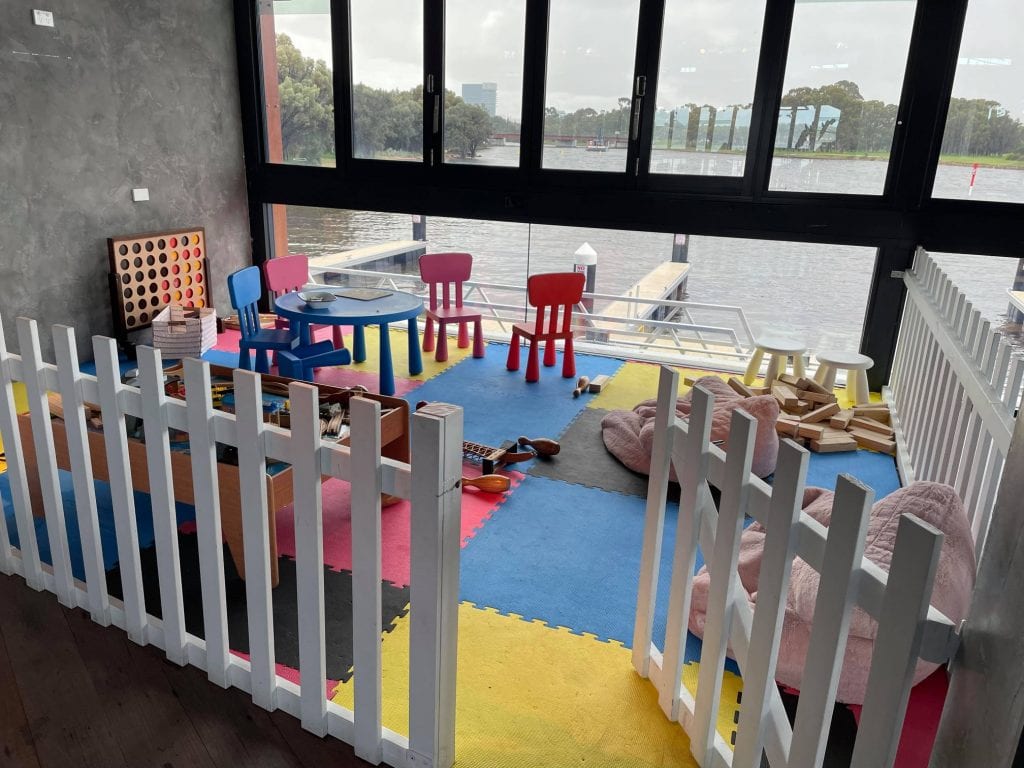 Address: 306 Riverside Drive, Perth.
Website: Long Neck Brewery – Perth's Premiere Craft Brewery
Indian Ocean Brewing Co
Mindarie Marina is a family hot spot to visit for breakfast, brunch, lunch or an early family dinner. At "The Indi" you can sit at a marina side table, watching the boats come and go. Or grab a table in the rear courtyard. This Indi offers a kids menu too.
Address: Mindarie Marina, 33 Ocean Falls Boulevard, Mindarie, WA.
Website: www.themarinamindarie.com/indian-ocean-brewery
Found overlooking the greenspace of Northbridge Piazza, The Northbridge Brewing Company (NBC) is a casual spot for a family meal and they offer kids an activity pack, as well as a tasty children's menu. Parents will enjoy their Beerland beers, brewed onsite.
Address: 44 Lake Street, Northbridge, Perth.
Website: northbridgebrewingco.com.au
Found at the shiny and new food piazza at Westfield Whitford City shopping centre, the Whitfords Brewing Co serves good beer, good food and good times! For kids there's a fun activity pack, as well as a tasty children's menu. Outside, there's a fun play area for children, but it's not in sight of the brewery.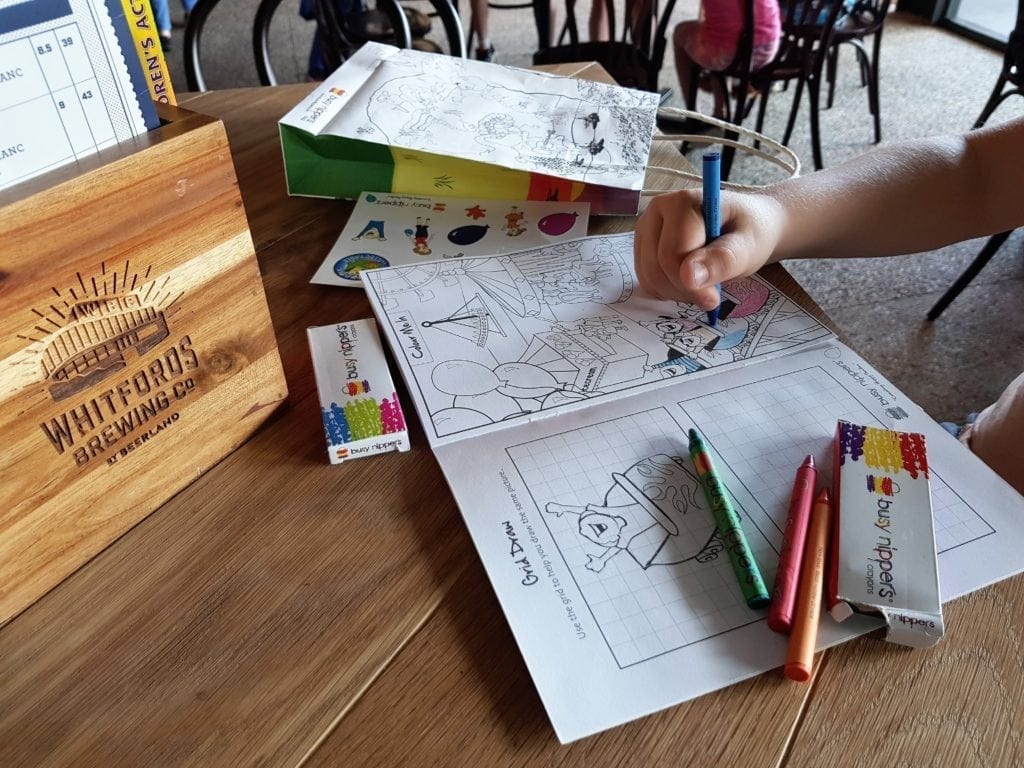 Address: Westfield Whitford City shopping centre, Whitfords Avenue, Hillarys, Perth.
Website: whitfordsbrewingco.com.au/
Find Family Friendly Breweries in South West WA
Find more family friendly restaurants in Perth