If you are looking to get your kids off the tech and be outdoors and active this school holidays then look no further than The Swan Valley Adventure Centre!
Sprawled over 90 acres of peaceful Swan Valley bushland with direct river access, The  Swan Valley Adventure Centre offers a safe and secure world of adventure that is challenging, exciting, and transforming. Adventurers will leave the day dirty, sweaty and exhausted but will have had the best day ever!

The school holiday adventure day program runs daily from 8.30am – 4pm, costs $59 plus booking fee and no day is the same. Children are split into 2 age groups comprising of 7-9 years and 10-14 years.
The Adventure Day offers numerous activities with 3 or 4 selected as part of the program each day. A timetable is published in advance and you can select the day or days which offers you the activities that interest your child the most.
Activities are as follows:
CANOEING & KAYAKING
Learn water safety, develop skills, build relationships and play a range of games or paddle upstream then back to home base along the stunning Swan River. This April School holidays they will also be offering a half-day canoe trip to the 10-14 year-olds. Take a journey along the scenic Swan River, spend some time enjoying the water and learning new skills.
RAFT BUILDING
Fun, aquatic teamwork – work in teams to plan, assess risks, learn skills to build a floating raft from different materials and take part in the major paddle challenge.
ARCHERY
Become the Robin Hood of your dreams with this popular sport that hones hand to eye coordination.
COMMANDO COURSE
The ultimate stamina test! Run, jump, swing, slide, crawl!
HIGH ROPES COURSE
A tree-tops adventure to test your fear. Middle ropes course for those less adventurous and another level for the truly brave.
FLYING FOX
Launching from a tower the flying fox transports you over the grounds of the Swan Valley Adventure Centre. Kids can either go solo or take the challenge of a race!
CHALLENGE POD
A real test of nerve – build strength within your team with these testing activities:
Leap of faith
Crate stack
Possum glider
Jacob's ladder
My 11-year-old daughter and her friend had such an amazing day and are desperate to go again! When I asked them what their favourite activity was – Canoeing, High Rope or Archery – they couldn't answer as they loved them all! It was highly rewarding that they got to spend the day challenging themselves with activities that they had never experienced before. The staff were all really helpful and friendly. Everything activity is explained thoroughly in advance and safety is paramount.
What to take?
Water bottle – there are several water fountains around the centre to fill up the bottle throughout the day.
Sunscreen – good to take your own although the instructors do carry around a big bottle with them and they do remind the kids to keep reapplying.
Enclosed shoes plus a spare pair – enclosed shoes are a must. If your child is doing canoeing or commando course during the day they will get wet. Particularly with canoeing, the kids are allowed to swim in the river but are not permitted to take off their shoes so I'd advise taking along a pair of reef shoes for that activity.
Bathers and a towel – again if canoeing is part of the plan then bathers and a rashie are a good idea as they will have the opportunity to swim.
Spare change of clothes – make sure they are old clothes as they will come back filthy!
Snacks and lunch.
The Swan Valley Adventure Centre is located at 58 Yule Avenue, Middle Swan. The Adventure Day activity program runs during the school holidays. For the latest information visit www.swanvalleyadventurecentre.org or call 9374 5600 during office hours.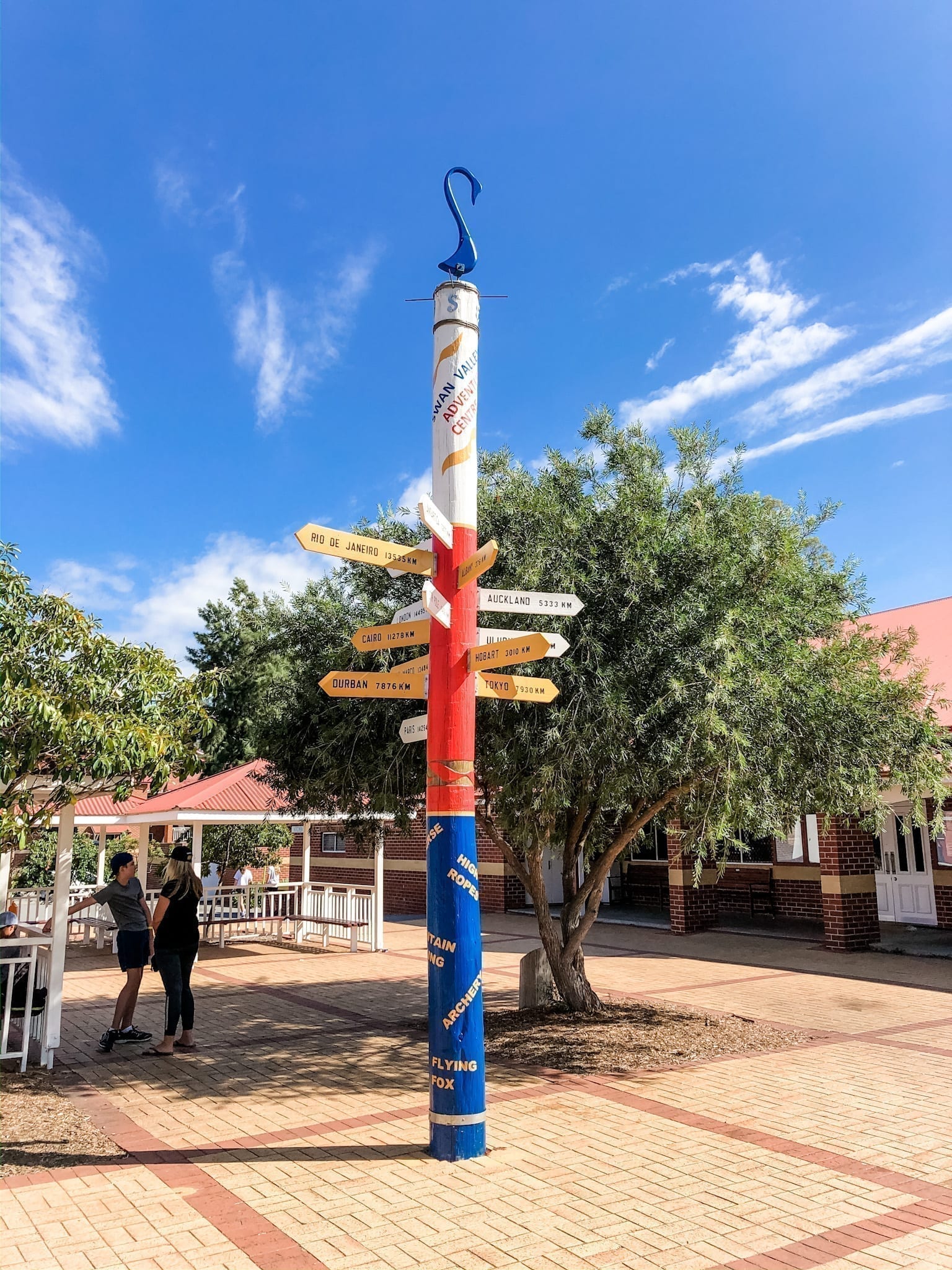 Find more things to do in the school holidays