Nestled in the picturesque Perth Hills is a fantastic family friendly venue – Masonmill Gardens. Masonmill is found in Carmel, about 30 minutes' drive east of Perth's CBD. The spot offers a stack of things for families to do, including mini golf, fun nature play playground and stunning rose gardens to explore. The huge venue underwent a stunning transformation a few years ago, and is well worth a visit.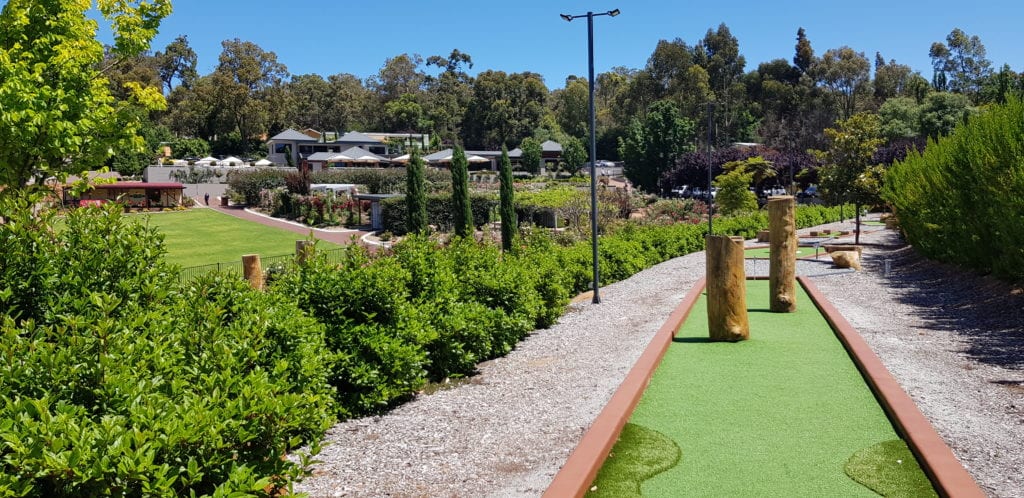 Restaurant
At the bustling restaurant, you'll have a choice of indoor or outdoor dining, which is relatively easy to navigate with a pram. There's plenty of high chairs too. If you sit outside on the terrace, you'll have a wonderful view over the garden and surrounding bushland.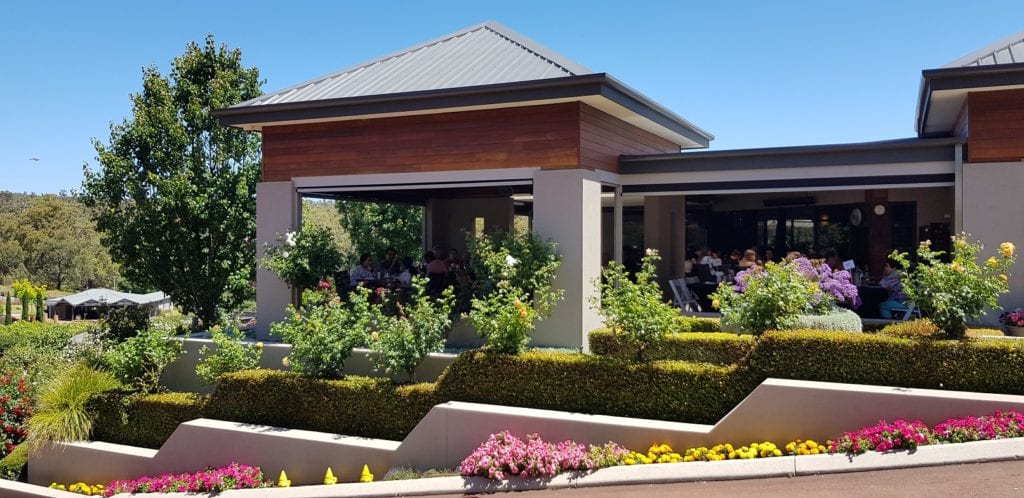 We last ate a meal at Masonmill three years ago, and I assume that their kitchen has had a few changes since then, as we were pleasantly surprised with the improvement on quality of the food. On the children's menu, each item is $9, served with chips, salad, and a pop top fruit drink.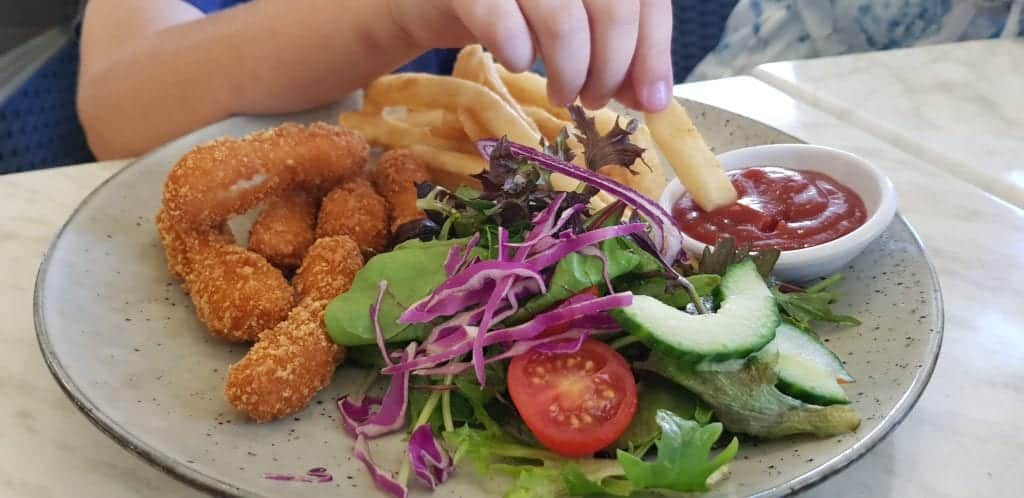 For adults, the menu is full of options like burgers, pasta, fish and chips, gourmet pizza, salads, sandwiches and their signature "steak on a stone". We enjoy the Blackened Salmon ($29). Asian style salmon, with sautéed bok choy with a carrot, radish & cucumber slaw, peanut dressing & coconut rice. So tasty!
Another tasty dish on our table was the cider and chilli pork belly bites ($18) which were beautifully tender with an apple and cabbage salad in a cider vinegarette.
There's plenty of drinks options too. The restaurant is fully licenced. Their pots of tea are served with a beautiful freshly picked rose. What a lovely touch! I absolutely loved Masonmill's homemade sparkling Rose-ade ($7). Rose petals are infused with lemon and served with lemonade and rose petal ice cubes. It's such a pretty drink. A rose petal thick-shake sounds like an interesting drink too.
Colouring in is available to keep kids busy at the table.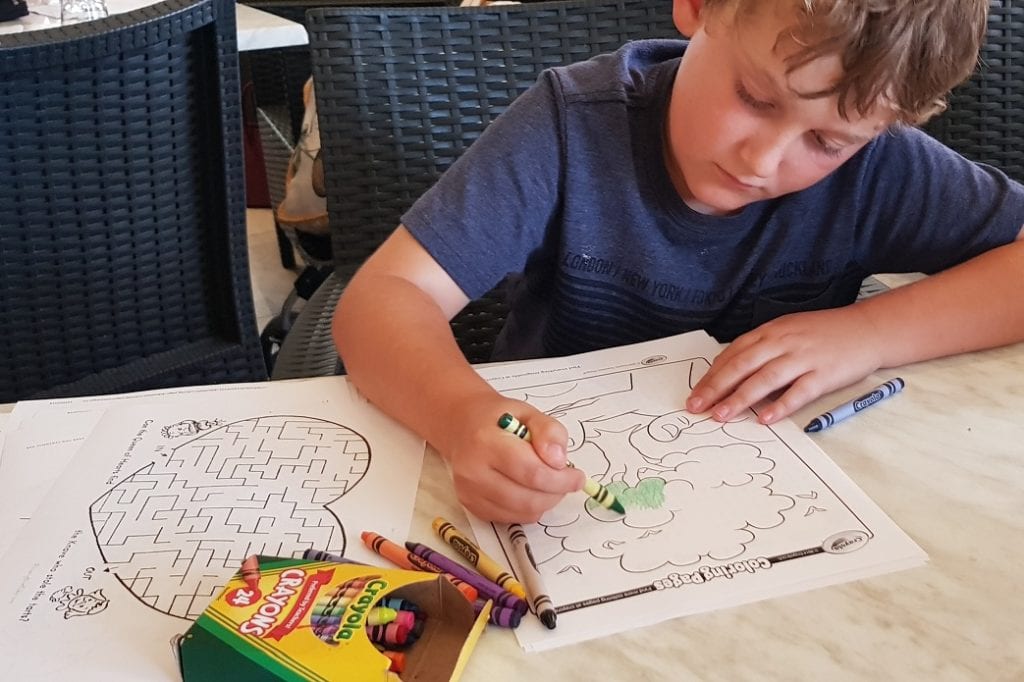 Little Chef get treated to a rocky road mousse from the dessert filled cabinet too.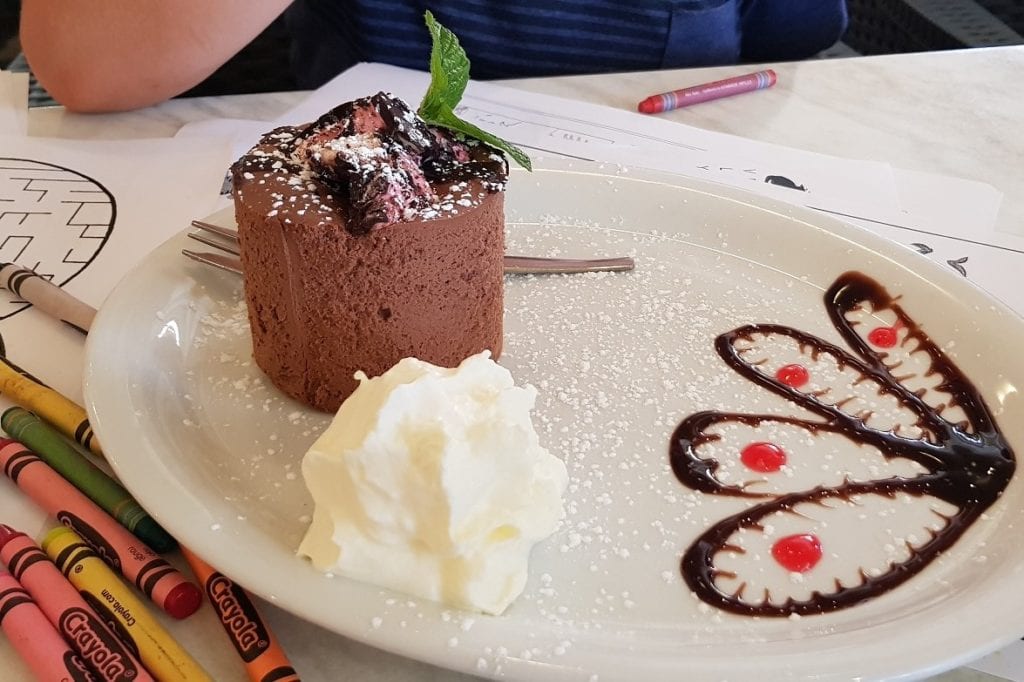 Masonmill is open for breakfast, lunch, dinner, coffee n cake and high tea – Thursday to Sunday. With plenty of large tables, it's perfect for group catch up. There's also a bar and an Irish-village themed beer garden outside. You can enjoy a pint of Guinness and enjoy the sweeping garden views from the colourful terrace, which has live music on weekends. Here. There's $20 Roasts and bar snacks available too.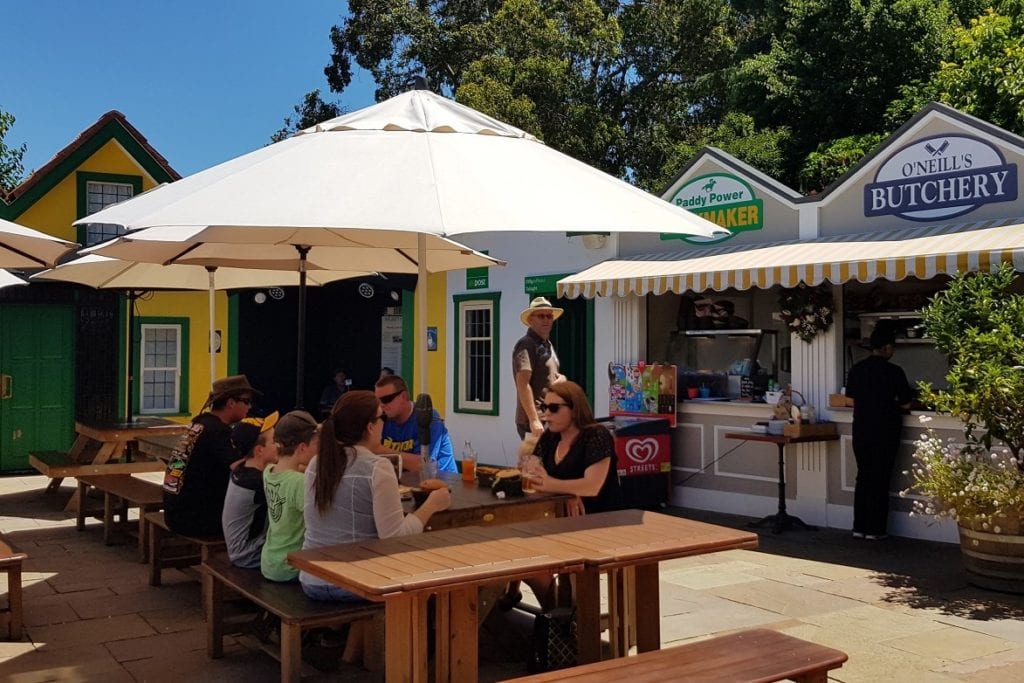 Playground
The fully fenced playground, featuring a beautiful cubby house, is brilliant for little ones!
There's a large pergola, which has tables for parents to enjoy a coffee while they watch their kids play. The pergola is also available for kid's birthday parties.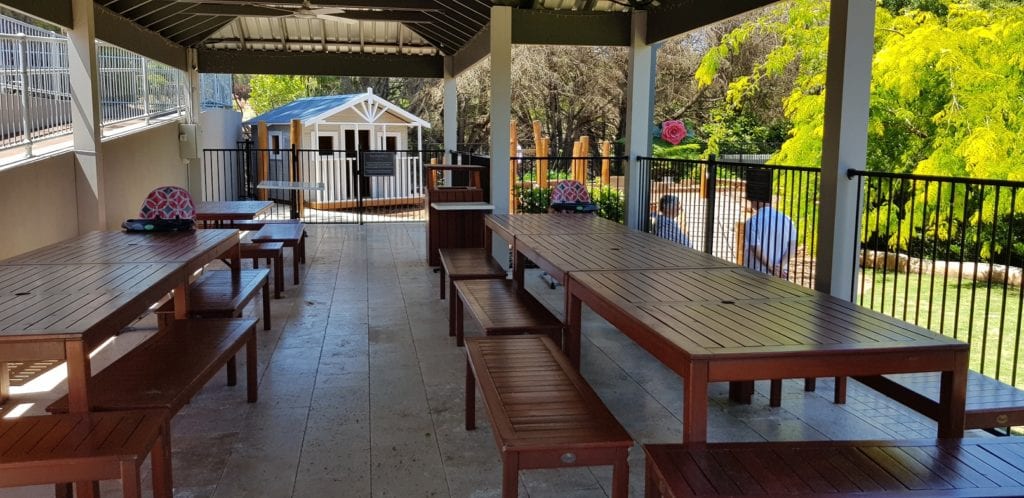 The playground is mainly a nature based play area, with lots of stepping stones and a wobbly log to balance on, as well as a slide and a lawned area to run about on.
Children will love the sandpit too  – the playground is fun and challenging for kids of all ages.
Mini Golf
You can also play a round of mini golf at Masonmill. The rustic course is mainly flat, so easily accessed by most people, though the gravel footpaths are not be easily navigated by prams or wheelchairs. There's some shade, but it's best to slip, slop, slap.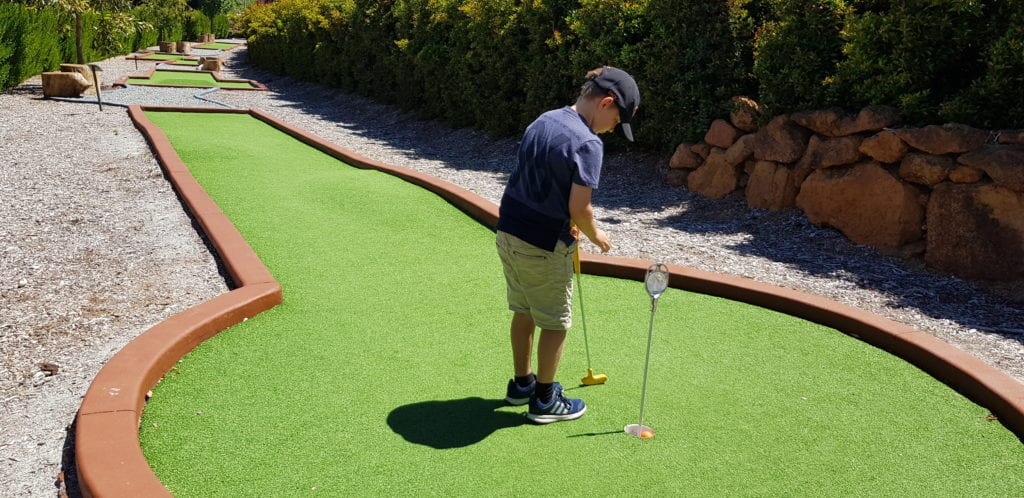 There's logs and huge coffee rocks used as obstacles. The logs are perfect for sitting on if you're waiting your turn to putt too.
The mini golf is challenging, but not difficult. There are a few tight angles, tunnels, "bunkers" and slopes – just to make things tricky! We enjoyed it and Little Chef was happy not to come last – that was me haha!
Next to the mini golf, you'll find a bouncy castle for kids too.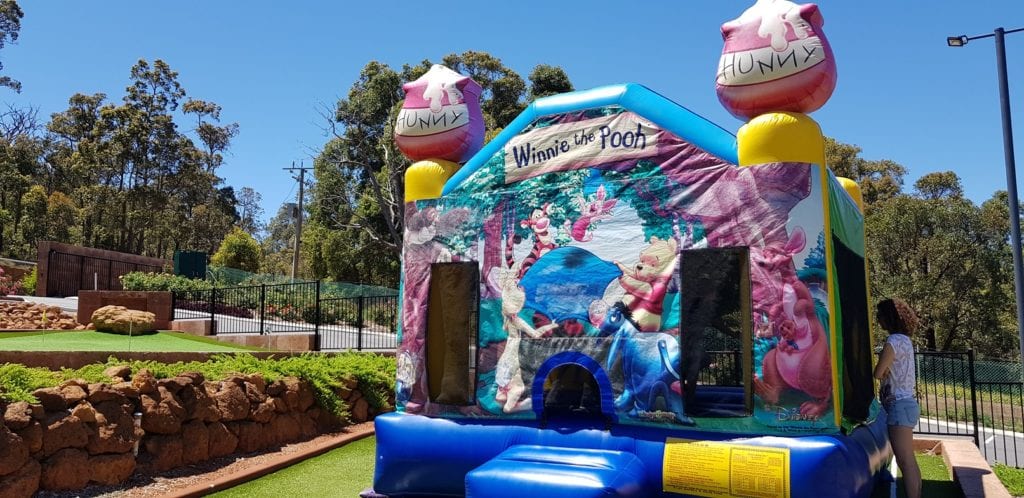 Clubs and balls are available from the neighbouring café. Where you can grab some refreshments.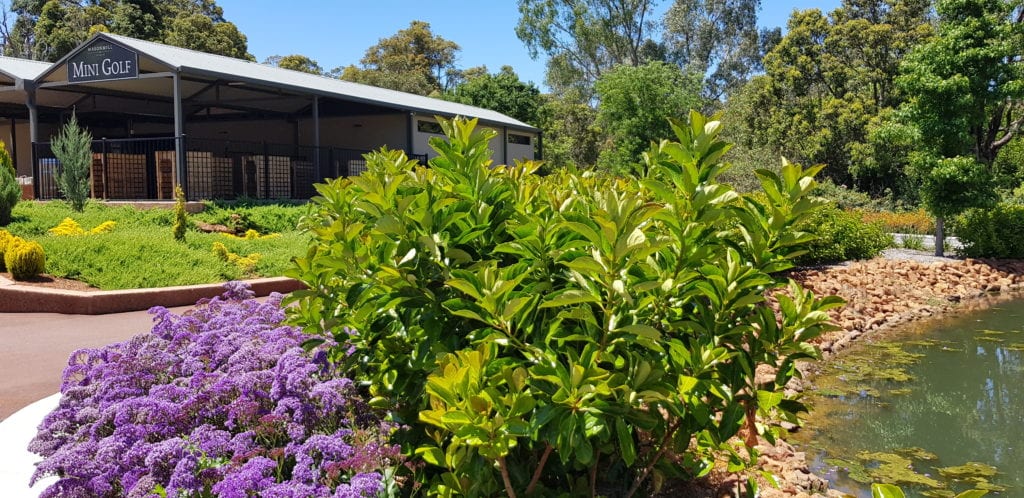 Fish Pond
Be sure to grab a bag of fish food from the gift shop. The pretty pond comes alive with koi when food gets thrown in.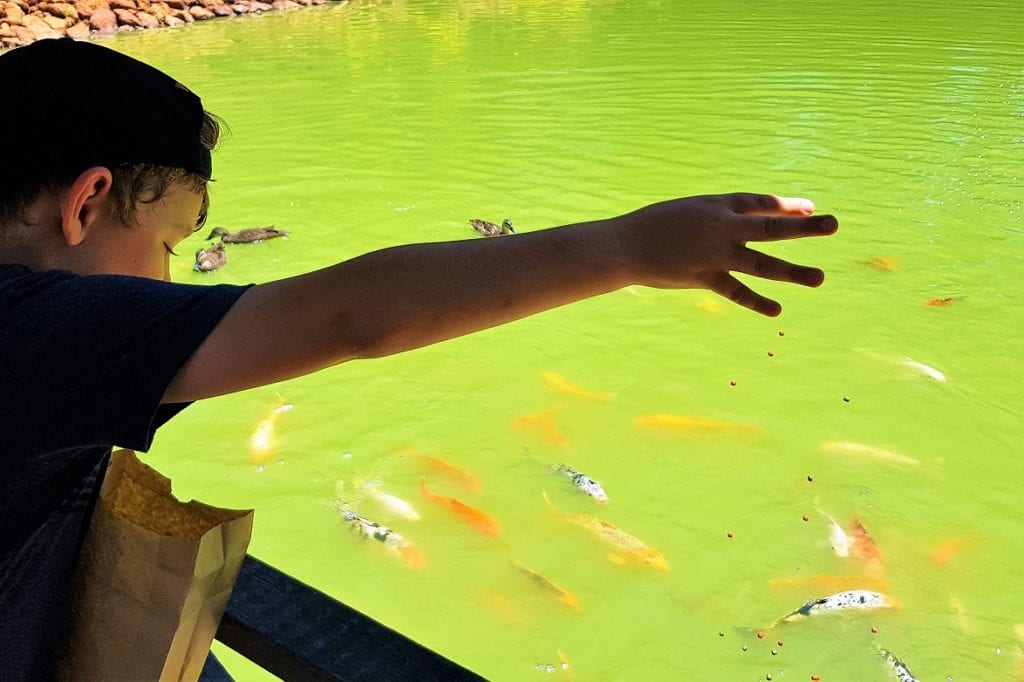 It's a feeding frenzy!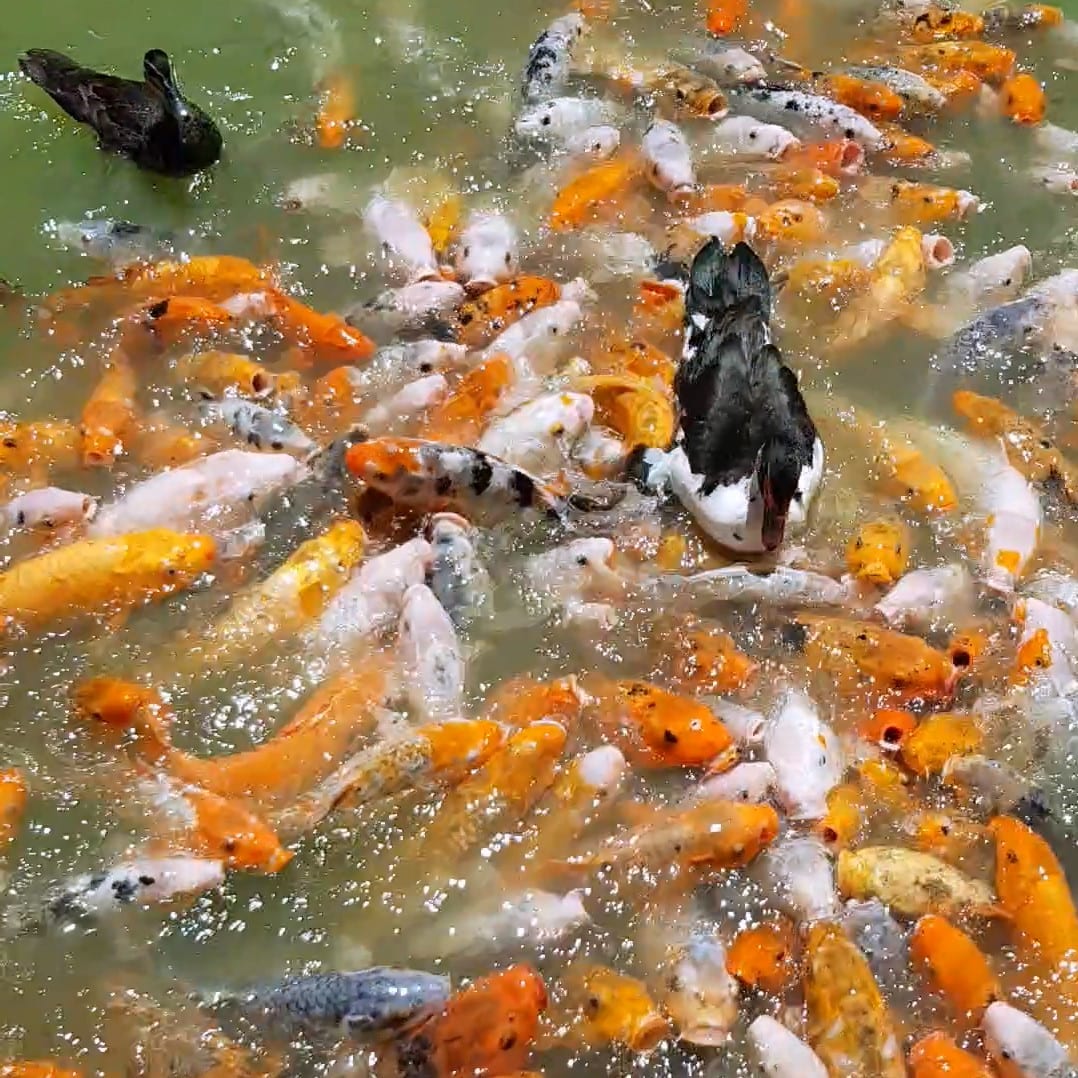 The kids will love watching the fish, but make sure you hold the little one's hands tight.
Gardens
Spring and early summer is a beautiful time of year to visit Masonmill, which has stunning rose gardens to explore.
What many people don't know about is the hidden French Gardens, found up some steps behind the restaurant. They are absolutely spectacular and the kids will love a wander around the pathways and find beautifully manicured hidden nooks.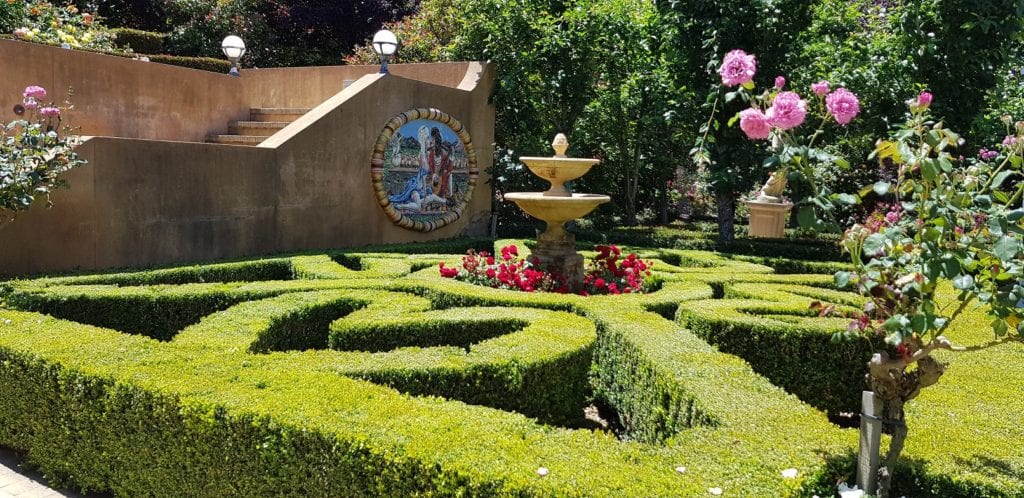 You can easily spend a few hours at this magical spot in the Perth Hills – there's so much to do at Masonmill Gardens with your little cherubs!
Masonmill is located at 40 Masonmill Road, Carmel.  
For more information visit masonmillgardens.com.au
Find more family-friendly restaurants in Perth