Get lost in a maze in Perth! There are many mazes to amaze and confuse the whole family. From traditional hedge mazes, to wooden labyrinths, kids and adults alike will love the challenge of finding their way through a maze. See our guide to  mazes in Perth and regional WA, to find your way out of here:
Mazes in Perth
The Maze at Perth's Outback Splash, Bullsbrook
The Maze at Perth's Outback Splash has to be the ULTIMATE spot to get lost in Perth! With not one, but six mazes to puzzle the whole family, you can spend hours trying to solve the many mind-boggling challenges. As well as a huge hedge maze, a large wooden maze will test even the most confident kids.

There is a tyre maze, rope maze, and two small mazes look easy… but don't be fooled! Danae's Dilemma and Phil's Frustration are brain teasers where you can either make right hand or left hand turns only to get to the end. It's very tricky! And if all this wasn't enough – The Maze is also home to Outback Splash! Read the Buggybuddys review here.
Find The Maze at 1635 Neaves Road, Bullsbrook.
Amaze Miniature Park, Mandurah
Take your mini people to discover a wonderful little land at Amaze Miniature Park! It's easy to spend hours exploring the beautifully manicured park and mazes. Get lost in the challenging, traditional hedge maze. The aim is to find the exit, which is pretty tricky, but fun. There's a handy viewing platform, to give lost people a little guidance out!
A grass maze is also much more difficult than it looks. Challenge your family to a race to the middle – no cheating! Here you'll find mini golf, model railways, a playground and picnic areas too! Read the Buggybuddys review here.
Find Amaze Miniature Park at 24 Husband Road, Barragup.
Mazes in Regional WA
Yallingup Maze
The massive Yallingup wooden maze has hidden doors, towers, stairs and bridges. The challenge is to reach all four numbered towers, which is difficult enough – try reaching the towers in number order! The wooden pathways all look the same and it's easy to get very lost here. Afterwards you can recharge at the tasty café, which has puzzles on each table. Read the Buggybuddys review here.
Find Yallingup Maze at 3059 Caves Road, Yallingup.
Amaze'n Margaret River
Amaze'n Margaret River's giant hedge maze has 1.5kms worth of pathways to get lost in! Once you have conquered that, there's also mini golf, a playground and lots of smaller mazes too solve too. Read the Buggybuddys review here.
Find Amaze'n Margaret River at 9978 Bussell Hwy, Margaret River.
Xscape at the Cape, Dunsborough
A day at Xscape at the Cape is full of fun – from mini golf, to waterslides, and Amaze 'n' Lazer Tag! The game is held within the Mine Shaft Maze. There are only a few games per day so be sure to plan ahead. Kids must be over 120cm to play. Read the Buggybuddys review here.
Find Xscape at the Cape on the corner of Caves Road & Quindalup Siding Road, Dunsborough.
Wow Illusions, Metricup
As well as eye-popping illusions, this rain hail or shine attraction also has two mazes! Wow illusions is home to a mirror maze, as well as a tricky gate maze – both guaranteed to provide lots of fun trying to master. Read the Buggybuddys review here.
Find Wow Illusions at 219 Harmans Mill Road, Metricup.
The Kodja Place, Kojonup
The drive to Albany has lovely country towns to stop and discover. The Kodja Place in Kojanup is a great place to park up and explore. Here you'll find a gift shop, information center, Black Cockatoo Café, local museum/gallery, and even a rose maze! The beautiful maze has sculptures to discover, a grassed picnic area in the center and a donation for entry is appreciated. Read the Buggybuddys review here.
Find the Kodja Place Rose Maze at 143 Albany Hwy, Kojonup.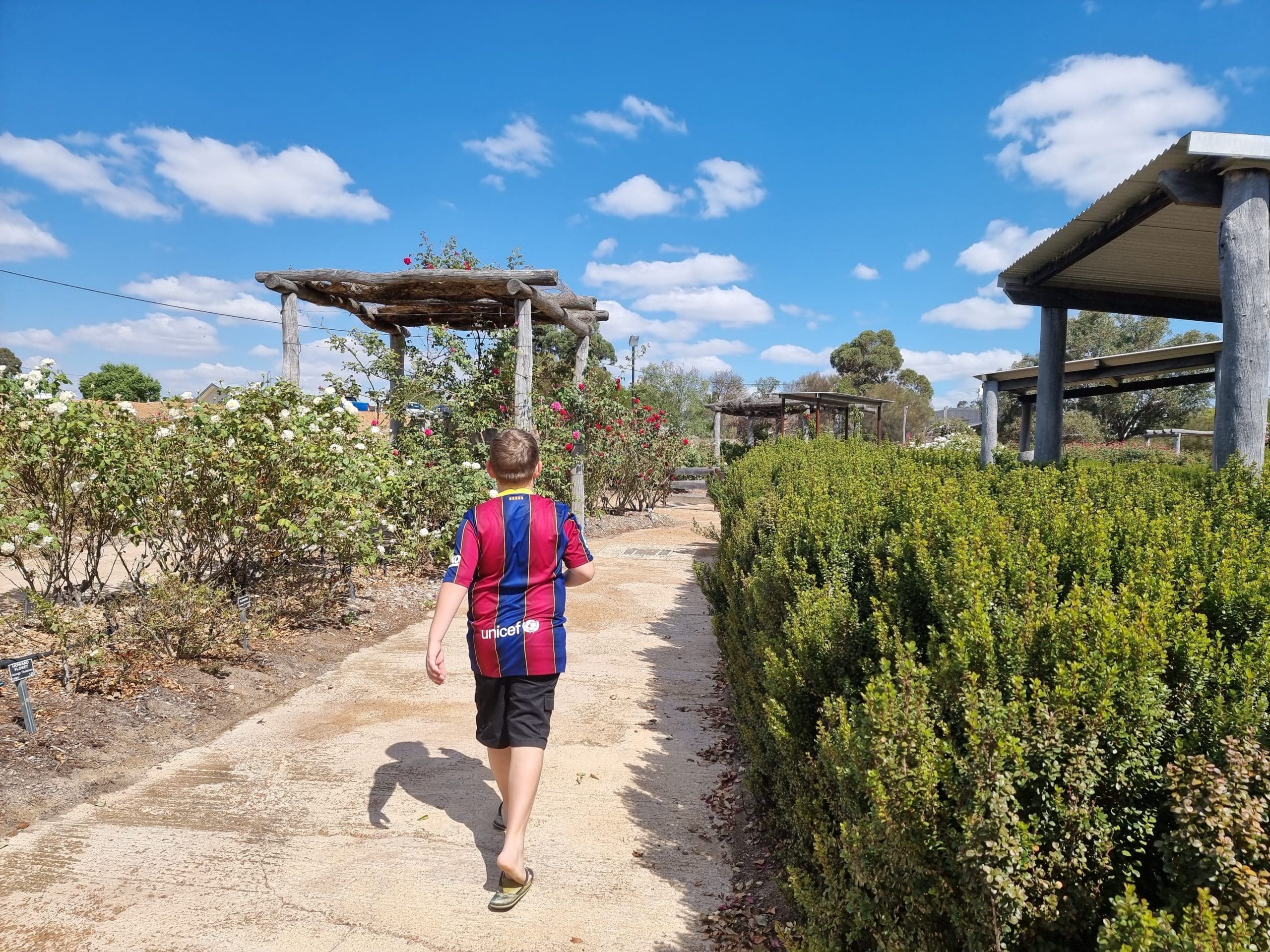 Perth Playgrounds with Mazes
Dazzle Park, Bennett Springs
The vibrant Dazzle Park has an unique playground, in that it is situated within a hedge maze, which we are sure will provide lots of extra fun once it matures. Found in the centre of the maze is the main feature of the playground, a large climbing wall that leads to a high yellow slide. Read the Buggybuddys review here.
Find Dazzle Park at Luminous Bvd, Bennett Springs.
Ivey Watson, Kings Park
As well as a castle, pirate ship, airplane and fire truck, the fantastic Ivey Watson playground also includes a mini maze! This is ideal for little ones as the small maze is made from metal fences, meaning that you can see them and they can see you – so no one needs to worry about getting lost. Read the Buggybuddys review here.
Find Ivey Watson Playground at 34 Kings Park Road, West Perth.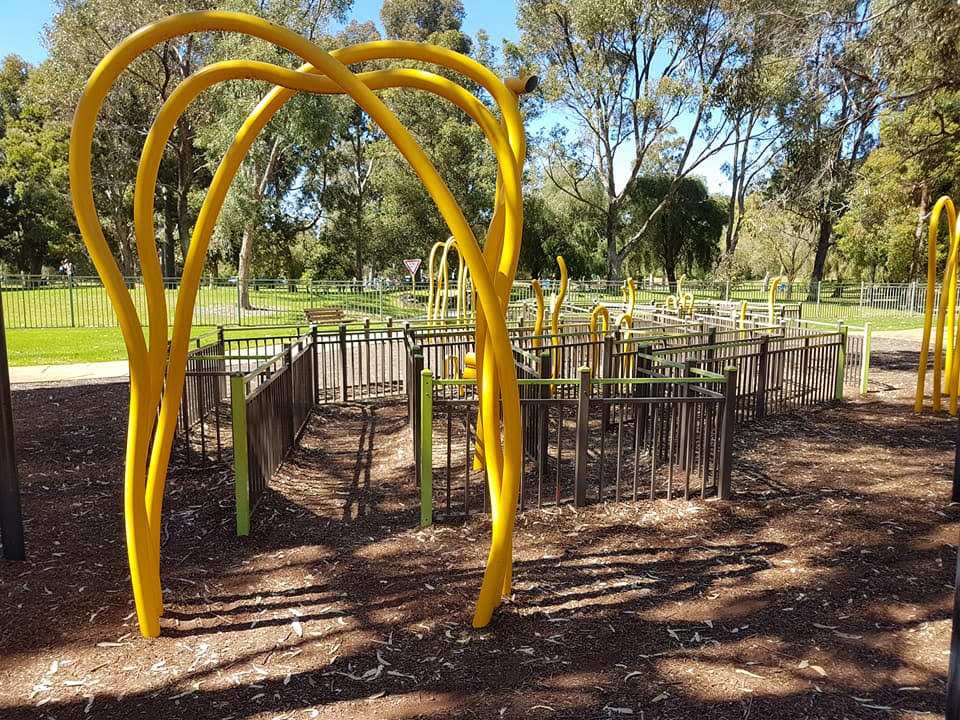 Osprey Waters Foreshore Reserve, Erskine
As well as a rope maze, there is also a log/nature maze at Osprey Waters Playground. Balancing on the logs, trying not to fall off, is a little tricky – but lots of fun! The park, near Mandurah, also features a fun bird's nest tree house. Read the Buggybuddys review here.
Find Osprey Waters on the corner of Egret Point & Bridgewater Blvd, Erskine.
Have we missed your favourite Maze in Perth or WA? Please let us know in the comments below!