The immense Kings Park and Botanic Gardens is found on a massive 400 hectares of mainly native bushland, overlooking Perth city and the Swan River. As well as being internationally renowned for its annual wildflower displays, spectacular views and cultural heritage, it offers up many diverse activities. Kids will love exploring the many playgrounds and parkland that's perfect for walks and picnics. It's no surprise that Kings Park has been a popular meeting spot with Perth families for generations. Here's our big guide to Kings Park with kids:
Playgrounds in Kings Park
May Drive Parkland (aka The Dinosaur Playground)
The lushest lawns surround this unique "dino" playground, making it perfect for a picnic with barbeque facilities and plenty of space to run and roam. May Drive Parklands is found alongside a small lake (non-fenced) so close attention needs to be paid to little ones. Highlights are the wooden play structure with elevated walkways (great for climbing!), giant crocodiles and other prehistoric creatures to climb on and a bridge to a play structure. Read the Buggybuddys review.
Ivey Watson Playground at Poolgarla Family Area
This is an awesome playground that is perfect for imaginative play, found just off Kings Park Road. Best suited for kids under age 6, it's fenced but not gated and features Koorak Cafe. Highlights are a firetruck, an airplane, small maze, a pirate ship and castle (complete with throne!). There are several swings and areas aimed at babies and small toddlers with age-appropriate play equipment. The nearby Hale Oval has a climbing "space net" for older kids as well as pavilions for hire and barbeques. Read the Buggybuddys review.
Rio Tinto Naturescape
The fun-tastic playspace in Kings Park celebrates all things nature… though you better be prepared to let the kids get dirty and wet! Highlights include paddling in creeks, building dams in streams, climbing ladder towers, building stick cubby houses and walking over Boomerang Bridge. Naturescape is open Tuesday to Sunday 9am to 4pm. In extreme heat the playspace will be closed, and throughout the month of February it's closed completely too. Be sure to pack a change of clothes for this one. Read the Buggybuddys review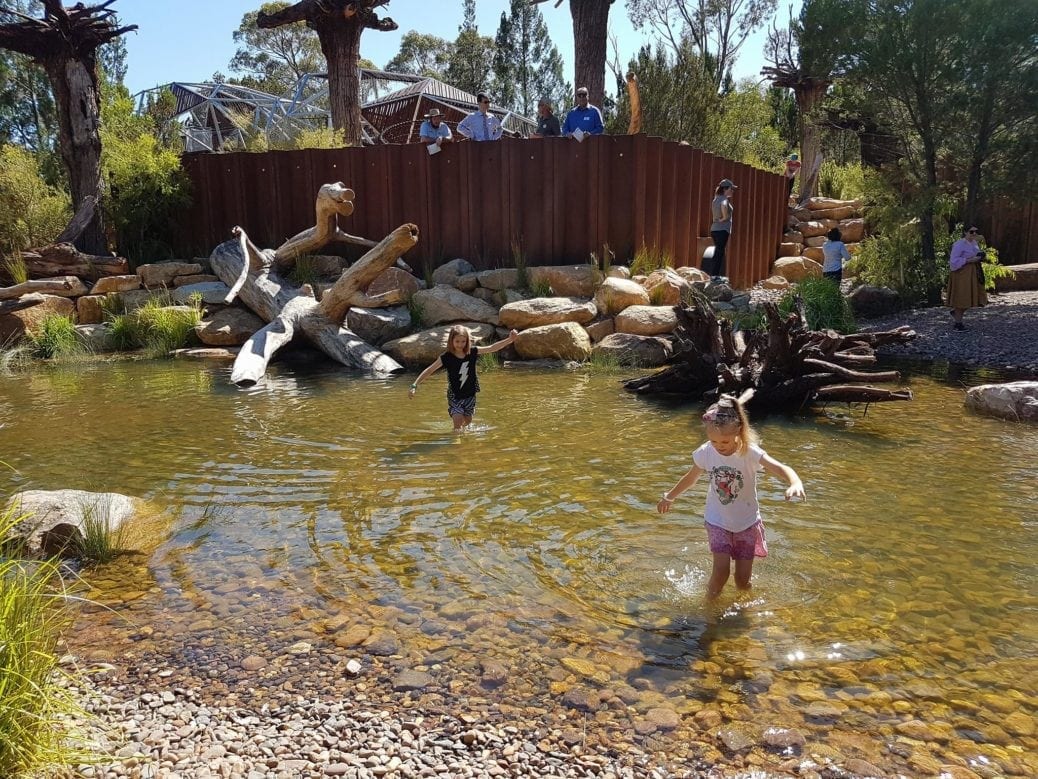 Saw Avenue Picnic Area
This open, nature style play area in Kings Park is perfect for exploring! Found just off Thomas Street, this includes an innovative nature-based play area designed by local woodcarving artist, Nic Compton. The unique collection of picnic furniture and play elements have been created from recycled timber found in Kings Park. Read the Buggybuddys review
Cafes in Kings Park
Zamia Café
Overlooking the lake at May Drive Parklands, Zamia Cafe serves breakfast, brunch and lunch, plus a big range of yummy cakes to enjoy with a coffee. Top tip – the kids' pancakes are delicious! There is a takeaway kiosk, for ice creams as well. See more in the Buggybuddys review.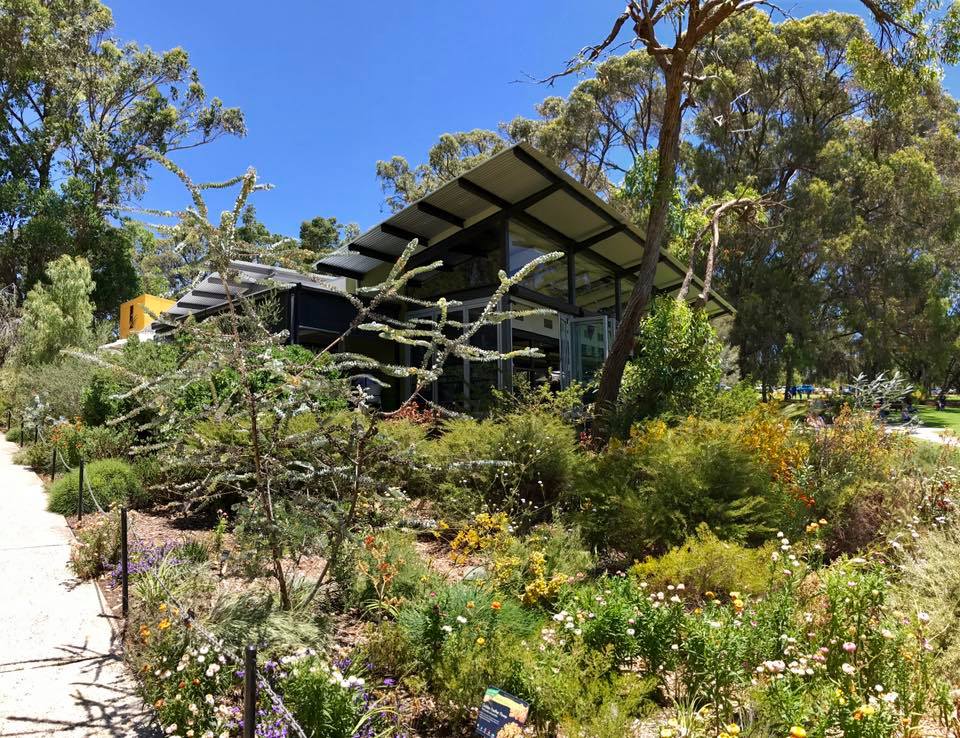 Koorak Cafe
Found next to Ivey Watson Playground, Koorak's relaxed vibe welcomes families and has heaps of space for strollers too! The cafe offers a range of fresh and healthy menu options. And fun fact… Koorak means 'place of bush tucker' in the local Noongar language. See more in the Buggybuddys review.
Gallery Shop and Cafes
Near the State War Memorial on Fraser Avenue, you'll find a collection of eateries as well as The Aspects of Kings Park Gallery Shop. The shop displays locally made art pieces for sale, plus gifts, books and souvenirs. Nearby is the Visitor Information Centre with helpful staff to answer questions. There is a kiosk selling drinks, snacks and ice creams with a few shaded tables available. The Botanical Café has a relaxed atmosphere (open 7 days for breakfast, lunch and dinner). If you'd like something a little fancy, Fraser's Restaurant fits the bill.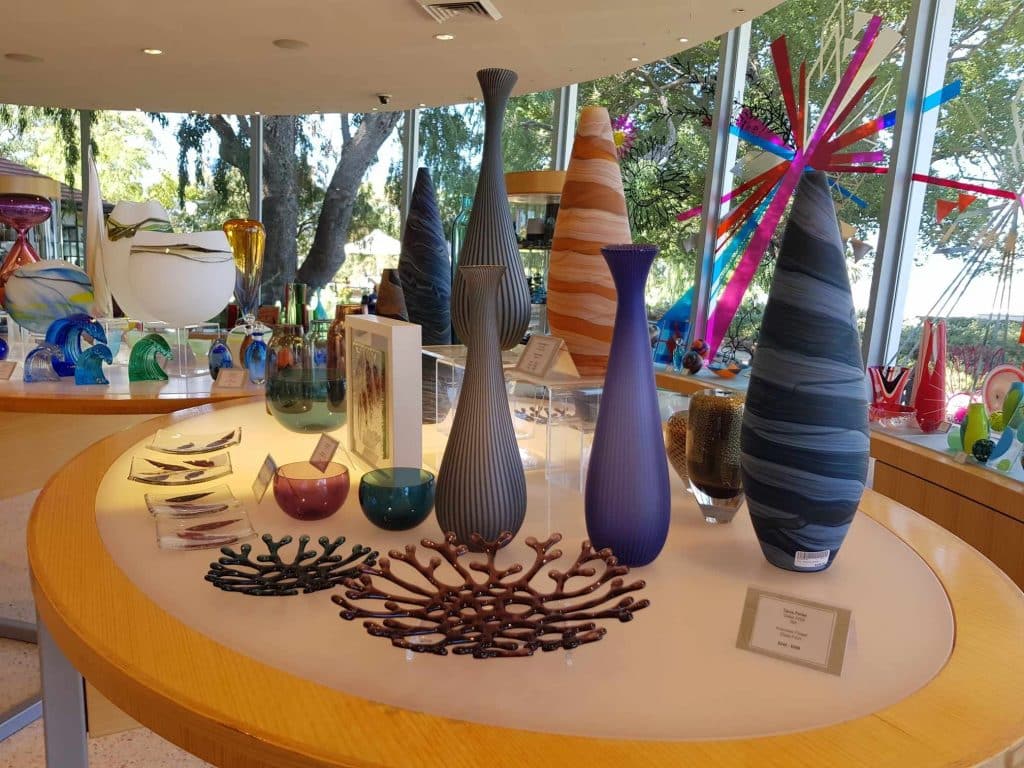 Things to see and Do in Kings Park
The Botanic Gardens
Walk through the stunning Kings Park gardens renowned for its annual native wildflower display, sweeping grassy slopes, the diversity of indigenous flora, wildflowers, water features, gazebos and giant trees. There are lookout points along the river for panoramic views. Learn a bit of Indigenous culture too with the info plaques along the way. There are plants in flower all year round, with the peak season between July and October.
War Memorials
The gum tree lined Fraser Avenue, the main entrance to Kings Park, leads up to the State War Memorial, which has a Flame of Remembrance that burns continuously. The Ceremonial Walk is a pedestrian area with landscaped gardens that pays tribute to the Fallen and honours all Australian servicemen and women. There is a self-guided Memorial Walk (1.7 kms) which takes approximately one hour to walk, with suitable access for wheelchairs and prams. Don't miss the Whispering Wall near the burning flame memorial, kids will love experimenting with the acoustics!
The DNA Tower
The DNA Tower, designed to look like a double helix, is a spiral staircase will reward you with fabulous views across Kings Park and the Swan River. On a clear day you can see as far as Rottnest Island. The 15m high Tower has 101 steps and 3 viewing platforms before you reach the top platform. Read the Buggybuddys review.
Lotterywest Federation Walkway
The Kings Park Walkway is 620 metres long, featuring the uniquely designed glass and steel arched bridge, which seems suspended amidst the canopy of tall karri, marri, tingle and jarrah trees.
Koolangka Bridge aka The Kids Bridge
The Koolangka Bridge, which means children in Noongar, connects Kings Park to Perth Children's Hospital. The 217m brightly coloured rainbow bridge is even decked out with LED lighting and a sensor speaker system that plays everything from kookaburras laughing to the Fremantle Dockers theme song! Read more in the Buggybuddys review.
Moonlight Cinema – Opens November 2023
The Moonlight Cinema Kings Park is an annual outdoor cinema situated on the lush green lawns of May Drive Parkland. Screenings include contemporary, cult and classic movies, plus there's plenty of family friendly flicks to watch too! Read more in the Buggybuddys review.
A day in Kings Park is a day well spent! For more information on Kings Park visit their website.
Find more places to visit in Perth