Take your mini people to discover a wonderful little land at Amaze Miniature Park! It's easy to spend hours exploring the beautifully manicured park, found 5 minutes from Mandurah. Formerly known as Abingdon Miniature Village, the current owners have put a lot of love and work into the lush gardens and mazes. Here you'll find mini golf, model railways, a playground and picnic areas too!

The Miniature Park
A walk around the winding pathways lead to lovely village scenes, mini railways, and even a very special fairy garden! Many of the beautifully crafted scale model buildings are based on actual places from the historical town of Abingdon in Oxfordshire, England.
Spot a cricket match played on village green,
a barge winding its way down a canal, country pubs, and farms yards – all weaved through shrubs and flowers.
Little train lovers will be delighted to discover "Train town".
There are a few opportunities to push the button to make the trains move.
Kids will be mesmerised watching them chug around the tracks (including Thomas the Tank himself!), through tunnels and over bridges – complete with sound effects.
A magical fairy garden's is home to some colourful characters.
You may even spot Princess Elsa!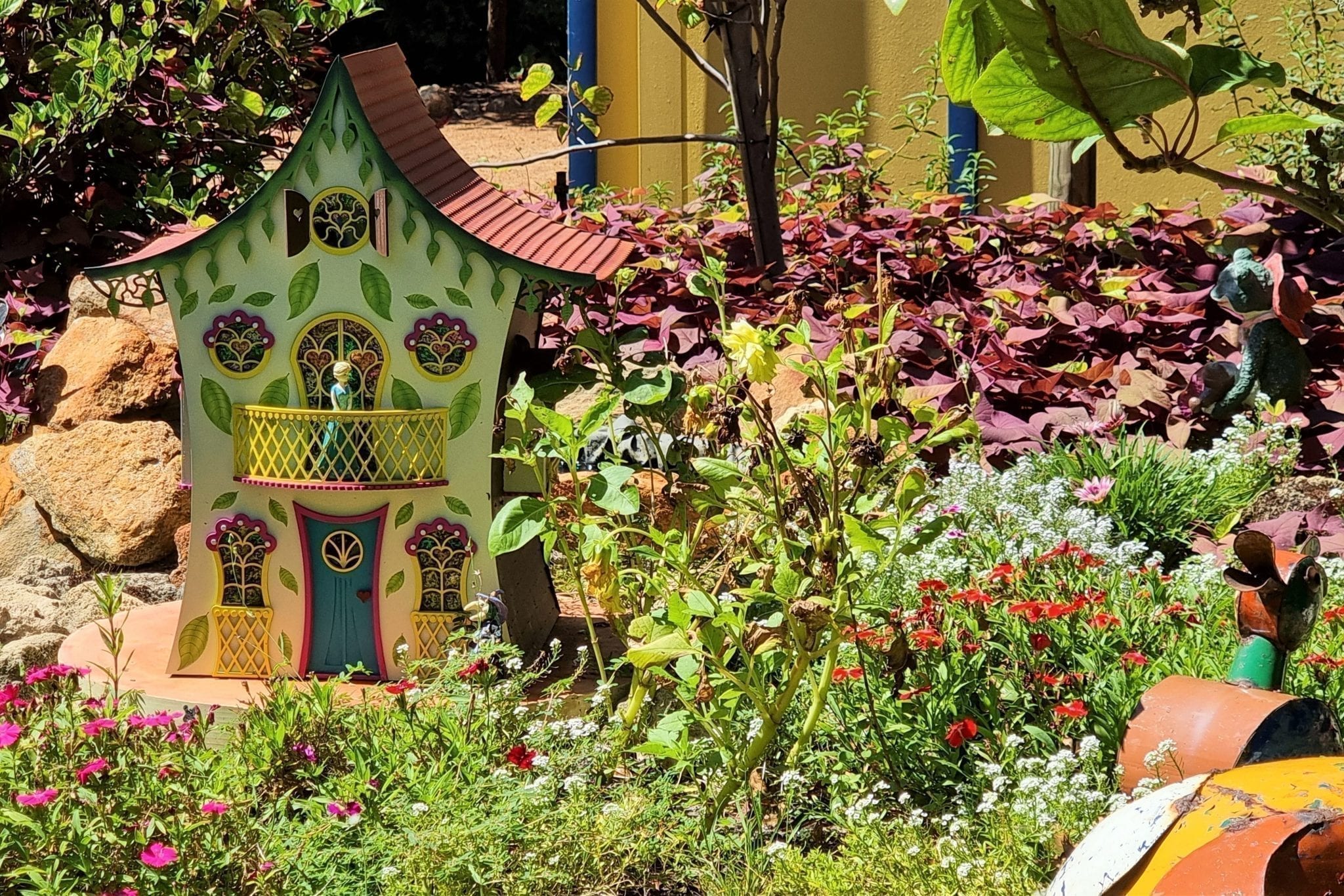 And the models aren't just based on English buildings… you can visit the Eifel Tower.
And spot a local WA favourite… the Blue Boat house!
The Mazes
After you've explored the miniature land – there's still lots of excitement to be had! Get lost in the traditional hedge maze. I found the maze really challenging.
We were in there, making lots of wrong turns, for quite some time. The aim is to find the exit, which is pretty tricky, but fun.
We even found a lost bluetongue lizard in there!
After I made it out, Little Chef was still stuck in there. There's a handy viewing platform, where I could see him from, and give him a little guidance out.
A grass maze is also trickier than it looks. My mum challenged Little Chef to a race to the middle – I think she cheated!
Mini Golf
Mini golf is included with the price of entry.
The 12-hole course has lots of obstacles, tunnels, bumps and tight corners to navigate around.
You help yourself to clubs and balls. There are small clubs available for kids.
Best of all, you can play as many rounds as you like!
A sandy, fenced playground is found next to the main grassed area.
There are plenty of mature trees and a shade sail to keep the sun off, while little ones enjoy the cubby house, slide and sand play. The lawn is a perfect place to throw a rug down for a picnic lunch.
Another picnic area is located next to the old cottage. Toilets and a baby change area are onsite.
Snacks, drinks and ice creams are available at the kiosk. If you'd like something more substantial, the very yummy Decadent C's café is located right across the road.
Open Friday to Monday and 7 days a week during school holidays, Amaze Miniature Park is well worth a visit with your family.
Find at 24 Husband Road, Barragup (near Mandurah).
Get more info on their website.
Find more places to visit in Mandurah.