Spring has sprung in the Perth Hills! At S&R Orchard in Walliston, the popular blossom festival is back for another season. This  Blossom Festival runs Sept 4th to 19th, when the family-run orchard opens its gates to the public. It opens each day, but on weekends is when you'll find the most fun (and tickets must be purchased online for Saturdays and Sundays).
There is one entry fee, $12 for adults on weekends and kids under 12 are free. Then you're free to explore the grounds. The stone fruit orchard is a stunning place to take a wander with your family through the pink and white blossom, which smells heavenly. As well as plenty of photo opportunities, it's also a lovely spot to throw down a picnic rug.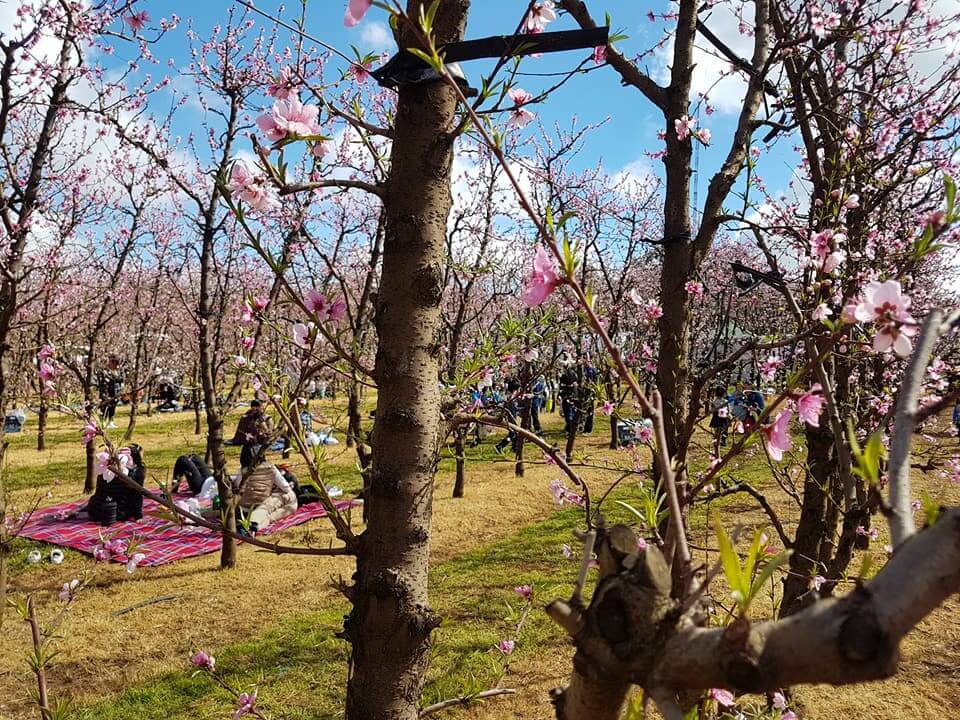 It's no secret that everyone wants their photos to be Insta-worthy. So, they've added some super cute photo props dotted around the orchard that will make your photos stand out.
There's a PERTHfectly pink caravan!
Plus pink pianos, telephone boxes, thrones, floral arches and more to seek out.
There are a few market stalls, some selling fresh farm produce, as well as over 20 food vans, an ice cream van and a coffee van so if you didn't want to take along a picnic, there are other options.

Activities are held between 9am and 3pm:
There is a Ferris wheel for 2021!
There's also free bouncy castles, tractor rides and an animal farm, and plenty of seating.
Flower Crown Making – extra $15 charge (weekends only)
And good news for dog lovers – your pets are welcome too. Ruby enjoyed walkies around the blossoms.
The Blossom Festival days can get very busy so be prepared to queue for some of the activities and food. This year more parking has been made available, be sure to get weekend parking tickets online. Portaloos are available on site.
S&R Orchard in Wallison is an easy 25 drive from the city centre. Masonmill, Core Cider House, Kalamunda town and Lesmurdie Falls are all close by too (
see our big guide here
), so be sure to make a day of it and enjoy spring in the Perth Hills!
S&R Orchard
Address:46 Halleendale Rd, Walliston.
Find more places to visit in Perth