Osprey Waters Foreshore Reserve is located 4km from the Mandurah City Centre and is the perfect spot for a great family day out! Not only does the nature based playground 'tick all the right boxes', the possibilities for fun and adventure seem endless, from water based fun such as fishing, kayaking or swimming to a leisurely walk, bike ride or simply relaxing with a book under a shady tree on the grass.
As we entered the playground my 5 year old nephew couldn't wait to try to make his way through the wood and rope maze.
After getting lost a few times in the first maze he made his way to the log maze, balancing across the logs trying not to fall was a little tricky but still lots of fun.
The mazes are nestled within trees, shrubs and sandy trails – don't let a wet rainy day turn you off this playground, getting a little wet and dirty in the muddy puddles is all part of the fun!
The main feature of Osprey Waters Foreshore Reserve is the large tree house nest that sits above the playground, inspired by the massive nest that sits on top of a pole at Mandurah Quay (South of the Mandurah Estuary Bridge). The nest is home to Osprey birds, it was originally located in an old tree nearby before the tree was demolished to make way for homes the nest was removed from the tree and placed onto the pole. In the years since the Osprey birds have returned to the nest each year to lay their eggs and raise their young.
It is an easy climb to the top of the treehouse, with 2 ramps that lead to a spiral staircase.

For kids who like to climb there is a rock climbing wall, net ladder or climb the wall of coloured logs that run along one of the ramps and stagger in height.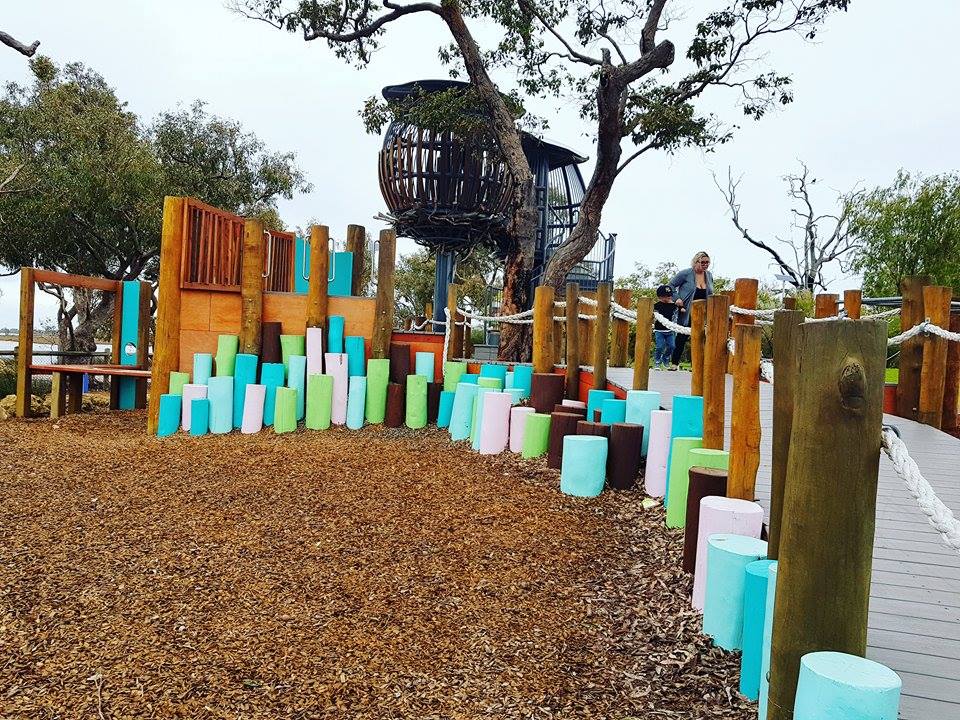 On ground level behind the rock climbing wall, there is a tunnel that leads under the wooden structure. On the outside, there is wood play area that could be used for multiple purposes allowing kids to let their imaginations run wild.
Other equipment around the tree house includes monkey bars and a rope play area.
By the water, there is a sand play area that includes a digger and stand-on spinner. As well as fitness equipment for the adults.
There is a sheltered BBQ area, with picnic tables and bench seating. Nearby there is a drinking fountain and outdoor shower.
There is plenty to explore, bring your bike or scooter and ride or walk along the Mandurah Estuary. There is heaps of wildlife to admire, and dolphins are often spotted in the water.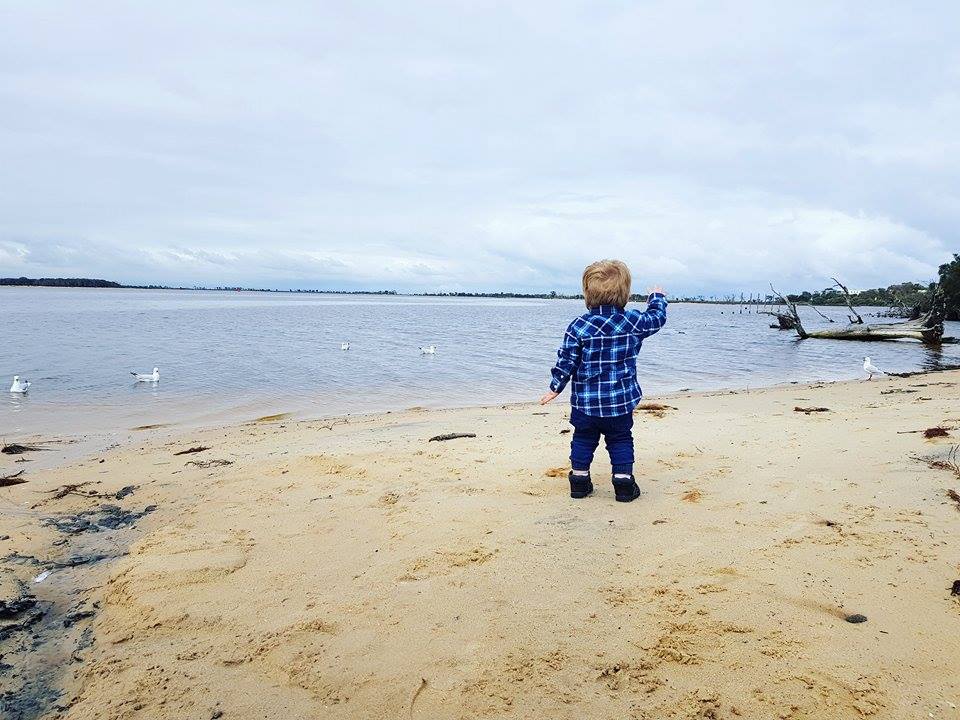 There are toilets located near the main car park which is about 200m from the playground, as well as additional BBQs, a ping pong table, and rubber hammock. In addition to the main car park, there is a smaller car park and street parking a little closer to the playground.
Osprey Waters Foreshore Reserve is located on the corner of Egret Point & Bridgewater Blvd, Erskine.
Find more playgrounds in Perth
Kellie Elliott is a stay at home mum of 4 she enjoys adventuring around Perth with her children and sharing her journeys and experiences on Instagram at Perth Mum Adventures.
Kellie Elliott is a stay at home mum of 4 she enjoys adventuring around Perth with her children and sharing her journeys and experiences on Instagram.
Location
No Records Found
Sorry, no records were found. Please adjust your search criteria and try again.
Google Map Not Loaded
Sorry, unable to load Google Maps API.
Member Reviews