A day trip to Xscape at the Cape in Dunsborough is a must for families looking for a fun day out. Even more so now they've added the Amaze 'n' Lazer Tag to their list of many activities to do.
You can buy tickets individually for the Xscape at the Cape Lazer Tag or a game is included in the H20 package. You can also buy a Lazer Tag birthday party package!
The game is held within the famous Mine Shaft Maze, which closes temporarily to allow for the games to be held. There are only a few games per day so plan ahead and make sure you queue as you're unable to book a time slot unless you're with a birthday party booking.
The only restriction to play Lazer Tag is your child must be over 120cm. Luckily Miss "just-turned-6" passed the test due to some serious hair back combing!
You do have to queue to get a game so be prepared with HATS, SUNSCREEN and SHOES/THONGS. Once inside Mission Control we were given a lot of safety instructions and game play strategy advice.
A quick overview of "The Battlefield" which is the Mine Shaft Maze and includes a dominance zone, safe zones and team watch towers.
We were assigned teams RED or BLUE, as they try and split people up so it's an even and fun game. We played Mum and Son against Dad and Daughter.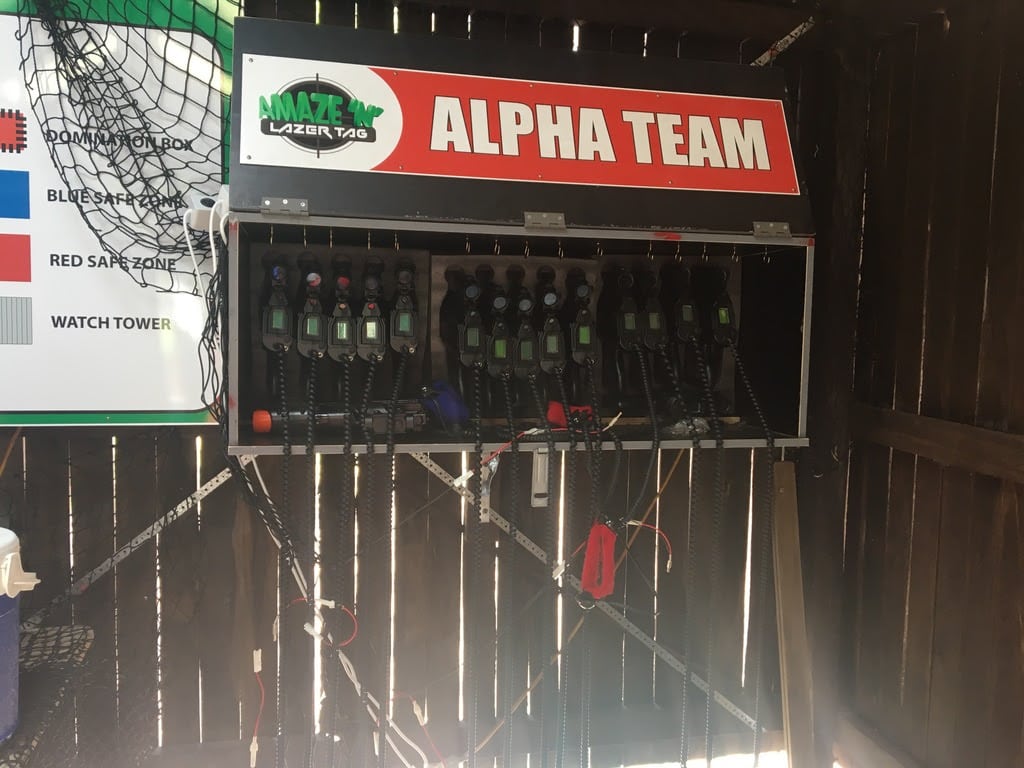 Once all the instructions were over (most of it went in but I still had no clue what to expect) we were dressed for our role and offered suncream and water.
Stage 1 of our transformation into amazing Stealth Spy Agents! Hmmm NOT so much spy, more like bakers!
Stage 2 of our transformation ended up with us all looking like surgeons!
NO.1 Son however looked quite scary when you're looking at the butt of his Lazer gun!
We were given two missions, our first mission was to make our way to the Dominance box positioned at the far end of the maze without being killed. Once at the box you have to tag your team on the box and it shows who's winning, team RED or BLUE. You obviously have to find your way through the maze to the box, without getting killed and then hold the box so the other team can't win. You get shot 3 times before you die when you have to start at the beginning again and "re-spawn".
Getting out from base camp was our first challenge as you get shot as soon as you come out. Took me a while to realise you have to duck and squat and run and hold your breath so you don't get shot.
The Maze is shaded in most parts but it did get a bit sweaty after running around for nearly an hour!
NO.1 Son was actually very good having only played the game a few days earlier back at our campsite. There's a lot of running around so you do have to be careful of the little one's, I got wacked in the knee by a little one's gun and NO.1 Son got a rather nice black eye from running into someone else's gun! Which totally wasn't his fault of course!
Our 6 year old girl found the gun quite heavy towards the end but actually did awesome and she LOVED every minute of it, especially protecting the Daddy.
DADDY took things a little too seriously if I'm honest and kept picking on me for some reason. However I did manage to give as good as I got!
Seriously great family fun and a MUST do if you're in the area.
Find more places to visit in Margaret River