Caladenia Mini Golf – We love heading out to the country every chance we get, and today was no exception. We decided to go and spend the day exploring Gingin and surrounds. I had heard there was a mini golf course there, so we had to check it out and I am so glad we did.
After spending the first 15 minutes in the carpark because we could not drag miss 4 away from the fish, we finally walked inside and were greeted by the lovely owners. Just by looking at the place, we could tell they were passionate landscapers!
The grounds are just beautiful. There are fish ponds, water fountains, beautiful gardens and even a couple of resident goats and alpacas. We grabbed our golf clubs and a 50c bag of goat feed and headed to find hole number 1.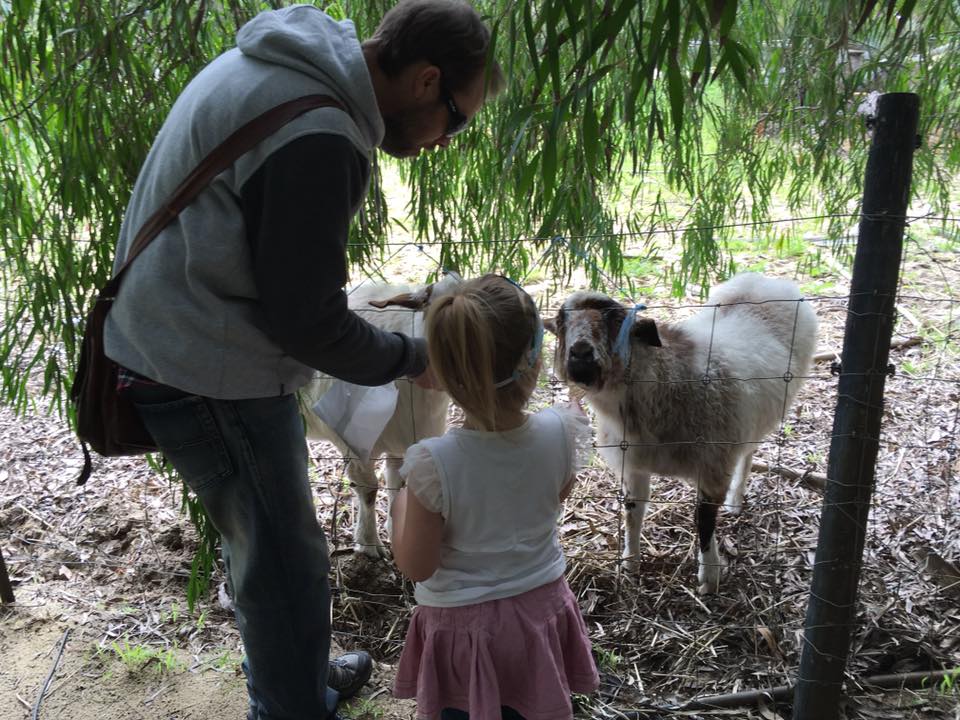 Unfortunately, it is not very pram or wheelchair friendly as it is loose stones with and no pathways between each hole so I had to swap the pram for the baby carrier.
About halfway around the course, we found the goat pen, so we stopped to feed them and have a pat. Not only can you play mini golf there, but there is also a mini pool course. Basically, it is a bunch of tables set up, with obstacles placed around it. You have to use the pool cue to hit the ball around the obstacles and into the hole. Next time we come, we will have to play that, as it looked quite fun though I am not sure Miss 4 could reach the tables just yet anyway.
There is a cafe that provides drinks, a range of lunch options and ice creams, so they don't allow you to bring in your own picnics etc. We had already had lunch, so we didn't try the food this time around.
After we finished our game, we got chatting to the owners again. I found out that they also do kids party packages here for $15 per child. The price includes a game of golf, chicken nuggets, chips, drink, party hats and a lolly bag for all the children.
There is plenty of space inside the cafe to sit, or even out the back under the patio area. There is also a little train table for the young ones to play at.
We had a great time here, and will definitely be returning to play the mini pool next time.
Caladenia Mini Golf
They are open Wednesday to Monday 9am till 5pm.
You can find Caladenia mini golf and Le shed cafe at 108 Caladenia road Wanerie.
Find more mini golf courses in Perth