We know that pubs are pretty much for everyone, even kids. However, it can be hard to know which pubs will actually suit your kids. After all, you don't want them stuck in their chair while you have fun, and they can't play.
It can be really difficult to know where to go where your kids can play, jump, skip, and run to their heart's content. We firmly believe that everyone deserves to enjoy a nice drink (non-alcoholic for the kids) and kick back with pub feed that fills your belly in an environment that is suited to the crowd.
That is why we have put together a list of our hottest picks for the best kid-friendly pubs with playgrounds in Perth, Western Australia!
The Best Kid Friendly Pubs with Playgrounds, Perth
Bailey Brewing Co.
Henley Brook
This spot in Henley Brook is undoubtedly the very best spot to visit in Perth. While there are a lot of great breweries and pubs in Perth, they don't even come close to this one. You can easily enjoy an amazing afternoon relaxing in the great, chilled-out atmosphere while the kids enjoy all that the nature-based playground has to offer. They have some pretty cool vintage trucks on-site that the kids can play in too! It is really one of the best pub playgrounds in all of Perth.
Make sure you visit Bailey Brewing Co. next time you're in the Henley Brook area. The kids will be entertained for hours while you enjoy your meal.
Read our review of Bailey Brewing Co
Parkerville Tavern
Parkerville
The Parkerville Tavern is a really nice family-owned and operated venue. Based in the heart of the hills, this spot is a kid's paradise with a great kids playground that kids will love. Not only can you enjoy great food, cold beverages, and quality time with your whole family but you can also immerse yourself in the history of this excellent location.
It is the perfect place for kids and families to enjoy a lovely day out. As the locals say, life is better at the Parkerville Tavern.
Read our review of The Parkerville Tavern
Victoria Park Hotel
Victoria Park
For a long time now, Victoria Park Hotel has been a must-visit in the Perth region. The recent revamp of this location has now made it even more popular than ever before. At this spot, you will find tonnes of outdoor space, a well-equipped playground, and an incredible beer garden.
It is the perfect place for families to meet up for a long overdue catch-up where the kids can entertain themselves and the adults can soak up the glorious sun with a drink in hand.
Read our review of the Victoria Park Hotel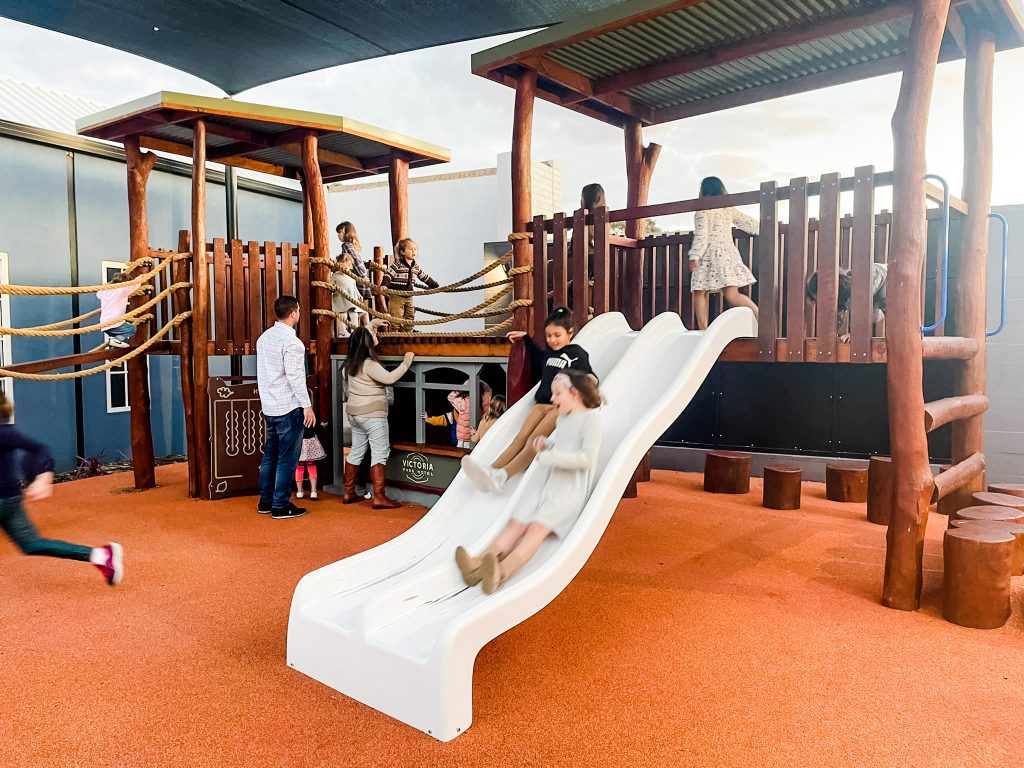 Gage Roads
Fremantle
Gage Roads is perhaps one of the most popular pubs in Fremantle. This spot really has something for everyone who enters the doors. You can enjoy sweeping views of the water, amazing home brews, delicious lobster rolls, and plenty of space for the kids to go absolutely nuts.
Here, your kids can enjoy the massive outdoor fun zone featuring an old 60s land cruiser and plenty of cray boats to climb on. There are also plenty of seats so that parents can sit back and watch as the kids roam the area. Known as the backyard, this kid-friendly area offers a really cool multi-level playground where kids can let their imaginations run wild.
The finer details are amazing such as the shade sales, sunscreen, and kid-sized picnic tables. Safety and fun? We think yes!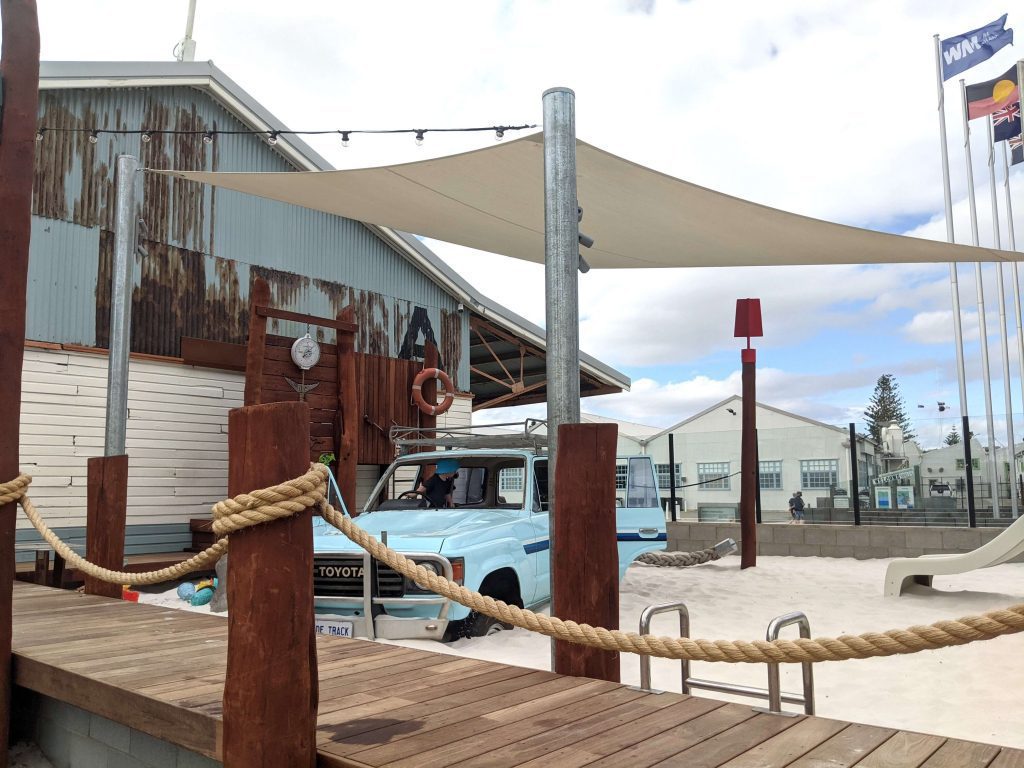 The Bassendean Hotel
Bassendean
After having some downtime for a huge $7 million dollar renovation, this spot is now back and better than ever before. The Bassendean Hotel is always the place to go when you're looking for a good time with great food and excellent company. With plenty of open space for the kids with an insanely good playground, everyone can enjoy an afternoon in the sunshine.
The delicious kids' meal options here will suit even the pickiest of eaters. The selection for adults is also really great. You will have to add this amazing spot to your bucket list.
Read our review of The Bassendean Hotel
Quarter Acre Hotel
Applecross
The cute sandpit at the Quarter Acre Hotel is guaranteed to keep the kids amused. Better yet, you can watch your kids play from a safe distance while you enjoy a drink or two and some great food. Situated on Canning Highway in Applecross, this super cool spot is the ideal destination for your next catch-up with family and friends.
You can work through the delicious menu while your kids run and play. You don't have to worry about the kids at all when you dine at the Quarter Acre Hotel.
Read our review of the Quarter Acre Hotel
Herdsman Lake Tavern
Wembley
If you're looking for a cute little space that also has a kid's area very close by, the Herdsman Lake Tavern is the place to be. This spot has an awesome indoor play area that is so huge it will keep the kids going for hours. They will definitely be having a nap on the way home!
The kids menu here is also capped at $10 with side salads available free of charge. This family-friendly spot allows you to enjoy time with the whole family while you keep an eye on the kids as they play on the indoor playground.
Read our review of the Herdsman Lake Tavern
Whale & Ale Tavern
Clarkson
The Whale & Ale Tavern in Clarkson has a very safe play area with a fence that makes it super easy to watch the kids while you enjoy some adult time. The kids' meals are $13 with a drink, activity pack, and ice cream or $10.90 on their own. This includes classics such as junior beef sliders or bangers and mash.
On Mondays and Tuesdays, kids eat free all day! Is there really anything better than that? The dining area here is stunning and gives off a nice bistro vibe and the kids area is super safe.
Mundaring Weir Hotel
Mundaring
When visiting Mundaring, you can't go past visiting the historic Mundaring Weir Hotel. This spot was established back in 1898 and has since begun offering spit roasts and live music on Sundays. You can take advantage of the table tennis, large kids' playground, and basketball right behind the stage.
There are plenty of kid's menu options with plenty of classic family favourites. This hotel offers plenty of space where you can let the kids play and enjoy a meal.
Read our review of the Mundaring Weir Hotel
Txoko Brewing
Baskerville
Txoko Brewing is one of the newer and slightly smaller pubs based in the Swan Valley. It is all about family vibes on a smaller scale which makes it perfect for a casual day of dining. This spot has grassed areas, a playground, and plenty of space to keep the little ones busy.
There is also a great kid's menu to keep the kids full.
Read our review of Txoko Brewing
King Road Brewing Co
Oldbury
Enjoy a lazy afternoon in good spirits at the very popular King Road Brewing Co. It is an incredibly popular spot for kids and adults alike due to the insane range of amenities. It is a massive drawcard for many young families due to the huge playground and shaded sand pit.
You absolutely have to check it out. It is absolutely one of the best pubs with playgrounds for kids to run around and enjoy outdoor play.
Read our review of King Road Brewing Co
If you're looking for kid-friendly pubs with playgrounds in Perth, make sure you check out the locations listed above.
Find more family friendly restaurants in Perth