When it comes to family dining, it can be pretty damn hard to resist the temptation of an all- you-can-eat buffet. Whether you're doing it on a weekend, school holidays, or during the day, buffet dining is always a great experience. This is especially true if you have picky kids in the family.
With a buffet, they can simply make their own choices! From endless platters of seafood to trays of sushi and bottomless dessert bars, Perth has a massive range of buffets throughout the city and surrounding areas. No matter what you're on the hunt for, there is destined to be a buffet around Perth that has it.
Check out our list of the 10 best buffets in Perth that you have to visit! Let's go!
The Best Buffet Restaurants in Perth, Western Australia
1. The Atrium Buffet in Perth
As one of the number one buffets in Perth, Crown's Atrium is super well-known for the generous size of the Perth buffet. You can enjoy a huge variety of delicious dishes including antipasto, seafood, Asian, and European cuisines.
It is highly recommended that you book for breakfast, lunch, and dinner here as it is a rather busy buffet. Stop by on Sunday to take advantage of the Sunday high tea offer. You may need prior reservations for this offer.
With great pricing, friendly staff, and a great variety of food, it isn't hard to see why the Atrium is often named as the best buffet in Perth. Any foodie will be able to enjoy breakfast here.
Read the Buggybuddys review of Atrium
Location: Crown Metropol, Crown Perth, Great Eastern Hwy, 6100
2. Bayswater Hotel
The Bayswater Hotel offers one of the best all you can eat buffet for everyone to enjoy. In fact, this generous buffet breakfast is always recommended by locals. This buffet menu has a fantastic salad bar, soup station, and a large variety of hot dishes. The buffet opens for lunch at 12 pm and it opens for dinner at 6 pm.
If you enjoy seafood, they offer a seafood buffet every Tuesday. The 'all you can eat' promotion is one of the drawcords to this excellent buffet.
Read the Buggybuddys review of the Bayswater Hotel
Location: 78/80 Railway Parade, Bayswater, 6053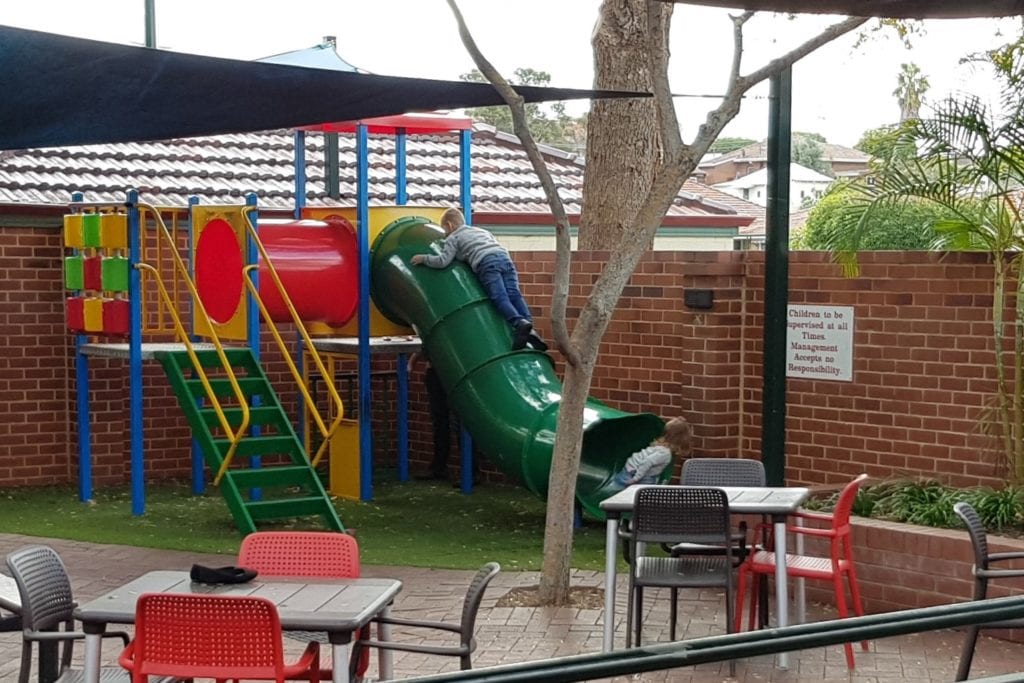 3. Lapa Brazilian Barbecue
If you're a meat lover, the Lapa Brazilian Barbecue is where you need to be. This awesome location offers up some real authentic Brazilian food that will simply blow your mind. The buffet includes up to 16 types of meat that are succulent cuts of meat or you can choose the endless feast where you can eat until you're completely full.
Better yet, this location offers fantastic table-side service. This place also has a fantastic and buzzing atmosphere with a great range of cocktails. You can enjoy a variety of popular meals here for either lunch or dinner.
You can gain access for only $59.95 per person.
Location: 375 Hay St, Subiaco, 6008
4. Epicurean at Crown Towers
If a buffet extravaganza is what you want, a buffet extravaganza is what you will get at the Epicurean at Crown Towers. In fact, there are over 250 amazing dishes for you to choose from here. Whether you're craving Australian, Indian, Western, or Asian cuisine, the buffet here will have it.
The buffet operates for breakfast, lunch, and dinner with a range of locally sourced and sustainable produce. The quality of the food here is second to none and the experience is just topped off by the chocolate fountain that sits amongst numerous sweet desserts. The pricing may change with the time of year.
This place has a great Indian buffet that will further enhance the buffet experience. The restaurant also offers a great atmosphere for you to enjoy.
Read the Buggybuddys review of Epicurean
Location: Crown Towers, Crown Perth, Great Eastern Hwy, Burswood, 6100
5. Jaws Sushi
As soon as the clock hits 5:30 pm on a Saturday, the restaurant opens and the line outside of Jaws Sushi grows. This place is insanely popular due to the fresh and tasty sushi they make. Beware, prior reservations are not taken here, and people tend to flock as soon as it is open.
This is why you need to get in quickly! Once you are seated, you can enjoy a massive selection of sushi, sashimi, curries, noodles, and other dishes that will warm your belly. Trust us, you don't want to miss out on visiting this excellent buffet.
Location: 1/726 Hay St, Perth, 6000
6. Café 196 Restaurant
If you're craving everything Indian, the Café 196 Restaurant is the place you should go. The buffet usually consists of around ten items which will include a selection of curries, naans, vegetarian dishes, and rice. This buffet literally ticks all of the boxes when it comes to a high-quality and delicious buffet.
The food is absolutely amazing and provides great value for money. The setting is nice and laid-back which is why so many people just love it. You really can't ask for much more when wanting an intimate buffet dining experience.
There are both hot and cold items here and you can select from a range of food for every type of foodie. Call the team to find out more about the buffet pricing.
Location: 196 Adelaide Terrace, Perth, 6004
7. The Atrium Garden Restaurant
Don't confuse this great buffet with the one at Crown's Atrium as they are two entirely different buffets. This one is based at the Esplanade Hotel in Fremantle by Rydges. As soon as you ask for the best buffet breakfast in Fremantle, you will be sent here.
Amongst locals, the Esplanade Hotel buffet breakfast has gained a legendary status. It is open from 6 am to 10 am every day and features all of your number one breakfast favourites. Some items include sausages, bacon, hash browns, mushrooms, and grilled tomatoes.
This buffet also offers omelette stations and eggs that can be cooked to order. The barista-made coffee is smooth and delightful. This great venue also offers delicious lunch and dinner specials. This location has a wide range of classic brekky items to help you start your day the right way.
Location: Esplanade Hotel Fremantle by Rydges Marine Terrace & Essex St, Fremantle, 6160
8. Seoul Buffet
Seoul Buffet in Victoria Park offers both a delicious Korean BBQ buffet and a steamboat for just a single price. It is the perfect place to feast on classic, flavoursome Korean dishes. You can visit their multiple locations including Subiaco, Victoria Park, and Northbridge.
Be warned, it is always pretty busy here, so get in quickly. The food here will overwhelm your sense in the best way possible. The aroma here is simply insane. Also, if you feel like cooking for yourself, the tables here feature a built-in cooking grill and steamboat burner for you to use.
Location: 425 Albany Hwy, Victoria Park, 6100
9. Muscats Restaurant
Based in the Vines resort and country club's Novotel, this is one of the most popular places to grab a buffet breakfast in Perth. The breakfast buffet menu offers a massive range of options for both cooked and continental breakfasts. They even offer some warm, fluffy, and golden pancakes made by the in-house chefs.
Better yet, they do it using only natural ingredients like honey. You can enjoy sitting in the relaxed and informal restaurant while you chow down on some absolutely incredible food. Better yet, kids under the age of four eat for free. This makes it a great option for young families.
It is the best start to your day when you visit Muscats Restaurant as they offer an extensive buffet breakfast. You have to visit this restaurant for their generous buffet. The resort and country club's Muscat Restaurant and Bar offers some pretty insane meals.
Location: Novotel Swan Valley Vines Resort, Verdelho Dr, The Vines, 6069
10.Duxton Hotel Restaurant in Perth
The Duxton Hotel has an absolutely amazing all-you-can-eat buffet scene. Nestled in the heart of St George's Terrace, this breakfast buffet has a wonderful selection of hot and cold dishes, seasonal fruits, different brasserie style breads, and cereals. They even offer a congee station, eggs cooked your way, a pancake station, and a range of pastries.
The lunch buffet has a selection of things including seafood, cold meats, salads, and finger bites. Everything is beautifully presented for your convenience at The Duxton. The Duxton aims to keep things simple while making sure you can still enjoy a variety of classic foods and side dishes.
Prices vary here, so ring beforehand to find out the pricing. You can go if you want and also book a night here to enjoy the full experience. It is one of the best buffets you will ever find and the hotel's lunch buffet is also pretty wonderful.
Location: 1 St Georges Terrace, Perth, 6000
Pop on in and visit some destinations on this list of the best buffet restaurants in Perth and let us know what you think in the comments below! If you're looking to find the best buffet, you must check out the places above.