The Robot Bun Factory in Midland is a fantastic mix of modern-styling meets retro. The food is a mix of East meets West, and the robot theme throughout the cafe will have little robot lovers flipping a switch!
On entering, we were greeted warmly by staff working the counter. We ordered our meal, sharing some friendly banter with the gentlemen serving, and then sat down in a lounge area at the front.
Our food arrived quickly, accompanied by friendly, attentive service. Miss 3 was offered a robot sticker by a staff member at the same time, which she loved. Then, because it was my birthday on the day we visited, she made me wear it for the rest of the day!
My order was pork belly bao buns, which comes with a tangy coleslaw and with chips on the side. The pork belly was melt in the mouth tender, with a sweet-salty flavoured sauce, and bao buns delightfully soft and just slightly sweet. Chips were perfectly crisp. I enjoyed them with a latte, which they were happy to serve in a takeaway cup for me.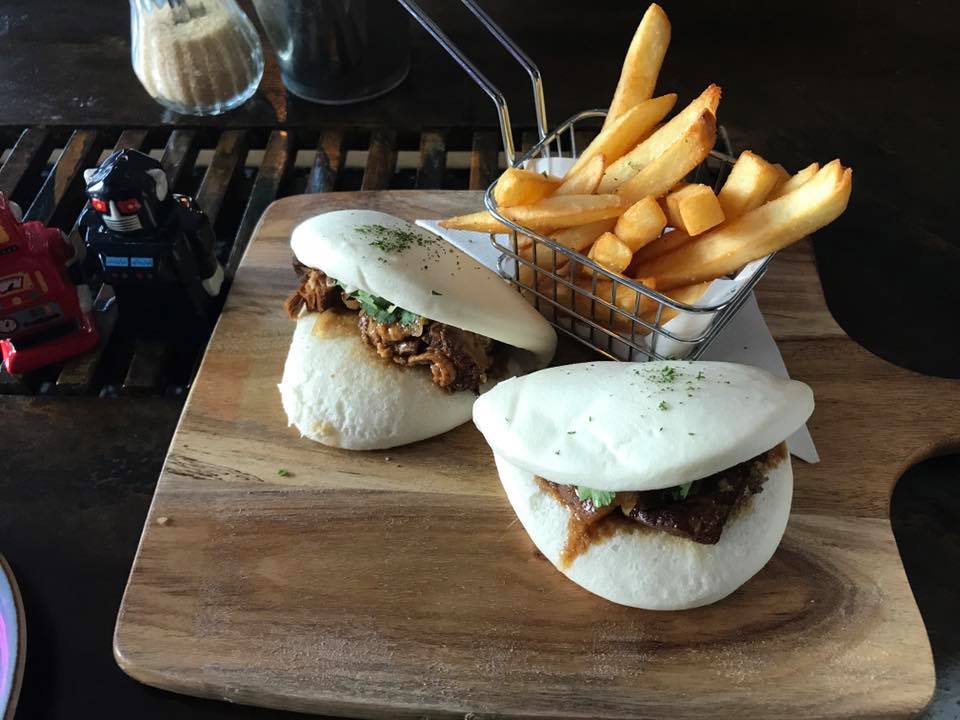 Miss 3 chose two macarons from the cabinet, a green one and a purple one. I only got to photograph one however as she was so excited to eat them. She gobbled them all up!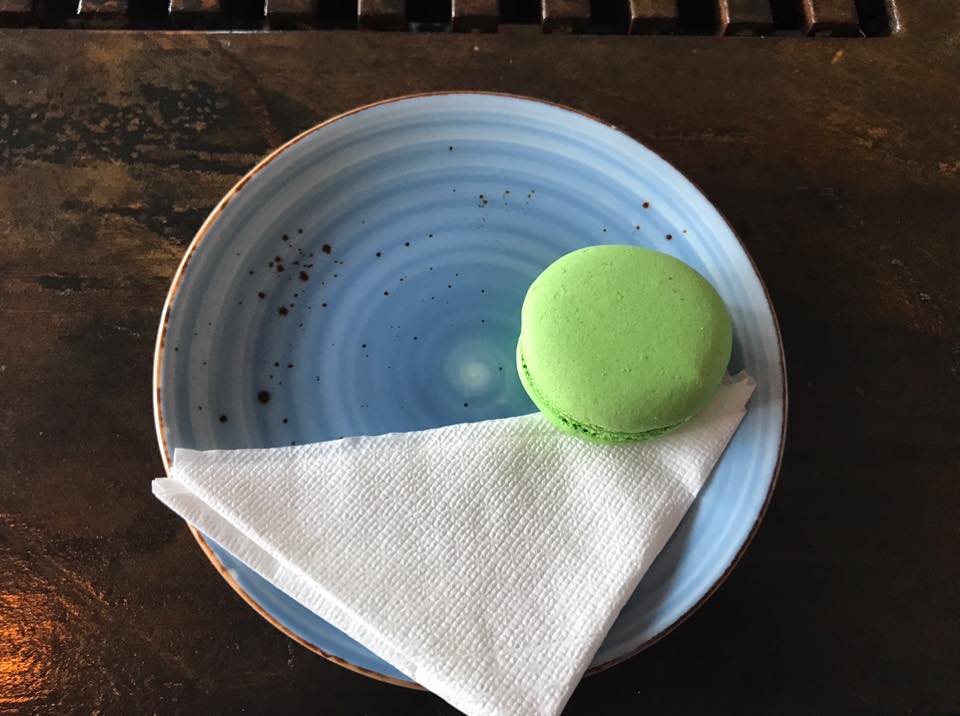 While the food on the menu is not strictly a kids menu, it has items kids would enjoy. Kids plates are available, as one came with our meal, so we could share the bao buns. Miss 3 was keen for the mixed berry pancakes, which is on the breakfast menu until 11am, and comes with mixed berry jam, maple syrup, cream and ice cream. Yum! The breakfast bao bun also sounds like a tasty alternative to a bacon and egg muffin.
For lunch, we loved the pork belly bao buns, but the teriyaki chicken bao bun or the braised beef bao bun would be another delicious lunch option to try with simple flavours kids would enjoy. They also serve chips and gravy, and you can add other things on the side of any dish such as fried chicken, avocado, grilled tomato, spinach or hash browns.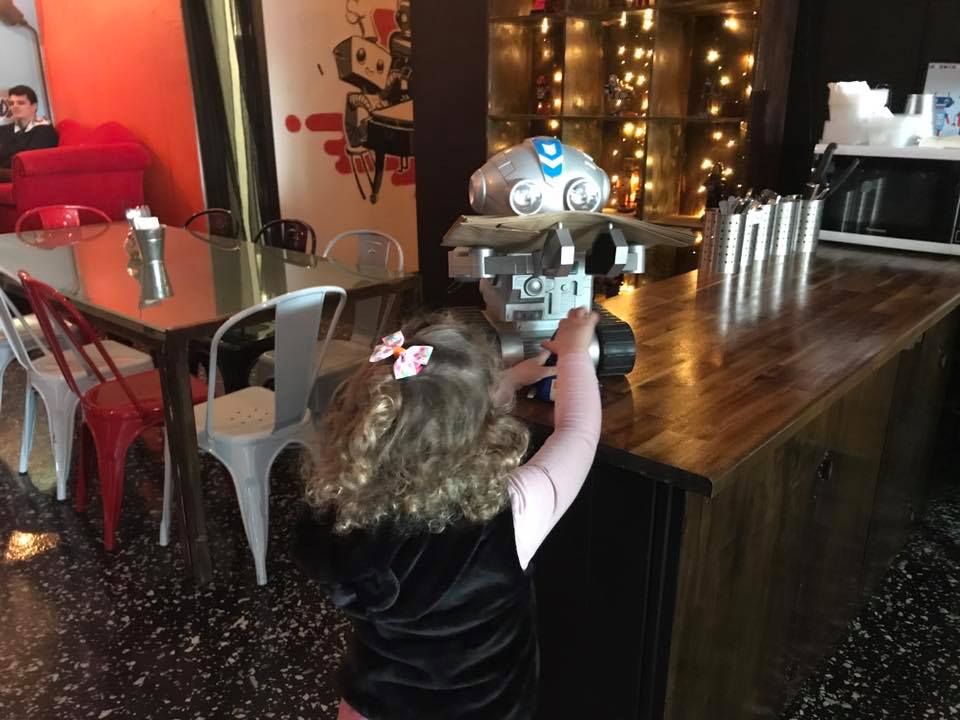 Babycinos are available for $1.20, milkshakes for $5.70, and smoothies for $6.90. If you're in need of caffeine, I found the coffee to be excellent. A smooth, slightly fruity blend.
In addition to the menu options, there is a selection of cakes, cookies, paninis and pastries in the glass cabinet by the counter.
The robot theme throughout the cafe is in the form of large murals, toys, statues and the serving ware. A robot salt and pepper shakers set came out with our meal, and a large C3PO replica greets you at the front door. The wall murals depict The Robot Bun Factory's mascot Ollie in comical situations, such as tripping over his robot cat and spilling coffee and order of coffee. Miss 3 was delighted by these. There is a robot to examine wherever you turn!
The owner of the cafe was happy for Miss 3 to take the robots on display down from the counter when she wanted to look at them and play. I had to say no however, or he may not have got them back!
We found the seating at The Robot Bun Factory very comfy. As well as the usual cafe-style tables, there are a few sofas and armchairs to choose from, with a larger, more private lounge area set aside in a room towards to back next door to the kitchen. There's plenty of room to pull up a pram or two if you're meeting up with a mum friend.
Overall, The Robot Bun Factory was a fun spot to visit, and we'll definitely be back to try more of their delicious bao buns. You'd never know something so awesome and quirky was hiding amongst the quiet, unassuming group of shops. It's definitely worth checking out!
The Robot Bun Factory is located in Shop 6, 306 Great Eastern Highway, Midland, opposite IGA and Dan Murphys.
Free parking is available on the street or across the road in the supermarket car park.
The Robot Bun Factory is open 6.30am to 5pm Monday to Friday, 7.30am to 3pm Saturday, and closed on Sunday.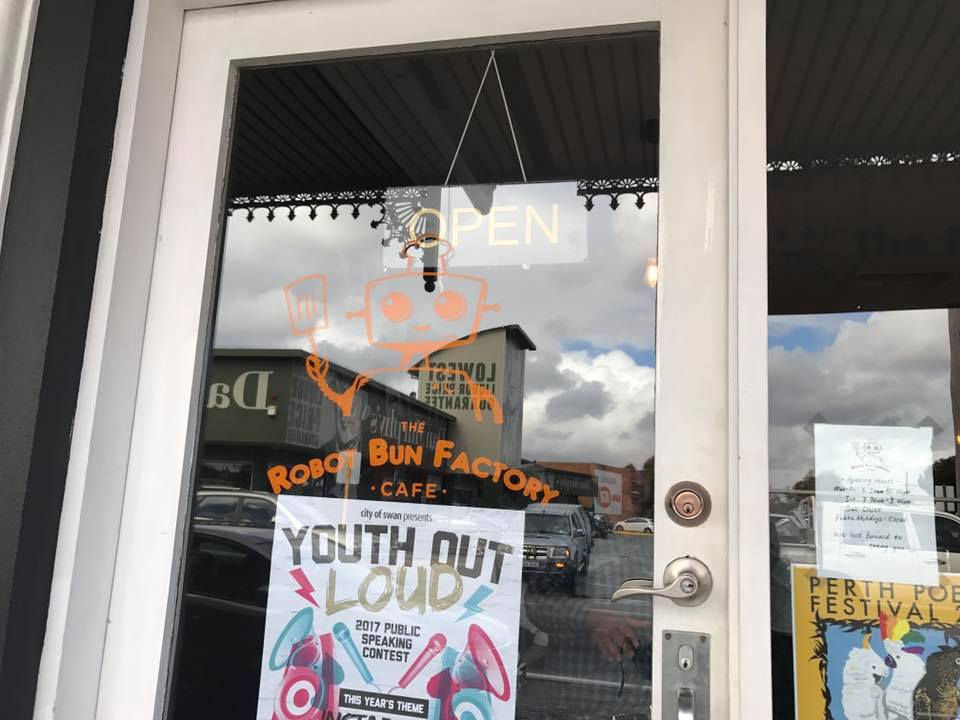 Find more family-friendly restaurants in Perth