Little kids are well catered for at restaurants with play corners and playgrounds, but what happens when the kids grow out of all that?! Most restaurants and cafes in Perth offer kids' menus for ankle bitters to the age of 12-ish. So when your tween or teen graduates to the adult's menu – but would still like a little entertainment, where do you take them for dinner?! I have a teenager myself – eek! So now eating out mainly revolves around what we'll actually be eating, and he doesn't want chicken nuggets, thanks very much. Check out my big guide to dining with teenagers in Perth.
The Teen That loves Burger and Pizzas
Betty's Burgers, Perth CBD
The new-ish Bettys Burgers, next to Myer, is a good spot to stop for lunch. Betty's hails from Noosa, and has brought those same Queensland summery vibes with it. The first store in WA has tasty burgers, and even caters well for GF eaters. See more in my Buggybuddys blog.
Toastface Grillah, Perth City
If your teen loves a killer OG rap track, head to Toastface Grillah. The gourmet toastie spot, a nod to Ghostface Killah, is tucked away down Wolf Lane. If your kids are into street art, they'll love this spot. See more in my Buggybuddys blog.
Planet Royale, Northbridge
The epic Planet Royale will have the whole family claiming to be pinball wizards in no time. It is geared towards adults, accompanying children are welcome to pop in for a retro-style burger and shake, as well as a spin on the huge collection of pinball machines. See more in my Buggybuddys blog.
Uptown Pizza, Joondalup
Uptown Pizza is a very popular New York Style pizza restaurant located in Joondalup. Their pizzas are consistently delicious and we just love their super cool cut out pizza boxes! See more in the Buggybuddys blog.
Monsterella, Wembley
Monsterella is a bustling suburban pizzeria with AMAZING gourmet pizzas. Kiddos, whatever their age, will love to design their own pizza box too. See more in my Buggybuddys blog.
Varsity Burgers, Various
Varsity, an American themed bar, is found north, south, and west of Perth city. The family will love devouring burgers, chips, chicken wings and even milkshakes served in huge Pyrex jugs! See more in my Buggybuddys blog.
The Tween That Wants to Be Entertained
The Taphouse at Mulberry Estate, Swan Valley
Taphouse, located at Mulberry Estate, is found right on the banks of the Swan River. It's cool shady beer garden offers up giant garden games, as well as mini golf! See more in my Buggybuddys blog.
Laika Coffee, Lathlain
Dining with teenagers in Perth for brunch? Lathlain, wedged near Vic Park and Burswood, is a hip little spot that's home to one of the trendiest brunch places in town – Laika. Older kids will love the food, plus there is a half basketball court out the back. West Coast Eagles fans will like to hop across the road to spy their favourite players training on the oval too. See more in my Buggybuddys blog.
Oakover Grounds, Swan Valley
Tweens and teens will love a lunch at Swan Valley winery Oakover Grounds. The pretty spot, by a lake, has garden games and super fun peddle boats for lots of family fun. See more in my Buggybuddys blog.
The Cat Cafe, Subiaco
If you have a cat-loving teenager, you absolutely have to pay the Cat Cafe a visit! Sessions in the cat café are so much fun. The rescue cats love a gentle pat and parents will be glad to har there's coffee and cake too. See more in the Buggybuddys blog.
Leapfrogs Cafe, Wanneroo
Leapfrogs Cafe is a favourite family restaurant set amongst the beautiful Wanneroo Botanical Gardens. This makes it the perfect spot for a bit of lunch and mini golf! Specialising in woodfired pizzas, their dessert pizzas have GOT to be tried. See more in the Buggybuddys blog.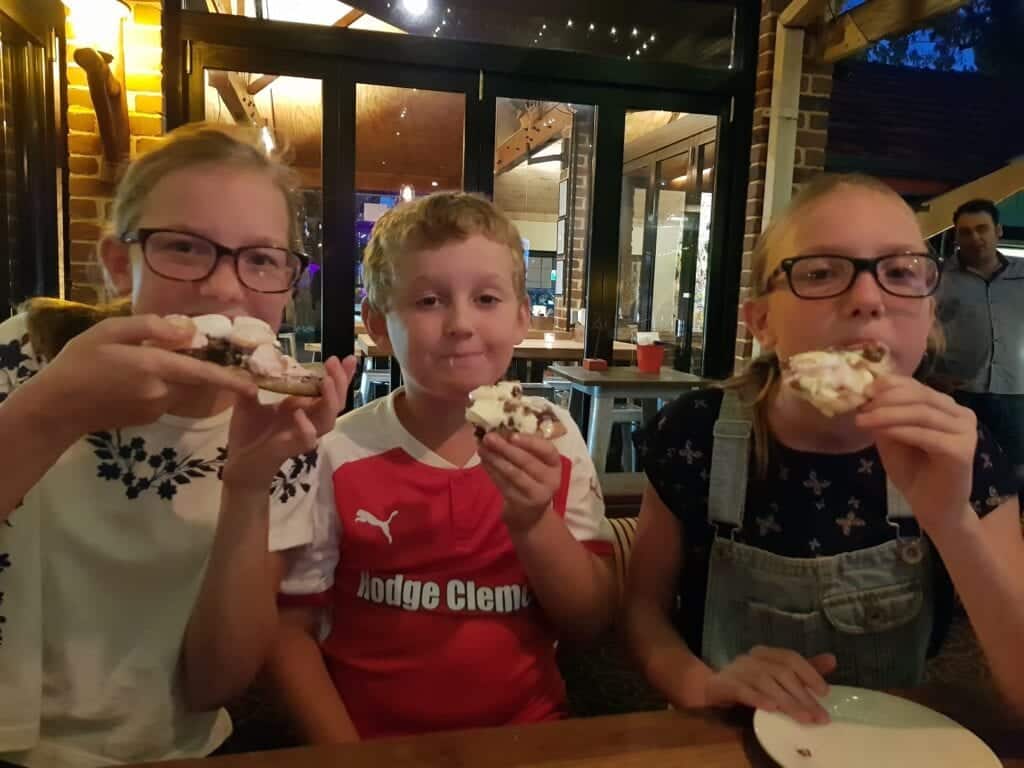 The Lookout, Scarborough
If you grew up in Perth's northern suburbs during the late '90's The Lookout will hold memories, I'm sure. Well, it's back and this time around it welcomes kids AND even has bowling alleys! See more in the Buggybuddys blog.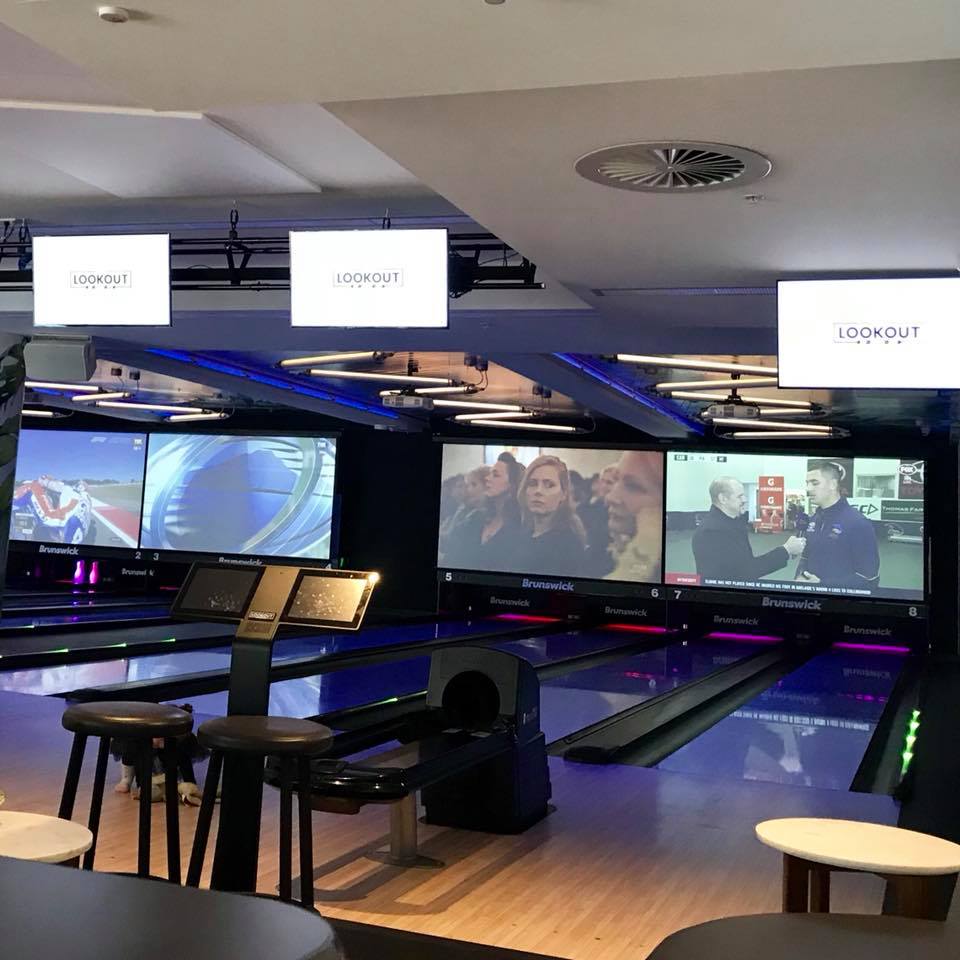 300 Acres Restaurant and Bar, Wembley
The 300 Acres Restaurant and Bar at Webley golf course is a great spot for a bite to eat after playing a round of mini golf. The beautifully made course is loads of fun – it even has an AFL themed hole! See more in the Buggybuddys blog.
Adventurous dining with Teenagers in Perth
Chakra, Inglewood
If you LOVE Indian cuisine, Chakra in Inglewood is a favourite of ours. The friendly, family-run restaurants welcome families and kids will love to order delicious meals from their ipads. See more in my Buggybuddys blog.
Sushi WAWA, Innaloo
Sushi WAWA is a family-friendly sushi restaurant, found just opposite Ikea. You'll be traditionally greeted at Sushi Wawa, which boasts the longest sushi train in the southern hemisphere. The whole family is bound to find something very tasty slide by. It's lots of fun! See more in the Buggybuddys blog.
The Sweet-Tooth Tween
FRY'D, Leederville
Tweens and teens will love TWO things about Fry'd – of course the delicious deep fried ice cream creations, but also because it is SO insta-worthy! Or is that snapchat / tik tok worthy!? Anyhoo, you'll find this picture-perfect ice cream shop in Leederville. See more in the Buggybuddys blog.
Eye Scream Cafe, Rockingham
We all scream for Eye Scream Cafe! The Rocko favourite serves up loads of sweet goodies. The café is perfect for a beach and treat combo. See more in the Buggybuddys blog.
Maison Saint Honore, Swan Valley
Maison Saint Honore is a delightful French-style cafe, serves up a tempting range of yummy dishes. Teenagers will love to bring their mates along for a scrumptious crepe party! See more in the Buggybuddys blog.
Where's your favourite place for dining with Teenagers in Perth? Let us know in the comments below!
See more ideas for dining with kids in Perth here.