Tucked away down Grand Lane you'll find the grungy cool of Toastface Grillah. It's a top spot for a gourmet toastie for breakfast, brunch or lunch in the city, because who doesn't love simple comfort food like this?! We've been toasted sandwich fans since our childhood and I can assure you the offerings at TFG is much more than your Mum's simple cheese and tomato toastie!
The café itself is thrift shop chic. It's casual and small, with a few benches dotted around the courtyard and some cool beats in the background.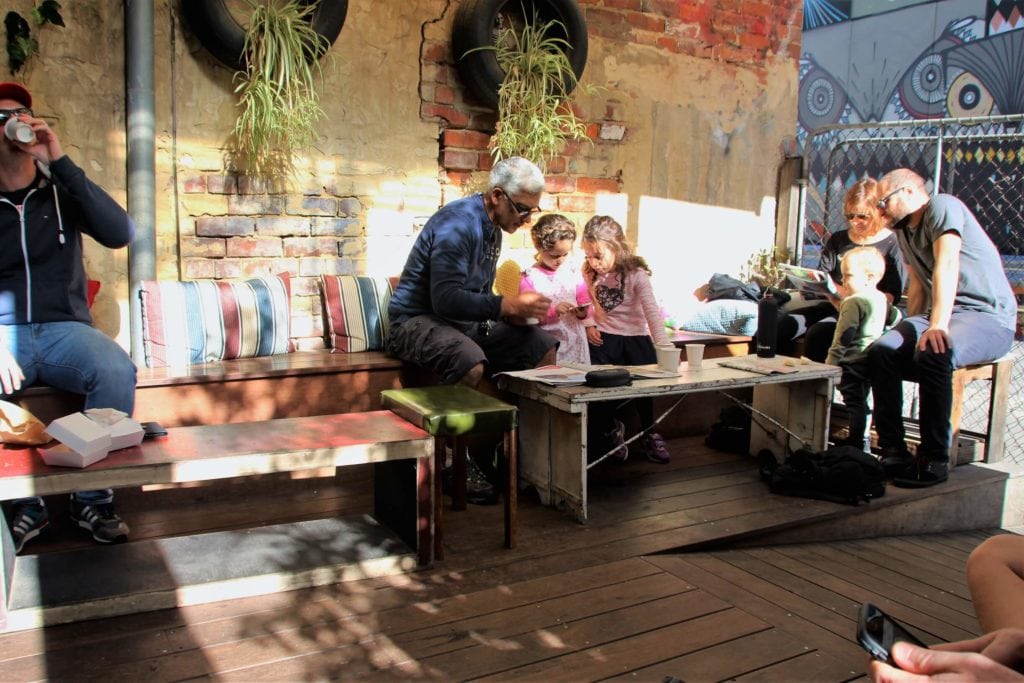 These toasties are all superb in there gooey, oozey cheesy-ness. The toasted sarnies are done very well, with delicious, fresh ingredients used. Little Chef loved the simple "Get Ya Veg", vegemite and cheese toastie, $5.
Chef gobbled down the ham, cheese and mustard toastie, $7.
Some of the other tasty fillings are… the Danny Zuccho (Blue cheese, zucchini & prosciutto), Apple & Gouder and Three Cheese (Cheddar, gruyerre & emmantel). Their coffee is also well worth checking out. It's especially made for them by The Northbridge Coffee Roasters.
You need to know your alleyways of the Perth CBD to find it. It's located in Grand Lane, where there's some fantastic, vibrant street art, accessed from Barrack St, off Murray St Mall and Wellington Street. If you're feeling a bit lost and see the giant Kookaburra, owl or hummingbird – then you're heading in the right direction!
Toastface Grillah, a shrine to the humble jaffle, is well worth checking out for some cheap, but oh so delicious toasties.
Open Mon to Fri 7am till 4pm, Sat 8am to 4pm and Sun 10am to 3pm.
Find Toastface Grillah at Grand Lane, Rear 143 Barrack Street, Perth