Guide and list of the best Santa pictures in Perth for kids and pets!
Getting your child's' Santa Perth pictures seems like quite a stressful and costly experience, so Buggybuddys has taken to the shopping centres to do a spot of research to help all the families out there have an enjoyable and cost effective experience.
Tops tips for Santa Pictures in Perth:
All the Santa experiences we talked to allow your kids to visit Santa without having to have photographs taken, don't feel pressured if you don't want to have pictures done
Go with a budget in mind – use our guide below to give you an indication of what you'll be paying.  Prices start from $19.95 for one printed photo
Think about what to dress your kids/babies in before you go to visit Santa
Talk to your kids about visiting Santa before you go, tell them what the kids do when they get there etc..  Visit the centre/store with your child/children and have a look at Santa a few times before going to have photo's taken to make them feel at ease
Be prepared to sit in on the photo to make your child feel more comfortable.
Prepare a letter to Santa to post in the post box – a great experience and all the centres that do this promise to write back if you have a return address on the letter and envelope
Don't be afraid to tell the photographer if you don't like the photos, ask for more to be taken or go back later and try again
Here is a list of shopping centres that are offering Santa photography. We'll be adding to this list as we keep receiving more information.
Westfield Whitford City
Saturday 13th November until Christmas Eve.  www.westfield.com.au
Have your photo taken with Santa Clause at Westfield Whitford City! Visit Santa's Enchanted Garden in Centre Court (near Boost Juice) from Nov 13 until Christmas Eve.
Santa photos aren't just for humans! Bring along your furry friends for a meeting Mr Clause himself.
Pet Photography will run every Sunday from 3pm – 5pm from 20 November – 18 December.
Bookings are essential and can only be made in person at Concierge.
Karrinyup Shopping Centre
Saturday 5th November until Christmas Eve.  www.karrinyupcentre.com.au
A few mums I've spoken to have had a great experience here and love that the Santa has a real beard. Best time to go is around 1pm when most of our little ones are sleeping. Santa can also be visited at Myer in Karrinyup Centre.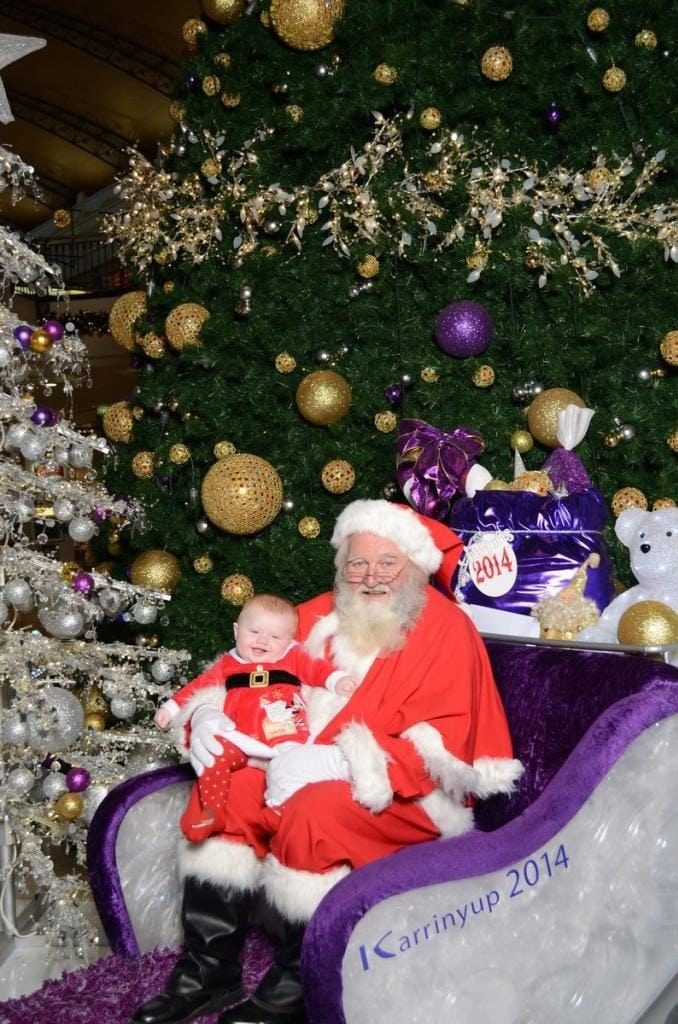 Lakeside, Joondalup
Santa photos 5th November – 24th December
Act cool and have your photo taken with the big guy!
Visit Santa's brand new Christmas station in the Myer Centre Court daily for Santa photos every day in the lead-up to Christmas. View the Santa Photo Price List before your photo with Santa.
Fast track your Santa visit and beat the queue by pre-booking your Santa photography session online here. Act Cool and jump the queue to meet the coolest guy of them all.
Every child who visits Santa's Christmas Station receives a free* Christmas gift from Santa.
Everybody loves Santa 'Ken' with families coming back year after year to visit him. He is a lovely chap and has a real beard.  We've seen Santa Ken's rota for this year and it looks as though he is appearing everyday 9am – 1pm and 9am – 3pm on Thursdays.  Times are correct at time of publishing but are subject to change
Myers Santaland, Perth CBD
Open from Friday 18th November.
Myers Santaland claims to be the next best thing to Christmas morning for kids, with FREE interactive games and activities for kids of all ages. Santaland is on the 2nd floor through the Christmas shop area. This year you can book your Santa session online which means no queuing for hours. Hurray! You can visit Santaland without having to visit the man himself and it's totally free. Read the Buggybuddys review
Penny Butler Photography at Christmas Trees of Wanneroo Farm
If you are looking for a less formal Santa Photo this year and want to avoid the queues at the shopping centres then Penny Butler Photography will be at the Christmas Trees of Wanneroo Farm at 99 Rousset Road, from 26th November – 18th December offering professional mini photo shoots with Santa. Cost is $60 which includes a 15 minute shoot with 4 edited images provided on a CD. Bookings essential. Contact Penny on 0425 804 075.
Sensory Santa
Have you always wanted to take your Kids to see Santa but have been worried about how they might react? Do your Kids have sensory challenges and would be fine to see Santa if only they didn't have to wait in line with the crowds, feel the pressure of time and the noise of lots of people walking around? Well Sensitive Santa could be exactly what your child needs in order to visit with Santa this year.
What is Sensitive Santa?
Sensory Movie Day presents Sensory Santa for families with special needs children. Sensory Santa is a visit with Santa that has;
•no crowds and minimum noise as the session is before the shopping centre opens to the public
•no lines -appointment bookings only in 5 minute sessions
•no music
•no spotlights
•a chair next to Santa
•an understanding Santa and photographer
•wheel-chair access
Sensitive Santa will be making an appearance at the following stores. Bookings are essential.
Rockingham Centre 20th & 27th November 8am – 9.45am.
Midland Gate Shopping Centre 20th & 27th November 9am – 10.45am.
Galleria Morley 20th & 27th November 9am – 10.45am.
Bookings via www.sensorysouls.com.au/bookings
More Shopping Centres where Santa will be making an appearance
Woodlake Village Ellenbrook – 26th November – 24th November. Pictures by Midland Photographers. Prices start from $20 and photographs are available 2 days after your session.  Santa pictured below.
Mirrabooka Square – TBA
Ocean Keys Shopping Centre – From 26th November
Warwick Grove – TBA Santa Pictured below
Westfield Carousel – From 14th November. Sensory Santa sessions available to book. Santa pictured below.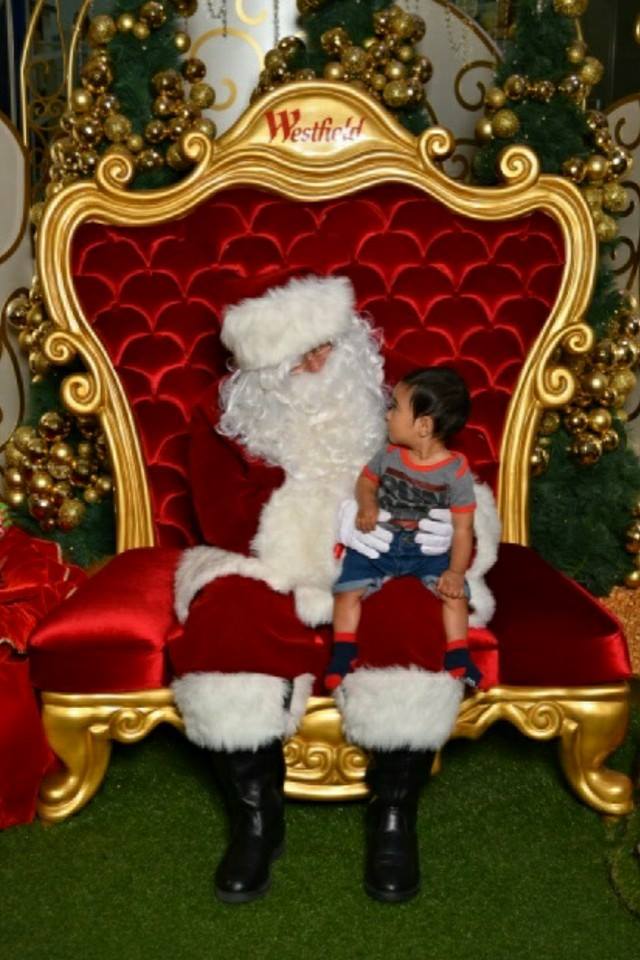 Other Santa Photography
Westfield Innaloo – From 14th November
Garden City – From 14th November
Southlands Boulevarde – From 3rd December. Sensory Santa Session 7th December