The epic new Planet Royale venue has just opened in Northbridge. Though it's geared towards adults, accompanying children are welcome. This spot would be great to take older kids on a day out in the city, for a bite to eat and a few pinball games! Or heck, why not enjoy it kid-free for a date night?! I was blown away by the size and scale of Planet Royale, which is found in the old IMAX cinema building.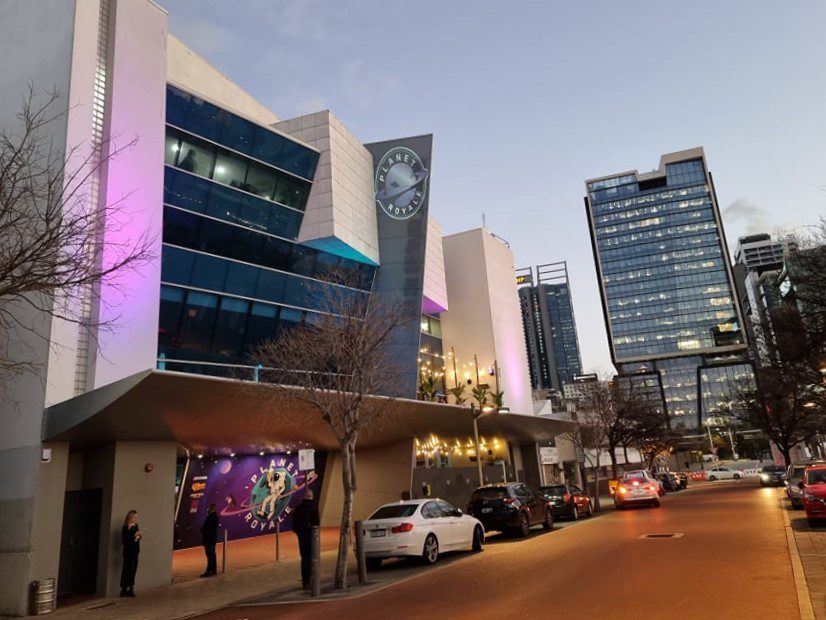 The pop culture themed spot has an incredible entertainment offering which includes… Pulp Kitchen is a retro style diner that Vincent Vega himself would love. The menu is packed with delicious eats and boozy milkshakes – including a Pulp-Fiction-inspired Royale with Cheese.
There's $5 milkshakes (non-alcoholic!) and a kids menu too, so whipper snappers are more than welcome here.
Barcadia is a bar-come-gaming-arcade, with Perth's biggest collection of pinball games. There are a few retro games like space invaders, frogger and racing and gun games too. You'll be a pinball wizard in no time!
Upstairs, parents will love cocktail bar "Major Tom's".  The bar is dedicated to rock legends of decades past. Named after a famous Bowie lyric, it has an incredible rock star "last supper" mural, which has to be seen to be believed.
There is a small west facing outside balcony too.
Plus there is even a huge performance space found in the old IMAX theatre. There's live music, movies, comedy, cabaret and much more coming soon.
Be sure to check out Planet Royale for yourself very soon. It's a cool spot to spend a few hours for adults, tweens and teens alike.
Find Planet Royale at 12 Lake Street, Northbridge.
Get more info on their Facebook page. 
Discover more things to do in Perth here.