What's not to love about family country and coastal day trips from Perth on the weekend?! Somewhere new to explore, to spend the day together, discovering new sights and attractions, maybe even taking along a picnic or enjoying a tasty café. These fun-filled spots are all within about two hours' drive of the Perth CBD.
Day Trips North of Perth
The Pinnacles
For another-worldly experience, take a drive to the Pinnacles near Cervantes. Kids will love this moon-like landscape! The road through the Pinnacles Dessert is a self-drive one-way loop with many parking bays dotted through it so you can pull over and go for a walk around the odd limestone formations. And be sure to stop for a bite to eat at the delicious Lobster Shack.
Moore River
For a country and coastal day trip from Perth, head to the sleepy seaside hamlet of Moore River, where the river meets the ocean. Here there's lots to do if your family loves the great outdoors. Families love the sheltered, calm water which is perfect for swimmers of all ages. Take along a blow up dingy and a fishing net for extra fun! Canoe, pedalo or paddle boat hire is available during weekends, school holidays and public holidays.
Gingin
The country town has a central park, perfect for a picnic by the brook. Here there's a playground and lots of lawn to run about. There's a café overlooking the park too. A short drive out of the town will bring you to the interesting Gravity Discovery Centre. As well as a fun, interactive museum about space and gravity – there's a "Leaning Tower challenge" to tackle at the top of a tall 222 step structure!
East of Perth
Toodyay
The country town of Toodyay is home to the coca cola café, as well as the delicious Toodyay bakery. There's plenty of family fun to be had with the Toodyay miniature railway (this runs every other Sunday) and Hoddywell archery too.
Gidgegannup
Noble Falls is located close to the town of Gidgegannup. The picnic area is positioned across the road from the Noble Falls Tavern, where you may even spot a kangaroo! It is a well-equipped picnic spot with plenty of tables, free electric BBQs, and a playground. The Nobel Falls Estate is also worth a visit and home to a winery, soap factory and the Wild Goose café.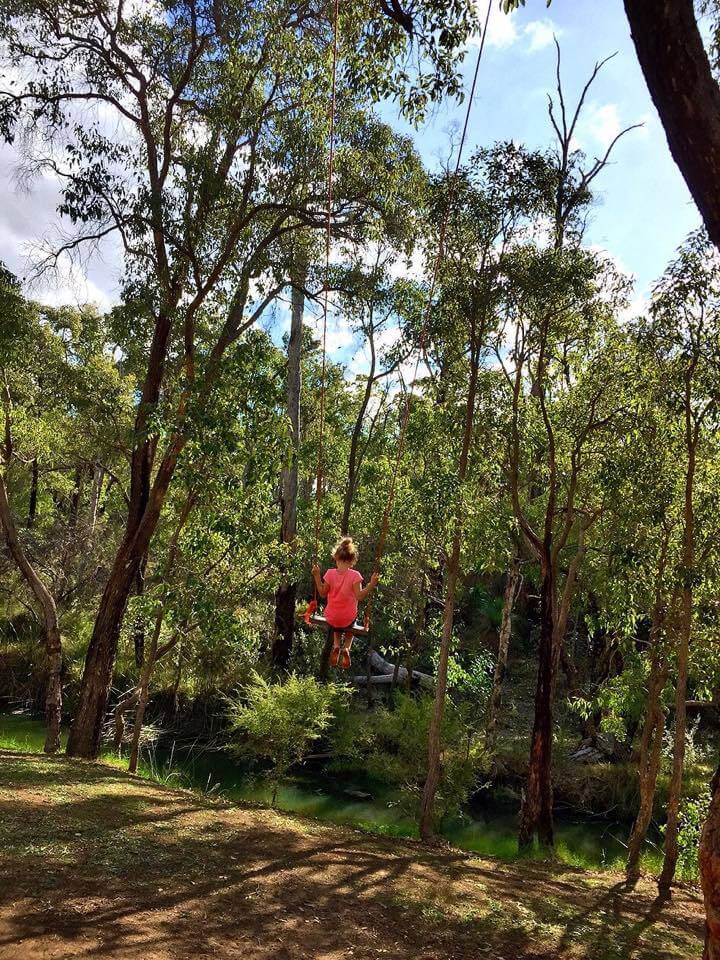 York
Take a walk along the swinging bridge and head to Pioneer Avon Park – a great spot to stop with kids. The playground is completely shaded and non-sand based which means no sandy shoes in the car! York is also home to a Motor Museum and cafes to enjoy a family lunch.
Northam
Another country town with a suspension bridge is Northam. Cross the bridge and discover Bernard Park which features two fully fenced play areas, a water playground, sculptures, amphitheatre, picnic and BBQ facilities. The town is a popular place to visit in winter, when the Avon Descent begins here.
South of Perth
Mandurah
On the Eastern Mandurah Foreshore there is a lovely playground overlooking the estuary. The playground is fully shaded and based on a soft fall surface. There's lots of picnic facilities, as well as family friendly eateries nearby. You'll also find the jetty for the Mandurah Cruises boats. A short walk from the foreshore is Dolphin Quay, where you'll find a small swimming beach, markets and more cafes. Head over the bridge to King Carnival, where's there's mini golf, fairground rides and more.
Serpentine
Get back to nature at Serpentine National Park. There's swimming, and many bush walking tracks to explore, as well as the beautiful waterfalls. After all that walking, fire up the BBQ or enjoy a bite to eat amongst the friendly native birds at the Café on the Dam.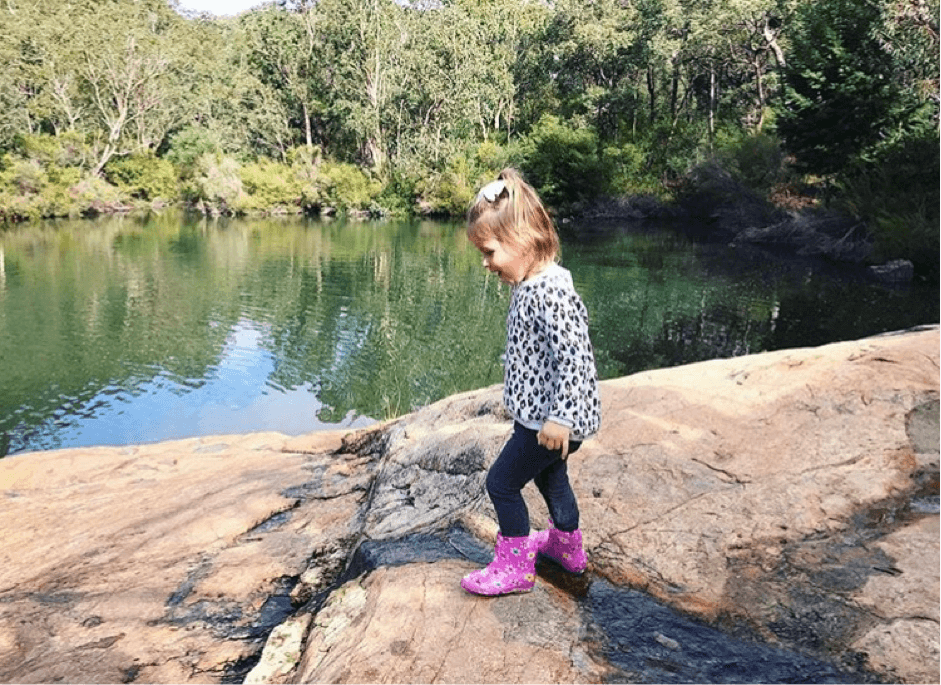 Pinjarra
You may have driven over the bridge at Pinjarra and not even noticed the huge playground below, by the river. Cantwell Park is a brilliant place to throw down a picnic rug, while the kids play. Nearby Pinjarra Bakery is a yummy place to stop for a snack or lunch. Just out of the town is Peel Zoo, a boutique, hands on zoo which specialises in Australian native animals and some farm animals too.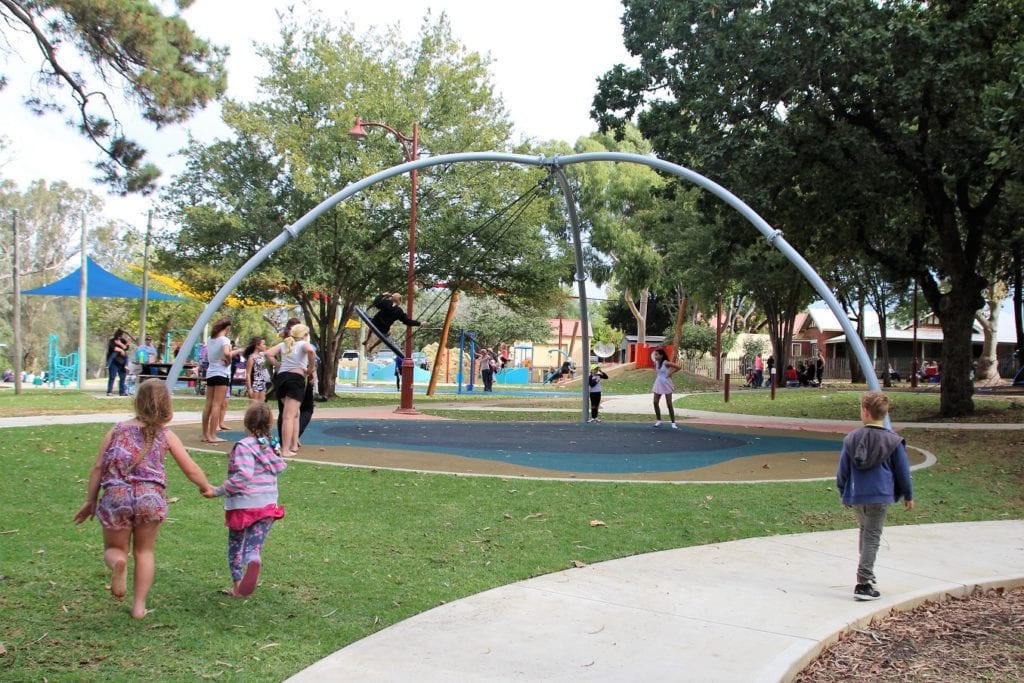 Waroona
Keep your eyes peeled for the totem poles at the Waroona Visitors Centre. Here you'll find an interesting place to stop with local art and information. Less than 10 minutes from town, Drakesbrook Weir is a stunning spot for a picnic and a swim in summer! Waroona dam, otherwise known as Lake Navarino, is also a popular spot for water sports and picnics.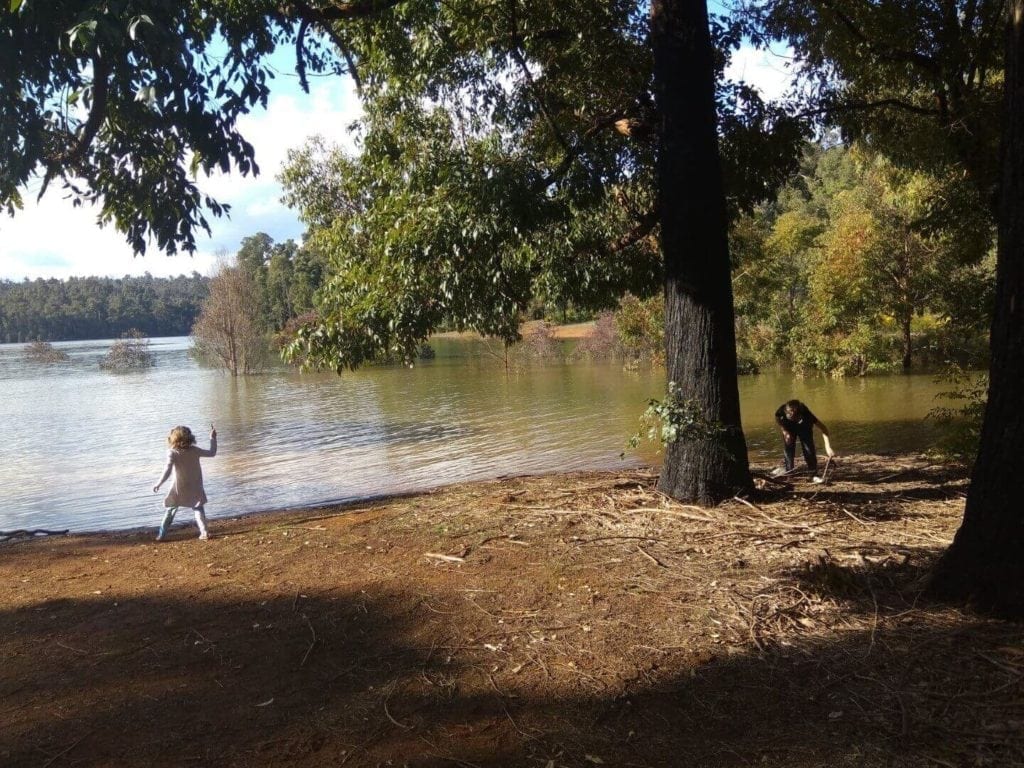 Harvey
Have you packed a picnic for your trip? Then Harvey Dam is a beautiful place to stop and enjoy some sandwiches, have a walk along the dam wall and kids can play in the shaded playground. The Stirling Cottage area has lots of things to see and do. Grab something to eat at the cottage café, stretch your legs on a walk around the beautiful gardens, and visit the May Gibbs exhibition at the information centre. The big orange and Louge Broom Dam are well worth a look too.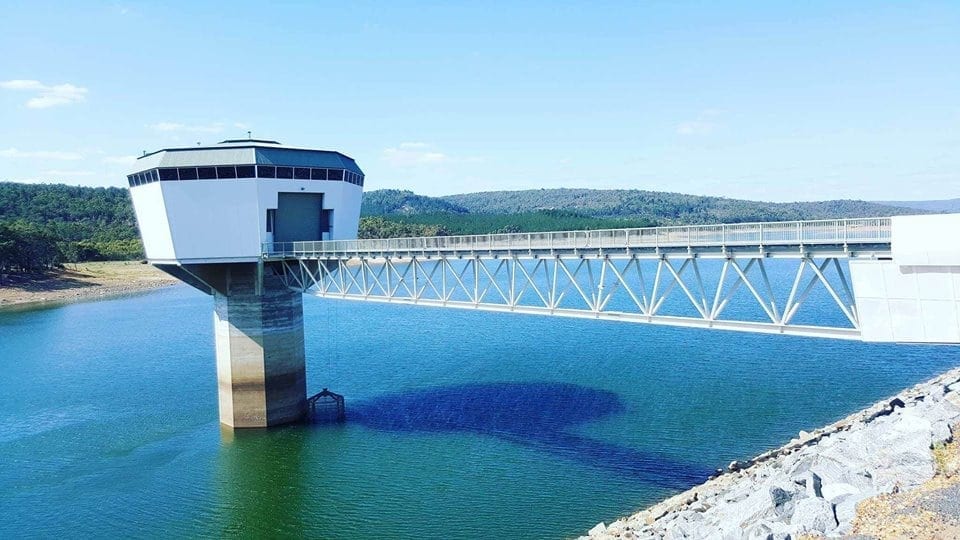 Collie
If you love lazing on a lake, Collie is home to some stunning spots! Stockton Lake is very popular for watersports. Black Diamond Lake is a popular spot for floating on a pool toy – just check the water quality first, before swimming.
And if you don't want to drive…
Rottnest
The island getaway is a perfect place for a car-free day trip. Rottnest is packed with family friendly things to do. From swimming at pristine beaches, to war-time tunnels, cycling, cafes and meeting cute quokkas – you'll easily fill your day here.
Have we missed your favourite spot to take a country and coastal day trip from Perth? Let us know in the comments below!