The brand new Perth museum, WA Perth Museum Boola Bardip, opened its doors to the public on 21st November after a four-year $400 million refurbishment.
Boola Bardip means many stories in Whadjuk Nyoongar language; the Country on which the Museum sits.
The WA Museum Boola Bardip is a museum about what it means to be a Western Australian. It invites you to discover our State's rich cultural and natural heritage through three major themes.
Being Western Australian:
Celebrating the diversity of our people.
Discovering Western Australia:
Providing a gateway to our incredible State.
Exploring the World:
Defining Western Australia's place in the world.
Each of the Perth Museum's exhibitions explores these themes through collections, research and the perspectives of communities from across Western Australia.
Woven throughout all the exhibitions are the voices of Aboriginal and Torres Strait Islander peoples, recognising the primary rights of Australia's first peoples in practising and expressing their cultural heritage.
We loved how the award-winning modern architectural design of WA Perth Museum Boola Bardip encompasses the four heritage buildings that made up the old site — the Old Gaol circa 1855; the original WA Museum, Jubilee Building (1899); the first Art Gallery (1908); and Hackett Hall, the State Library's old reading room built-in 1913.
WA Perth Museum Boola Bardip will delight people of all ages. Children will particularly love the interactive hands-on elements that are a part of every exhibition. Be prepared to hear the words "This is amazing!!" a lot, as the latest technology assists in bringing the museum's stories to life.
Visitors can find their own way around the Museum or use their smartphones to download the Museum app and be guided through its highlights. We recommend that you start from the top of the building, on the third floor, working your way through the exhibition halls to the ground floor.
There are 8 permanent exhibitions housed at WA Perth Museum Boola Bardip. They are:
Wild life
Wild Life takes you on a journey through the diverse environments found across Western Australia. The Wild Life Gallery is a vibrant, multi-sensory space filled with ancient fossils, rare specimens and live creatures. A must-visit for any mini Paleontologist!
If you were a visitor to the original Discovery Centre you'll be pleased to see the much-loved discovery drawers have found a home and a vamped look in the new Perth museum.
Connections
Connections shares objects, images and personal histories that highlight the different ways WA's global networks have shaped its past and continue to drive its future.
Changes
This exhibition explores the cultural, economic and social impacts of human engagement on our world and makes us consider how decisions we make today determine our future.

Origins
Origins invite you to uncover the wonders of our planet; from microorganisms to the origins of our galaxy. This Perth Museum exhibition definitely evoked awe and wonderment from our children as they got hands-on with a meteorite and discovered Aboriginal astronomy.
Reflections
The Reflections exhibition was another favourite of the kids. This reflective exhibition invites you to share your perspective on who we are, where we came from and where we are headed.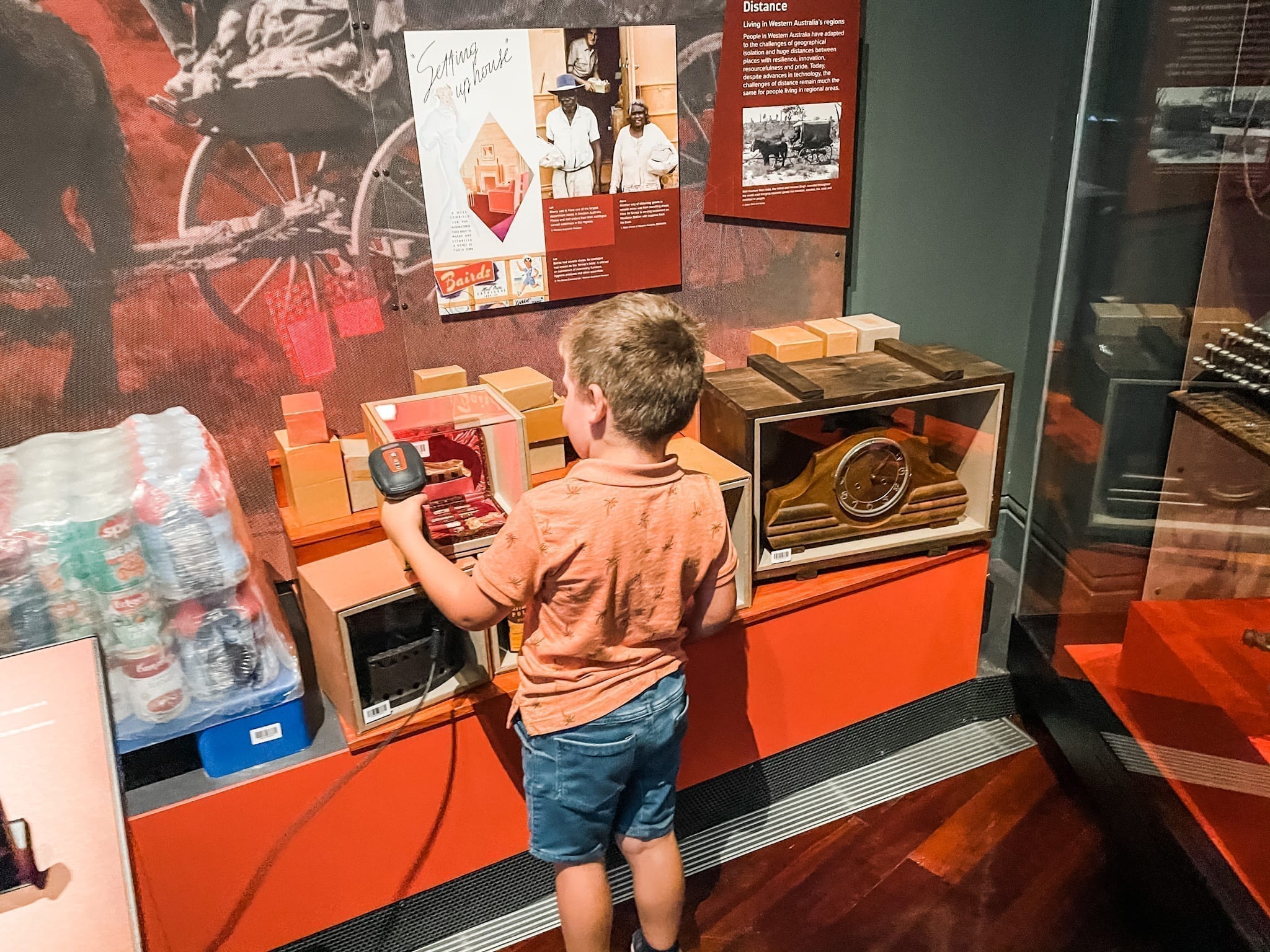 They loved the entertainment room which displayed the technology of my generation which included a Discman, a Gameboy and a Commodore 64 computer.
At the Wall of Love and Loss we got to write a note to a loved one who has passed and display it on the wall.
Innovations
This exhibition is centred around the themes of thinking, doing and changing. These are explored through hands-on multimedia and objects from the Perth Museum's collections that showcase art, music, medicine, fashion and the sciences.
Stan Perron WA Treasures
Housed within the beautiful, heritage-listed Hackett Hall, WA Treasures explores objects of significance collected over time by Western Australian cultural institutions. Suspended from the ceiling of this gallery is 'Otto' the blue whale skeleton which is back on public view after 17 years in storage.
Ngalang Koort Boodja Wirn
This exhibition shares the stories of Aboriginal and Torres Strait Islander peoples of Western Australia.
A 1000 metre gallery is home to visiting exhibitions, the first of which is Songlines: Tracking the Seven Sisters. WA Perth Museum Boola Bardip is the first venue to present the exhibition outside Canberra before it embarks on a global tour.
Songlines is an Aboriginal-led exhibition that takes you on a journey along the epic Seven Sisters Dreaming tracks through art, Indigenous voices and innovative multimedia and other immersive displays. It is an exhibition not to be missed!
Located on the ground floor is Epoch cafe offering a seasonal menu highlighting local produce. Open daily from 7am – 4pm.
There is so much to see at WA Perth Museum Boola Bardip that you can't possibly take it all in in one visit. It is a place that you'll look forward to returning to again and again.
General admission to WA Perth Museum Boola Bardip is free for everyone for the first 18 months, while admission for children under 15 years will always be free. From November 30 until January 31, 2021, people can get up to 10 tickets free but bookings are required. Tickets are available at www.museum.wa.gov.au/boolabardip
WA Museum Boola Bardip
Perth Cultural Centre, Perth
Open daily 9am – 5pm. Closed Christmas, Good Friday & ANZAC Day
visit.museum.wa.gov.au/boolabardip
Find more places to visit in Perth