First order of business;
Eat that slice of cake, there is so much to explore here you will wear it off in no time!
Second order of business;
If you live far away from Serpentine and if it's a public holiday and the weather is perfect, call ahead of time to make sure the park isn't at capacity (or get there when it opens at 8:30am). I have been caught out on this before, turned up only to be turned away because the Park is full *insert cry face*
If you're also planning on swimming it's worth asking if the water is safe and has been tested. Department of Parks contact: (08) 9290 6100.
Where you park the car is close to the picnic facilities and toilets, so super easy access if you're looking to just park up with the kids to picnic:
Following the road on foot to the left will take you over a bridge, around a boulder, along a boardwalk/bridge and to the falls: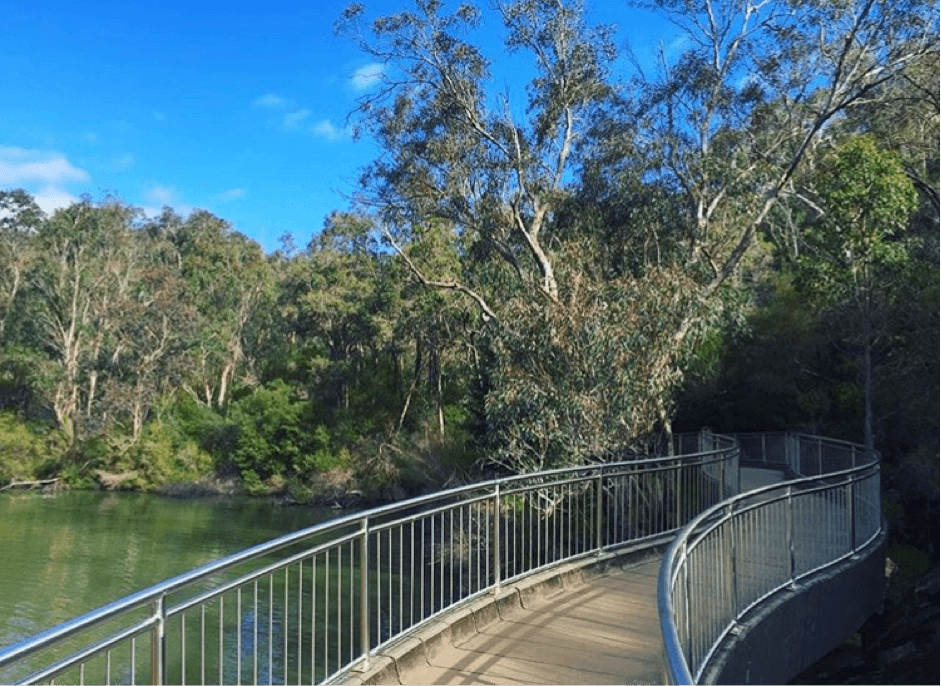 Oh the possibilities!!! The walk to the Falls is short and pram friendly (R and R), its a beautiful place for photos, however from here is where adventure takes place!
Steps take you down to the water: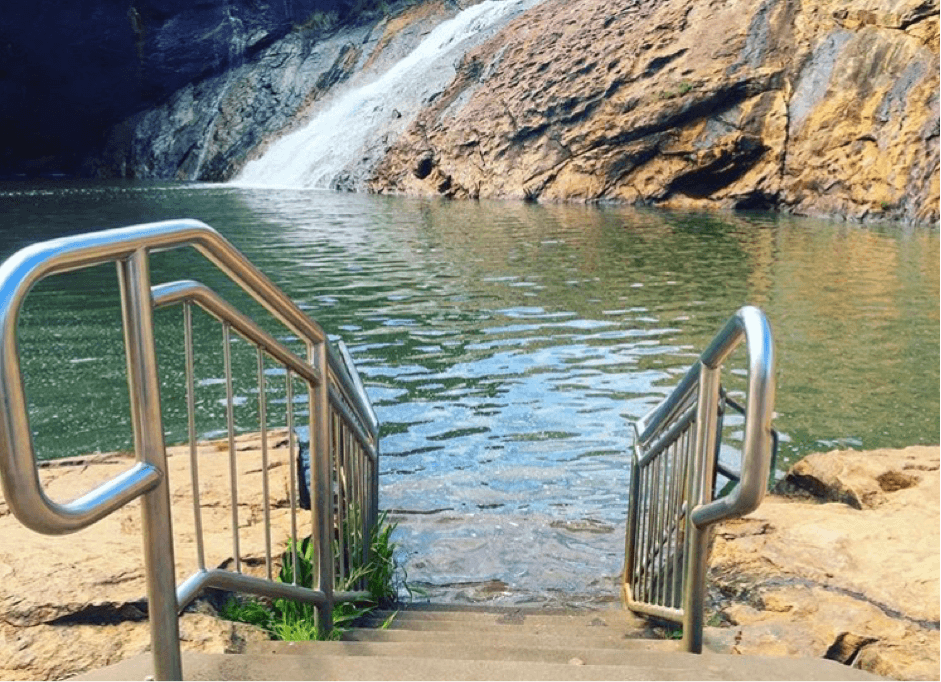 Not feeling like a swim?
Follow the boulders across and head under the bridge and enjoy the peace and quiet, dip your feet, let the kids play in the mud: (**Note: Boulders are slippery when wet, don't make a scene like I did)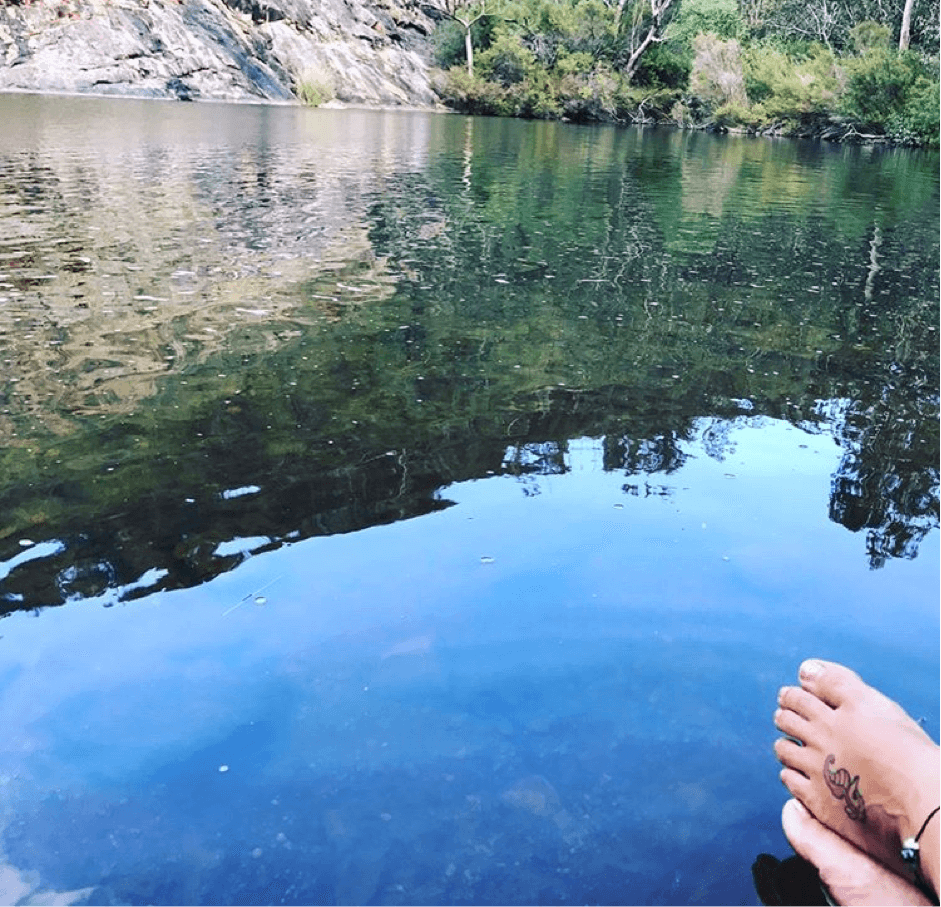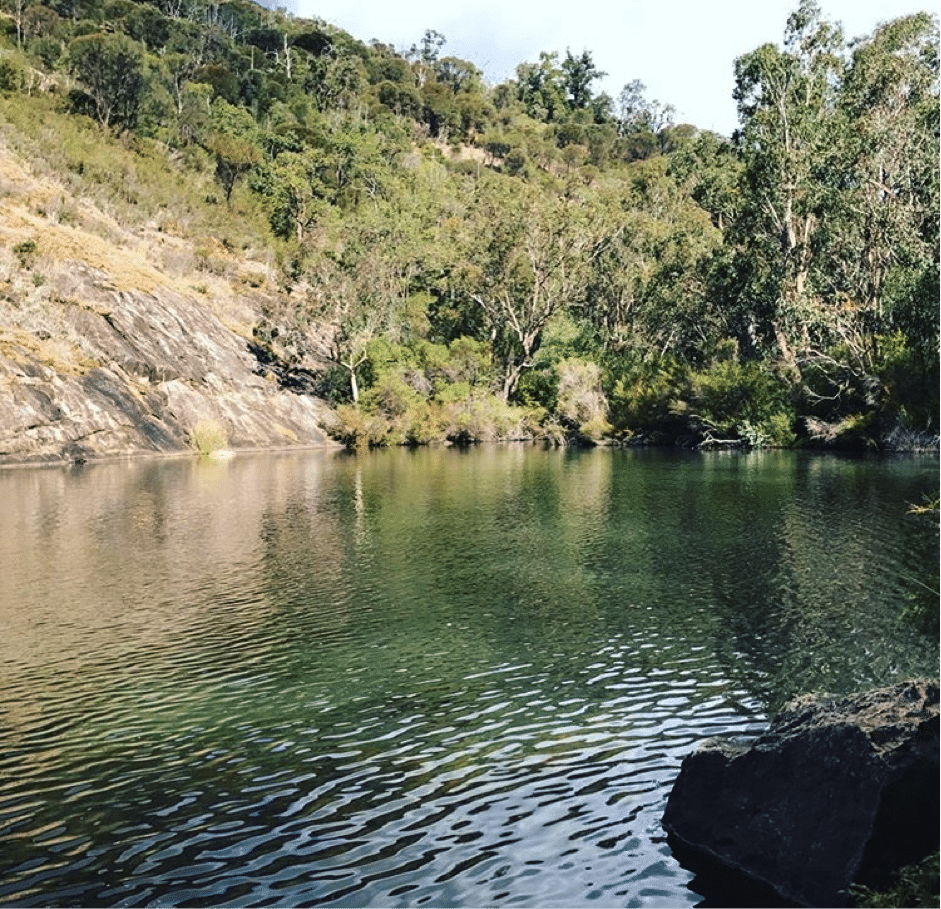 Feeling more advantageous?
Head back into the park and look for the trail that takes you to Kitty's Gorge. Prams won't make it through the entire trail, unfortunately; you could do it with a carrier but would need to be well prepared as it's a bloody long hike! Head up as far as you can go, it'll be a bumpy ride with the pram (see photos) but the views are worth it: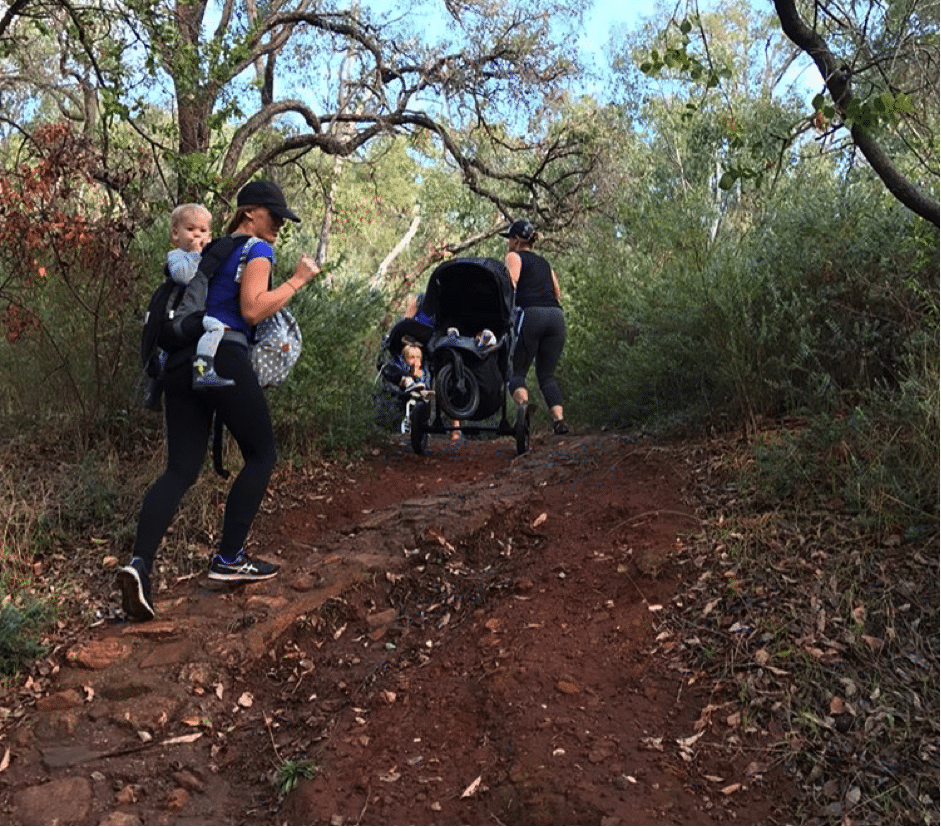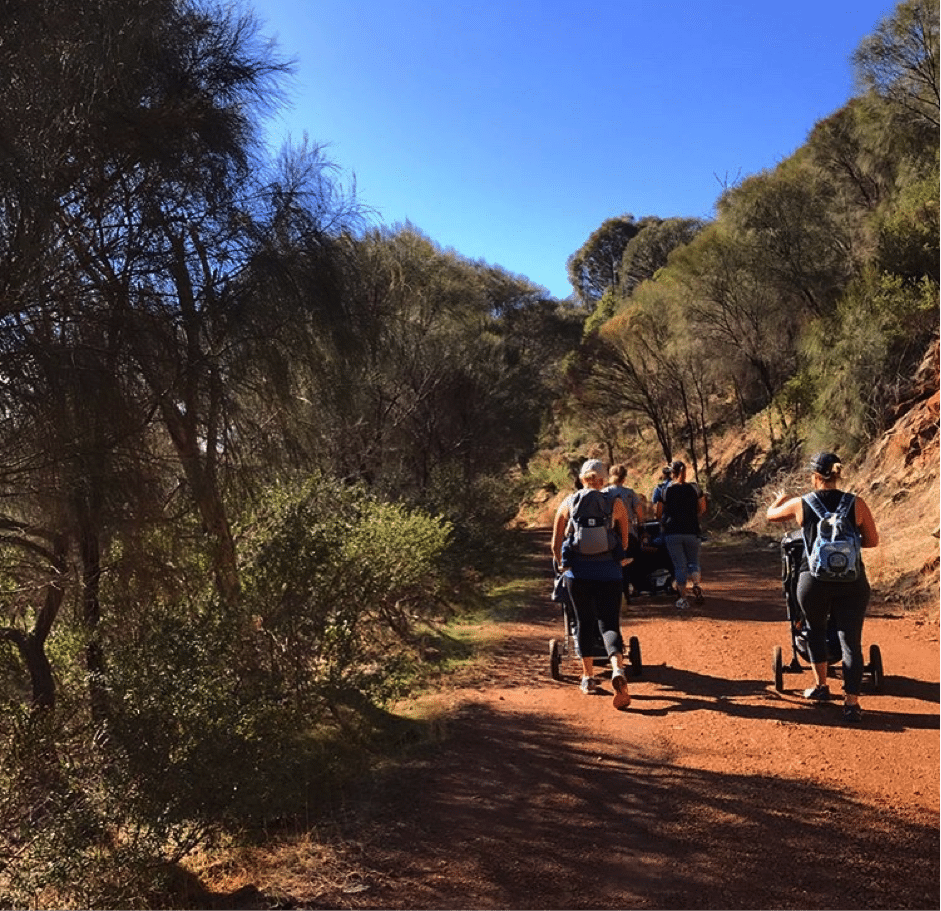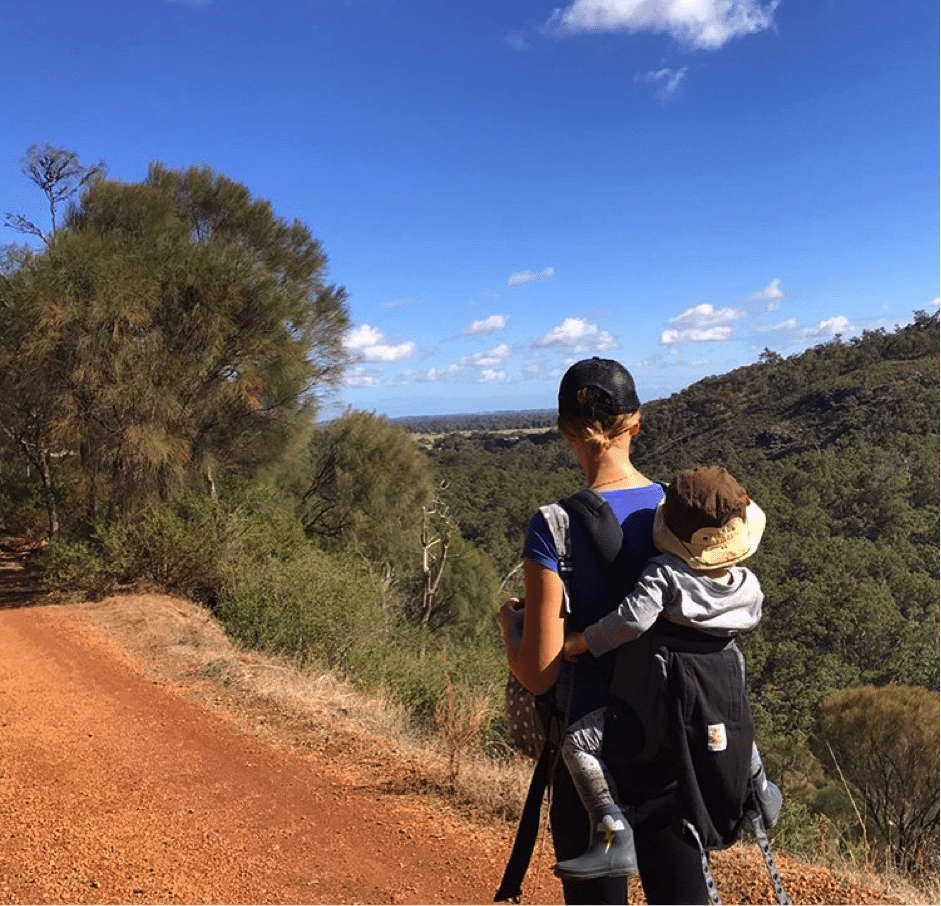 When you get as far as you can go, there is a path that goes down, this takes you to another section of the Falls, a nice stop with the kids to jump in some puddles and explore a bit.
(**Note: The hill/track down is steep and not safe with prams, it's ok with carriers though. We did get the prams down there but never did it again. We have learnt to just empty the prams of valuables, park them under a tree up the top and head down with the kids, collecting the prams on the return):
If you're in the right season up here you might come across fields of butterflies! Thousands and thousands, nature is just extraordinary! You thought bubbles made kids happy, watch their faces light up seeing thousands of butterflies!
(hard to see in the pic above but there are butterflies spread out all over the road!)
But wait! There is more!
If the hike with kids/prams or just the word hike in general turns you off, disinterests you, makes you want to punch me in the face, but you still want to enjoy some nature, there is a cute little track that goes through the bottom of the falls.
Keep your eyes peeled on the path from the car park to the falls. Along there is a track that takes you onto a skinny metal bridge that crosses over the water through the bush…
Follow this path, you don't need my instructions, just enjoy the adventure that awaits!!!!
(Note: Professional photographers!!! These stairs are gorgeous! My crappy iPhone pics don't do them justice!)
All in all, this is $15 well spent! All adventure sizes and abilities are catered for and there are lots of hidden paths to be found and memories to be made!
We live in a beautiful country, drink some coffee, get your boots on and get out there!
Tash x
@mummies_who_walk
Location: The end of Falls Road, Serpentine
Opening Times: 8:30am to 5:00pm
Opening Days: 7 Days
Cost: $15 per car, entry fee
Kid Friendly: Yes
Pram Friendly: Yes, most of it (carrier recommended, see below for more details and photos)
Dog-Friendly: No
Toilets: Yes
BBQs: Yes
Mode of activity: Bush Walk, Picnic, Play, Hike, Swim, Explore
Phone Reception: Yes, but can cut in and out on the hike trails
Time Taken: Approx two hours, walking from where I parked the car, to the falls, letting the kids explore, and back to the car. You could spend all day here though!
What to Pack: Nappy bag, buckets, shovels, drinks/picnic, sun scream, hats. If it's a wet day with muddy puddles; gum boots, raincoat and leave a towel and change of clothes in the car.
Safety: The usual, ants, snakes and mosquitoes. Also note below in respect to the water and also don't jump off the falls (just in case you're thinking about it!)
Find more walks and picnic spots
Find more swimming holes in Perth