The Gravity Discovery Centre (GDC) is a hands-on science education centre situated near Gingin, about an hour's drive north of Perth.
While on a recent camping weekend, on a rainy day, we decided to visit the Gravity Discovery Centre with our 6 and 2 year olds. What a fascinating outing it proved to be.
The GDC has many parts to it but the main part we visited was the exhibition hall which has numerous interactive science exhibits to draw you in. A science guide can take you on a tour to explain the physics behind the exhibits, and how they fit in with the grand scheme of the Universe, or you can simply get stuck in and investigate by yourself.
It was a lot of fun for all of us and educational at the same time. There are plenty of info plaques that you can read as you go, and explain for your child's level of understanding. For our 2 year old we didn't bother to explain, but she enjoyed the experience nonetheless.
Some of the displays we enjoyed were …
Mist created by an ultrasonic vibration bowl:

Giant Slinky – Make it move to create transverse or longitudinal waves:
The Egg of Columbus – Press the button and watch the egg spin until it stands up straight:
Planet Scales – Test what you would weigh if you stood on other planets in our Solar System:
Smoke Cannon – Bang the base to create smoke rings. Lots of laughs with this one although we had to stop the kids after a while as the smoke was filling the hall:
Space Capsule – Climb in and make it spin to test out GForces (don't worry it doesn't get too fast for the kids but is still fun):
Sound waves – Make noises into small tunnels that lead outside to a bigger tunnel, and listen as the sound waves return to you: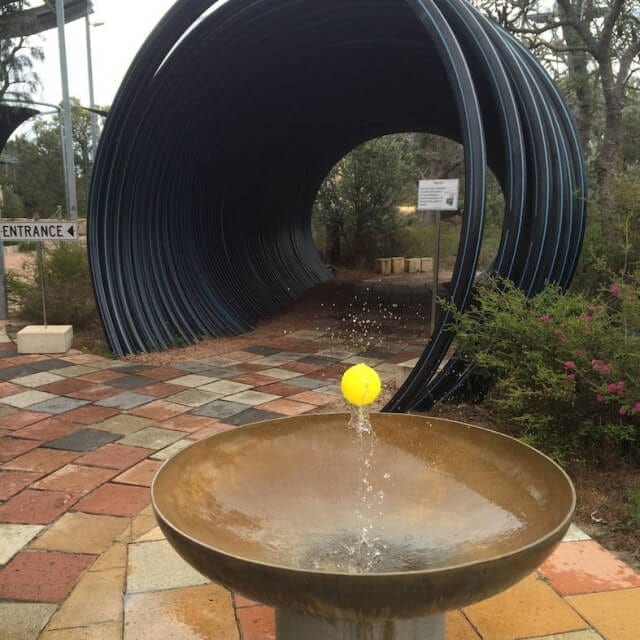 Bernoulli Ball – Demonstrating levitation in an air column:
Galaxy Fishing – Grab a fishing rod and test out the floor to find hidden magnetic energy spots:
Mirrors – lots of giggles from checking out the distortions created by different curved mirrors:
There is a great toddler play area to entertain little ones if they lose interest in the main hall. So between the two areas we were occupied for a full hour.
The Gravity Shop is also full of fun distractions and science gift ideas, so after a delay there, we ventured into the Biodiversity Gallery. This consists of multiple microscope stations with interesting specimens. Our 6 year old loved investigating a dead spider and a sea urchin!
By this point, we had nearly reached overload for our young kids, but one could spend a good chunk of time here if you are a science fundi.
The Stargazers' Café revived us with some snacks and coffees. It is a small café but has some nice choices for light lunches with changing daily specials.
After a bite to eat, Dad and our older child decided they had enough energy to tackle the Leaning Tower challenge. The tower is situated outside the building and is an impressive 45m tall steel structure that leans at an angle of 15 degrees. A safe climb up the 222 steps will take you to the very top where you can enjoy great views of the countryside, and recreate Galileo's gravity experiments. You are provided with water balloons to fill with different amounts, and then drop these through special chutes from the top of the tower, and watch as they free-fall and hit the safe ground set aside for this purpose.
We ran out of energy and time, but other things that you can do at the Gravity Discovery Centre are:
Cosmology Gallery
Home to works of art from various cultural backgrounds, using different media to explore science, culture and religion. Follow the story of creation and evolution told through paintings, photography and words. The gallery is situated under the striking buckyball roof (shaped like a giant molecule).
Solar System Walk
The Solar System Walk is an enjoyable and educational 1km scale model of the Solar System. The walk begins at the Sun and disappears along a track through native bush. Alongside the track, model planets and their moons are located at the correct scaled distances from the Sun. Each of your footsteps represents about 6 million kilometres in reality.
Take a clipboard, pencil and a copy of the Solar System Walk Quiz (from reception) for an extra family challenge.
Bush walks
Meander through the untouched Australian bush and discover wildflowers and other interesting plants.
For the GDC's school holiday program, click here www.gravitycentre.com.au/whats-happening/school-holiday-programme/
The Gingin Space Observatory is also right next door and operates stargazing experiences for visitors.
The Gravity Discovery Centre is open 10am–4pm Tuesday– Sunday. CLOSED MONDAY.
Open Public Holidays. Open every day during school holidays.
www.gravitycentre.com.au

Find more places to visit with kids in Perth