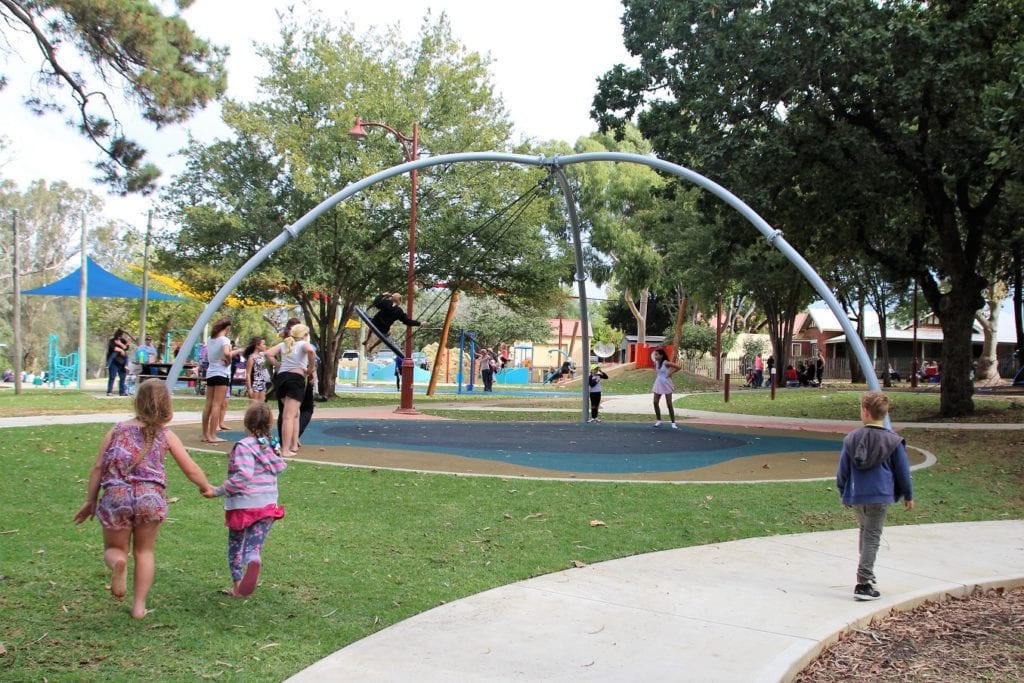 Cantwell Park in Pinjarra is a brilliant stop on a road trip to WA's south west. The massive park is right in the heart of the town, on the banks of the Murray River. We usually grab some freshly baked treats from the yummy Pinjarra Bakery and eat them at the park. You may have passed Cantwell Park and not noticed, as you drove over the South West Highway bridge.
Many mature trees provide lots of natural cover from the sun, with plenty of shade sails protecting the main playground. The park has a lot of big features – a huge spiderman climbing frame, big birds nest swing, and plenty to keep little ones entertained too.
The flying fox is lots of fun for all ages.
There's a dedicated toddler play area with small slide, birds nest swing and lots of sensory play.
Little ones will love toddling around the mini maze.
A pirate ship provides a chance for some imaginative play.
There's a climbing wall.
The whole family will love to join in on a game of Twister!
Kids will have a ball climbing the challenging rope obstacle course.
There's plenty of swings for some old school fun too.
There are also BBQ and picnic facilities, water fountains, toilets and plenty of shops nearby. Down river, there is a suspension bridge you can walk across.
Cantwell Park has something for children of all ages. You could easily spend a few hours here – it's a lovely spot to play by the river.
Find Cantwell Park at 6 George Street, Pinjarra
Find more parks to stop at, on a south west road trip here. 
Location
No Records Found
Sorry, no records were found. Please adjust your search criteria and try again.
Google Map Not Loaded
Sorry, unable to load Google Maps API.
Member Reviews