Rio Tinto Naturescape Kings Park –  A place where children can be kids of a bygone era and it's FREE!
Rio Tinto Naturescape is one of the world's leading nature spaces for children. It is the most unusual and brilliant playspaces that I have ever come across.  It is designed as a place for children 'to connect with nature and learn to appreciate the unique Western Australian environment' and it does just that.
Naturescape reopened to the public on 14th December 2017 after a major new Stage 2 development.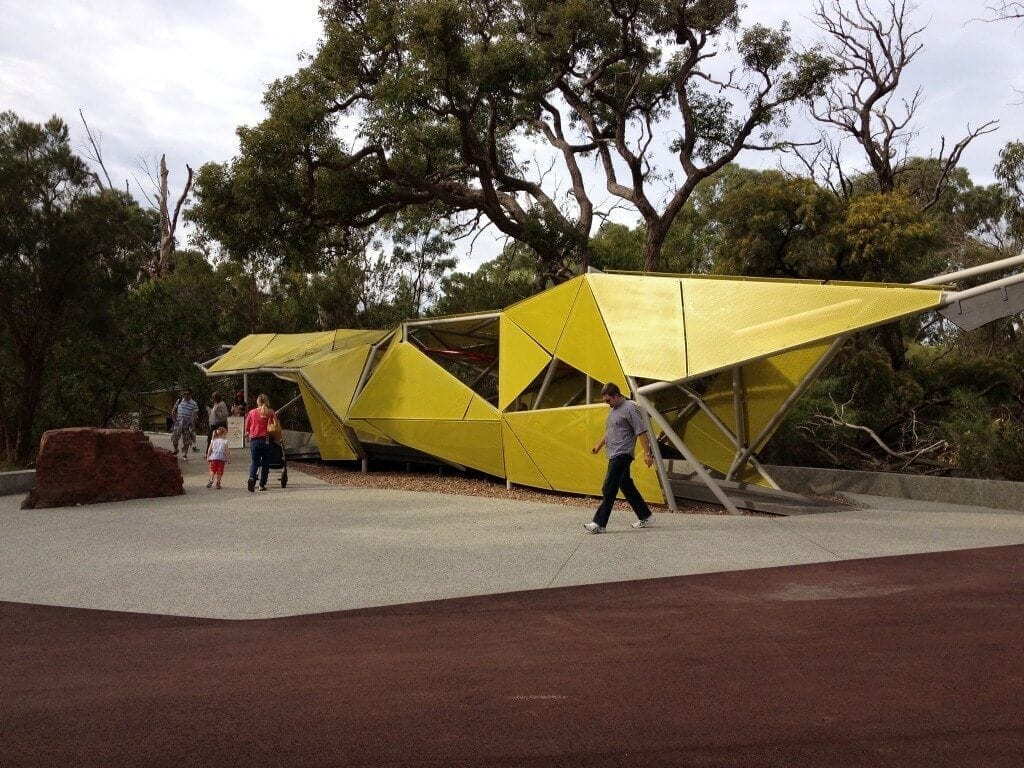 The entrance to Rio Tinto Naturescape
Naturescape is not a playground or picnic area but a magical space for children (and adults) to enjoy a sense of 'challenge, adventure and connection to nature that has been missing from many urban childhoods'. You are permitted to bring along snacks into the park but large picnics are not permitted and there are no bins within the site. So don't forget your rubbish bag!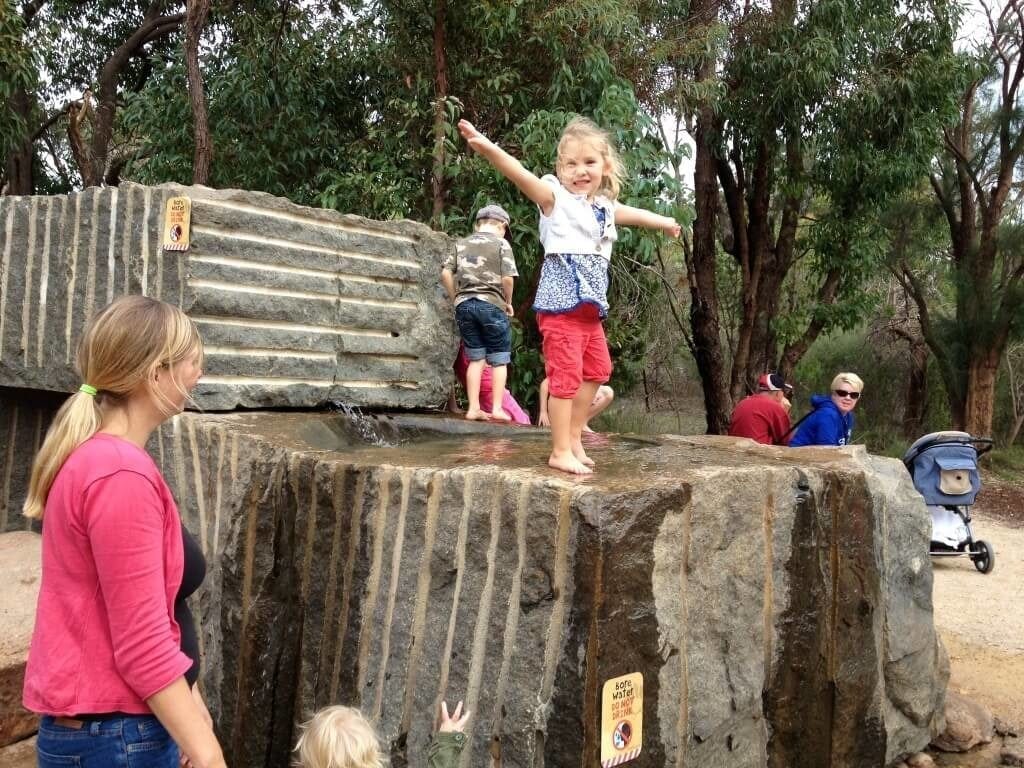 Numbers of visitors are controlled to the Rio Tinto Naturescape and they do close entry if they are at capacity. If you are planning on visiting in a large group you do need to book in advance or you may be refused entry. The site is open Tuesday – Sunday (closed Mondays) 9.00am – 4.00pm. Rio Tinto Naturescape is closed for the whole of February due to the risk of fire to the area.

I will warn you, if you are visiting Rio Tinto Naturescape with young children you do need to keep a close eye on them as it is a health and safety nightmare! This is not the place to set back and relax and leave young kids to their own devices. There are rocks, lots of open water, sharp sticks, towers and anything else that nature can throw at you. This isn't a sanitised playground.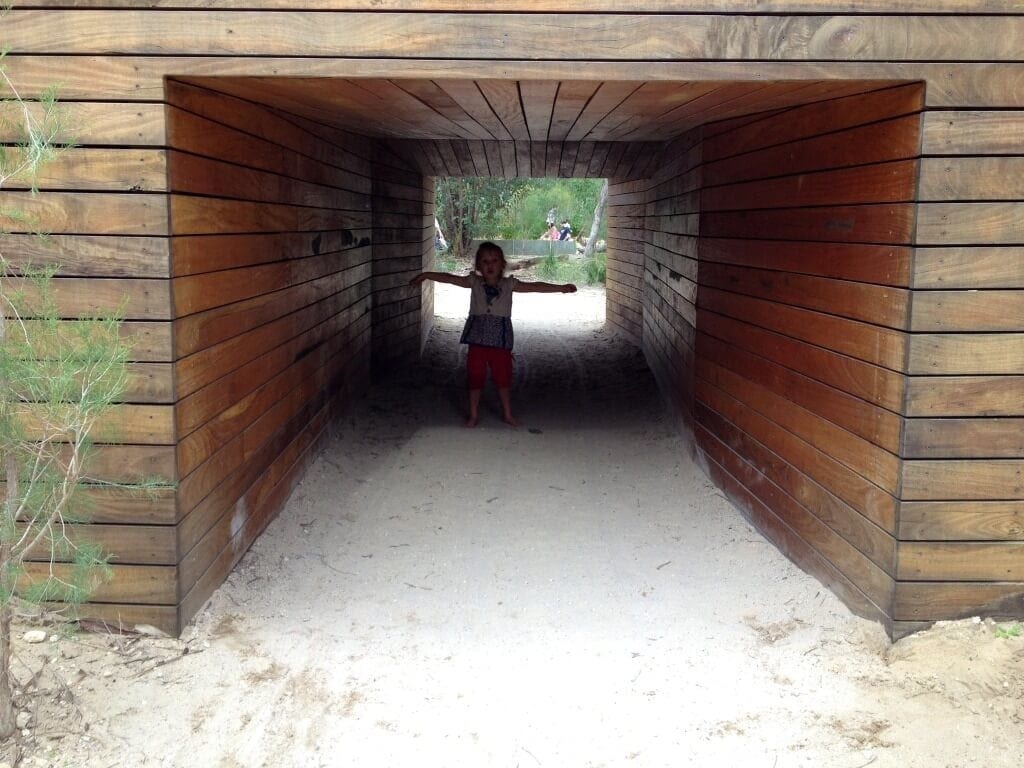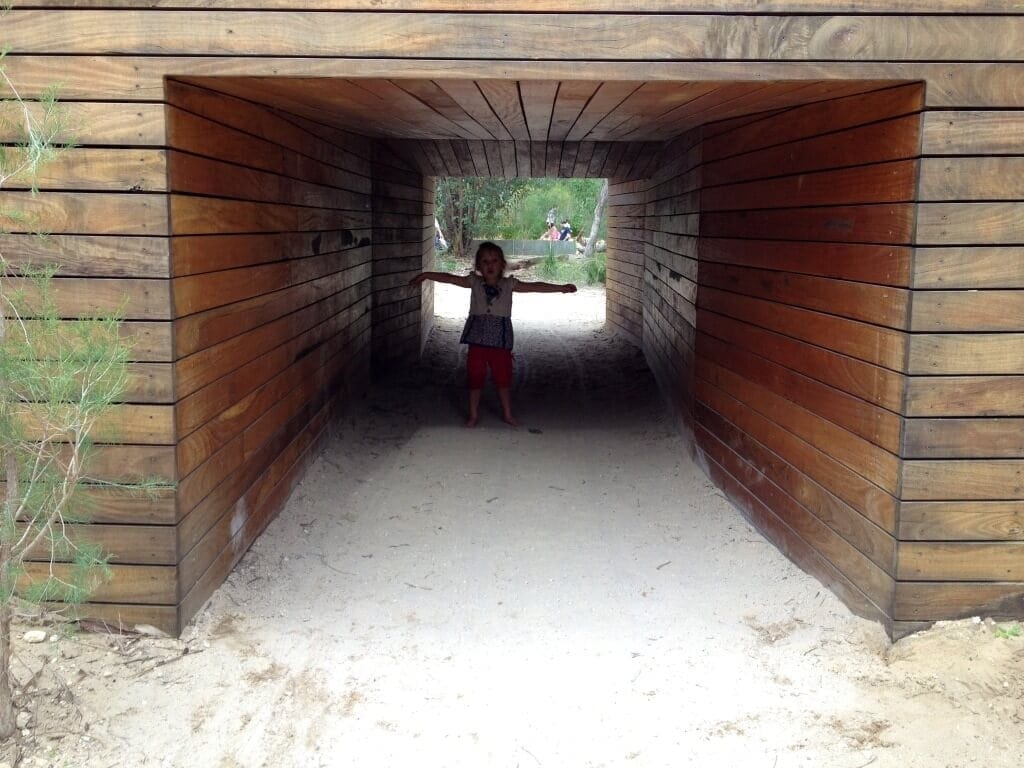 When visiting you'll need to bring a towel and spare change of clothing for your kids as they WILL get wet! Children are encouraged to get into the steams and build dams with the rocks in Paperbark Creek. Imagination will be stoked with areas such as 'The Prickly Thicket', 'Boomerang Bridge' and 'Kulunga Gully'.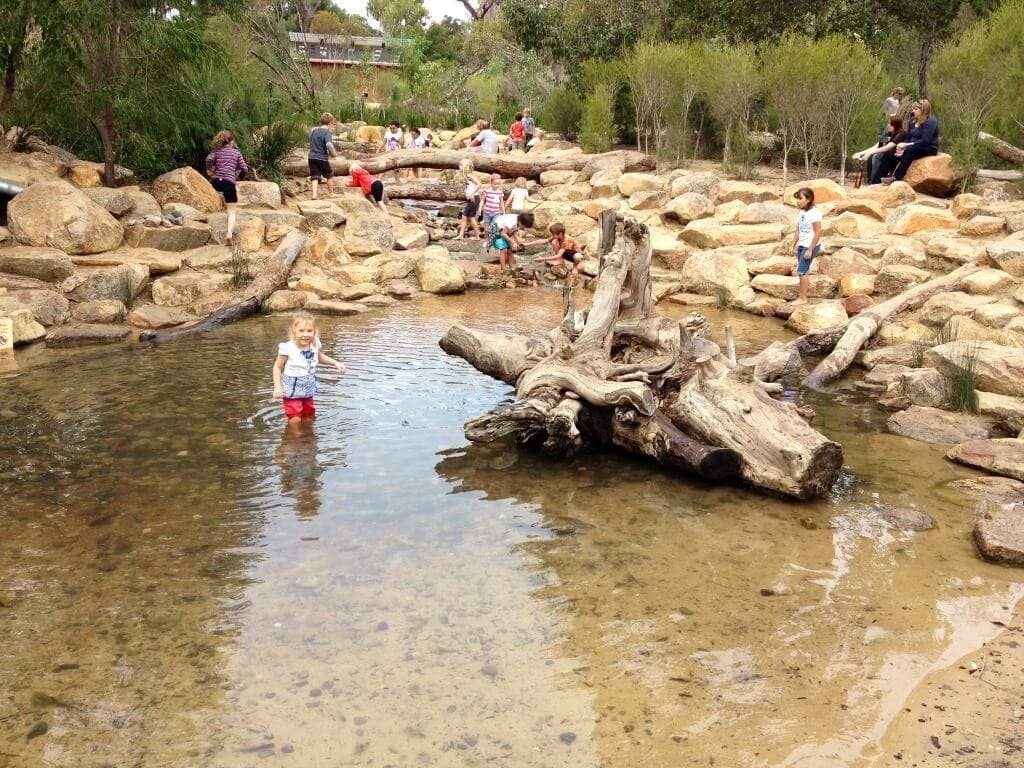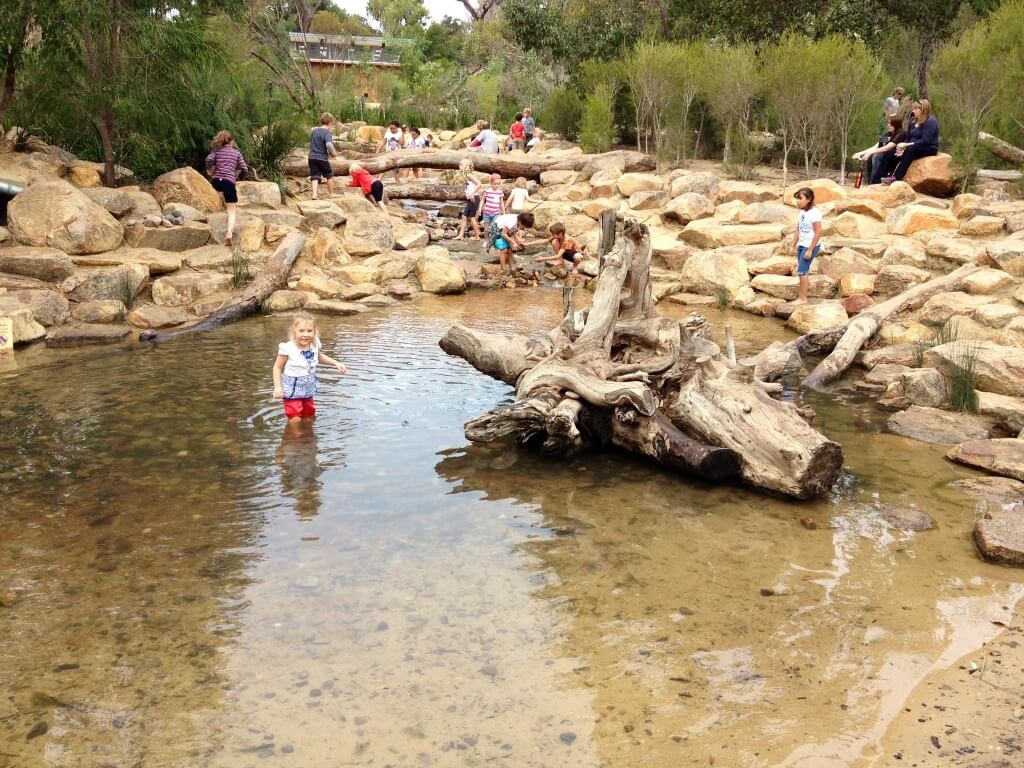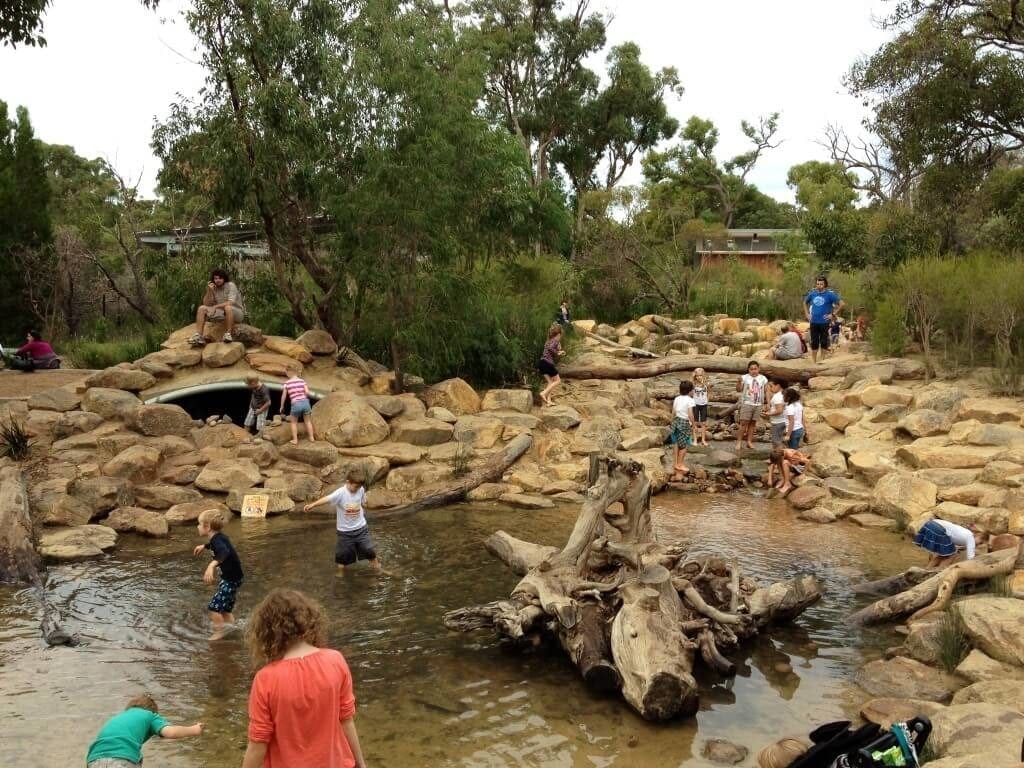 The new Stage 2 development includes two large aerial walkways called 'The Python' and 'The Bungarra', which stretch 7m high and 40m long which will test the bravery of visitors.
The Python offers views over the Kings Park bushland as it snakes its way through the treetops.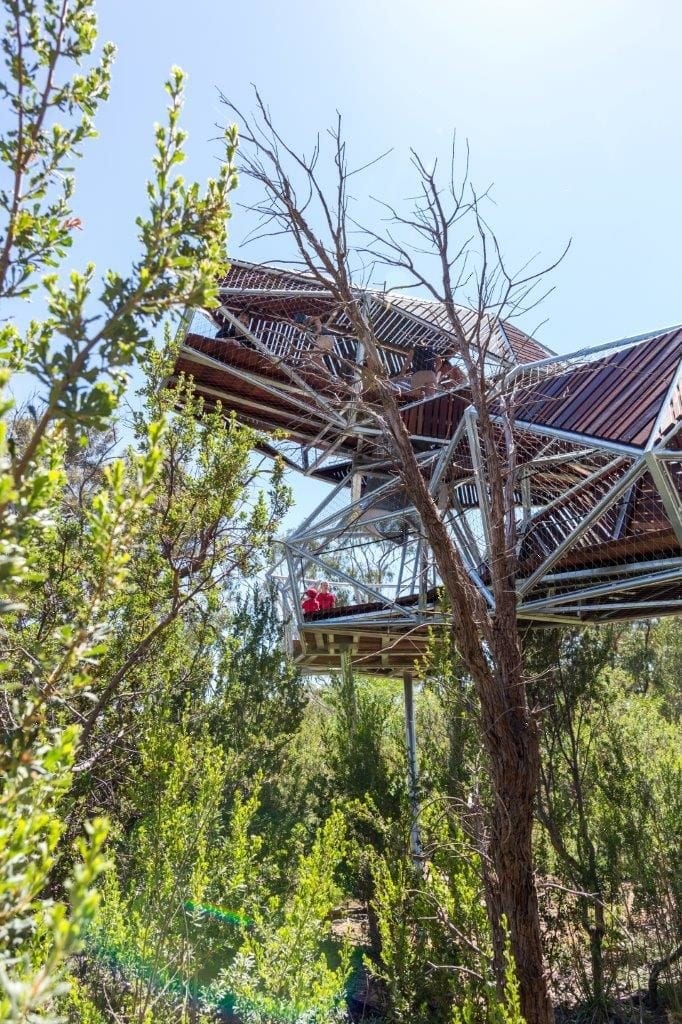 At the end of the Python, you'll find the cubby building area.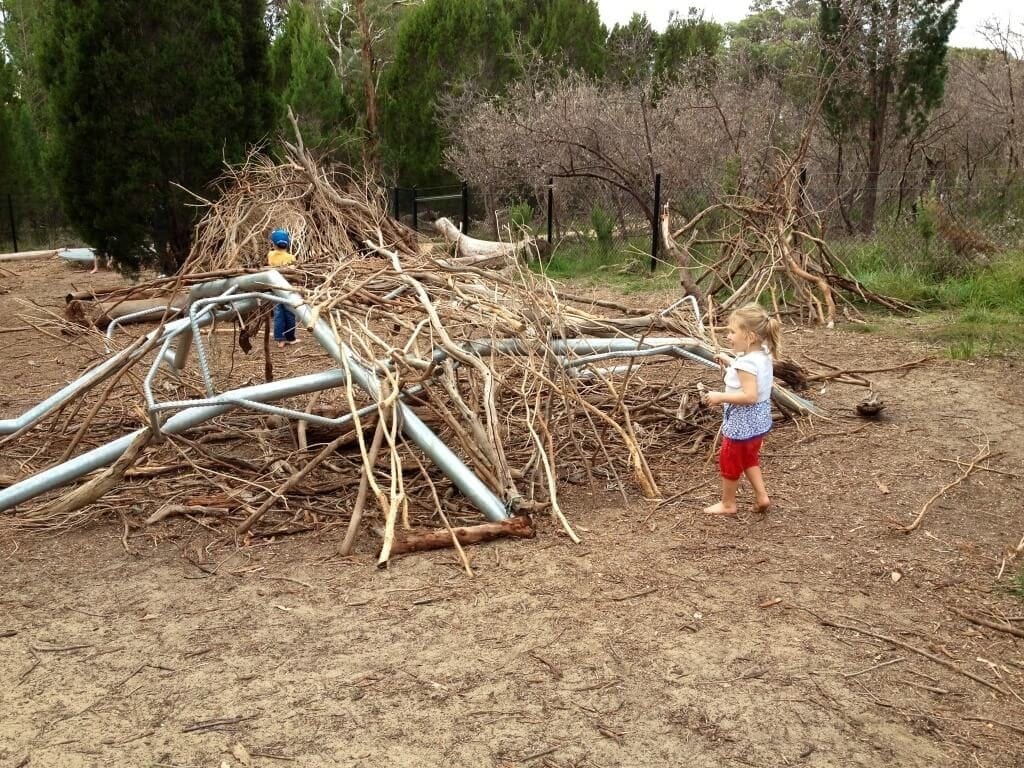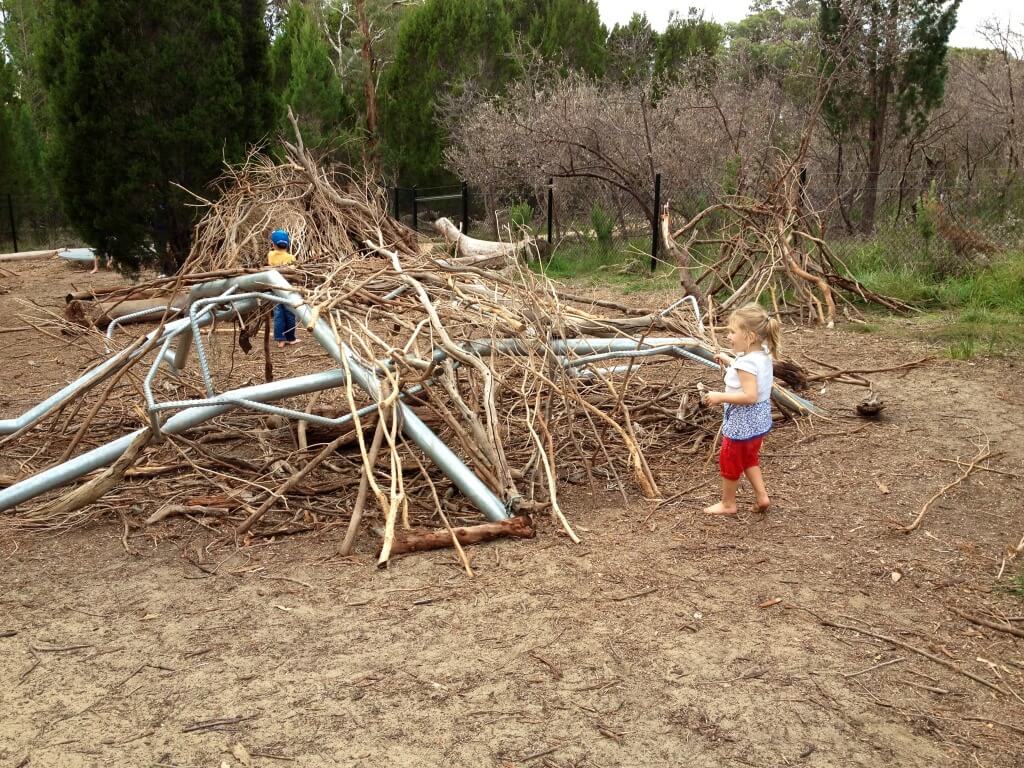 Discover the crazy heights of the Bungarra. It's nooks and crannies which are made from recycled timber and steel and along the walkway you'll find strange looking upside down trees.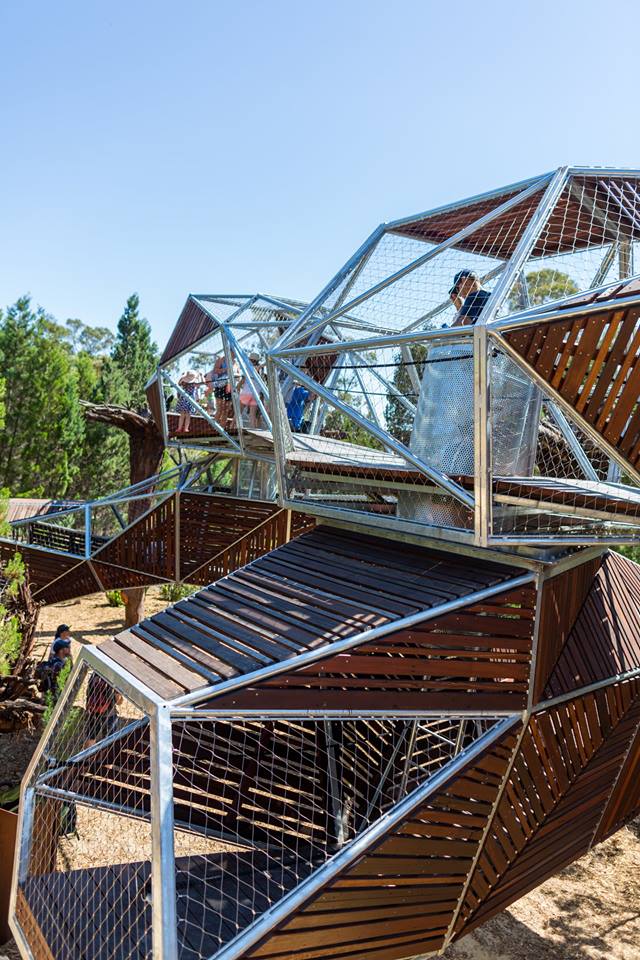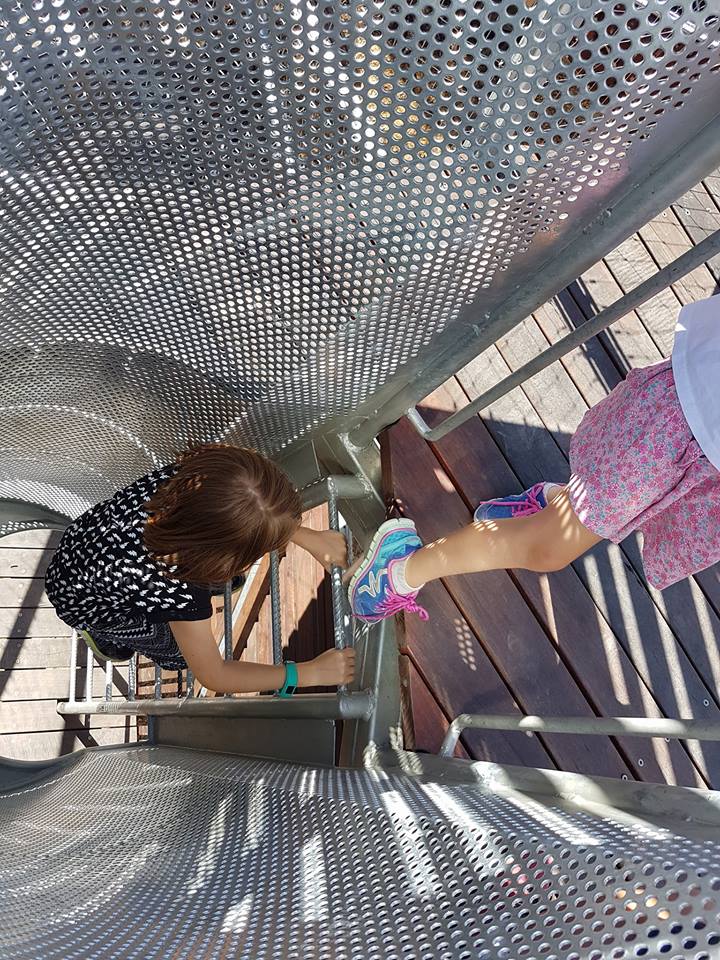 Next to the Bungarra is The Tangle, a web of climbing rope shaded by Rottnest Island Pines of the tangle.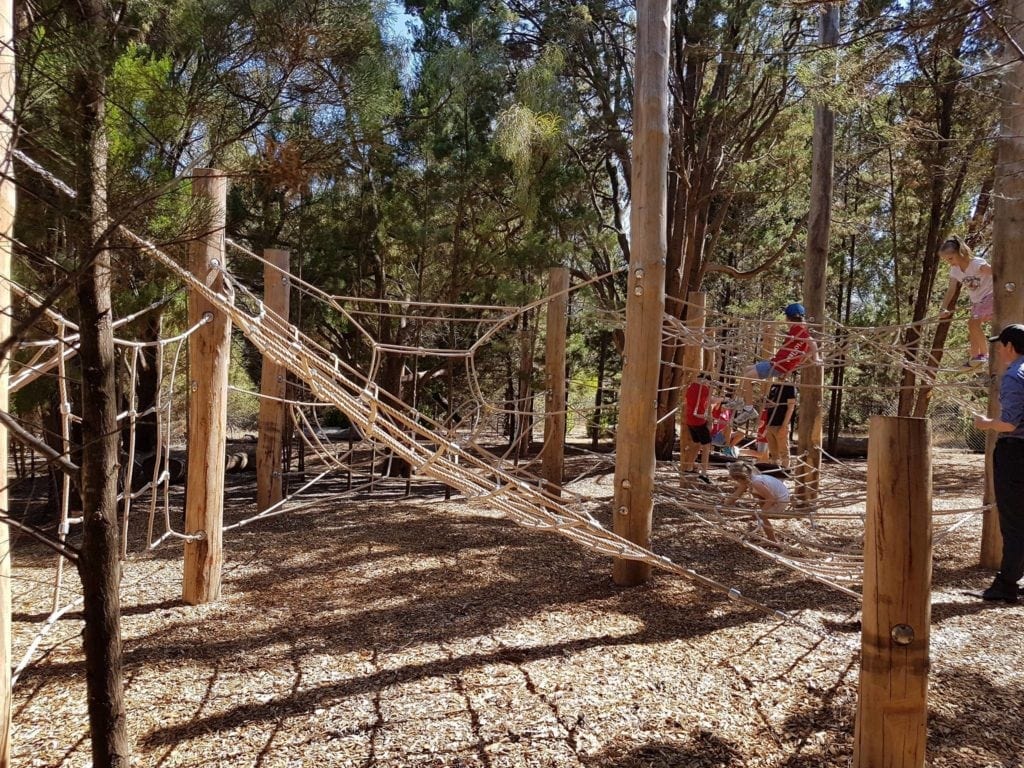 There is also a new waterhole for wading.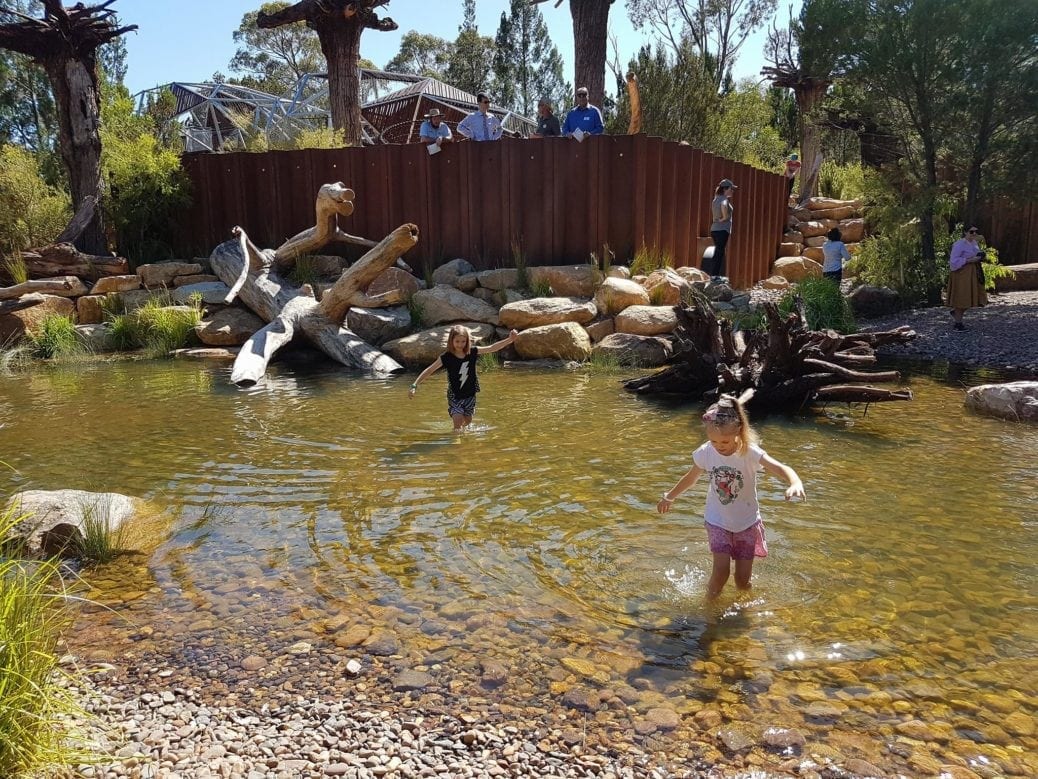 Disappear down The Burrow and explore its cool tunnels.
Not for the faint-hearted are two very tall tree hides! Will you be brave enough to reach the top?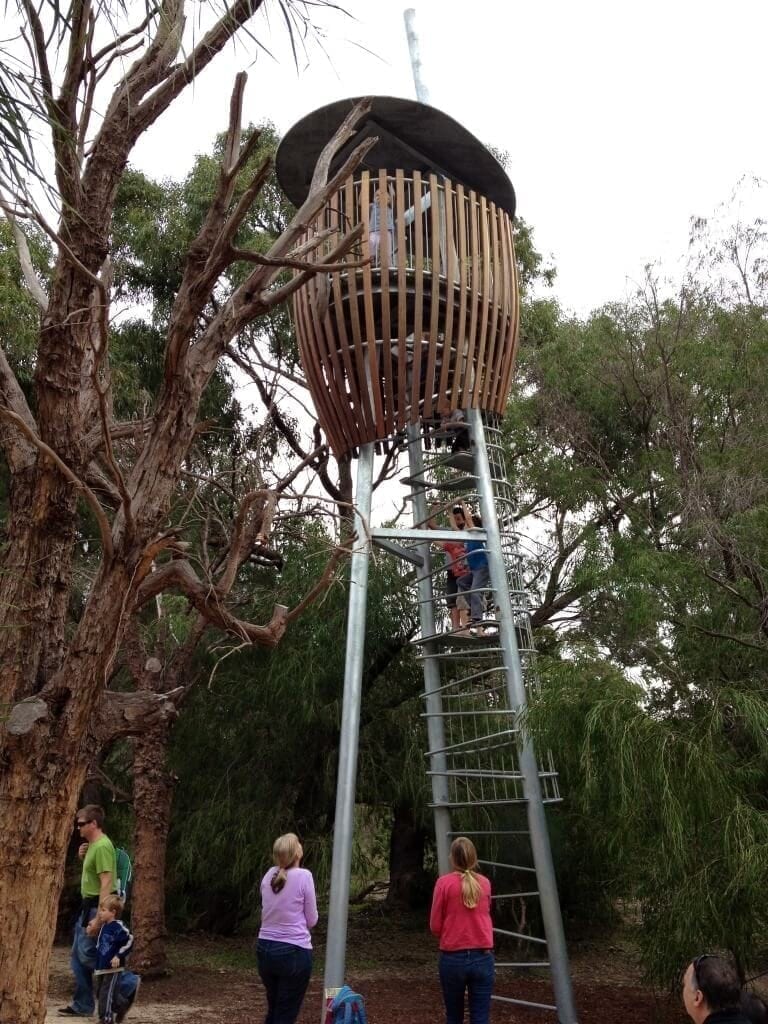 Throughout Naturescape you'll find pram and wheelchair friendly pathways.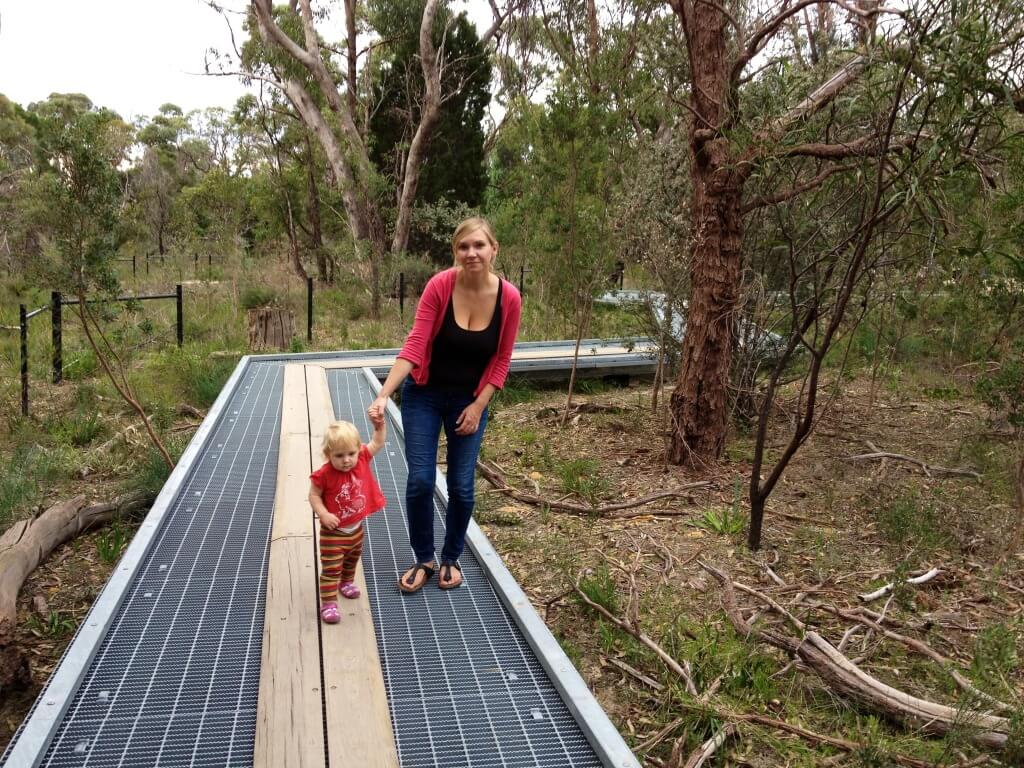 Here are some of the many great reasons to visit Rio Tinto Naturescape Kings Park a suggested on their website:
Children will discover more about themselves and our unique Western Australian plants.
Spend time outdoors in a beautiful, natural environment.
Get 'unplugged' – away from computers and electronic devices and see how good you feel.
Experience a sense of discovery with your children.
See your kids' imaginations in action.
Build your children's self-esteem and sense of independence by allowing them to challenge themselves.
Enjoy an outing that's free.
See the seasons change.
Introduce your family to spending time in the bush in a simple and manageable way.
Introduce your children to the importance of protecting the environment through a fun and hands-on experience.
Rio Tinto Naturescape is open 9.00 am – 4.00 pm Tuesday to Sunday.
Closed Mondays and all of February.
Rio Tinto Naturescape Kings Park will be closed on days when a very high fire danger rating or above is forecast. Please check the weather before your visit.
Conditions of entry apply to all visitors.
The main entrance to Rio Tinto Naturescape Kings Park is located on May Drive in Kings Park and Botanic Garden.
For more information visit www.bgpa.wa.gov.au/kings-park/area/naturescape
Find more playgrounds in Perth
Find more things to do in Perth city
Location
No Records Found
Sorry, no records were found. Please adjust your search criteria and try again.
Google Map Not Loaded
Sorry, unable to load Google Maps API.
Member Reviews