Bounce Joondalup is THE all-time favourite indoor playground for kids of all ages. A giant play centre will keep little ones happy for hours, while big kids will love the thrills of the high ropes course, rock climbing and trampolines.
For 'minibouncers' 110cm and under, Bounce has three levels of climbing, sliding and obstacle fun. There's a full height twisty slide landing in a ball pit, along with four fun racing slides. Kids can also try out the mini climbing walls above a soft-landing pad and, of course, bounce on trampolines. My kids always have the best time here and my six-year-old would still play here if she wasn't too tall!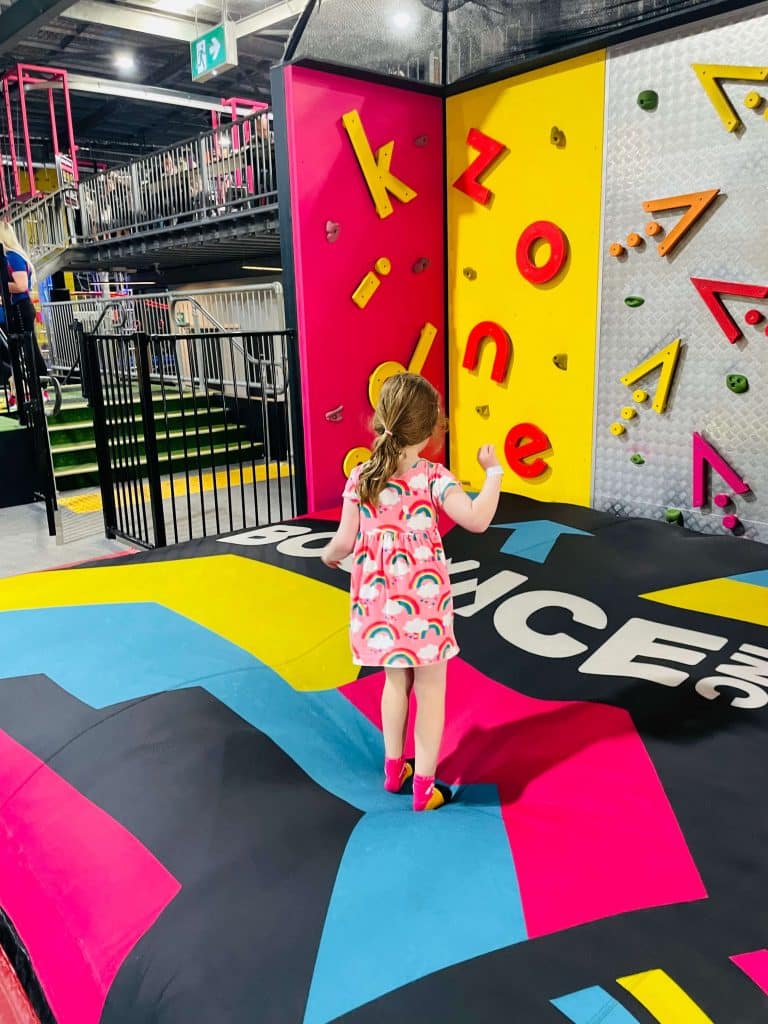 The minibouncer area is gated and there are tables and chairs. If you order food from the upstairs Bounce cafe, it can be brought down here.
The Bounce zone for kids over 110cm (about 5 years) is where the real fun begins. Every time we come to Bounce my big kid is more confident and capable than the last. It's one of the reasons I love this place so much.
My three were super excited to try the high ropes course. After getting harnessed up and climbing two flights of stairs, a staff member clips your harness onto the rope system. My heart was beating fast at this point! Even knowing the harness will catch you if you fall, it's still an adrenaline rush.

In the end, my six-year-old found it too much and backed out at the last second. But my son and his friend loved the feeling of balancing so high up and had no issues completing it on their own.
Next, we tried rock climbing. Staff changed our harness and made sure that everyone could clip themselves on and off. This system has had an update since we last visited and while it took a little practice, it seems safer. The lock won't release for climbing until you're correctly clipped on. There were staff around to help in case anyone got stuck.
There are lots of different grade climbing walls, and after some success, the 9-year-olds were soon keen to challenge themselves on the hardest ones!
Bounce Joondalup also has an X-Park, a ninja-style obstacle course for climbing, leaping, and swinging. We loved the huge zip line at the end! Kids need to be at least 125cm tall to play in this section.
In the main trampoline arena, there are around 50 highly sprung trampolines to get you airborne. The kids doing somersaults and flips make it look so easy and if your kids are keen to learn some tricks, you can try Bounce's Freestyle Academy which runs during term.
There's also dodgeball, a firm favourite of my three, and trampoline basketball making slam dunks that bit easier for us humans with shorter legs!

And if kids still have energy to burn, there's also a spring gym floor for cartwheels and even more tricks.
Overlooking this Bounce zone is a cafe serving refreshments including burgers, chips, snacks and drinks.

My kids loved our visit here – especially the 9-year-olds. One hour just isn't enough time to enjoy everything so I recommend booking a two-hour session if you have big kids.
It's easy to book online and is recommended on weekends and school holidays when sessions sell out in advance. Bounce has some great offers online for off-peak times, including $11 'playdates' for minibouncer two-hour sessions.
Kids under 12 require supervision. Adults will need their own ticket if using any of the equipment, but it's free to supervise.
It's best to arrive 15 minutes before your session time as there can be a queue, especially for the first session. We booked for the 9am session but didn't start playing until about 9.15am due to a long queue.
Closed in shoes are required for high ropes, rock climbing and the X-Park. Bounce grip socks are required for trampolines and the minibouncer area. These are available to purchase and yours to keep for the next visit.
Bounce has something for all ages and abilities. It gives kids a chance to challenge themselves and get out of their comfort zone. It's action-packed fun at its best! Bounce also do the best parties with a party host who puts in maximum energy making sure all the partygoers have a blast.
Bounce Joondalup
Bounce Joondalup is open seven days a week, 9am-6pm (until 9pm Fridays).
35/57 Joondalup Drive, Edgewater WA 6027
www.bounceinc.com.au/venue-joondalup-wa
Find more trampoline centres in Perth
Find more playcentres in Perth