Christmas is a time for giving, and it's a great opportunity to teach children to give to the less fortunate in our community. If this is something you're considering for your family this year, Buggybuddys has a list of charities around Perth collecting everything from gift vouchers to good quality used toys and clothing.
Perth Children's Hospital Foundation is the official fundraising body for Perth Children's Hospital (PCH), Western Australia's only specialist children's hospital.
Since the Foundation was first established in 1998, we have raised more than $28 million to fund life-saving research and capital projects. We have also funded close to a quarter of the equipment currently used by the hospital.
These incredible results for thousands of sick and injured children are made possible by the ongoing support of the generous Western Australian community.
Thank you for 'caring for kids' and for helping to give them a brighter future.
How can you help?
You can purchase some charity Christmas cards. Alternatively, why not purchase a gift via the Perth Children's Hospital Fondation giftshop? Items include toys, books, educational learning items, art supplies, and even Christmas themed scrubs for the healthcare worker in your life.
Also, look out for Perth Christmas Lights displays who are collecting donations for PCH this year.
Saturday, 9 December, from 9am
Sir Ross McLarty Park, Pinjarra
Christmas Charity Bike Ride departing Sir Ross McLarty Oval Pinjarra riding through Mandurah to the Western Foreshore where there will be plenty of fun for the whole family.
Saturday, 9 December and Sunday, 10 December, from 9am
Commencing in Capel, ride via Augusta to Busselton
Setting off from Augusta the morning of the 10th of December we will head up to Margaret River, Caves Road to Dunsbourgh & then onto Busselton
——-
——
By joining the Capel Riders on any ride you automatically agree to 'How We Ride' which can be found on our website.
The aim of the Special Children's Christmas Party is to provide in excess of 2,000 children from all over the region with a day they will never forget.
The children come from four major groups: Children who may be seriously ill, intellectually or physically impaired and also the underprivileged. The Party is not open to the public but to all Sponsors and the children and their families. We are expecting approximately 3,000 – 4,000 people.
We put on a free day including lunch, drinks, fruit, lollies, ice creams and chips and a three hour live stage show. Other entertainment for the children includes face painting, rides, interactive displays and much more.
Of course no Christmas party is complete without Santa Claus! Each child will receive at least two or three high quality presents.
This is the 27th anniversary of the Party and we want to make it one of the best day's ever for these brave children.
About Volunteering for the Party:
Your role for the day will be co-ordinated by your Activity Supervisor (to whom you will report to after registering and signing in).
We encourage you to be flexible and exercise initiative during the busy 4 hours of this event.
We appreciate, value and depend heavily on all volunteers turning up on the day.
To learn more, head to the website.
Please head to Operation Sunshine WA Facebook page or their website for more information on drop off locations and for what goods are currently needed.
Dandelions WA
Drop off point in Malaga or message the page for more options
Requests for Christmas assistance for men, women and children are now being received on a daily basis.
Can you spread some Christmas kindness this year with the gift of a Kindness Kit containing essentials and a little something extra.
You may never meet your fellow West Aussie who receives your Kindness Kit but you will make a huge difference in their life on Christmas Day.
There is no better feeling than giving to others at Christmas.
Little Things for Tiny Tots
Drop off points available Perth-wide
Not just Christmas but all year round, Little Things for Tiny Tots collects for families in need with a new baby.
"We believe all babies deserve an equal start to life. Sadly, some families can't afford essential items for their newborn baby.
Our charity distributes new and pre-loved essential baby items to Perth families in need. We provide a box of "little things" that assist a family to care for their baby in the first few weeks of life containing items such as clothing, blankets, nappies, wipes, toys and books. We distribute our New Baby Boxes via existing support services and government agencies and do not give boxes directly to families or individuals. We operate out of our homes and are all volunteers. We rely on the generosity and support of our local community to help Perth babies and their families. Little Things for Tiny Tots is registered with the Australian Charity and Non-Profits Commission and has a Western Australian Charitable Collection License."
Follow their Facebook page or check their website for more information, collection/drop off locations to donate your pre-loved or new baby goods you no longer need, and how you can volunteer to assist with packing boxes for new families. Volunteers accompanied by their children are always welcome.
The Smith Family – Give Toys or Books Appeal
The Smith Family's Toy and Book Appeal is an absolute highlight on our annual event calendar. Together, we can help bring joy to Australian children at Christmas. Children who may otherwise miss out on opening a gift, simply because their families can't afford it.
You may not know that in the past few years due to COVID restrictions, The Smith Family has not run the physical activation of our Toy and Book Appeal nationwide. Instead, eligible families around Australia received digital e-vouchers for their children participating in Learning for Life. This year's Toy and Book activity (2023) will again see digital vouchers rolled out to eligible families nationally.
December 2023 will be the last time the Smith Family Toys and Books Appeal runs, with resources being invested in other ways from 2024 onward. Read more information on this here.
Make a donation or volunteer your time. Purchase a gift online. Host a toy or gift collection in your community.
Bringing hope, compassion and celebration to Perth's most marginalised and disadvantaged people this Christmas.
Can you help us to make a difference this Christmas?
Donate a Plate: From just $35 you can give someone the joy of Christmas lunch shared in the company of others.
Make a Donation: Your support will help us to make a difference this Christmas.
Volunteer: Approximate 1200 people are expected to attend in 2023. For many, without the event, they simply would not be able to celebrate Christmas. The event relies on a team of over 300 volunteers to make it happen. Register your details to be kept up to date about volunteering at the 2023 event.
Toys, games, books, clothes, etc. not to be wrapped please as they will be marked age appropriate when wrapped by the Salvation Army.
To give a smile at Christmas time we would like to include special gifts for mums such as –
Perfume, scented body packs, knickers, gift cards, phone cards, slippers, books, diaries & notebooks with uplifting sayings and anything YOU might like to give as a special women's present to bring a bit of joy!
Gift cards, clothing (new), phone cards, backpacks, socks, gift vouchers: to say Rebel sport or JB HiFi or anywhere else teens love to shop.
We believe that by helping the less fortunate, victims of domestic violence, vulnerable families and children, the elderly, those affected by fire, new comers & those just doing it tough, No Limits Perth can make the difference.
We providing essential items such as food hampers, pre-loved furniture, toiletries & other basic essentials. Contact us online to arrange donations.
Our aim is to help equip and empower you to keep your faith and give you hope to believe for a brighter future.
Thank you SO much in advance – we are always truly grateful for your help!
Southcare


Drop off in Manning or donate online
A little thought can go a long way
Give to the Kmart Wishing Tree Appeal
Australia celebrates 36 years of the Kmart Wishing Tree Appeal! Kmart along with The Salvation Army are coming together for the 36th year to help support those doing it tough at Christmas and beyond. We encourage you to embrace the spirit of giving this year by supporting the Kmart Wishing Tree Appeal. You can do this by making a cash contribution in store, online, or by giving a gift in store. The Appeal will run from Monday 13th November to 24 December 2023.
"Operation Christmas Child: Volunteer with Operation Christmas Child and join our happy band of volunteers reaching children in poverty with gift-filled shoeboxes and the Good News of Jesus Christ. There is a role for you!"
Pack a shoe box or host a packing party and pack many shoeboxes with gifts for a child in need. Gifts can be as simple as something to wear, something to love, something to play with, something for hygiene or something for school. Find drop off locations for your shoebox. Alternatively, make a financial donation to Samaritans Purse.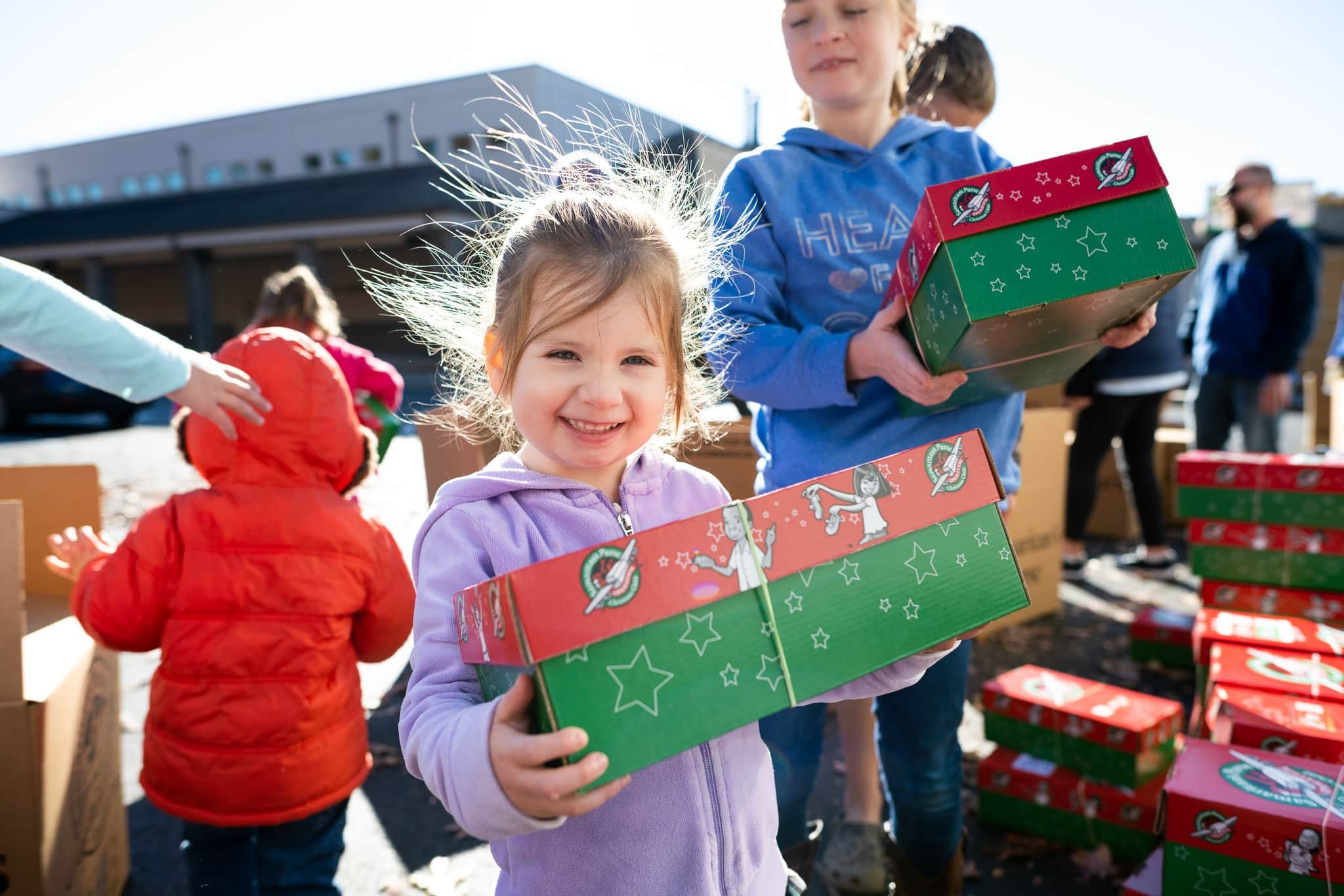 Your generosity makes all the difference!
Ruah is grateful to our many partners, supporters, donors and volunteers who are helping us win the fight against homelessness and family violence in Western Australia. Together we are helping to shift the dial on community attitudes to poverty and mental illness.
Your generous contribution makes it possible for us to:
provide relief for people in desperate need – those who are sleeping rough and don't have a home
protect women and children who are escaping family and domestic violence and help them find a safe place to live
create opportunity and pathways so people struggling with mental illness and life crisis can have a better future
treat every client individually with support that is integrated, holistic, culturally appropriate and just right for them
develop real solutions to wicked problems through innovation, collaboration and solid research
drive social change to end the violence, homelessness and discrimination that costs our community so dearly
make Western Australia a richer, fairer and happier place for all of us to live.
Donate now!
Donations can be made online.
Donations of physical goods such as food, clothes and hygiene items was available via the Northbridge centre. Please contact the centre before donating to ensure physical donated goods can be used on either administration@ruah.org.au or 13 7424.
Fostering Hope Australia Inc.
Drop off available in Wangara
For more information or to donate, please join their closed Facebook group here or message an admin.
Starick is a domestic violence refuge that accepts donations of clothing, household items, toys, art and craft materials, toiletry packs, Christmas and Mother's Day gifts and linen.
You could support us by helping arrange special gifts for our families at special times.
This list shows you some of the incredibly generous donations of new goods made by corporate organisations, community groups and individuals over the years.
These goods directly benefit the families in our refuges and transitional homes.
Perhaps there's something on this list you'd like to donate?
Christmas gifts for each member of a family in our transitional homes.
Movie vouchers.
Christmas trees.
A leg of ham for each of the families in our transitional homes for their Christmas celebrations.
A table tennis table for one of our refuges.
An extensive selection of scrapbooking items for the children's program in our refuges.
Individually fitted new bras for our refuge clients.
Christmas gifts specific to each woman and child in our refuges.
Christmas cakes.
Vouchers
Food parcels for the families.
To make a donation, contact the centre on 9478 5300 or see the website for more information. Financial donations can be made online.
Fill a handbag with essential items to give a little bit of love to someone in need this Christmas.
Each November, Share the Dignity collects and distributes handbags with items that are both essential and gifts to those in need across the country to make Christmas special.
The bags are dropped off at Bunnings by generous Aussies, such as yourself, and are distributed to 3,000 Australian charities that have registered with Share the Dignity. These charities then hand out your donated bags to people in need for Christmas. For 2023, collections points for bag donations will be open at every Bunnings store across Australia from from Friday 10 – Sunday 26 November, 2023.
Can't make it to Bunnings? You can still help someone in need by sponsoring a bag online.
You can pack an adult, teen or mum and bub bag to help someone in need this Christmas. Each bag has a different list of essentials you can find online.
By putting together an It's in the Bag you're making Christmas brighter for someone in a domestic violence refuge.
Read on for more information!
Clutterbugs collects unwanted items and distributes them to those in need and the organisations that support them in the Perth region.
We know what it's like to be on the verge of losing everything. Many people today are not lucky enough to have the help and support of family, and just need a helping hand to get them through the tough times. If enough people care and are willing to share, we can make a difference together.
We have a long track record of distributing tonnes of blankets, clothing and many other items to organisations. This also saves your once loved items from a grisly end and tries to place them where they're most needed. Every type of clothing from uniforms, jackets, socks & jocks through to blankets and linen can all be collected.
What Is Needed?
Clothing
Blankets
Linen
Curtains
Toys, games, puzzles and children's books (new items until further notice)
Books – Christian only (no magazines, textbooks or fiction)
Gaming Systems
Computers, Phones, Ipads
Toiletries
Non-perishable food items (In date)
Medical & First Aid Supplies
Jewellery (any condition)
Spectacles, Sunglasses and cases
DVDs, CDs and computer games
Pet toys, food and beds
Craft Items
As long as the supply of donations continues to come in, we will be able to help those who need it most.
To organise a donation, contact the centre on 0417 177 260 or see the website for more information.
This year you can help share the joy of giving. Your gift will give the thousands of children and young people in our care, some of whom have experienced abuse, neglect, poverty and homelessness, a chance to receive a gift for the very first time on Christmas Day.
By giving a cash gift, we ensure that your donation will go towards something the children and young people really want and need this year.
How can you can help?
You can make a Christmas donation in the form of a gift card, cash donation, or by buying a Christmas donation gift from our online Christmas gifting platform.
Pregnancy Assistance
Drop off available at 195 Lord Street, East Perth
Pregnancy Assistance is a Not for Profit Organisation that supports pregnant women and new mums in difficult and challenging circumstances all year round.
They provide both emotional and practical support. They also offer counselling for women (and men) impacted by pregnancy loss. Their services are free and confidential.
Your monetary donation makes a difference!
In-Kind Donations
As we have limited storage space, we focus on collecting only the basic goods needed from birth – 12 months.
We gratefully accept the following items :
CLOTHING & BABY GOODS
New and good quality 2nd hand baby clothes size 00000-0

Baby formula (*Please check the use-by date*)

Nappies for newborn, infant, crawler (*disposable*)

​Baby wipes

Bottles, teats, dummies (all new please)

Baby bath supplies

Bedding for cot, bassinet (sheets / blankets)

Maternity clothes

Pampering items for mum / books / magazines
FURNITURE
Bassinets

Baby baths

Car seats (Baby Capsule). Has to have the Australian Standard Sticker AS/NZS 1754 and must be less than 10 years old.
Bassinets always in need please!
Are you looking for a good home for the bassinet you used for your precious (now grown-up) children?
Good quality, used bassinets literally fly out of our doors!
Pop round to 195 Lord Street, East Perth any time Mon to Fri between 10am & 3pm and our kettle is always ready so we can share a cup of tea. THANKS!!
FREE PARKING OFF BREWER STREET
To organise a donation, contact the centre on 9328 2929 or email info@pregnancyassistance.org.au or see the website for more information.
Visit the Buggybuddys Christmas in Perth page