Christmas is a time for giving, and it's a great opportunity to teach children to give to the less fortunate in our community. If this is something you're considering for your family this year, Buggybuddys has a list of charities around Perth collecting everything from gift vouchers to good quality used toys and clothing.
Charity Clothing Drop Off Day
Saturday, 4 December, 9am to 3pm
City of Stirling, 25 Cedric Street, Stirling
It's time to have a clean out and donate items you no longer need to charity!
Collection will take place on Saturday, 04 December from 9.00am to 3.00pm, at the City's Administration Centre rear carpark.
What CAN be donated?
Clothing
Textiles (curtains, blankets, tableware etc.)
Shoes
Towels
Bedding
Jewellery and accessories
Games, DVD's and CD's
Books and toys
Charities will accept old, new or worn out clothes that are still in good condition. Items that cannot be re-purposed will be recycled into useful things such as industrial rags.
What CANNOT be donated?
Bric-a-brac
Furniture
White goods
Hazardous waste
E-waste
Kitchenware
Electronic goods
The above items can be dropped off at the Recycling Centre Balcatta or the Tamala Park Recycling Centre.
Contact details:
City of Stirling
waste.services@stirling.wa.gov.au
(08) 9205 8555
Operation Sunshine WA
Drop off points available Perth-wide
An average of three children are taken into out-of-home care each day in Western Australia. Often taken without warning, leaving everything and everyone they know, with nothing but the clothes on their back. They don't have clean underwear or a change of clothes, or their favourite teddy to comfort them at night.
It is a highly traumatic experience and leaves the child feeling alone, scared, and extremely vulnerable.
Operation Sunshine need your help to ensure every child entering care receives a Sunshine Pack full of essential and comfort items to help relieve some of the uncertainty children face at such a traumatic time, giving them a sense of self worth, comfort, and preserving their dignity.
What you can do to help:
choose a size and gender and create a full Sunshine Pack
purchase items to go in a Sunshine Pack (brand new items only-list in photos on Facebook post)
make a cash donation and we will do the shopping for you
start a collection at work, with friends or family
Please head to Operation Sunshine WA Facebook page or their website for more information on drop off locations and for what goods are currently needed.
Little Things for Tiny Tots
Drop off points available Perth-wide
Not just Christmas but all year round, Little Things for Tiny Tots collects for families in need with a new baby.
"We believe all babies deserve an equal start to life. Sadly, some families can't afford essential items for their newborn baby.
Our charity distributes new and pre-loved essential baby items to Perth families in need. We provide a box of "little things" that assist a family to care for their baby in the first few weeks of life containing items such as clothing, blankets, nappies, wipes, toys and books. We distribute our New Baby Boxes via existing support services and government agencies and do not give boxes directly to families or individuals. We operate out of our homes and are all volunteers. We rely on the generosity and support of our local community to help Perth babies and their families. Little Things for Tiny Tots is registered with the Australian Charity and Non-Profits Commission and has a Western Australian Charitable Collection License."
Do good this festive season and help Little Things for Tiny Tots provide assistance to WA families-in-need by purchasing a print-at-home Christmas card
Each print-at-home card, ranging in price from $10 to $250, represents a donation of newborn essentials made to Little Things on behalf of the card recipient.
For more details and to purchase, please visit – https://chuffed.org/project/little-things-christmas-cards
Follow their Facebook page or check their website for more information, collection/drop off locations to donate your pre-loved or new baby goods you no longer need, and how you can volunteer to assist with packing boxes for new families. Volunteers accompanied by their children are always welcome.
The Smith Family – Give Toys or Books Appeal
The Smith Family's Toy and Book Appeal is an absolute highlight on our annual event calendar. Together, we can help bring joy to Australian children at Christmas. Children who may otherwise miss out on opening a gift, simply because their families can't afford it.
During this pandemic, the children and families we support remain at the heart of everything we do. That's why now, more than ever before, it's so important to continue our tradition of giving, which started at our inception almost 100 years ago. With your help, we are aiming to support more than 29,000 Australian children living in disadvantage this Christmas.
This year, in light of the ongoing uncertainty caused by the COVID-19 pandemic around the country, we have made the difficult decision to not proceed with the Toy and Book Appeal in its usual format. While this wasn't an easy decision, we made it, first and foremost, to ensure the safety of our students and families, team members and volunteers.
The important news is that we are absolutely committed to ensuring that the children we support still receive a gift this Christmas. A digital gift voucher will be provided to every child who would ordinarily receive a gift pack so that our families can ensure their children can participate in the joys of Christmas.
By getting involved in this year's Toy and Book Appeal, you'll have the opportunity to share something precious with children and families who are doing it tough. You see, supporting education involves more than just what happens in the classroom – it's also about providing positive experiences, both in the home and in the wider community, to help children feel included.
There are a variety of ways you can get involved in the lead up to Christmas this year. Keep reading below to learn more.
Make a donation or volunteer your time. Purchase a gift online. Host a toy or gift collection in your community.
Perth Christmas Lunch in the Park by Mission Australia
Register or donate online
Bringing hope, compassion and celebration to Perth's most marginalised and disadvantaged people this Christmas.
The 2021 event will return to Wellington Square, Wellington Street, East Perth 6004, as we celebrate the 46th annual Christmas Lunch in the Park event.
Can you help us to make a difference this Christmas?
Donate a Plate: From just $25 you can give someone the joy of Christmas lunch shared in the company of others.
Make a Donation: Your support will help us to make a difference this Christmas.
Volunteer: The event relies on a team of over 300 volunteers to make it happen. Register your details to be kept up to date about volunteering at the 2021 event.
Give a Feed by FoodBank WA
Donate online
Tens of thousands of West Australian families will struggle to put food on the table this Christmas.
Hunger is a growing crisis in Western Australia with at least half a million people struggling to afford enough food to eat in the past year. Sadly more than 100,000 are children.
In 2021 Give A Feed has set a goal of providing 3,000 Give A Feed Christmas Hampers to West Australian families in need so they can celebrate Christmas and not go hungry. ​
Your kind donation of $30 will provide a Give A Feed Christmas hamper filled with festive food for a family of four to enjoy on Christmas day. Our hampers are packed by volunteers and distributed by Foodbank WA to ensure they reach those who are most vulnerable in our community.​
To reach our target we ask for your generous support, please Give A Feed today and help us share the Christmas spirit.
It's easy to Give A Feed to a family in need this Christmas.
Choose how you want to make your donation.
1. You can donate to Give A Feed personally.
– You will receive a receipt and a Give A Feed certificate of appreciation.
2. You can Gift A Feed and donate on behalf of someone else. 
– The person you are donating on behalf of will receive an email containing a message from you that a donation has been made on their behalf as a gift to them, plus a personalised Give A Feed certificate of appreciation explaining that their gift has helped feed a WA family in need.
100% of the purchase price of each hamper goes directly to Foodbank WA and are fully tax deductible.
2021 Give A Feed Feast
Celebrate Christmas and support WA Families in need.
Join us to Celebrate Give A Feed and be entertained by our Ambassador Peter Rowsthorn.
Your admission will provide two Give A Feed festive hampers to WA families in need just in time for Christmas.
Date and time TBC.
Friends With Dignity Christmas Toy Drive
Drop off locations in Perth
Friends with Dignity is a volunteer based not-for-profit registered charity that provides practical programs to assist survivors of domestic violence in collaboration with refuge and crisis centres.
How can you help?
Purchase a Gift for a Child or Pamper Item for Parents (UNWRAPPED PLEASE) OR Organise a Workplace Collection
Alternatively, Friends With Dignity also collects donations of physical items and financial aid. Please see the donate page on their website for more information.
Click here to see a full list of drop off locations. Drop off locations are available in Brisbane, Gold Coast, Newcastle & Perth.
Perth Basket Brigade
2021 Location To Be Confirmed – Register online
We're on a mission to deliver 500 baskets this year, can you help?
The Perth Basket Brigade is a small and dedicated group of volunteers who assist locals in need. This year we will be packing and delivering baskets of food and other goods to families in need. These deliveries are made anonymously and arrive just in time for Christmas.
We organise fundraising events throughout the year which help us raise valuable funds to enable us to deliver as many baskets as possible. We thank you for your interest and look forward to hearing from you soon!
Our volunteers collect generous donations in the form of money, food, clothes, toys, books, etc.
Save the Dates are sent out to notify volunteers a month before packing day.
Hundreds of volunteers gather in church, school and community halls around Australia to fill baskets.
The baskets are delivered to the families to bring joy and happiness to their lives at Christmas.
All 2021 Packing Days will be modified due to local restrictions with respect to the current community health concerns. For more information please sign up to the Brigades newsletter or visit their Facebook page.
Register to be a collector or volunteer online. Donate financially online, or contact via Email perthbasketbrigade@magicmoments.org.au to arrange donations of goods.
Zonta House Perth
Donate online or drop off a hamper to Willetton
Can you support Zonta House this Christmas spread the joy?
Each year Zonta House support women and their families who are in our services.  We will be collecting gift card vouchers, food items and gifts for women to help spread the festive joy.
All donations will be gifted to women and their families in our refuges, transitional housing, and those who have moved into their own safe and stable accommodation.
This year our "12 Days of Christmas" Campaign will run from 1st to 12th December with donations to be delivered to our Willetton Head Office no later than Monday 13th December to give the team time to have the items sorted and distributed.
Are you in a position to arrange a collection at your workplace, community group or with your friends and family?  We would love to hear from you.
All items to be new and unwrapped for safety and suitability reasons. Everyday toiletries and sanitary items are not required during this period.
Please email Ella Kent at ekent@zontahouse.org.au to discuss coordination of your donation or for any questions and queries on what items to donate.
We appreciate each and every one of our supporters and donors, we cannot make Christmas magical for the women in our services without your help.
Please note: For OHS reasons all food hampers must be under 10kgs 
Check out the flyers online to see what donations are needed.
Southcare
Drop off in Manning or donate online
Why contribute to Southcare?
Contributing to Southcare can help make a lasting difference in the lives of Perth's seniors. We provide a diverse range of personal and community services to encourage wellbeing, the development of community connections and to increase the independence of older community members to continue to live at home.
We recognise everyone has individual care and support needs and we pride ourselves on providing a diverse range of services that are well informed and tailored to these needs. We appreciate all contributions to help us continue to provide the highest level of care to our local community.
How can you contribute?
If you would like to contribute to Southcare, whether it is in appreciation for our work or because you want to help us to continue to make a difference in the lives of the hundreds of people we help each year, we always welcome.
Donations
Thank you for your interest in donating clothes and household goods to our Mankara Op Shop. Through the sale of your donated items we are able to continue to make a difference in the lives of the hundreds of people we help each year. Your financial support enables us to provide emergency relief services. This service is managed by Duncan Edgar our Financial Counsellor who holds a degree in Social Work and is an accredited Financial Counsellor with over 26 years' experience. When a client is assessed we did not give them cash, we provide the following based on their determined need:
Provision of vouchers of a fixed value for the purchase of food
Provision of vouchers of a fixed value for the purchase of household goods or clothing from the Southcare Opportunity Shop
Assistance with an outstanding account (e.g. accommodation costs, medical expenses, utility accounts). Southcare pays the account of their behalf
Financial donations can be made online here.
Please note: any donations above $2 are tax deductable.
Volunteer
Southcare welcomes volunteers who are passionate about aged care and want to give back to the community. Southcare volunteers can be involved with a range of in-home aged care and community services, including:
Social Centre
Community drivers/transport
Reception
Clerical assistance
Accounts
Emergency relief service
Opportunity shop
Marketing
Board and Committees
Engaging Young Leaders on Aged Care and Community Boards Program – mentoring, marketing, events, writing, fundraising
Volunteering is a fantastic way to give back to the community. If you are interested to find out more, Southcare can be contacted on 08 6117 3050.
Uniting WA
Dontate online or instore
Unite with us in kindness.
This Christmas, we hope to bring some cheer to families and individuals struggling to keep food on the table over the festive season.
Together we can support children, adults and families with critical needs at Christmas in the way they need it most.
How you can help
Every dollar raised helps us reach more people and bring some cheer to individuals and families at Christmas. You can help by:
Making a financial donation using the form below.
Recycling your eligible Christmas party drink containers at a Containers for Change depot and donating your proceeds to Uniting WA (quote scheme ID: C10277586).
Where your money goes
Your donation to our Christmas Appeal buys grocery gift cards for clients utilising the Tranby Centre, our services for Families and Young People, Domestic Violence Services and Reintegration Services at a challenging time.
Every donation makes a difference to a family. And we want to fulfil every request this Christmas. So let's unite together in kindness.

Kmart Wishing Tree Appeal
Donate online or instore
A little thought can go a long way
Give to the Kmart Wishing Tree Appeal
Kmart and The Salvation Army are coming together to help support those doing it tough. Prior to the pandemic, more than 3 million Australians were living under the poverty line and The Salvation Army have seen a continual increase in need, that's why we encourage you to embrace the spirit of giving this year by supporting the Kmart Wishing Tree Appeal. You can do this by making a cash contribution in store, or online, or giving a gift in store. The Appeal runs from the 8 November to 24 December 2021.
This year, things are a little different. We have new and safe ways to give to the Appeal including:
 Monetary contributions by scanning a Wishing Tree tag at any Kmart store register
Online donations via scanning a QR code in store
A new gift tag to avoid unnecessarily handling of donated gifts (with no need to write the age category on gifts)
Engaging the little ones at home with Christmas arts and crafts activities now on our website
Operation Christmas Child
Drop off points available Perth-wide
"Operation Christmas Child: Volunteer with Operation Christmas Child and join our happy band of volunteers reaching children in poverty with gift-filled shoeboxes and the Good News of Jesus Christ. There is a role for you!"
Pack a shoe box or host a packing party and pack many shoeboxes with gifts for a child in need. Gifts can be as simple as something to wear, something to love, something to play with, something for hygiene or something for school. Find drop off locations for your shoebox. Alternatively, make a financial donation to Samaritans Purse.
Please see the Operation Christmas Child website for COVID-19 guidelines and how you can help this year.

Christmas Cheer Box
Drop off points available Perth-wide
It's that time of year again…Christmas Cheer Box 2021!
We are open and accepting donations until Dec 1st
Christmas Cheer Box collects for less fortunate people living in Western Australian- donating to Woman's Council for Domestic Violence, Ruah, Zonta House and 360 Health.
Step 1: Get an empty shoebox (or buy one that is similar in size to a shoebox) OR backpack It MUST have a lid or zip that shuts ☺
Step 2: Fill your shoebox with skincare, cosmetics, chocolates (decide if you are doing a MALE or FEMALE shoebox)
I have found it usually costs $30-50 to fill a box with items from more economical brands. Spend what you feel comfortable with, and I will supplement boxes with samples and extras where I can.
Your box may include the following NEW & UNUSED items:
Shower Gel
Moisturiser/skin products
Deodorants
Nail polish, handcare (NO Nail Scissors please)
Pre/Post Shaving (NO Razors please)
Perfume
Makeup
Socks
Brush, hair ties, compact mirror, combs
Shampoo, conditioner, hair treatments
Chocolates & lollies
Notebook, Pens
Book, gift vouchers
PLEASE do NOT include : Anything sharp or not kid safe (Razors, candles, nail scissors)
You can put a pretty ribbon on the box but please don't wrap it shut or use curling ribbon, as I need to go through EVERY box. Cutting off curling ribbon is very time consuming
Write a Positive Affirmation to the recipient
This is optional but if you choose to this is an opportunity to write directly to the person receiving the box
Drop locations for 2021!
As far North
as Beldon, South
as Dunsbourgh and East
as Goosberry Hill.
All open and collecting till Sunday 28th November. Who will be the first to donate?
Head to the Christmas Cheer Box
Facebook page
for more information.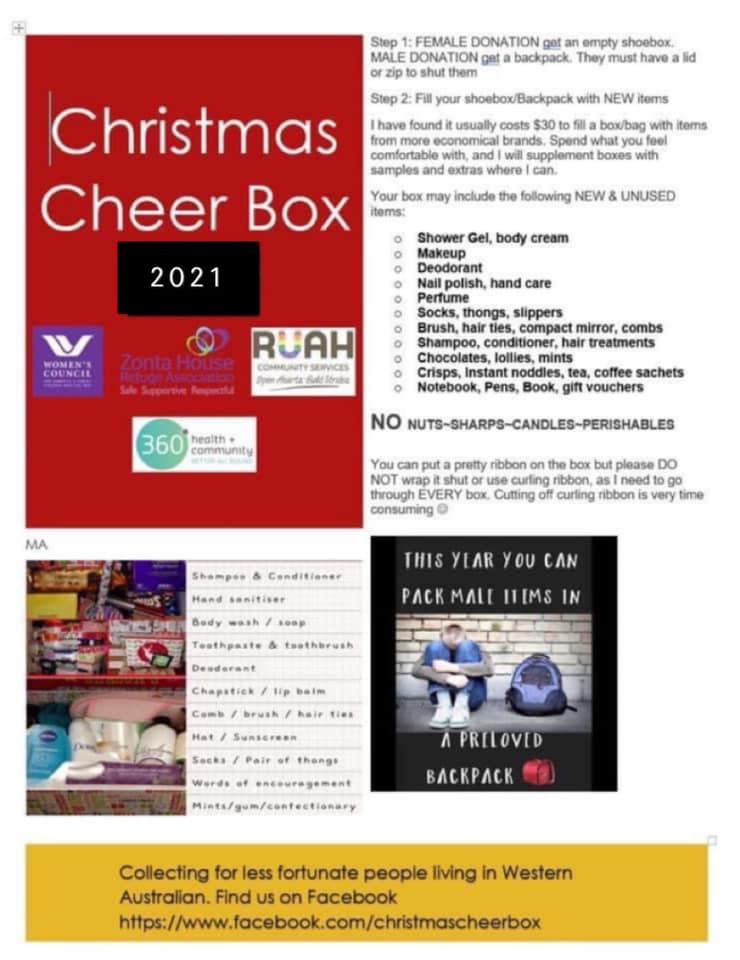 The Esther Foundation provides to up to 50 young lives at any time. This extensive women's health, development and leadership program is not Government funded and relies on donations for its work in our community.
The Esther Foundation gratefully accepts donates of furniture, electrical goods and new clothing goods, though only if in absolutely excellent condition and working order.
Each year the Esther Foundation prepares to give up to 50 young women and their children a truly happy and memorable Christmas. Your donation of a gift voucher will not only be a wonderful surprise on Christmas morning; it will also allow the young women, many of whom are teenagers, to buy those items that they truly need in the post-Christmas sales.
On behalf of our Girls, Staff and Board members, we thank you from the bottom of our hearts for your donation today.
Because of you, a young woman has overcome addiction, reconciled her family and is building a new and bright future.
Donate online, or check out the Wish List to see if you can contribute. Alternatively, contact the Esther Foundation with any enquiries.
The Ruah Centre
Donate online
Your generosity makes all the difference!
Ruah is grateful to our many partners, supporters, donors and volunteers who are helping us win the fight against homelessness and family violence in Western Australia. Together we are helping to shift the dial on community attitudes to poverty and mental illness.
Your generous contribution makes it possible for us to:
provide relief for people in desperate need – those who are sleeping rough and don't have a home
protect women and children who are escaping family and domestic violence and help them find a safe place to live
create opportunity and pathways so people struggling with mental illness and life crisis can have a better future
treat every client individually with support that is integrated, holistic, culturally appropriate and just right for them
develop real solutions to wicked problems through innovation, collaboration and solid research
drive social change to end the violence, homelessness and discrimination that costs our community so dearly
make Western Australia a richer, fairer and happier place for all of us to live.
Donate now!
Donations can be made online.
Donations of physical goods such as food, clothes and hygiene items was available via the Northbridge centre. Please contact the centre before donating to ensure physical donated goods can be used on either administration@ruah.org.au or 13 7424.
Fostering Hope Australia Inc.
Drop off available in Wangara
When the Foster Care Association foster shop closed recently we decided it might be time to put into action a plan we have been thinking about for a long time.
We will be storing clothes and acting as a drop off centre for donations. We often help families out with clothing and would love to extend this to foster carers. We love to give and are happy to fund as much as we can ourselves.
Located at 14 Dellamarta Road, Wangara.
Open 9:30-1:30 Tuesday-Saturday during school terms.
School holidays open by appointment.
Anyone wanting to donate to Fostering Hope, our bank details are as follows:
Fostering Hope
BSB: 066017
Account number: 10100050
Please message an admin for more info.
We would love to pass along all your donations to foster families in need. Can you help??
For more information or to donate, please join their closed Facebook group here or message an admin.
Starick is a domestic violence refuge that accepts donations of clothing, household items, toys, art and craft materials, toiletry packs, Christmas and Mother's Day gifts and linen.
You could support us by helping arrange special gifts for our families at special times. 
This list shows you some of the incredibly generous donations of new goods made by corporate organisations, community groups and individuals over the years.
These goods directly benefit the families in our refuges and transitional homes.
Perhaps there's something on this list you'd like to donate?
Christmas gifts for each member of a family in our transitional homes.
Movie vouchers.
Christmas trees.
A leg of ham for each of the families in our transitional homes for their Christmas celebrations.
A table tennis table for one of our refuges.
An extensive selection of scrapbooking items for the children's program in our refuges.
Individually fitted new bras for our refuge clients.
Christmas gifts specific to each woman and child in our refuges.
Christmas cakes.
Vouchers
Food parcels for the families.
To make a donation, contact the centre on 9478 5300 or see the website for more information. Financial donations can be made online.
Share The Dignity – It's In The Bag 
Drop off available across Perth, or donate online
Each November, Share the Dignity collects and distributes handbags with items that are both essential and gifts to those in need across the country to make Christmas special.
The bags are dropped off at Bunnings by generous Aussies, such as yourself, and are distributed to 3,000 Australian charities that have registered with Share the Dignity. These charities then hand out your donated bags to people in need for Christmas. For 2021, collections points for bag donations will be open at every Bunnings store across Australia from 19 to 28 November.
In 2020, we were able to donate 93,981 #ItsInTheBag donations to women, girls and those who menstruate bringing our four-year total to 617,517 bag donations.
Read on for more information!
Clutterbugs collects unwanted items and distributes them to those in need and the organisations that support them in the Perth region.
We know what it's like to be on the verge of losing everything.  Many people today are not lucky enough to have the help and support of family, and just need a helping hand to get them through the tough times. If enough people care and are willing to share, we can make a difference together.
We have a long track record of distributing tonnes of blankets, clothing and many other items to organisations.  This also saves your once loved items from a grisly end and tries to place them where they're most needed.  Every type of clothing from uniforms, jackets, socks & jocks through to blankets and linen can all be collected.
What Is Needed?
Clothing
Blankets
Linen
Curtains
Toys, games, puzzles and children's books (new items until further notice)
Books  – Christian only (no magazines, textbooks or fiction)
Gaming Systems
Computers, Phones, Ipads
Toiletries
Non-perishable food items (In date)
Medical & First Aid Supplies
Jewellery (any condition)
Spectacles, Sunglasses and cases
DVDs, CDs and computer games
Pet toys, food and beds
Craft Items
As long as the supply of donations continues to come in, we will be able to help those who need it most.
To organise a donation, contact the centre on 0417 177 260 or see the website for more information.
Barnardos Australia Kids Christmas Toy Appeal
Donate online
This year we are hoping to receive 10,000 presents for the children in our programs,
some of whom have experienced abuse, neglect, poverty and homelessness and do not normally get the chance to have presents at Christmas.
Your gift donation will gives thousands of disadvantaged Australian children the opportunity to open a present on Christmas Day.
There are 2 ways you can help
Pick a gift online:
We have a range of popular gifts to suit children of different ages. Simply choose your gift, and we'll deliver it to a child in need this Christmas
Make a donation
Thousands of children depend on our services every day. Your donation will help ensure they have the long-term care and support they need
To find out more information on how your organisation or school can help with our Barnardos Gifts for Kids Christmas Gift Appeal,
contact us now.
Pregnancy Assistance
Drop off available at 195 Lord Street, East Perth
Pregnancy Assistance is a Not for Profit Organisation that supports pregnant women and new mums in difficult and challenging circumstances all year round.
They provide both emotional and practical support. They also offer counselling for women (and men) impacted by pregnancy loss. Their services are free and confidential.
Your monetary donation makes a difference !
Thank you for supporting us to continually achieve our principal objective – "To provide relief of poverty, suffering, distress, misfortune, destitution, or helplessness for pregnant women of all sections of the public irrespective of religion, race, demographic or personal values. "
​
Pregnancy Assistance Inc. solely relies on private donations. We are an ACNC registered charity and all monetary donations above $2 are fully tax deductible. Your generous support gives life and changes lives for the better.
In-Kind Donations
As we have limited storage space, we focus on collecting only the basic goods needed from birth – 12 months.
We gratefully accept the following items :
CLOTHING & BABY GOODS
New and good quality 2nd hand baby clothes size 00000-0

Baby formula (*Please check the use-by date*)

Nappies for newborn, infant, crawler (*disposable*)

​Baby wipes

Bottles, teats, dummies (all new please)

Baby bath supplies

Bedding for cot, bassinet (sheets / blankets)

Maternity clothes

Pampering items for mum / books / magazines
FURNITURE
Bassinets

Baby baths  

Car seats (Baby Capsule).  Has to have the Australian Standard Sticker AS/NZS 1754 and must be less than 10 years old. 
Bassinets always in need please!
Are you looking for a good home for the bassinet you used for your precious (now grown-up) children?
Good quality, used bassinets literally fly out of our doors!
Pop round to 195 Lord Street, East Perth any time Mon to Fri between 10am & 3pm and our kettle is always ready so we can share a cup of tea.  THANKS!!
FREE PARKING OFF BREWER STREET
To organise a donation, contact the centre on 9328 2929 or email info@pregnancyassistance.org.au or see the website for more information.
Visit the Buggybuddys Christmas in Perth page
Find Christmas Light locations in Perth