The Rio Tinto Christmas Lights Trail is back for its seventh year! From the 17th November 2023 until 2nd January 2024, the Christmas Light Trail will shine brighter this Christmas with 35 mesmerising light installations showcased over 6km across the City of Perth.
Click here for Buggybuddys list of Christmas Lights across Perth
The 2024 Rio Tinto Christmas Lights Trail is split into two routes, the North Trail in Northbridge and the South Trail in the Perth CBD. This year's trail includes favourites from last year such as the Constellation Tunnel at Northbridge Piazza and the Christmas in the City Projections at St George's Cathedral as well as exciting new installations.
This year there is an interactive map available on the Perth Trails app, the app can be downloaded from the App Store and Google Play. Alternatively, you can still download the map online or pick one up from the iCity kiosk.
North Trail
#1 Illuminate Alice, WA Museum Boola Bardip
Venture down the rabbit hole into Wonderland, where expectations are upended, and curiosity is rewarded. Illuminate Alice celebrates the screen history of Lewis Carroll's timeless stories with captivating projections for adults and children alike, bringing the Old Gaol to life after dark.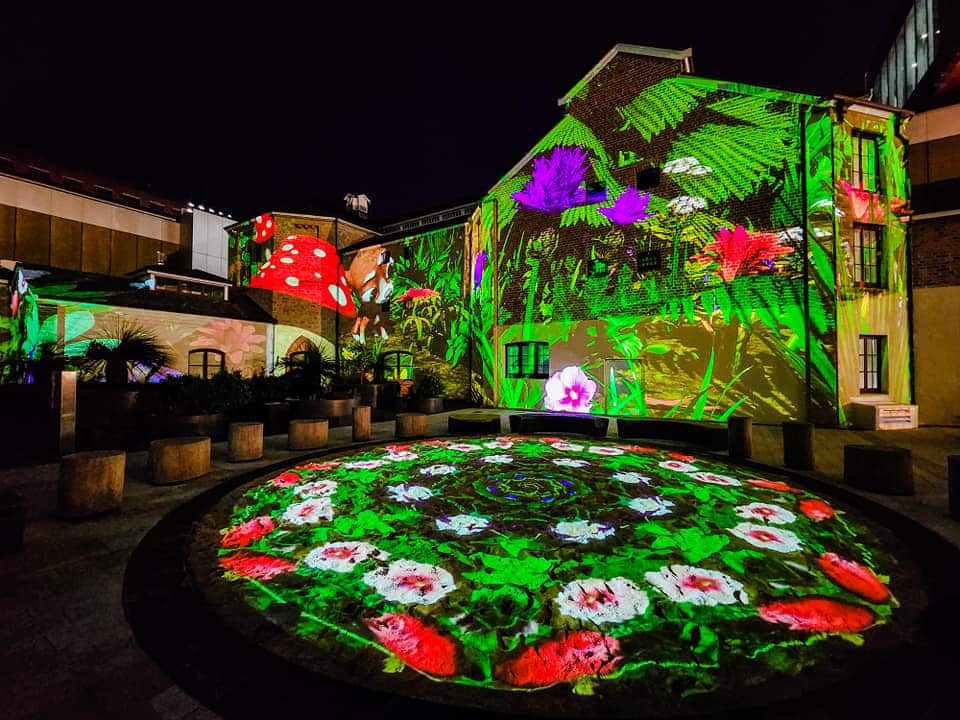 #2 Gnome's Wonderland, WA Museum Boola Bardip
The Gnomes have come to Perthin anticipation of WA Museum Boola Bardip's Wonderland exhibition. Gather around and you may just hear
the gnomes talking to each other and singing Christmas carols.
#3 Karla Biddi (Light Tracks), Perth Cultural Centre
At the Koort (heart) of the installation will be three magnificent multi-faceted infinite space light structures, titled Shard, that energise the
Cultural Centre through video imagery.
#4 Constellation Tunnel, Northbridge Piazza
Enjoy an immersive music and light show under a constellation of 16,000 lights. The 23-metrelong tunnel in the heart of Northbridge is the ultimate Christmas themed sensory experience.
#5 Gingerbread Train, Kings Square
All Aboard! This fun and sweet Christmas train has components made up of gingerbread, icing, lollies and of course, Christmas lights and decorations. Step inside for a selfie or take that memorable family shot.
#6 Christmas Bauble Tree, Wellington Gardens
This modern take on the classic Christmas tree will dazzle as it lights up Wellington Gardens.
#Festive Frilled Neck Lizard, RAC Arena
Standing 4 metres tall, the King of all Frilled Neck Lizards has come to show Perth how amazing its frill is when dressed in Christmas lights.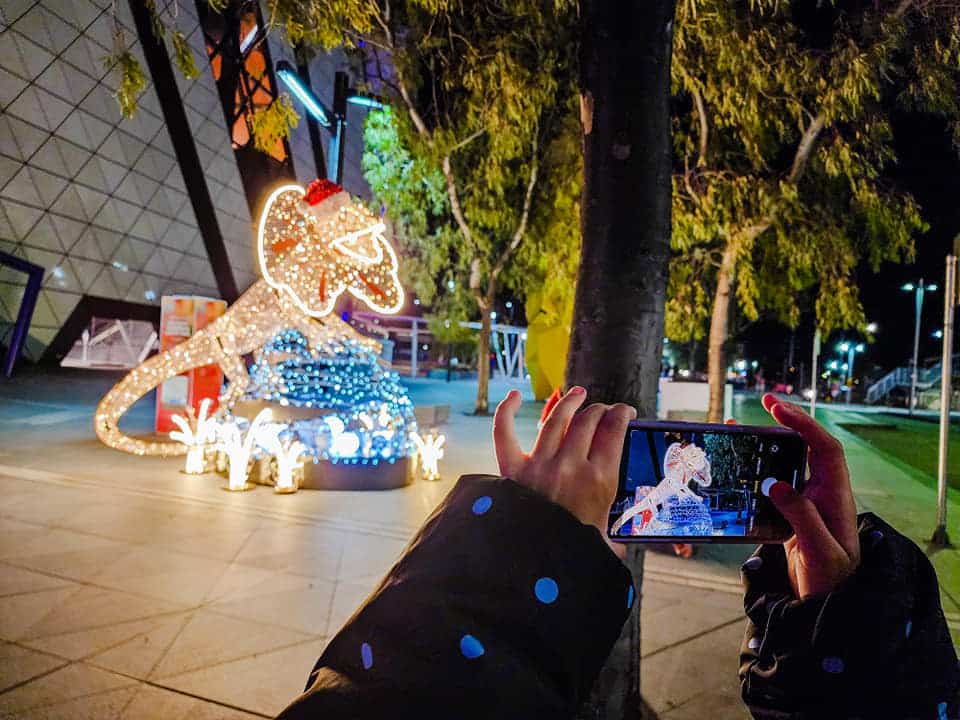 #8 Tree of Hope, Yagan Square
People power makes these giant flowers bloom and illuminate while light crystals on the tree's trunk are lifted higher and higher! Jump on an exercise bike to see this stunning tree in all its glory.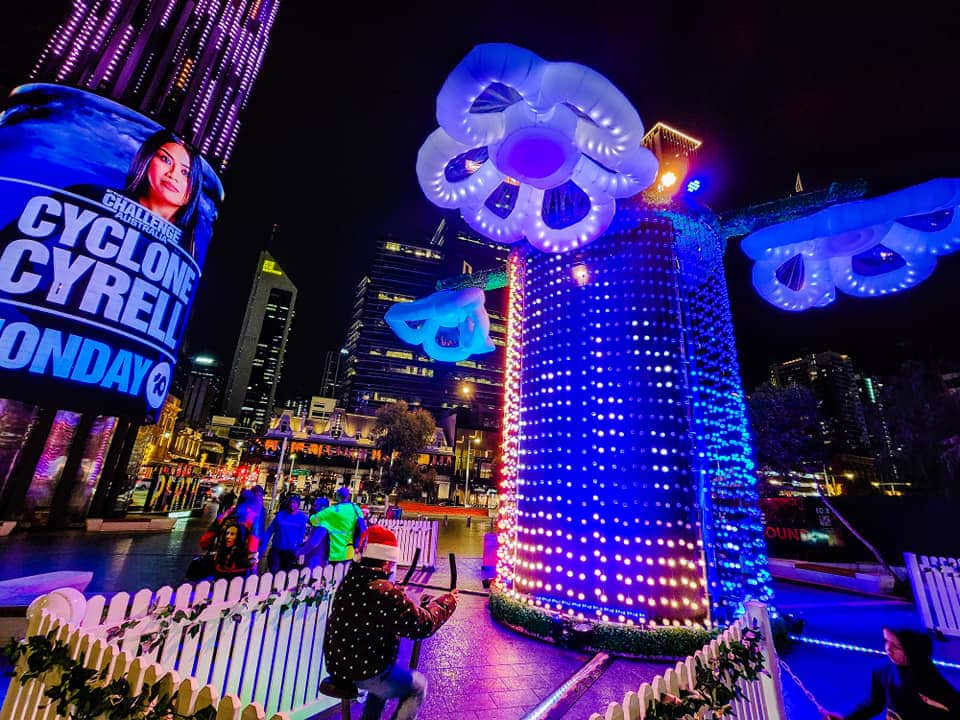 #9 Enchantment, Raine Square
An enchanted Christmas light garden featuring stunning light totems has taken over Raine Lane, creating an ever-changing mesmerising mystical garden.
#10 The Wolf, Wolf Lane
As part of the 'Light it Up' project, this new permanent artwork was created by artist Joshua Webb. These beautifully created pieces
are set to brighten up laneways around the City.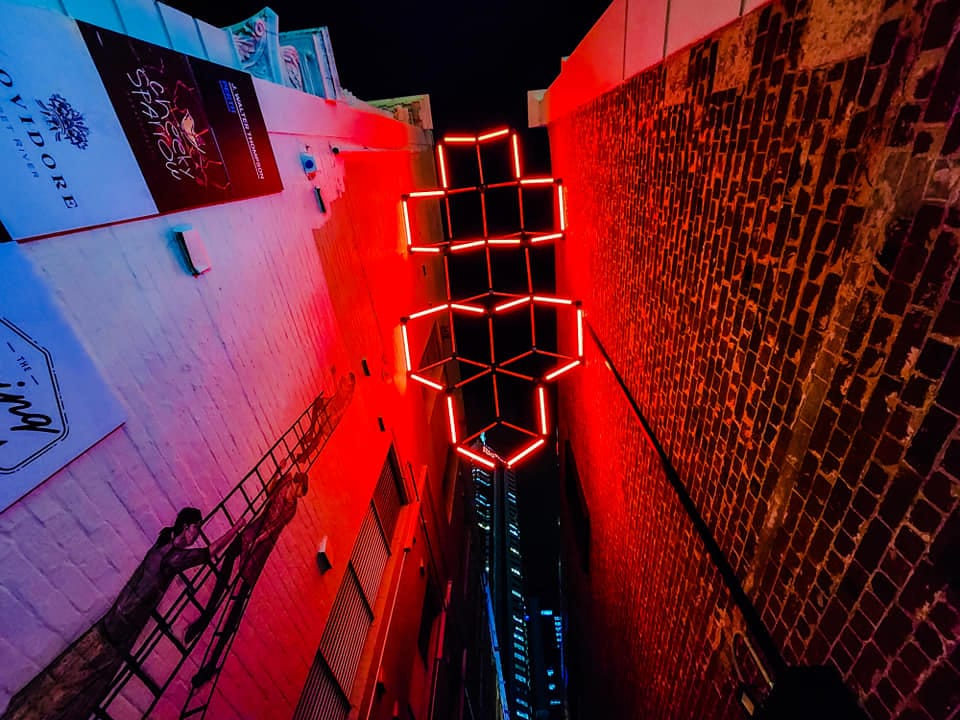 #11 Maarakool Projections, 140 Perth
Be mesmerised as the stunning Maarakool (with the hands) mural by Kambarni comes to life with shimmering textures and vibrant
pops of colour, or create your own effects by tracing your hand across the artwork. The combinations are endless!
#12 City of Perth Christmas Tree, Forrest Place
This stunning, 14 metre tall Christmas tree covered in over 13,000 lights is the tallest installation on the Trail and is sure to knock your socks
off! Can you count all the gifts tucked away under its branches?
#13 Sights and Sounds with Santa, Forrest Place
For a limited time only, captivating animated projections will light up the façade of this beautiful historical building. The projections will be sure to add Christmas spirit to Forrest Place from dusk to midnight, with festive music concluding at 10pm.
#14 Snowy the Polar Bear, Forrest Chase
Snowy the Polar Bear is visiting all the way from the North Pole. Make sure you stop and give the friendly bear a cuddle and hop on his lap for a perfect snap!
#15 Sporty Santa, Murray St Mall
Who knew, Santa loves his cricket too? Standing at over four metres tall, head down and have a hit with the big man himself.
#16 Playful Platypus, Murray St Mall
That's not something you see every day! This bright Playful Platypus has made a special appearance just for Christmas. Covered in nearly 10,000 lights, the Murray Street Mall will come to life after dark.
#17 Australian Grass Tree, Murray St Mall
A bright, illuminated grass tree has sprung up in Murray Street Mall. Snap a quick photo with it before you continue your journey.
South Trail
#18 Laneway Lights, Brookfield Place
Appearing for the first time ever, discover the specially designed 35 metre long LED lights illuminating Podium Lane.
#19 Native Flora, Enex
This floral display is a beautiful and truly Western Australian representation, consisting of Banksias, Waratahs, Kangaroo Paws and a scattering of gum nuts for good measure.
#20 Bright Boab Tree, Central Park
Central Park has been taken over by a giant boab tree, towering over the area at 6.5 metres high. This remarkable sculpture will be impressive by day and by night.
#21 Candy Cane Gateway, Central Park
Walk through the Candy Cane Gateway and be transported to a world of all-things Christmas. Made up of over 10,000 lights, this is the perfect spot for a fun festive photo!
#22 Flamingo Floatie, Hay St Mall
It wouldn't be an Aussie summer without a flamingo floatie for those backyard pool days. This one seems to have blown in from the Swan River
#23 Piccadilly's Sparkly Christmas Booth, Piccadilly Arcade
While walking through Perth's most iconic arcade, take a snap at Piccadilly's sparkly Christmas booth for your chance to win.
#24 Christmas Candies, Hay St Mall
Sweet Christmas treats are filling up the Hay Street Mall! There are already a few bites missing – hurry for your chance to get a photo
before they're all gone
#25 Falling Stars, Hay St Mall
As part of the 'Light it Up' project, this new permanent artwork was created by artist Adam Cruickshanks. These beautifully created pieces are set to brighten up laneways around the City.
#26 Library Lights, City of Perth Library
Stand under the bright cascade of sparkling lights hanging around the outside of the beautiful City of Perth Library.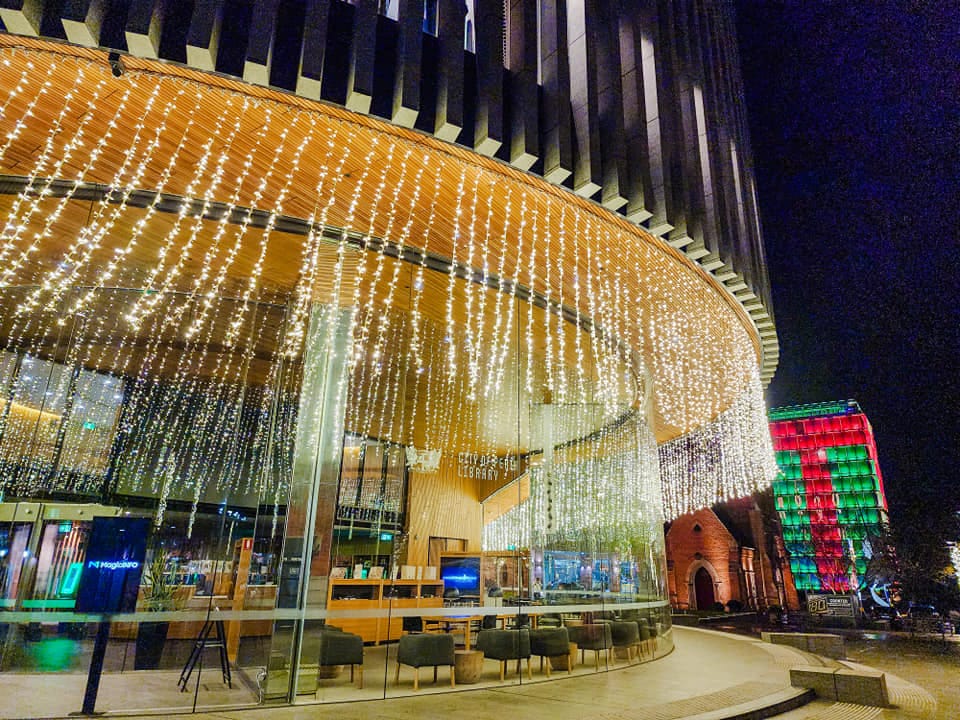 #27 Christmas Koala, Hibernian Place
A giant five metre tall festive Koala has found its way to Hibernian Place. Walk underneath the mesmerising marsupial and snap an
unforgettable Christmas pic while you're there!
#28 Unwoven, Irwin St
As part of the 'Light it Up' project, this new permanent feature was created by artist Pamela Gaunt. These beautifully created pieces
are set to brighten up laneways around the City.
#29 Christmas in the City Projections, St George's Cathedral
They're back! Captivating animated projections will light up the facade of this beautiful historical building with a traditional nativity scene and snapshots of iconic locations around the City. The projections will be sure to add Christmas spirit to St George's Terrace from dusk to
midnight, with festive music concluding at 10pm.
#30 Mooditj Yongas, Council House
A Christmas Lights Trail Tradition! The family-favourite mob of illuminated, festive kangaroos have found their way back into the City just in
time for Christmas.
#31 Council House Lights, Council House
It's all happening on St Georges Terrace! Make sure you look up to check out the fun Christmas festivities lighting up iconic Council House from sunset onwards each night. What festive animals can you spot?
#32 A Festive Masquerade, Postal Hall
A Festive Masquerade is the showcase of the blue kangaroo paw, known as Masquerade. Come and see the Christmas light installation in
the shape of a Christmas tree, made up of individual 3D printed kangaroo paws.
From 28th November, nightly till 10pm
#33 Perth City Skyline, Bell Tower
We already know that Perth is the City of Light, but you haven't seen Perth like this before! Illuminated in 11,000 lights, this impressive 10 metre long structure will show the City skyline in a new light. What buildings can you spot?
#34 Santa's Seagulls, Elizabeth Quay
Six silly seagulls have perched themselves in Elizabeth Quay after stealing some chips! You'll want to watch your food around these cheeky birds.
#35 Christmas Sand Sculpture Village, Elizabeth Quay
Experience 100 tonnes of sand as it transforms into a work of art, complete with a Nativity Scene and Santa surprise that lights up after
dark. This larger-than-life sand sculpture will leave visitors of all ages in awe.
The Christmas Lights Trail took us a little over 3 hours to complete (we missed a few). I would highly recommend bringing a pram or stroller (I took our Kmart beach trolley) and wearing comfortable walking shoes. There will be festive entertainment, performances and appearances from Santa throughout the city every Friday and Saturday. City of Perth Parking are also offering free parking after 6pm.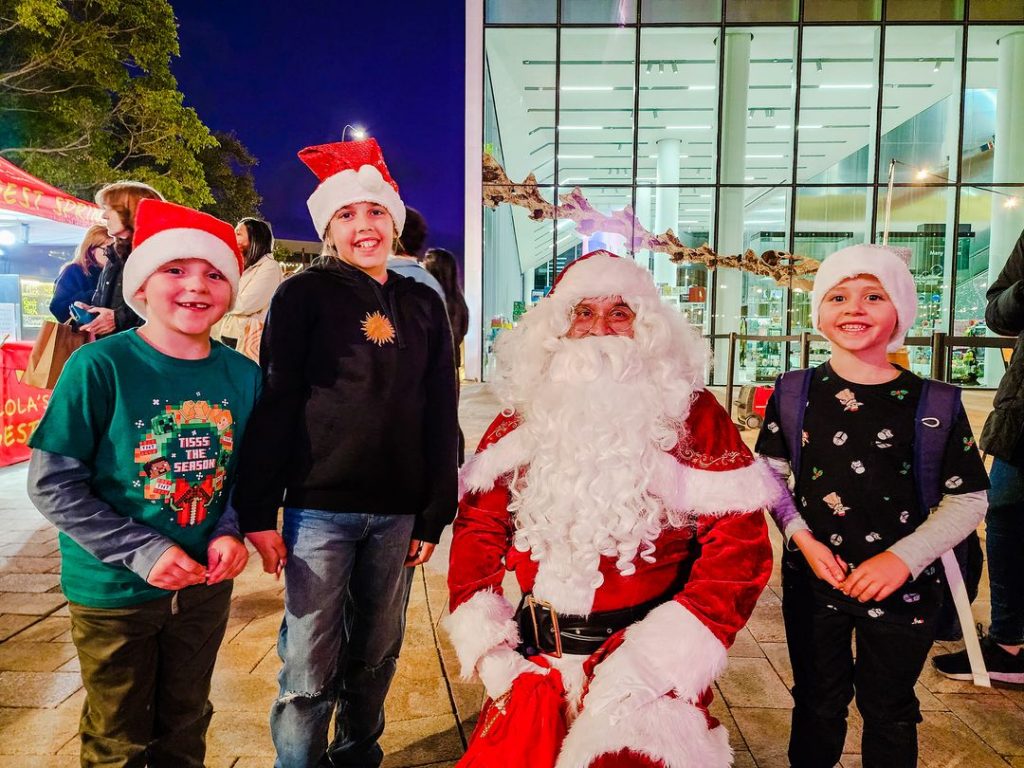 The City of Perth Christmas Lights Trail
The Christmas Lights Trail is FREE and can be experienced every night from 6pm 18th November – 2nd January 2023
Find more things to do in Perth this Christmas
Find more Christmas Lights in Perth