We recently returned for a three night stay at the very peaceful and beautiful Bluehills Farmstay located in Harvey. Harvey is just a leisurely hour and a half drive from Perth, perfect if you don't want to spend lots of time In the car on a long drive with little ones. The farm is located on Weir Road just a short drive from Harvey town centre and attractions like the Harvey Dam, the Big Orange and Stirling Gardens.
The farm has three ram earthed chalets, (a fourth one is currently being built) that are a good distance apart allowing privacy between chalets. The chalets all sleep 6, with a queen size in the main bedroom and two sets of bunks in the other room. The chalets are. clean and spacious although there was no storage space in the bedrooms. We found it very comfortable and contained most utensils and equipment we needed during our stay. All chalets have a wood fire and firewood located outside the chalet. If you need more you can help yourself from the woodshed. We have now stayed in all the chalets and all have had different but beautiful views.
On arrival, there is a bag of carrots supplied to feed the animals. There is a bucket by the bin for food scraps that you can feed to the pigs at anytime.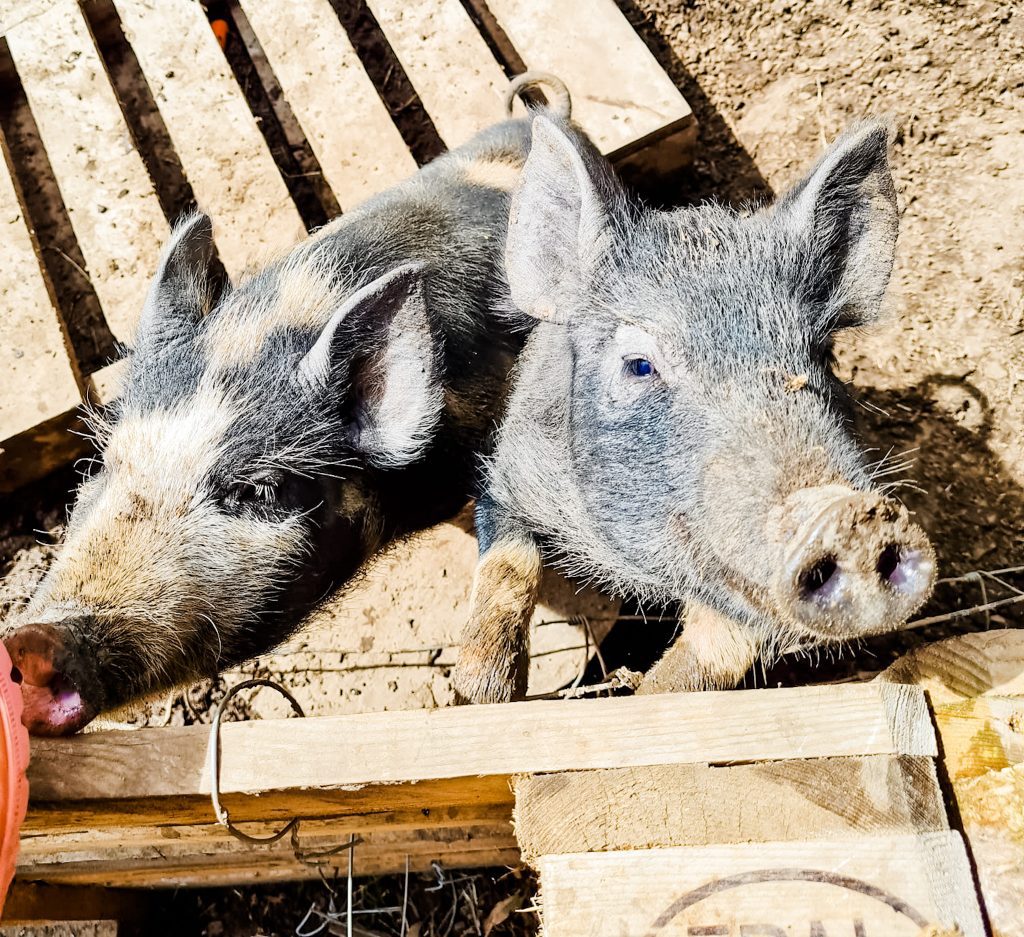 The farm had a central pool, bbq, and play area between the chalets. The play equipment included a trampoline and swings. This area is always a hit with our daughter. Every time we have stayed there have been other families with children of a similar age and they all tend to end up playing together.
The pool has an amazing view and although it is only small and not very deep it is perfect for the kids. There was decking on one side which was the shallow end and had nice wide steps to enter. The deepest part is 1m and is a gradual increase in depth. The pool is fenced with a Magna lock gate.
The gazebo had a large table with bench chairs and allowed plenty of shade. The gas bbq is located close to the gazebo and is set up with an old tractor seat, making for comfy cooking.
There is an area for a campfire, weather permitting. Unfortunately, most of the times we have stayed it has been too wet to enjoy. We did manage to have a small campfire with other guests on a previous stay and it was fun for the kids to roast marshmallows.
The main attraction of the farm stay is the animals. Bluehills has horses, pigs, cows, chickens and rabbits.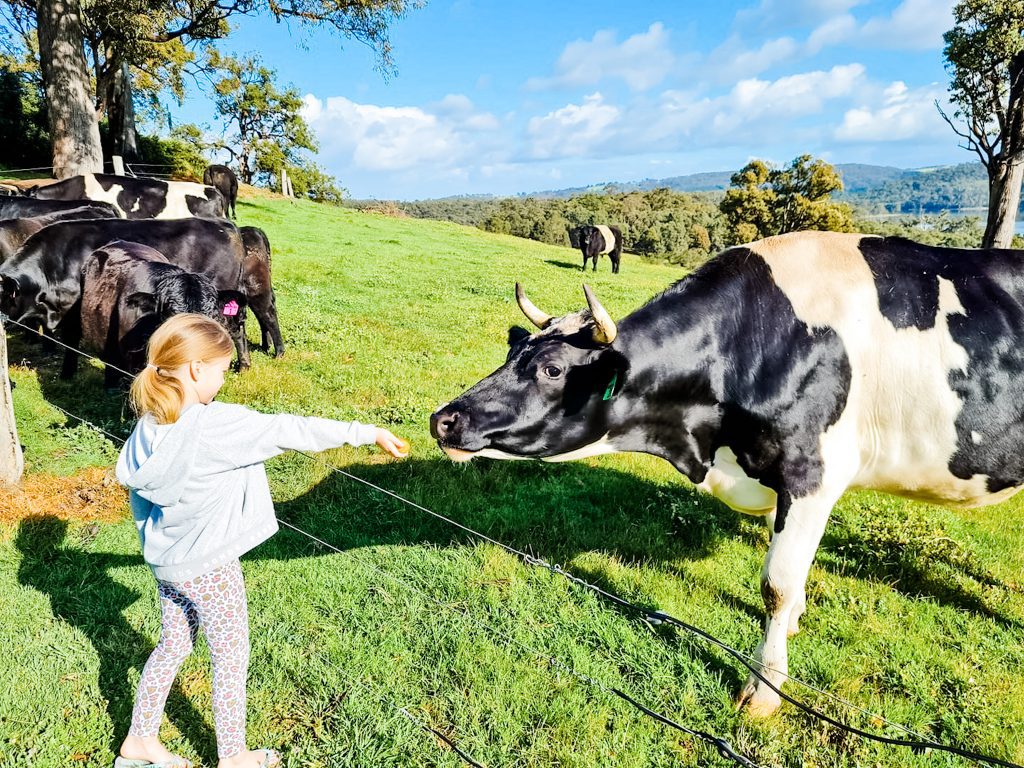 The rabbit hutch was another hit and our daughter spent much of her time in here, holding and petting the bunnies and feeding them grass and carrots.
The chickens just wandered around all day and would go to their coop area to lay eggs. Each morning we found eggs for breakfast which was really nice.
While you are staying there you are welcome to wander around the paddocks and explore. There is a circular bushwalk which sounds lovely but are yet to do as we can't get our daughter away from the rabbits or the pool. There is also some rocky outcrops, fallen trees and an old tractor that making interesting exploring.
We found there is very little open in Harvey in the evenings so generally cook or bbq. Except for a quick trip into to town for coffee and supplies we barely leave the farm but if you want to the Harvey Dam is nearby and has a playground, walk and picnic areas. There is also the Big Orange to visit and nearby Stirling Gardens are very pretty.
My husband and I find the farm stay to be very relaxing and our daughter still loves it although this last stay we missed the morning animal feeding and animal interaction with farmer Justin that we have experienced previously. This was our fourth visit and I'm sure we will be back again.
Bluehills Farmstay
410 Weir Road, Harvey
www.bluehillsfarmstay.com.au