We hadn't been to Rottnest for a few years so decided it was time to go and to include an overnight stay.
There are a few options of accommodation but we opted to stay at Discovery Rottnest Island, the first eco-tent experience on Rottnest. We chose to stay in a Superior Family Tent. We are not a family of campers but our daughter had been asking to go camping so this seemed the perfect solution. She was a bit disappointed when we showed her the pictures of the tent we were going to stay in saying "that's not a real tent!", but there was no disappointment when we got there.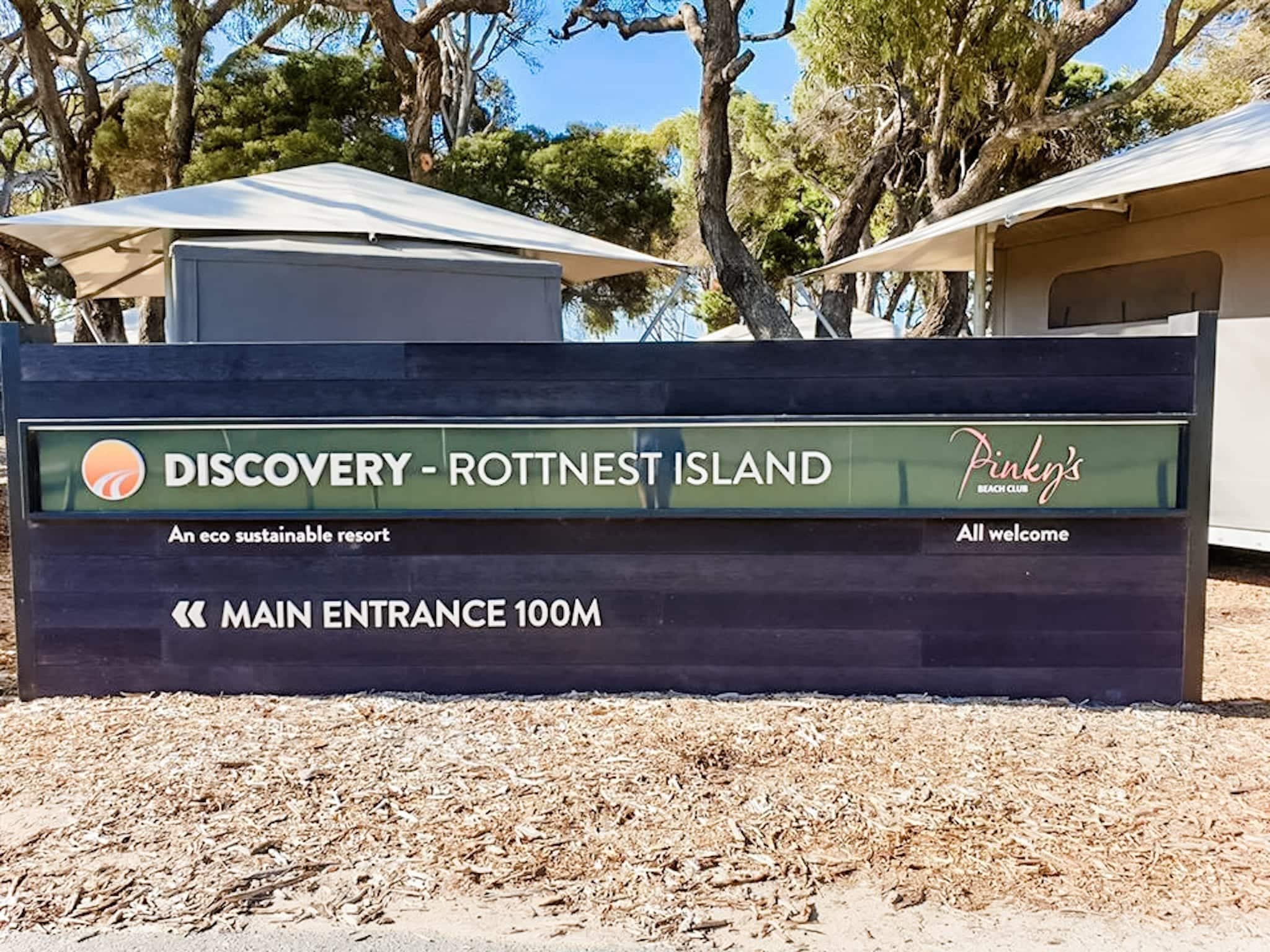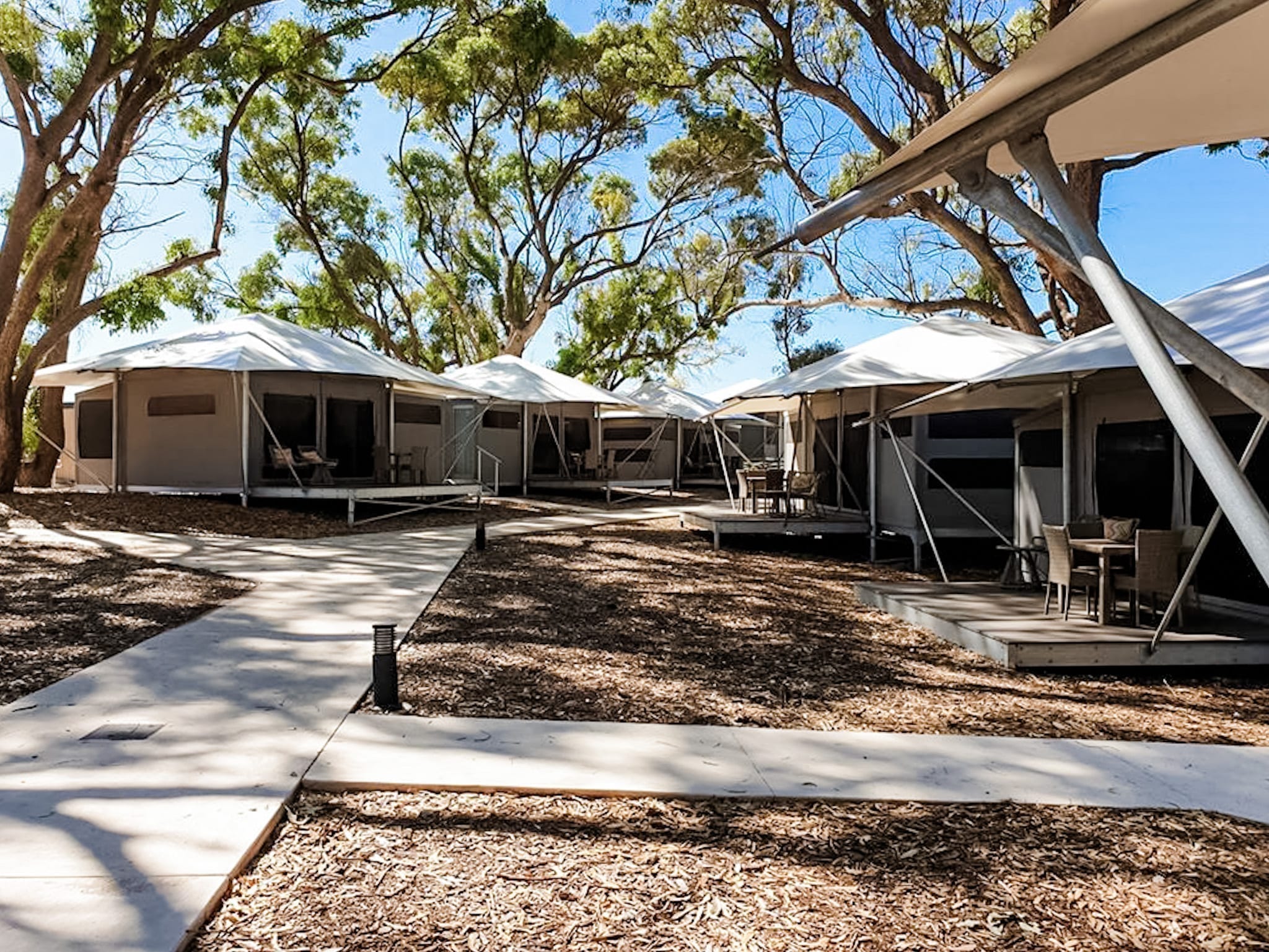 The accommodation was easily booked online. The ferry across is not included in the accommodation rate so make sure you book that separately. You can have any luggage taken from the ferry to the accommodation (and back) for you but it is a good idea to take a day pack with bathers/towels as it can take 3 hours for the luggage to get from the ferry to your tent.
We booked a mid-morning ferry from Fremantle which would give us time to have some lunch and explore a bit before check-in at 2pm. Our daughter joined the Quokka Club so when we checked into the ferry she received her passport and as it was her first ferry ride as a Quokka Club member she received free water and snack onboard. It is free for children to join and each time they travel to Rottnest they get a stamp and can earn rewards.
Once we reached Rottnest we headed to the township for some lunch and quokka spotting before going to the accommodation. Discovery Rottnest Island is an easy 1km walk from the ferry Jetty through the township towards Bathurst lighthouse and Pinky's Beach. Pinky's Beach Club is where you check-in.
When we checked in we were all keen to check out the tent and were all suitably impressed. The tent had a little deck with seating at the front. We entered through the front of the tent and were surprised at how spacious it was inside and there was even a ceiling fan.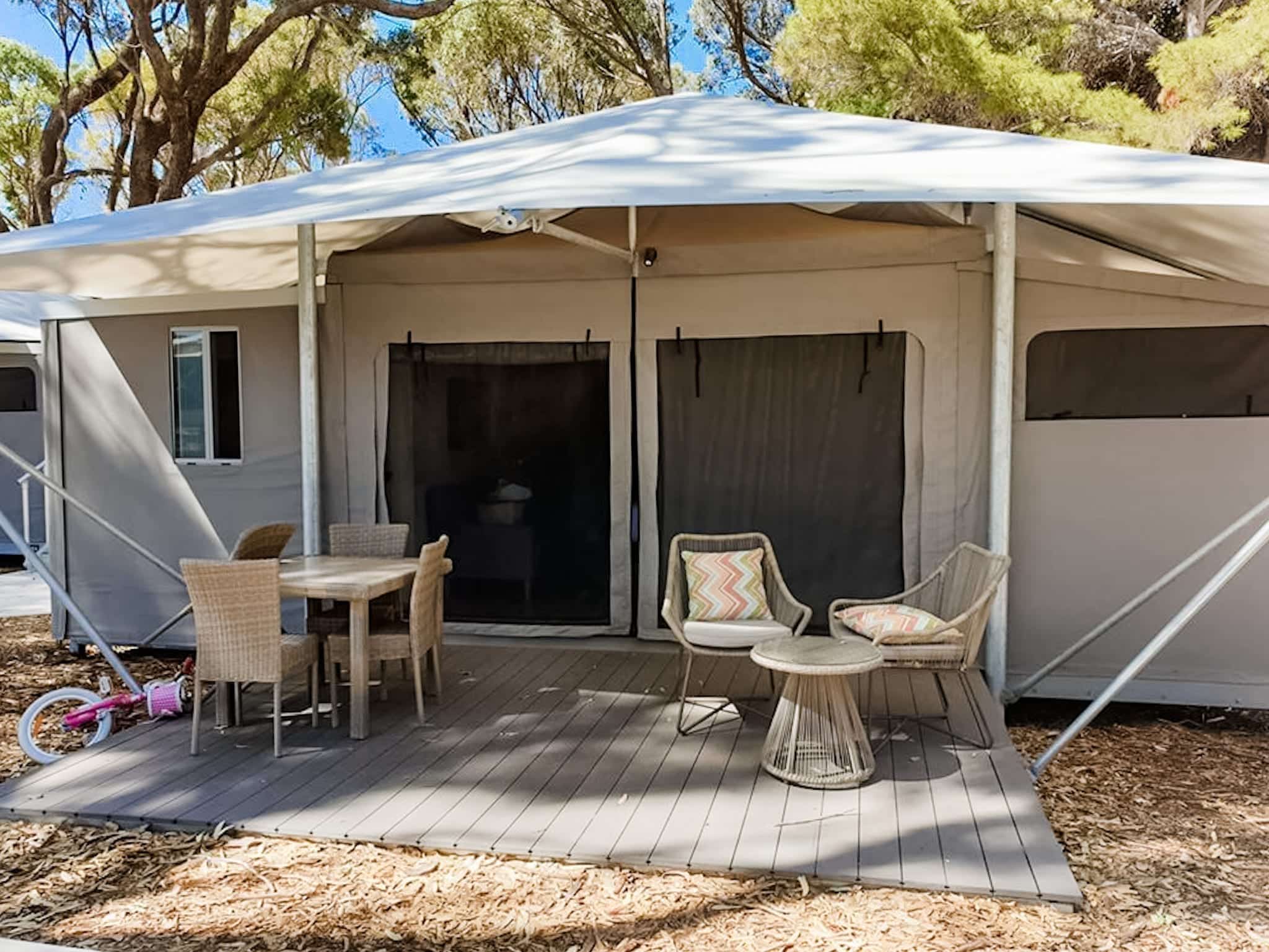 There is the main area that has a king-size bed and a couch, to one side are a set of bunk beds. Miss 6 quickly set herself up on the top bunk and I like that you could actually close this area off.
The tent also has an en-suite bathroom with a shower and toilet. There is a small kitchen area with a small fridge, toaster, kettle and crockery/cutlery.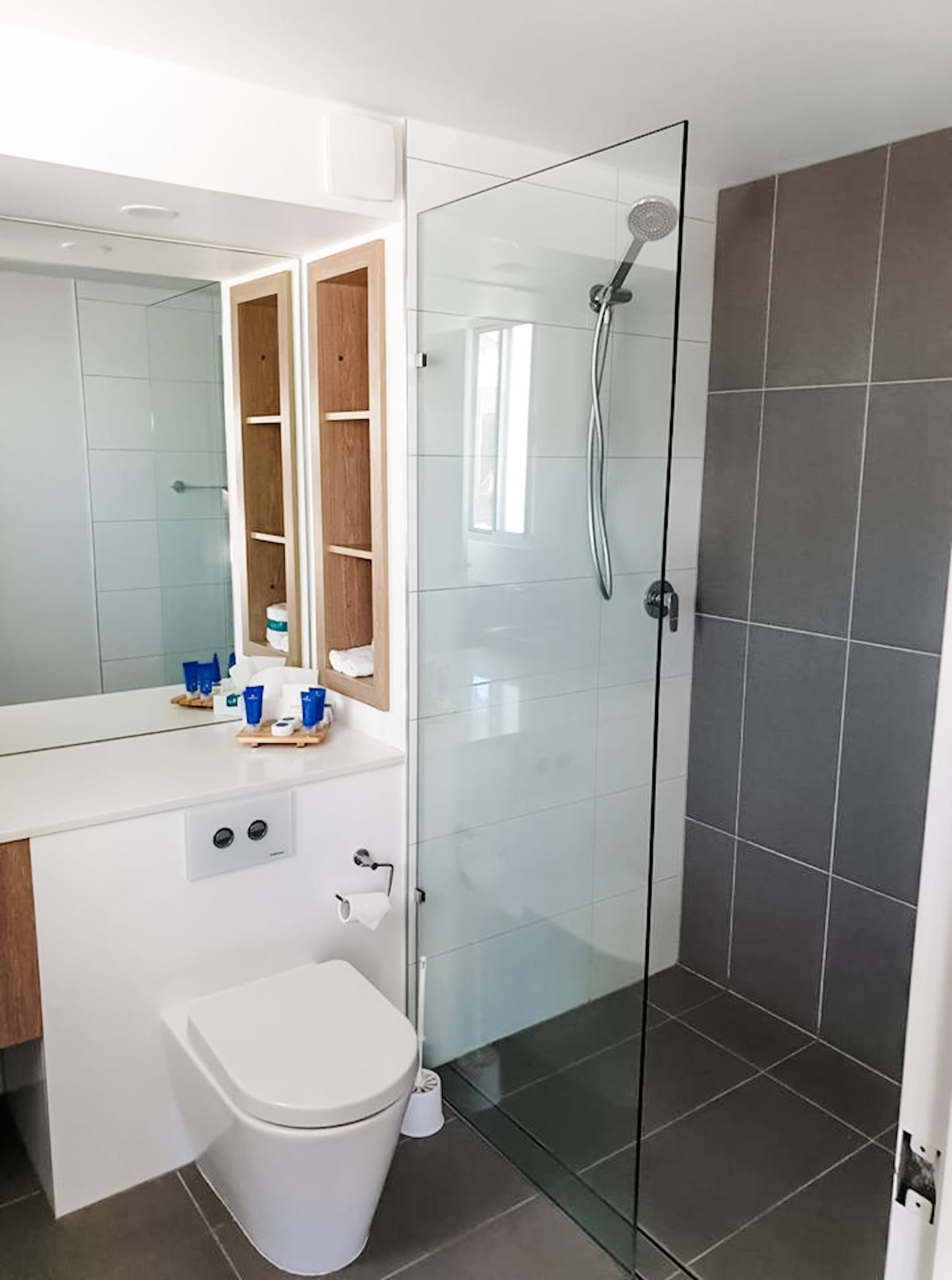 There is also a bbq area available with BBQs and seating areas for guests to use.
After settling in we headed to Pinky's Beach for a swim. This beautiful beach is accessed through the main area of the resort. In this main area is the reception and check-in area, restaurant, outdoor seating, grassed area and swimming pool. The swimming pool is fully fenced with plenty of sun loungers or seating around it. The shallow end starts with a beach entry and gradually gets as deep as 1metre. We didn't use the pool this stay as Miss 6 preferred the beach.
We were thinking of walking into town for dinner at one of the restaurant options there but opted to stay and have dinner at Pinky's Beach Club instead. There is plenty of options with a casual dining or restaurant menu options.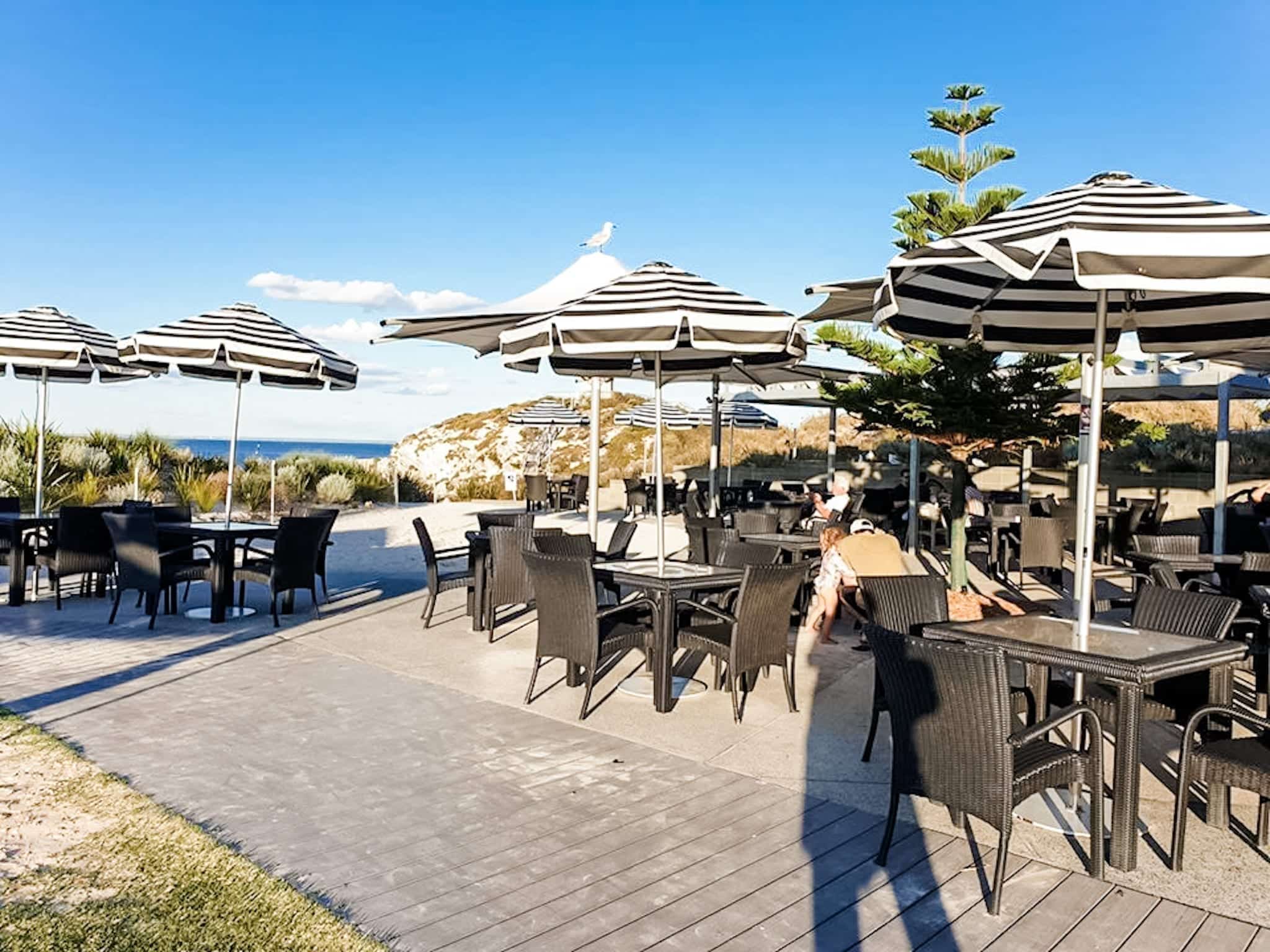 We sat outside and enjoyed the warm evening and the sunset. There were some large wooden games on the grassed area so Miss 6 went and played with those while we ordered and waited for our meals. We all decided fish and chips were the way to go and they were very good.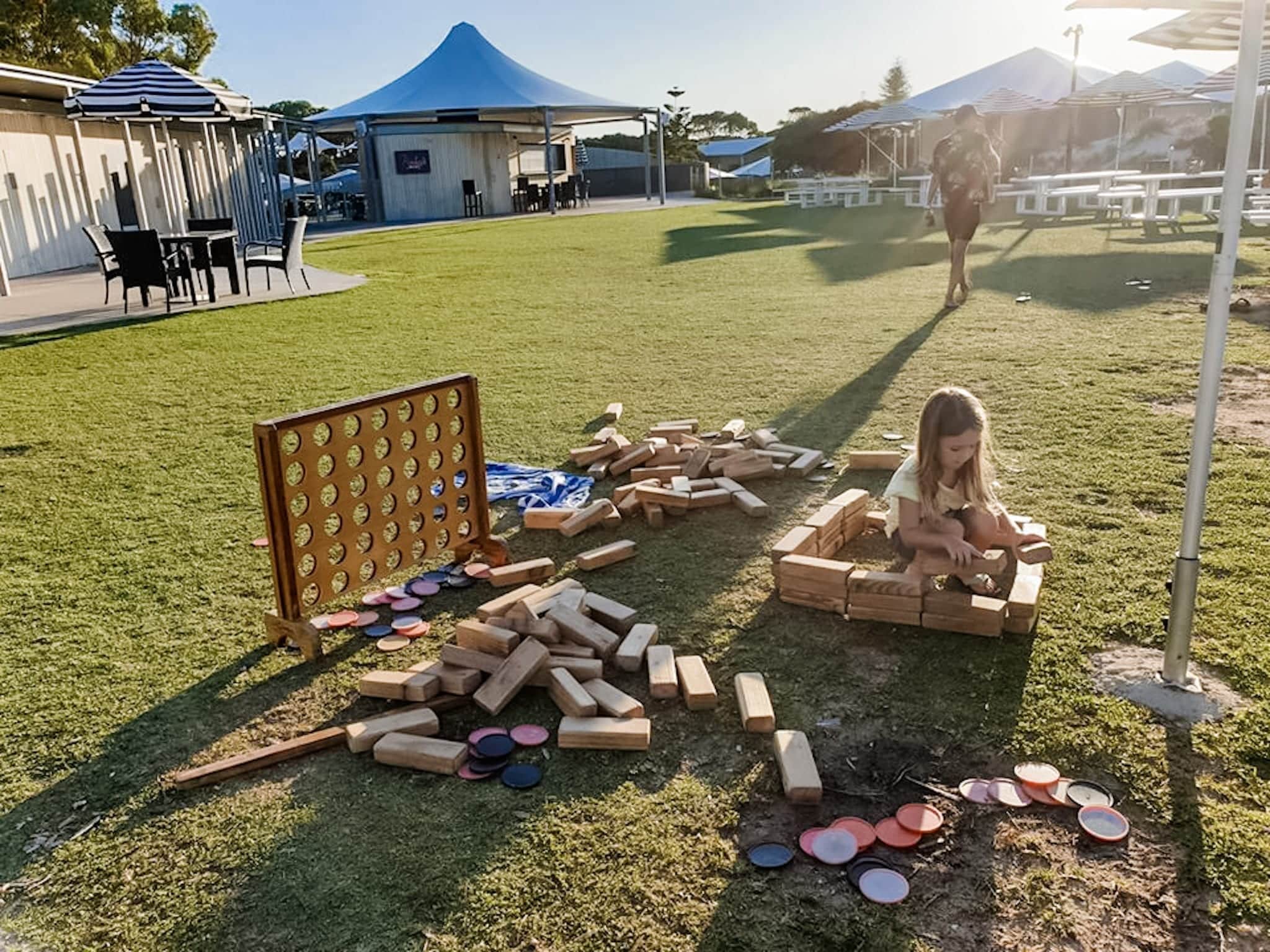 After dinner, with no electronic devices to distract, we spent time riding, looking for quokkas, reading on the deck, walking to the lighthouse and playing card games we had taken with us. You don't have to go off your deck to see quokkas as they come right up to the tents. We were told to keep the zip done up or they would go inside.
We found all the facilities in the tent to be good, the shower had good pressure and was warm and the beds were very comfortable. We were not catching the ferry home until the afternoon but our luggage had to be ready for collection at 8am, check out isn't until 10am.
Breakfast at Pinky's Beach Club was included in the accommodation so in the morning after leaving our bags on the deck for collection we went there for breakfast. There were some yoghurt pots and fruit available to help yourself to. We ordered off the menu and had bacon and eggs.
Before we checked out we had some more time swimming and playing at Pinky's beach and we walked to the lighthouse again to enjoy the view in daylight. It was nice to be able to get good fresh takeaway coffee from Pinky's beach house and take back to the tent.
Once we checked out we had time to bike ride and explore a little before catching the ferry back. We really enjoyed our stay and found Discovery Rottnest Island to be excellent – it was comfortable, clean and relaxing. I'm sure we will be "camping" again at Rottnest.
For more information visit www.discoveryholidayparks.com.au/discovery-rottnest-island
Read the reviews on Tripadvisor
Click here for more things to do on Rottnest Island