Our kids are only kids for a small amount of time. And there are certain things they only do during that small time. Indoor playgrounds in Asia, carousels in Europe, spinning teacups at Disney, sitting on Santa's lap in Lapland. Don't these sound like the best places to visit with kids?
The past two years have made sharing these experiences with kids very hard. Our kids are growing up before our eyes and time is passing fast. But it's not too late. There has never been a better time than now to share the best places to visit with kids in the world.
Western Australia has a border opening date. You no longer have to think about places to visit with kids Perth, because after 2 years of harsh travel restrictions, you and the kids can finally board a flight and leave the state. So, will you travel interstate first? Or a hop a plane straight to an international destination?
What is a good age to start travelling with kids?
I truly believe any age is a good age to travel with kids. My daughter's first staycation was 6 weeks. My son's first international trip was 5 months. Before 6 and 7 they had conquered 68 countries. So when I mention places to visit before your kids grow up, I don't mean because then it ends. I mean because these places to visit with kids have a little bit of pizzazz when the kids are younger.
If you're looking for a quick checklist to tick off some incredible experiences you've found it. Below are the top ten places to visit before your kids grow up. My kids and I have personally done each of these destinations before my children were 12 years old. So, you can guarantee when I say these are the top 10 places to visit with kids, I know what I'm talking about.
Where to travel with your kids before they grow up?
Disney World, Florida, USA
If your kids have never asked you to go to Disney World, do you even have kids? Disney World is by far one of the best places to visit with kids in California. Disney is magic for kids from the rides to the characters, to the theme music entrance. Disney will always be there even when your kids grow up, but there is something magical about being young and in a place where dreams come true. No child ever forgets a trip to Disney with their parents.
You might balk at the Disney VIP tour costs, but there are more money-efficient ways to do Disney. With so many parks you're going to need nearly two weeks to cover Disney, but don't feel like you have to. For a more pocket-friendly version consider just doing one or two parks thoroughly instead of spreading your time and money so thin.
Dylan's Candy Bar, New York, USA
Where can I take my kids in America? Possibly when asking yourself this question, most people would be wondering why anyone would take their children to New York City.  Well because there are many things to do with kids in New York from museums, to ice skating in Central Park, Zoos. But what's going to make a kid feel special in New York is M&M World and Dylan's Candy Bar. You know what they say about a kid in a lolly shop. You'll be feeling just like one when you take the kids to these 3 floors of candy heaven.
Coke World, Las Vegas, USA
Why on earth would you want to take the kids to Las Vegas? As far as places to visit with kids in the USA go it doesn't come to the forefront of any parent's mind. But we have visited Las Vegas three times and never gambled once. There are so many things to do with kids in Las Vegas you won't have the time to sit at a pokie machine.
Visiting show after show, my kids loved the magician shows the most. Then seeing the inside of all the amazing hotels, Circus Circus is a winner with its daily circus shows and indoor theme park. There's the old Freemont Street with the largest television in the world. Plus Madame Tussauds, M&M World, and imagine how kids feel in Coke World – be prepared for a joyous sugar high, and a delicious afternoon nap after the crash.
Santa's Holiday Village, Lapland, Rovaniemi, Finland
What is the best holiday destination for families? When my kids were small we took a family vacation to Lapland to visit the real Santa. In this Holiday Village, you'll find a post office where all Santa's letters arrive, there are ice slides, snowman world, and more. It was a kid's dream vacation.
Outside of Santa's Holiday Village, you can experience even more family fun with husky sledging, reindeer rides, snowmobile chasing northern lights, and decorating Christmas trees with elves. There are so many things to do in Lapland with kids. A top place to visit before your kids grow up.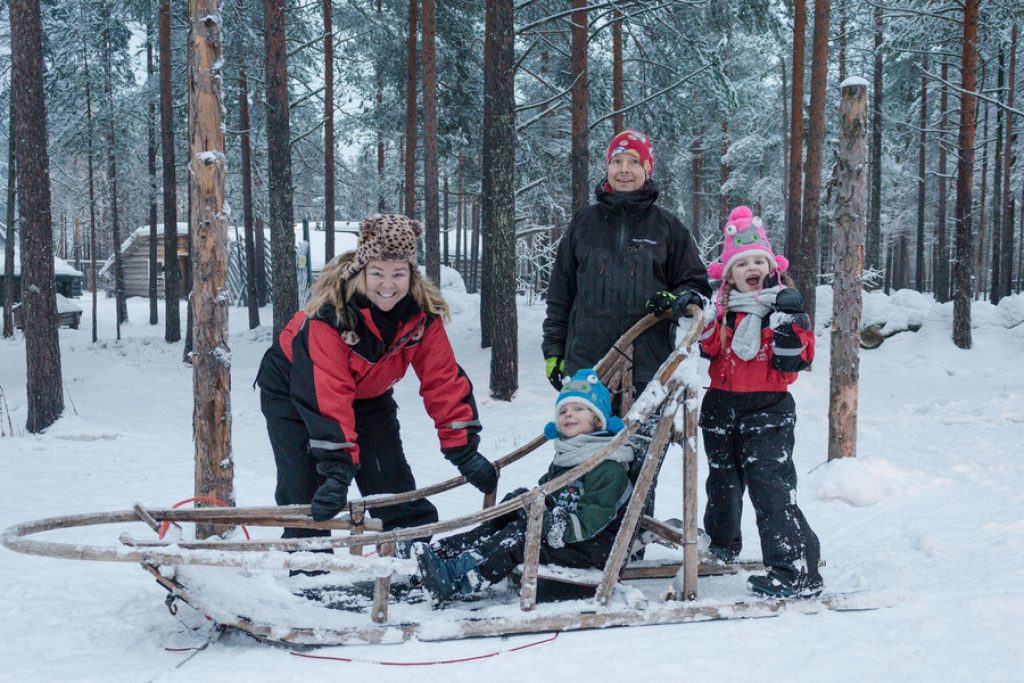 Carousels, France
If you ever thought Europe was unfriendly towards children think again. There are so many things to do with kids in France from Disney to caves to beaches to the Eiffel Tower. My kid's favourite thing about France was the old fashion horse carousels everywhere. I could not get my son off of them. Like a larger-scale shopping centre ride.
Cliffs of Moher, Ireland
If you haven't shared the Princess Bride with your children yet, do it. This classic is the perfect family movie and some of this movie was filmed right here in Ireland. The epic part of the movie where Andre the Giant climbs the Cliffs of Insanity is these cliffs right here. Don't let them get too close to the edge, but do let their imaginations run wild with how a giant climbed these cliffs with the princess, how Inigo Montoya's sword fights Wesley in the ruins. You can even climb a small castle for the kids to be fully enveloped in a real-life fairy tale.
Waterbom Park, Bali, Indonesia
Coming closer to home let's head to Asia and everyone's favourite and closest vacation spot from Perth. What is the most child-friendly country? In Bali the younger the child the closer they are to god, so you're children a treated royally. After 18 visits I have compiled a list of 101 things to do with kids in Bali. I won't repeat them all here for you now, but my kid's favourite has always been Waterbom Park.
Granted as they get older they have possibly found this park even more fun than ever, but before they grow uptake them. Let them experience the little kids' rides that once they are fully grown they'll never get to do again.
Universal Studios, Singapore
There are more than 30 things to do with kids in Singapore, one of the most beautiful, clean, and safest cities in South East Asia. And while my kids have enjoyed every experience much like Disney a day at Universal Studios is pretty special. Espeially the Minion ride and the Madasgar ride. Rides they may never do again after they grow up.
Artvo, Melbourne, Australia
Let's look at places to visit with kids closer to home. As far as places to visit with kids in Melbourne go, I have 30 things to do with kids in Melbourne. But my kids always want to go back to Artvo. All ages are going to love this place. So why is this place one to visit before your kids grow up? Because younger kids almost feel like they are part of the picture, not that they are looking at a picture. Make sure you have enough battery to capture every picture, because you won't stop hearing, "Mum, take a photo of me in this one."
Great Barrier Reef, Queensland, Australia
What is the most kid-friendly state after Perth? Queensland. But move over Gold Coast, I'm recommending far north Queensland. Sometimes parents can feel slightly terrified with their children around water, but once you see your kid's passion for spotting every fish, turtle, and coral in the ocean you will forget your fears. A Whitsundays family vacation is the perfect trip to take before your kids grow up.
After you've watched your little ones snorkel the Great Barrier Reef takes them back to a Big 4 Resort for more water and waterslide fun. Your teens are going to sit on the chairs and look at their phones. Your little ones are going to play all day and fall in a heap at night exhausted, grinning and leaving you to feel like a winner.
It also might be one of the better places to visit with kids during covid.
There is no better time than now. With so many places to visit before your kids grow upstart here and start now.