Looking for a Mandurah restaurant to dine at with kids? Who says your only options are fish and chips?! Mandurah restaurants often come with a water view, and delicious cuisine (with plenty of locally caught seafood and succulent crab). Enjoy a meal at a casual eatery with your family on the waterfront, and be sure to make a booking – Mandurah is especially busy now that the giants have arrived! Want to know where are the best Mandurah restaurants, and family-friendly places to eat in Mandurah? See our big guide here;
Eat in Mandurah WA
Hummingbird Waterside Cafe, Mandurah
Overlooking the Mandurah foreshore, Hummingbird Waterside Cafe is a top spot for breakfast. Not only does it offer a whopping menu for kids, with 11 choices, there are also kids' vegan and gluten-free options. Read more in the Buggybuddys review.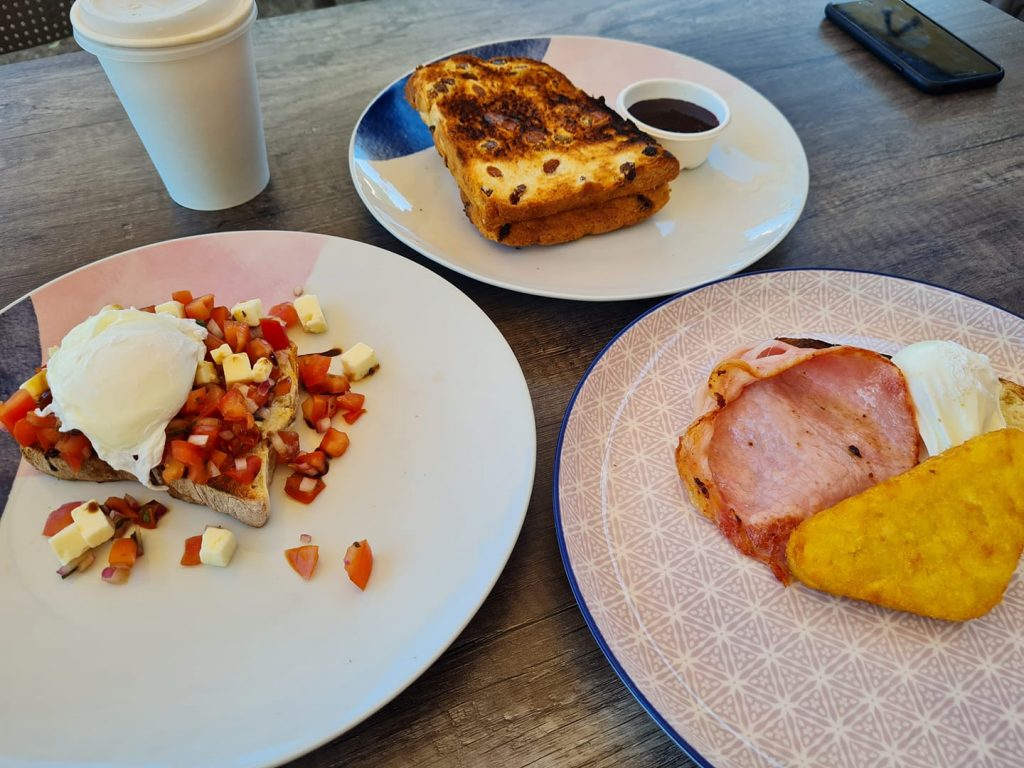 Find Hummingbird Waterside Cafe at 1/38 Mandurah Terrace, Mandurah.
Sharky's Mandurah
Looking for freshly cooked seafood and a good pub style feed in Mandurah for lunch or dinner, Sharky's is the place to go! The restaurant is divided into three sections, the main dining room, an outdoor dining area and a family dining spot right next to a huge indoor playground. The kid's meals include Nuggets & Chips, Spaghetti Bolognese and Chicken, Mash, Veg & Gravy. Read more in the Buggybuddys review.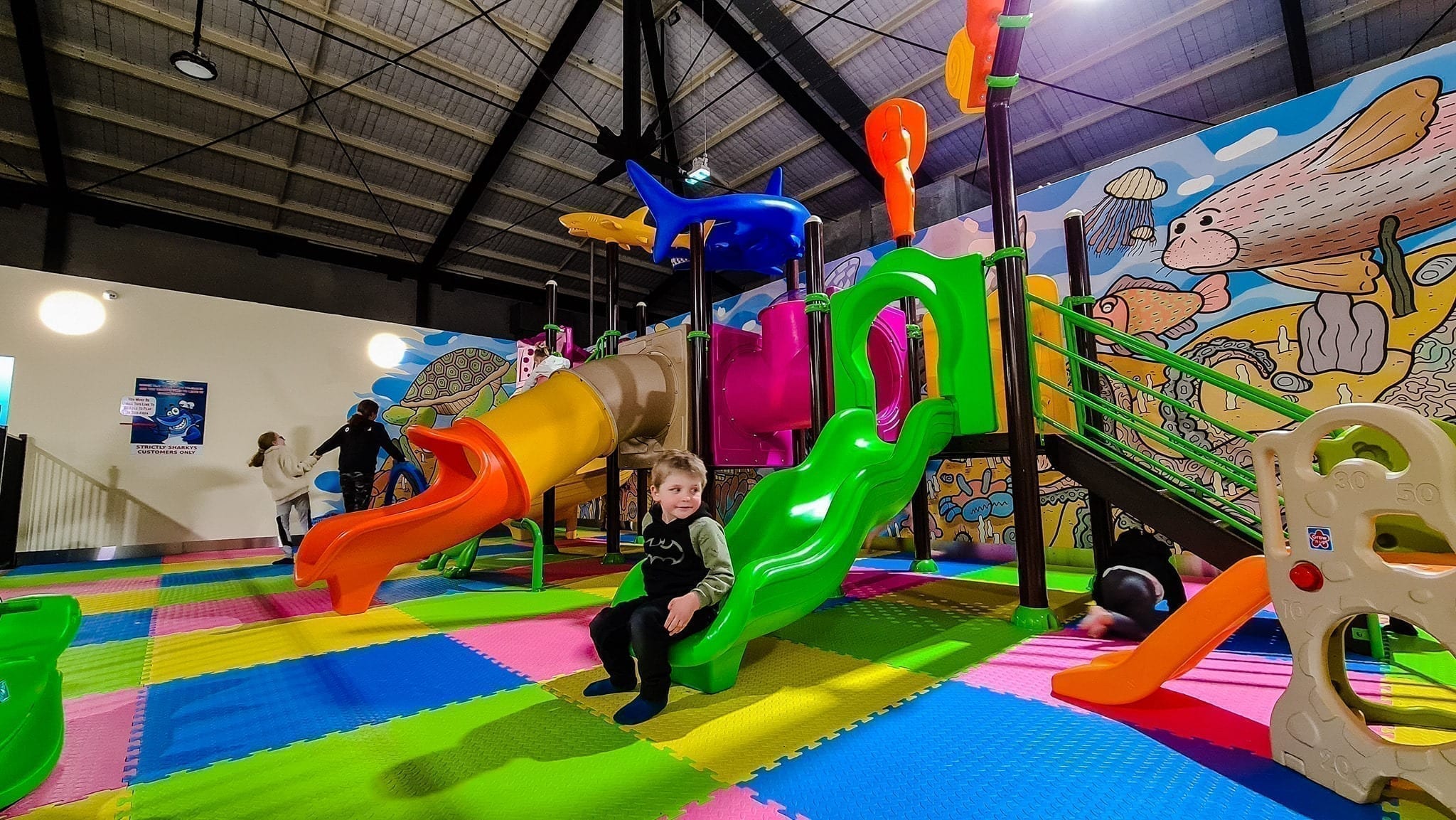 Find Sharky's at Shop 1 / 4 Zephyr Mews, Mandurah.
Tree of Life Cafe
Come for the family-friendly kid's play area and cute cubby house and stay for the delicious food. Tree of Life Cafe serves an all-day breakfast menu as well as lunch, a kid's menu and a range of drinks and cakes. High chairs are available, as well as baby change room facilities. Read more in the Buggybuddys review.
Find Tree of Life Cafe at 31 Sholl Street, Mandurah.
Cafe Moka
This gem of a brunch spot is perfect for a waterside family breakfast. Café Moka, found at Dolphin Quay Marina, is home to good coffee and epic pancakes, plus many delicious brunch dishes. There's brekkie and lunch options for kids, as well as high chairs available for little ones. Read more in the Buggybuddys review.
Find Cafe Moka at 18/4 Zephyr Mews, Mandurah.
Mandurah Forum
Shopping with kids isn't easy, but the kids will be begging to go to Mandurah Forum's beach-inspired playground! Pair it with a trip to a casual eatery or takeaway at the redeveloped shopping center that's jam packed with quick and easy options.
Dolphin Quay
The Dolphin Quay Markets on the Mandurah Marina is the perfect spot to eat. There's a good selection of eateries that cater for families – Italian, Mexican, burgers and more. Read more in the Buggybuddys review.
Mandjar Markets
Mandjar Markets is held under the shady trees along the Mandurah Foreshore, 9am to 4pm every Sunday in warmer months. There's stalls and live music. The kids will love to choose something delicious to eat, from the ever-changing line-up of food trucks and stalls offering delicious street food. Read more in the Buggybuddys review.
Eating in the Peel Region & Pinjarra WA
Cafe Cherie, Pinjarra
Love French pasties, coffee AND a fab playground? Perched on the fringes of Pinjarra, Café Chérie is a tasty patisserie that is a breath of fresh air for those craving a taste of France in the Peel region. Kids will love the shady playground, plus it's super close to Ranger Reds Zoo! Read more in the Buggybuddys review.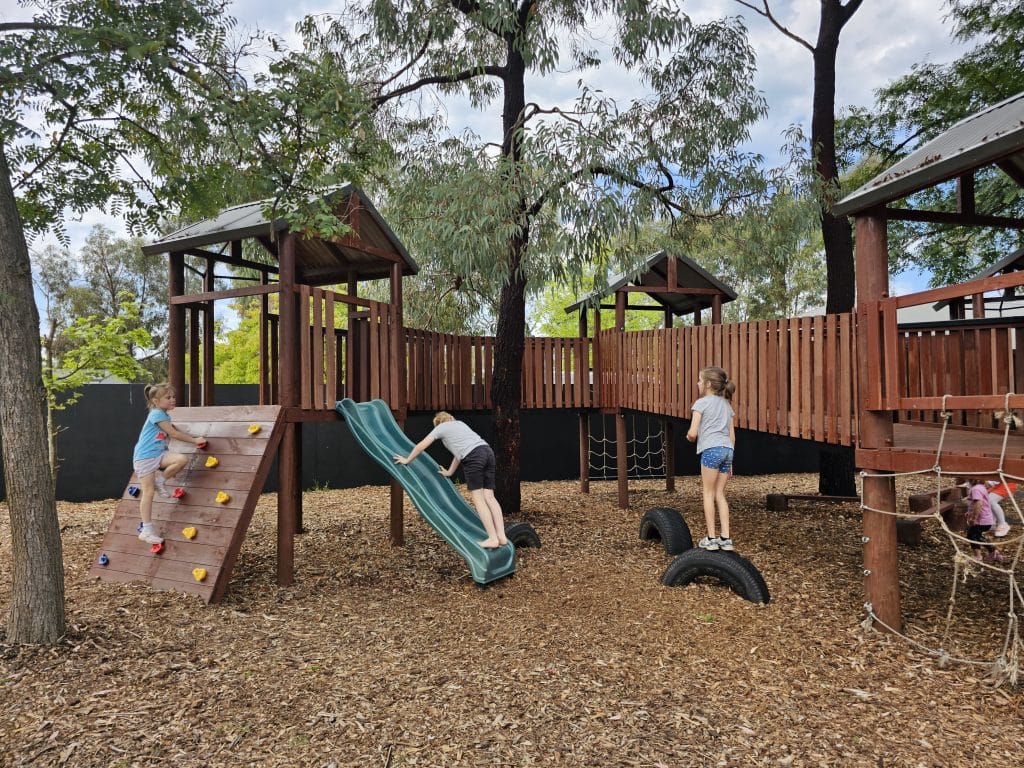 Find Café Chérie at 41 Wilson Road, Pinjarra.
Midway Farm Stall, West Pinjarra
Heading down south? Be sure to make Midway Farm Stall a stop-off. This family friendly spot is seconds from the Forrest Highway. Midway Farmstall is the perfect place to recharge, grab a coffee, enjoy fresh local produce, let the kids play in the fenced play area and feed the friendly farm animals. Read more in the Buggybuddys review.
Find Midway Farm Stall at 550 Paull Rd, West Pinjarra.
Pinjarra Bakery
Pinjarra Bakery is our go-to for award-winning Aussie gourmet pies. It's less than 10 minutes from the Forrest Highway and totally worth a slight detour. The bakery has sweet and savoury (chili, beef, lamb, etc) options to devour.
Read more in the Buggybuddys review.
Find Pinjarra Bakery at 28 George St, Pinjarra.
Jarra Infusion Cafe, Pinjarra
Near to the brilliant riverside Cantwell Playground, the quirky Jarra Infusion Cafe is popular with locals and travelers alike. Coffee and cake is best enjoyed in its rear courtyard, complete with kids' play area.
Read more in the Buggybuddys review.
Find Jarra Infusion Cafe at 28 George St, Pinjarra.
Sandy Cove Tavern
Sandy Cove Tavern is a family-friendly pub located in South Yunderup, Western Australia. The tavern offers a warm and inviting atmosphere for both locals and visitors to the area. The menu boasts a range of delicious dishes, including classic pub fare and seafood options. The outdoor area is perfect for families, with a large playground and plenty of space for kids to run around.
Find out more in the Buggybuddys review
Have we missed any of your favourite restaurants in Mandurah? Let us know in the comments below!
See our big guide to things to do in Mandurah here.