Prepare your family for an unforgettable adventure at Ranger Red's Zoo & Conservation Park, a boutique zoo nestled along the picturesque Murray River in Pinjarra, just an hour away from Perth. This place is a paradise for animal lovers, home to over 100 captivating species, including koalas, wombats, dingoes, exotic birds, reptiles, and kangaroos.
On entry, you'll be handed a map to help guide you through the park. Don't forget to grab a bag of feeding pellets to get up close and personal with some of the animals. But what truly sets Ranger Red's Zoo apart is its incredible "hands-on experience" for all visitors. Our day at Ranger Red's Zoo kicked off with an exciting and free snake encounter. My brave kids couldn't resist the chance to hold a snake around their shoulders and capture the moment with some unforgettable photos. And that's just the beginning of the incredible free animal encounters offered at Ranger Red's Zoo. From patting a cute Bettong to holding a friendly blue tongue lizard, there are plenty of opportunities to get up close with these fascinating creatures. Make sure to check the board at the entrance for the schedule of all the free animal encounters.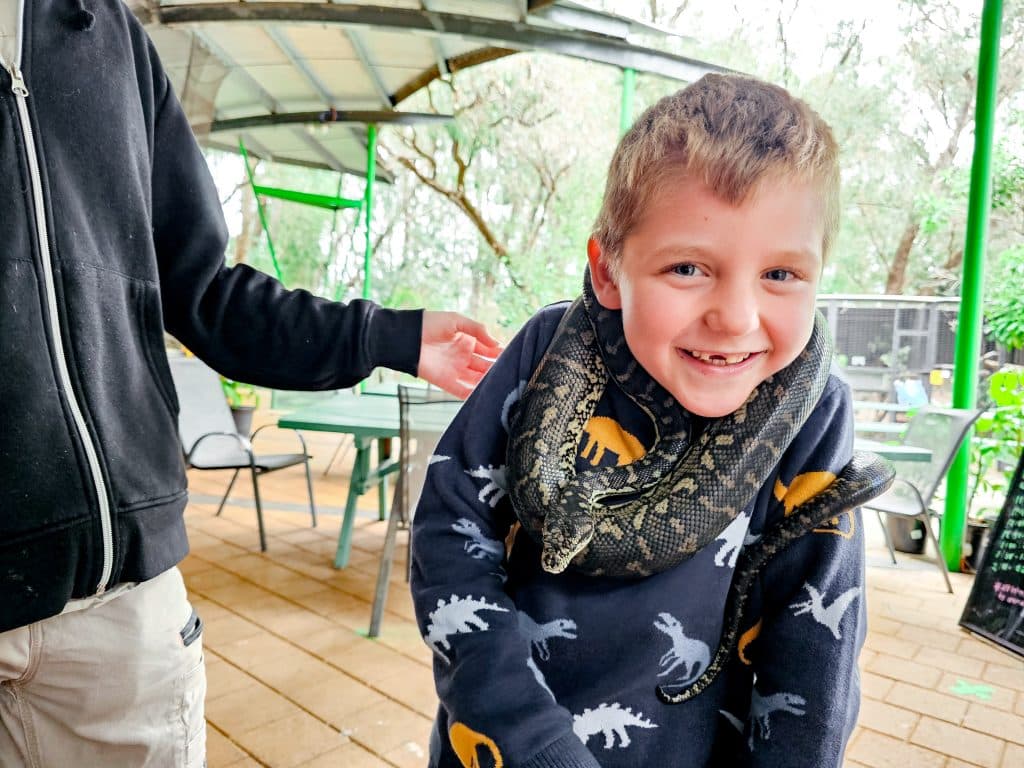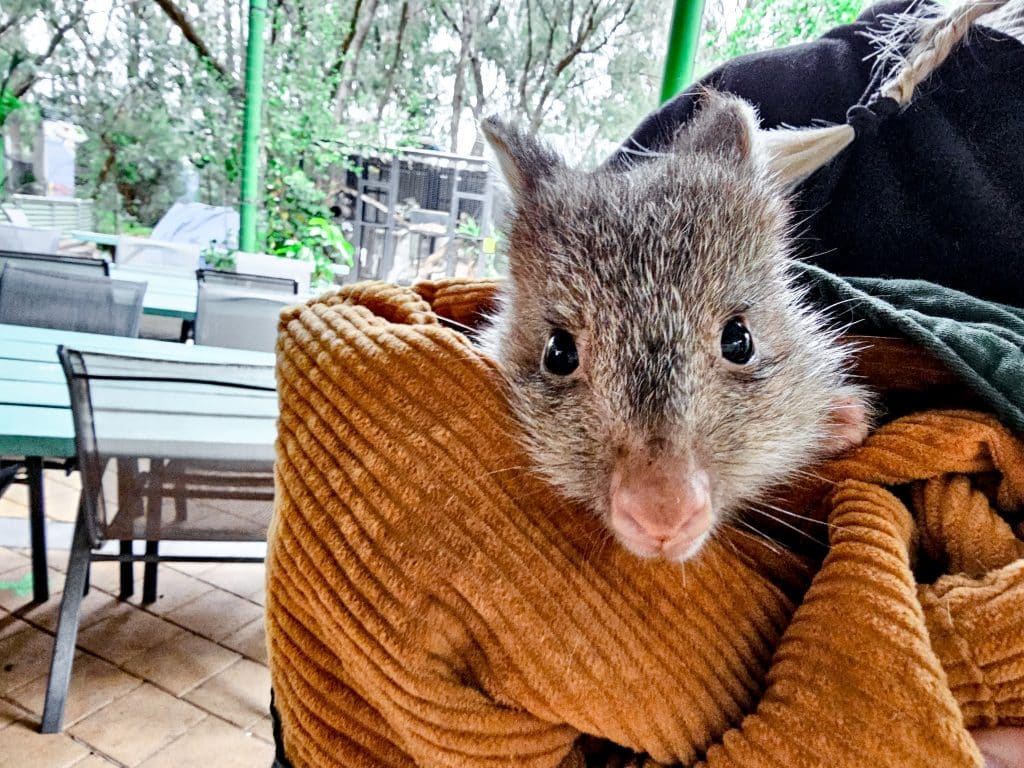 The grounds of Ranger Red's Zoo are lush and shady, making it a lovely spot to stroll around. We followed our map to ensure we didn't miss any of the animals. Each animal encolure features a unique QR code that you can conveniently scan with your phone to access fact sheets about each of the animals.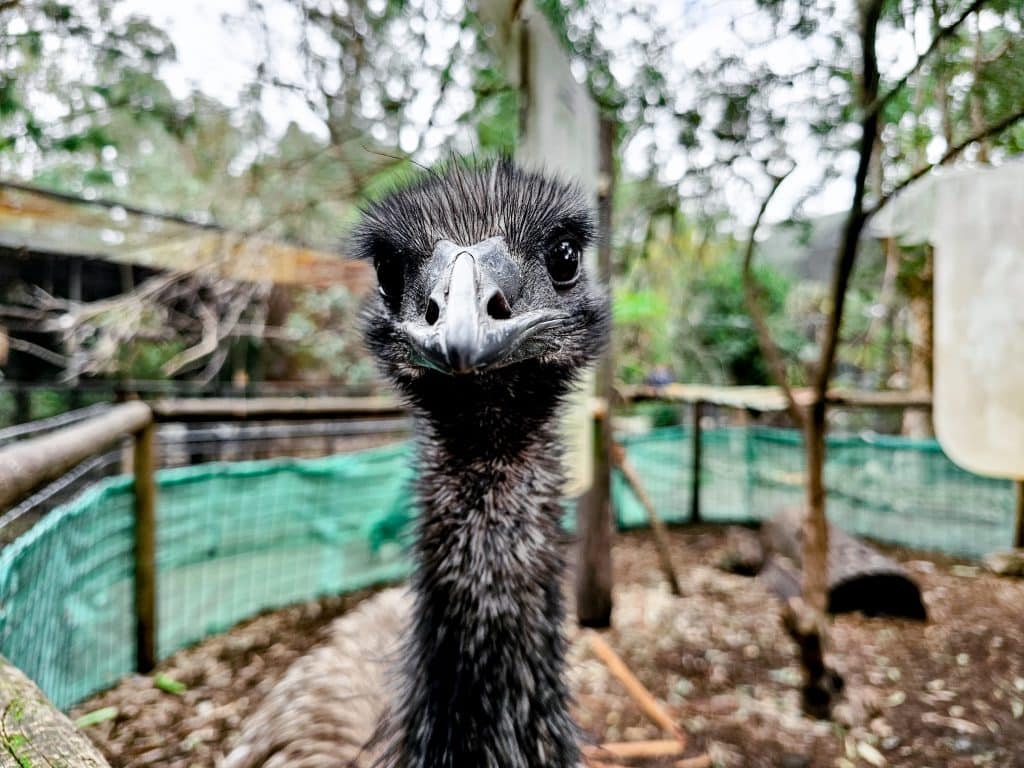 One of the highlights for my kids was undoubtedly the free kangaroo encounter. They delighted in hand-feeding the gentle creatures, striking poses for adorable pictures, and even giving them a gentle pat.
Their laughter couldn't be contained as they interacted with and fed the "crazy" farm animals who were more than willing to provide plenty of entertainment!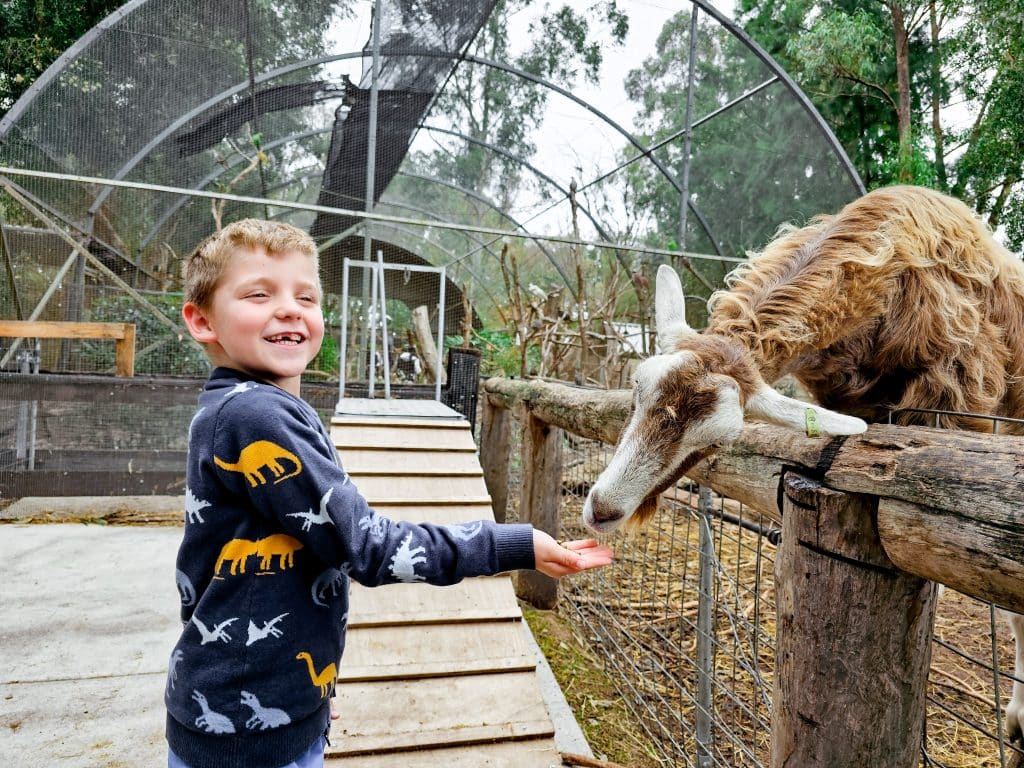 Another favourite spot for the kids was the huge walk-through aviary, which was full of colourful native birds flying about freely. If you stand still long enough, you might even be lucky enough to have one of these beautiful birds perch on your shoulder.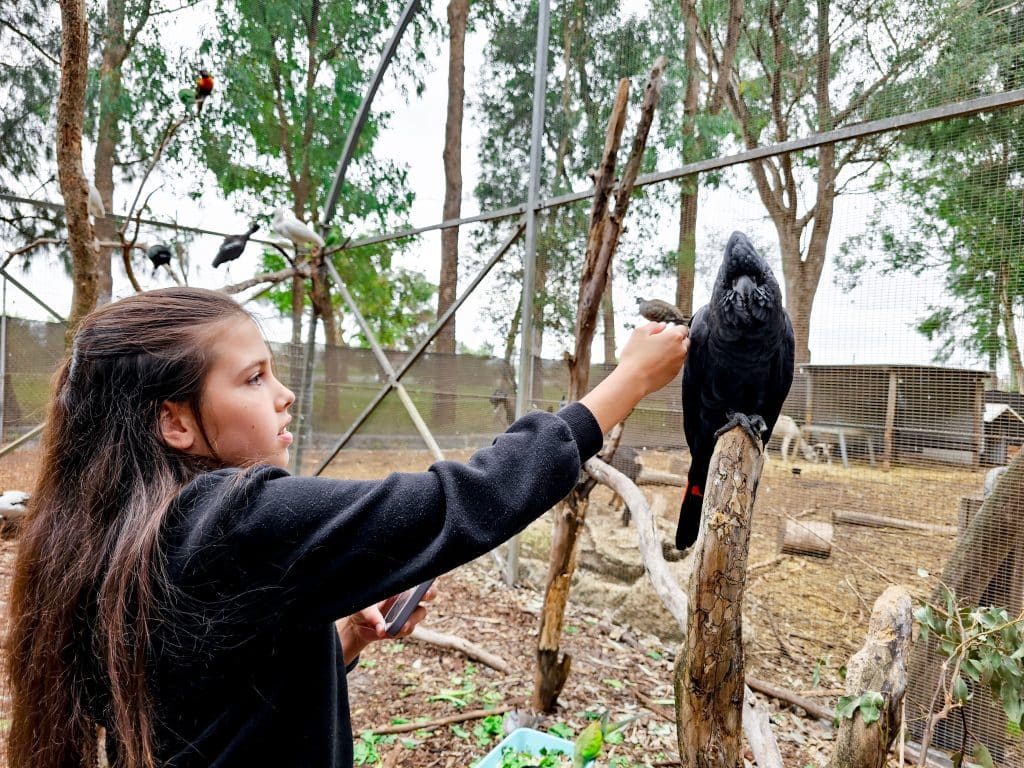 A top priority for Ranger Red's Zoo & Conservation Park, with a special focus on the Tasmanian Devil breeding program. This vital initiative contributes to the long-term future of this endangered species, as they face challenges in the wild due to an incurable facial tumour disease.
In addition to the free animal encounters, there are VIP encounters that you can book and pay for. These experiences range from $20 to $80. During our visit, my daughter had a blast with the VIP Koala Experience. She loved getting up close and personal with a cuddly koala, patting him, and learning fascinating facts from the knowledgeable zookeeper.
As for my two boys, they couldn't resist the thrill of the Crocodile Encounter. I must admit, I was a bit apprehensive at first, fearing for their fingers, but the experienced zookeeper ensured their safety. Ranger Red's Zoo is the only place in WA, apart from Broome, where you can have this unique crocodile experience! The boys were absolutely in their element as they touched and stroked the baby crocodile while bombarding the zookeeper with all sorts of curious questions about its scales and webbed feet.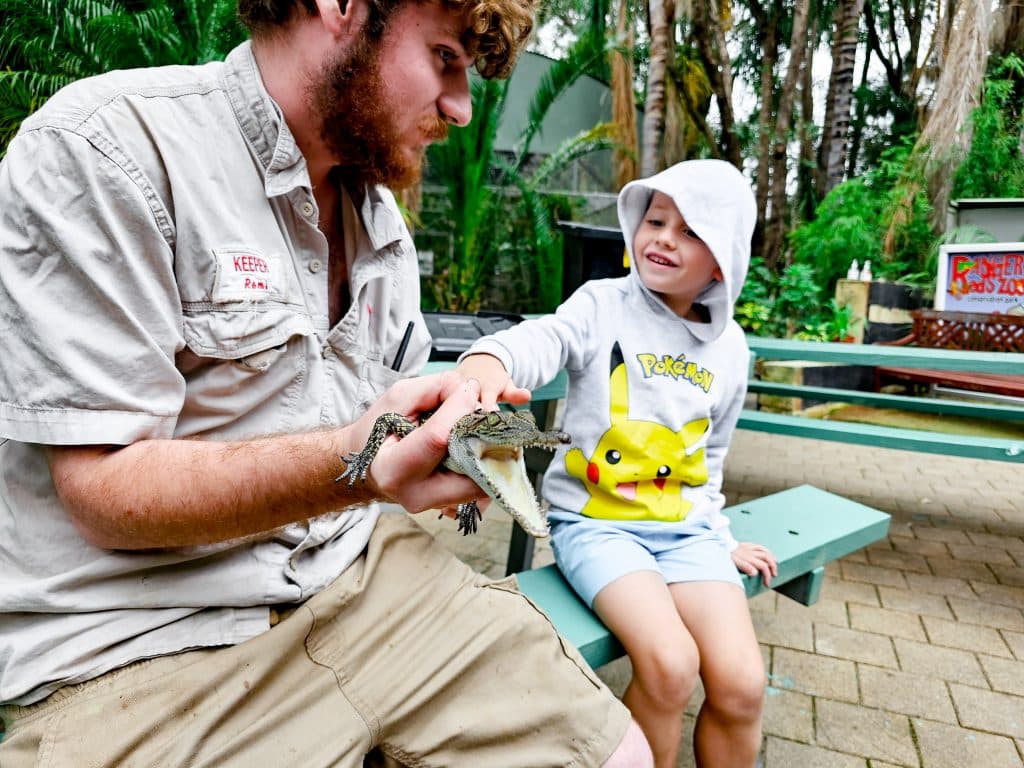 For those budding wildlife enthusiasts aged 8 to 16, Ranger Red's Zoo offers an exciting Junior Zookeeper 4 A Day program. They also have a Zoo2U program, perfect for schools, vacation care, birthday parties, and other special events.
Ranger Red's Zoo has BBQ and picnic facilities. And don't forget to visit the gift shop, where you can find animal-themed toys, drinks, and snacks. The park is compact, making it easy to navigate for little ones, and the pathways are pram friendly.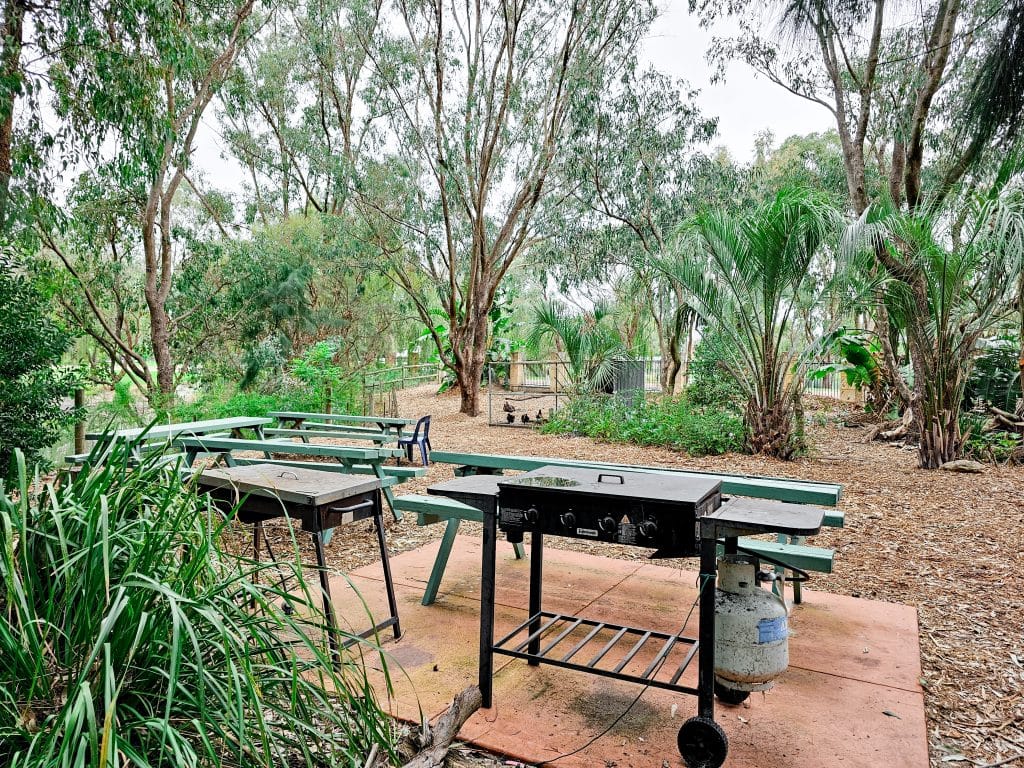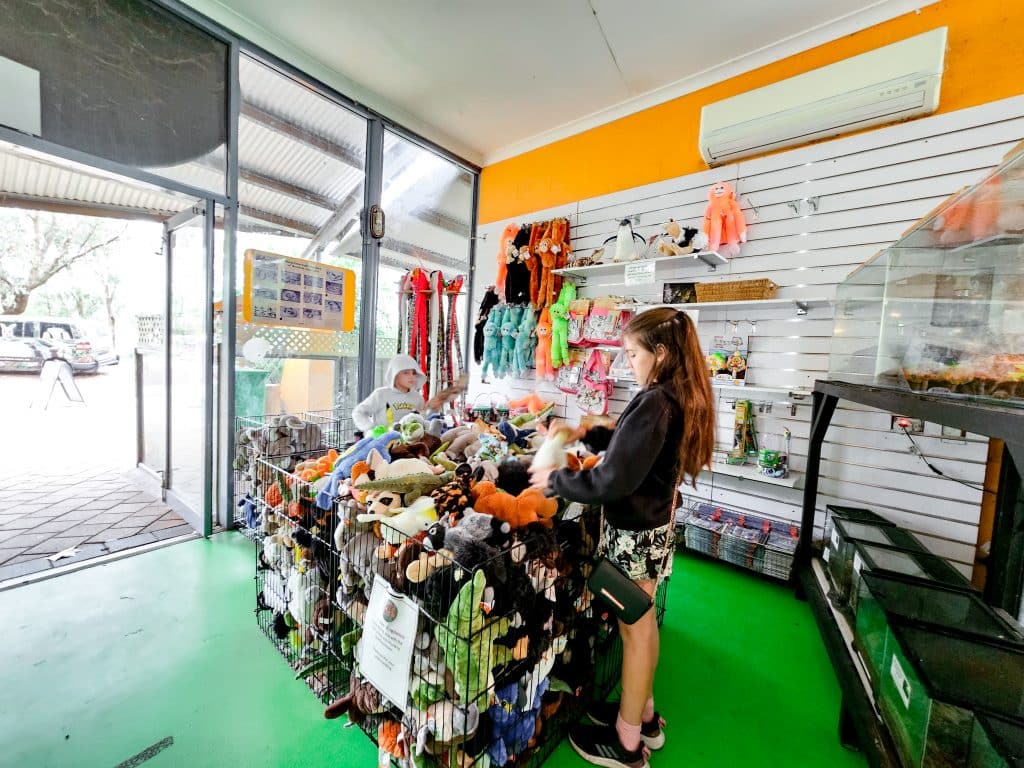 Ranger Red's Zoo was an absolute delight, we created some lifelong memories, and I highly recommend it to families who are looking for a hands-on animal experience.
Ranger Red's Zoo & Conservation Park
Sanctuary Drive, Pinjarra, WA 6208
You can book tickets and close encounters for Ranger Red's Zoo at the Visit Dwellingup website
Find more places to visit with kids in Perth