There is something truly magical about ice skating on an open-air rink in the heart of Mandurah! Skating in Mandurah returns to the Eastern Foreshore this winter from 30th June – 16th July. This magical winter wonderland offers something for anyone from ice skating, an adrenaline-racing snow slide, rides, and a cozy place to enjoy a drink, the ice rink is also covered which means it can be enjoyed rain or shine!
Skating in Mandurah is perfect for beginners and those with more experience. An adult must be on the rink to assist children under 5. Helmets and double-bladed skates are available. Children under 3 are not allowed on the ice.
Kanga aids are available for $10 to help keep children and beginners stable on the ice, small children can sit on the front part of the Kanga, older siblings or adults can push the Kanga around the ice. My children, big and small, loved the kanga aids! Helmets, knee pads and elbow pads are also available.
All skating sessions are 45 minutes and include skate hire, adult (15+) $21.75, children (5-14) $21.75, under 5 $11.38, family (2 adults + 2 children 2) $76.64. You can purchase tickets online or at the box office.
The snow slide was definitely a firm favourite for my kids, for just $8.13 you get 3 goes down the slide. Kids can go down by themselves or on a parents lap – little ones will need a hand carrying the donut to the top of the slide as they are quite heavy.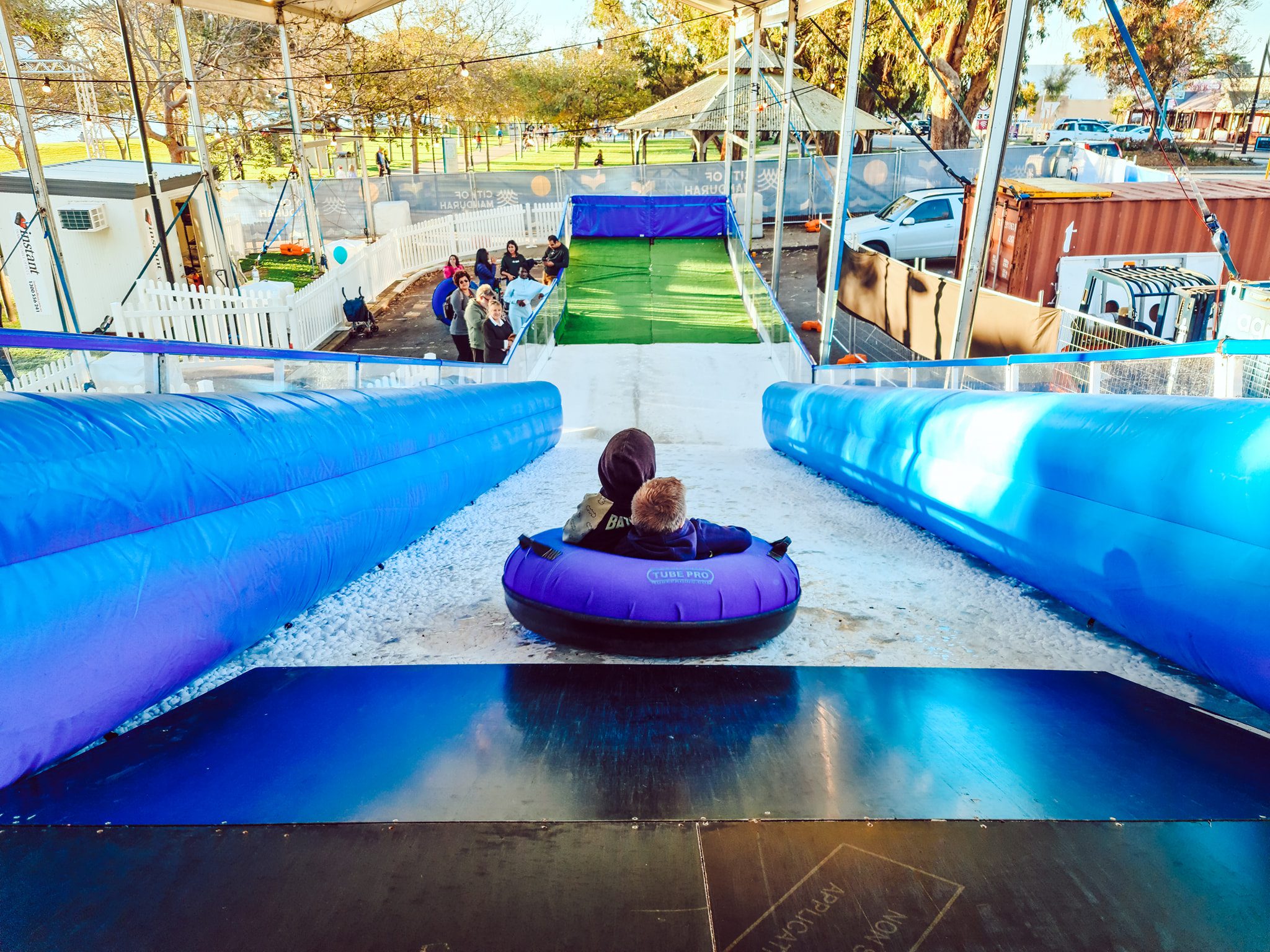 There are carnival rides for the kids to enjoy.
Bees Ride.
Water Boats.
Tea Cups.
You can grab a bite to eat or a drink from the Brighton Lodge, which overlooks the ice rink.
Skating in Mandurah is the ultimate winter activity and affordable for the whole family.
Skating in Mandurah
30th June – 17th July
54 Mandurah Terrace, Eastern Foreshore Mandurah,
For more information visit www.mandurah.wa.gov.au/skating-in-mandurah
Find more things to do in the school holidays