Little Land is a brand new and unique play opportunity for toddlers to ignite their imaginations and be whoever they want to be! Whether your little one dreams of being a shopkeeper, hairdresser, doctor, firefighter… or maybe all four, at Little Land their dreams will come true!
Completely different to a conventional play centre, Little Land has worked with early childhood educators, speech pathologists, pediatric OTs and parents to create individual play stalls for children to mimic what they see in real life.
There are six permanent play stalls;
Little Growers Market; which is set up like a grocery store, kids can grab a trolley or shopping basket and do some shopping or jump behind the till and play cashier. This was one of my boy's favourite stalls, there's a great selection of items, though I found it interesting to watch my boys gravitate towards the items we regularly buy.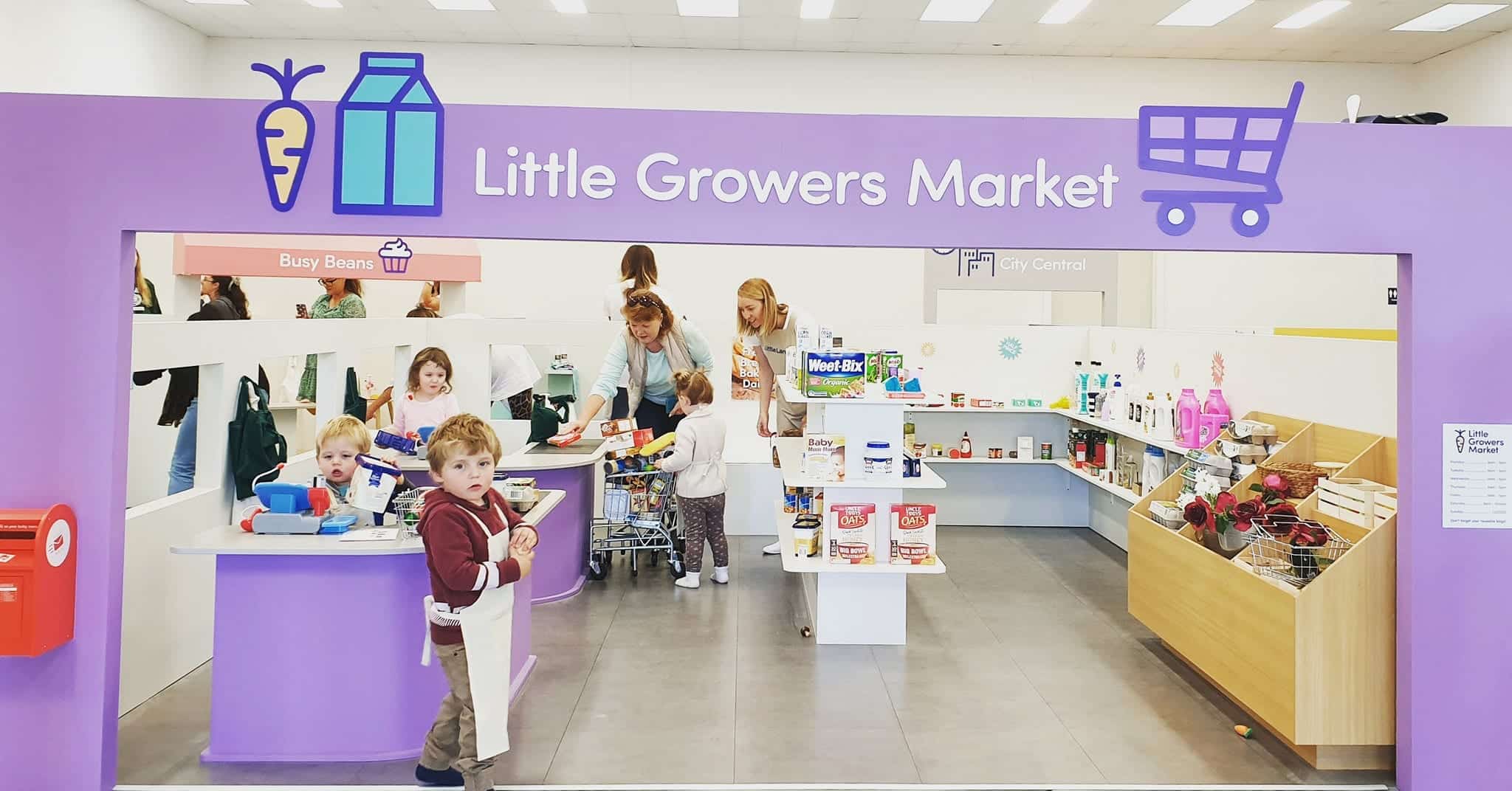 Home; the cosy home setting includes a kitchen, with utensils and food, my two-year-old was obsessed with putting things into the microwave and washing the dishes… clearly, he's been watching me at home! There is also a washing machine, dryer, ironing board and dustpan and brush, sofa, dolls bed and even a BBQ out the front.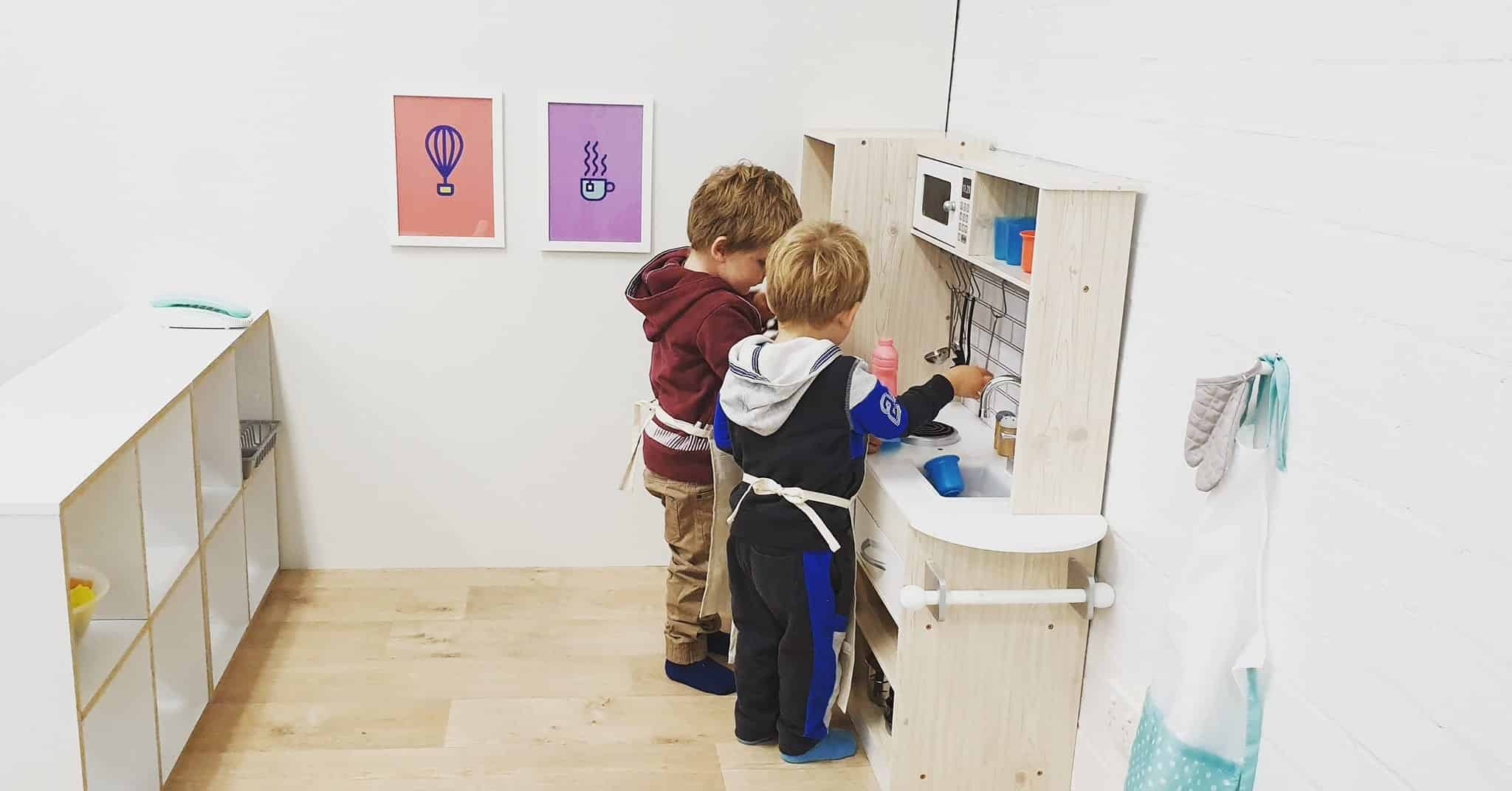 School; watching my three-year-old stand confidently at the front of the room playing teacher made this my favourite stall! It is set up just like a real classroom with tables, chairs, a whiteboard, books, puzzles, numbers and even the days of the week… everything you'd find in a kindy class at school.
Doctors' Surgery; my little doctor and his patient loved this stall. There is a waiting room, examination bed, x-ray pictures, syringes, and kids even dress the part as they nursing each other back full health.
Construction Zone; my boys loved keeping Little Land in tip-top shape at the construction zone. Dressing up just like their dad in hi vis, a toolbelt around their waist and hard hat on their head as they rode the ride on the digger, built brick walls, drilled holes and screwed things back together.
Emergency Services; with a fire truck big enough to fit the whole crew, Little Land is in safe hands. Kids can play the part of firefighter, police officer or paramedic with dress ups and a box of props.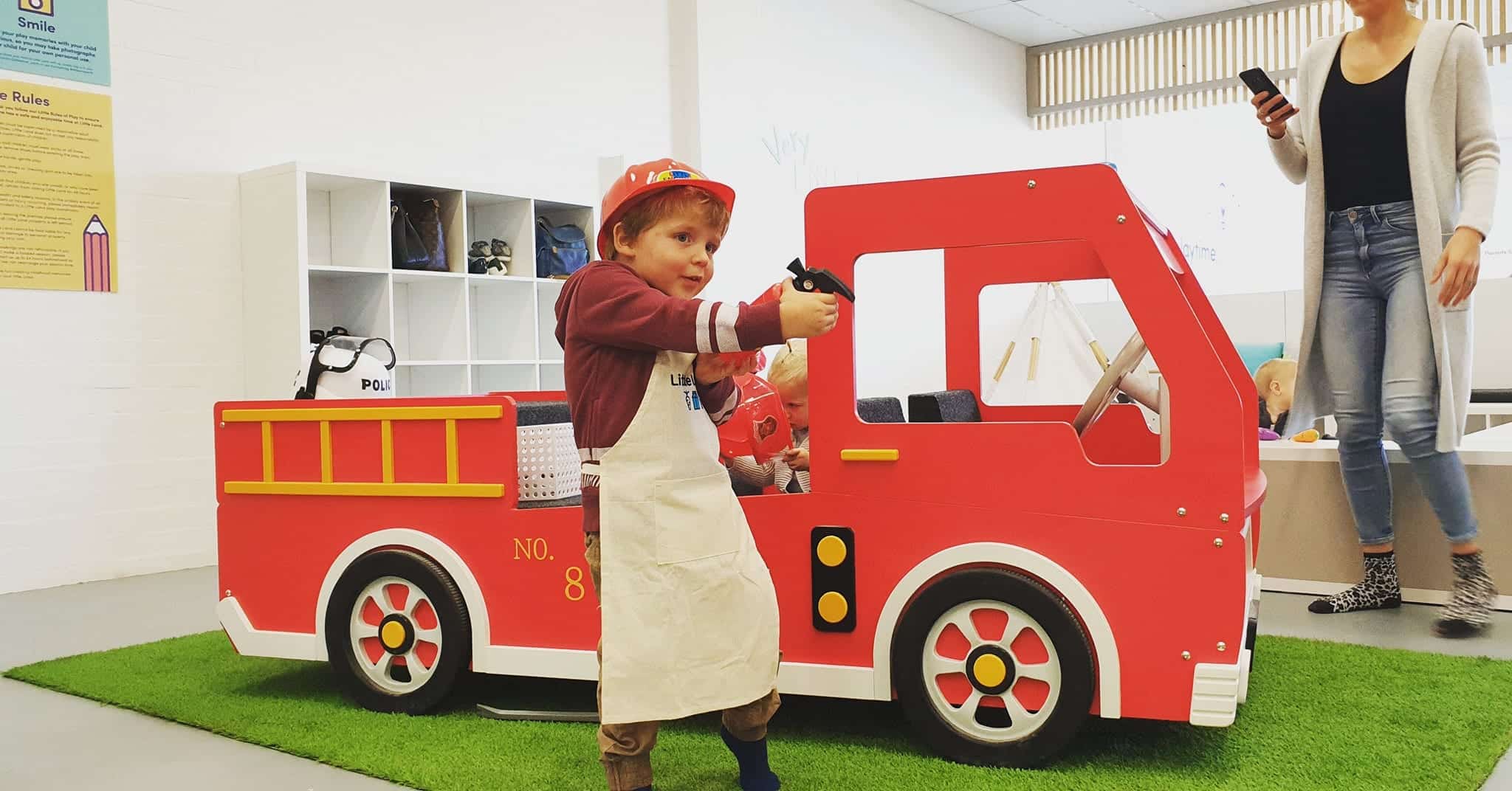 In addition to the permanent play stalls, there are a number of pop-up play stalls which will change regularly. During our visit the pop-up play stalls included;
City Central; which is an office space equipped with a desk, computer, printer, headset, phone, paper, books and clocks with different time zones. Given we have our own little office at home the boys got straight to work on the computer and making important phone calls.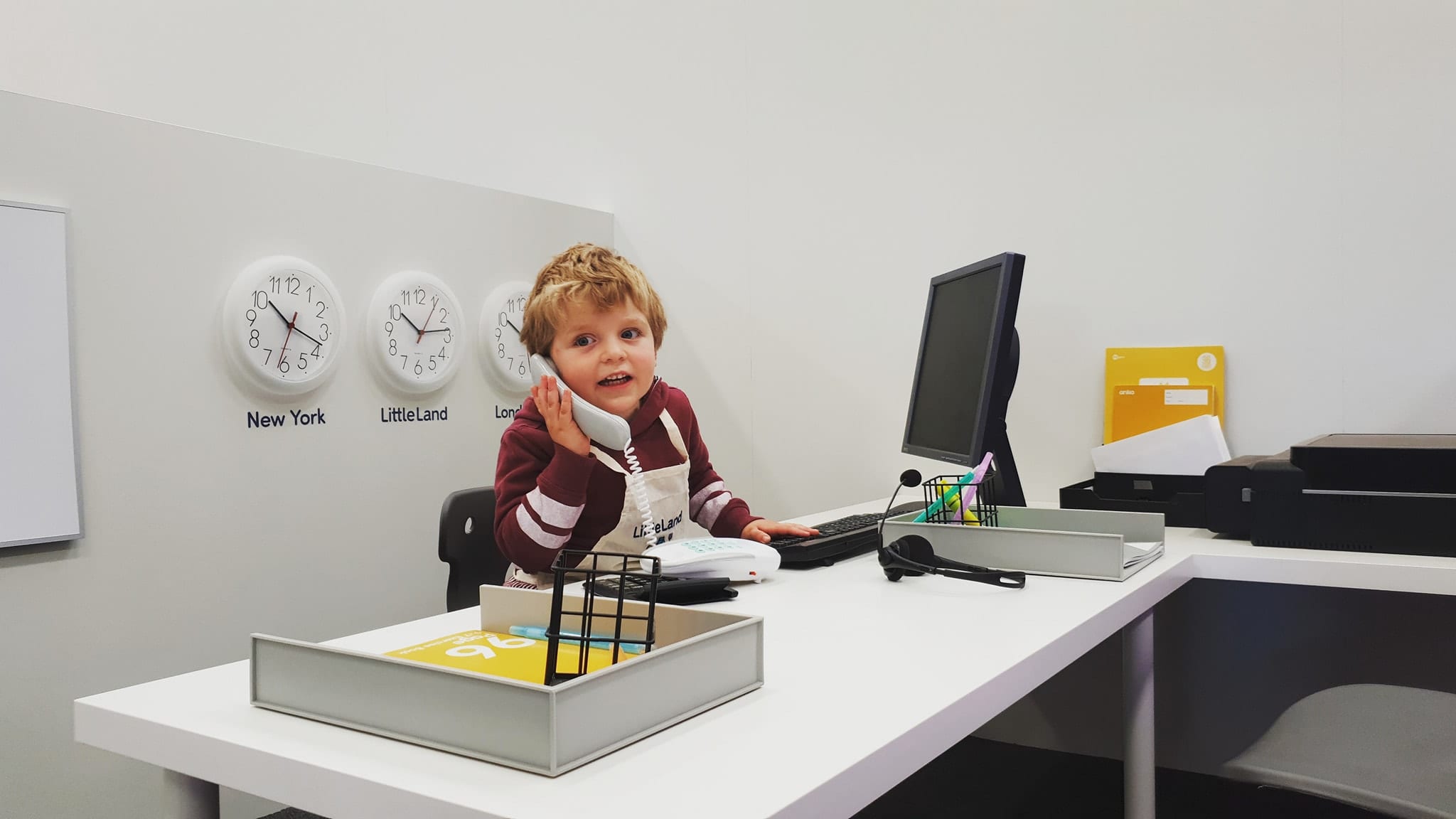 Hair Salon; this was by far the cutest setup, and my boy's reaction to this blew me away! They were washing, cutting and brushing each others hair, they even made me sit in the chair and have my hair done.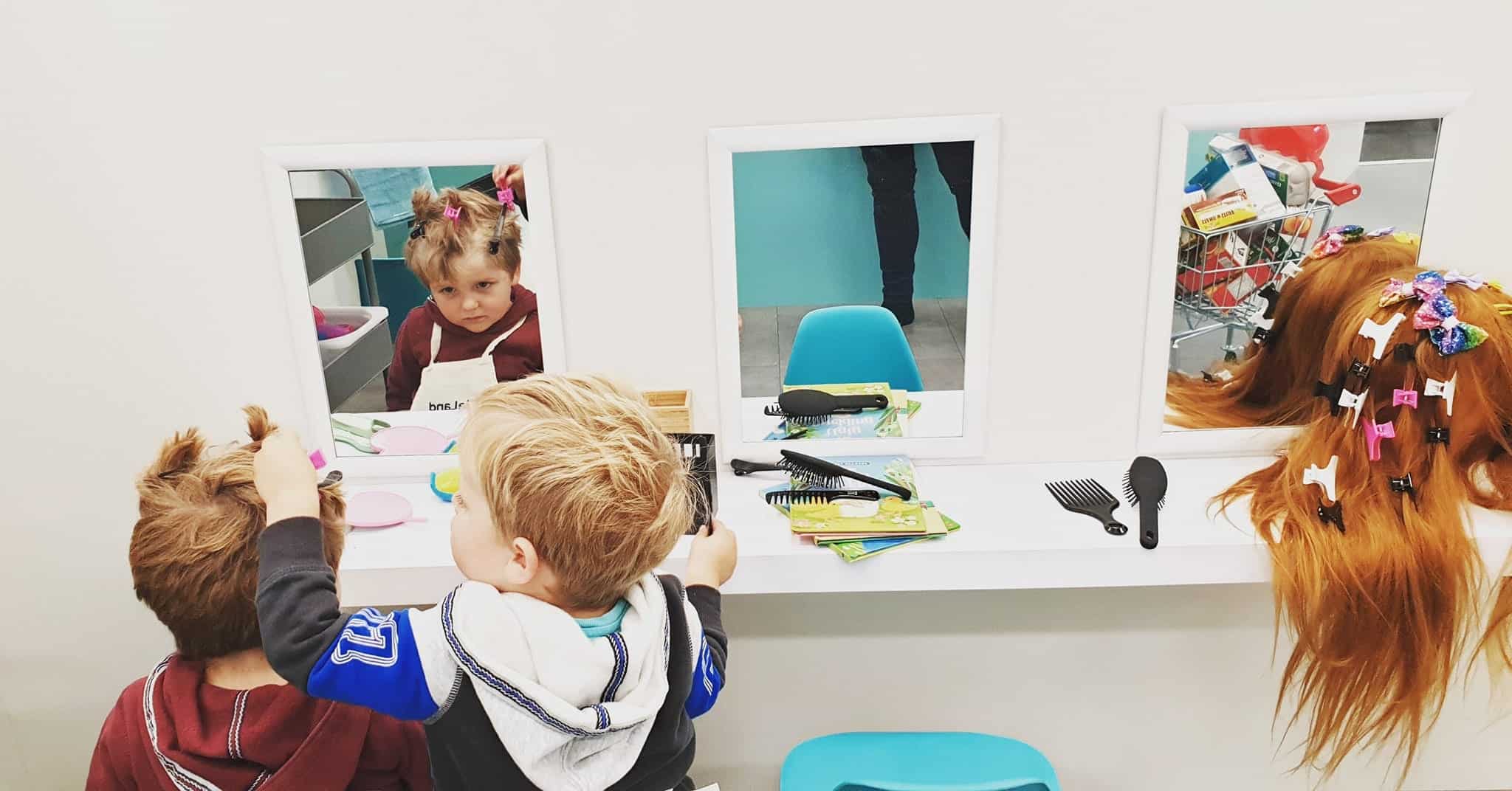 Busy Beans Cafe; my boys love to cook, so as soon as they saw the chef's hat they were in the kitchen taking coffee orders! If you don't want to run the cafe, just take a seat and enjoy a slice of cake.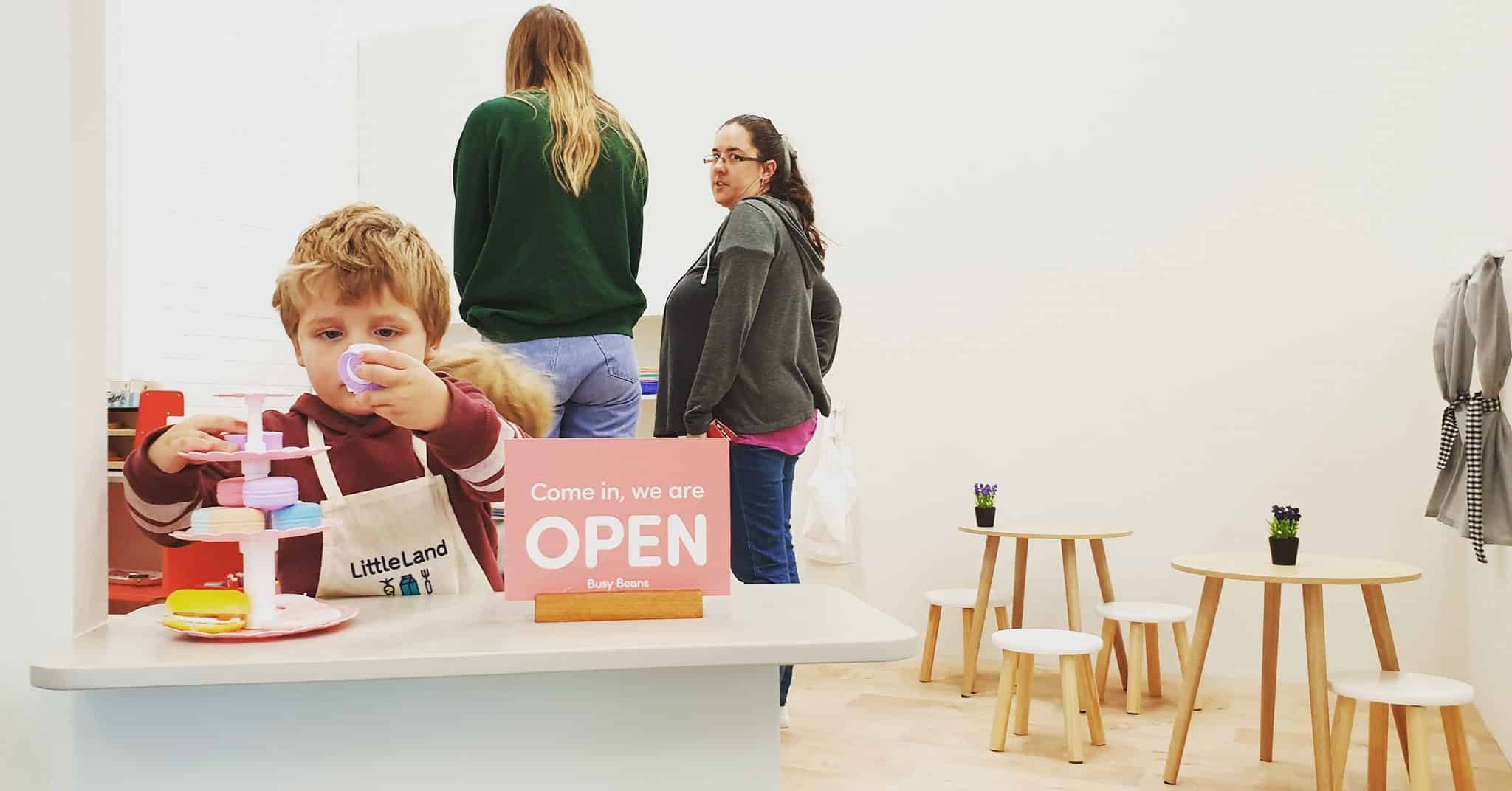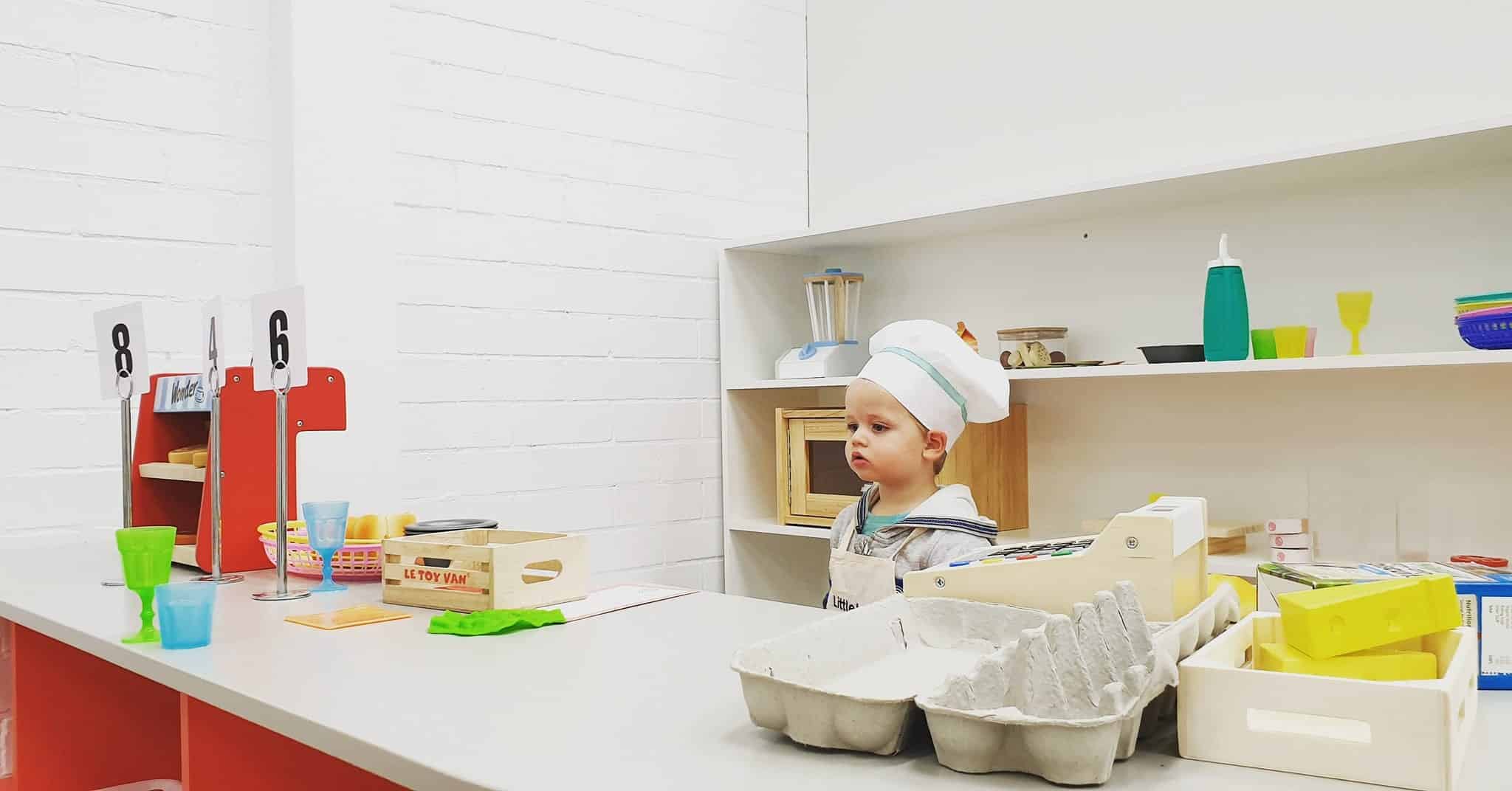 There are no age restrictions at Little Land, although it has been designed for children under 8 years. For babies, there is a small space called Very Little Land, which has been designed for children under 1, the area is perfect for crawlers and includes a small climbing frame, teepee, books and sensory toys.
Play sessions run for 90 minutes, at the end of each session, Little Land play coordinators restore the play stalls back to their pre-play order to make sure all the 'little' details are in place for the next session. There is a limit to 30 Land Wanderers and 30 Very Little Land Explorers per session. My boys had an absolute blast, we found the 90-minute session was plenty of time to explore all the stalls with time to go back and re-explore their favourites. Your child can even take a break from play and chill out in the calm corner. Remember to bring your socks, no shoes are allowed inside the play space.

You are allowed to bring outside food and drink into Little Land (there is a cafe next door if you need a coffee fix), there is a lovely seating area is located outside the play space with tables and chairs for adults, highchairs as well as some tables and chairs for the little ones. There is also a parents station with a microwave, bibs, placemats, spoons etc. Toilets are located at the back of Little Land with change table facilities.
We really enjoyed our visit to Little Land, I love the unique concept and it has been executed really well, as parents, we all know that role-play is an important part of childhood development, as it builds confidence, communication & social skills, physical development and problem-solving skills. I also love that Little Land includes play guides in most stalls to encourage parents to get involved and pretend with their child/ren.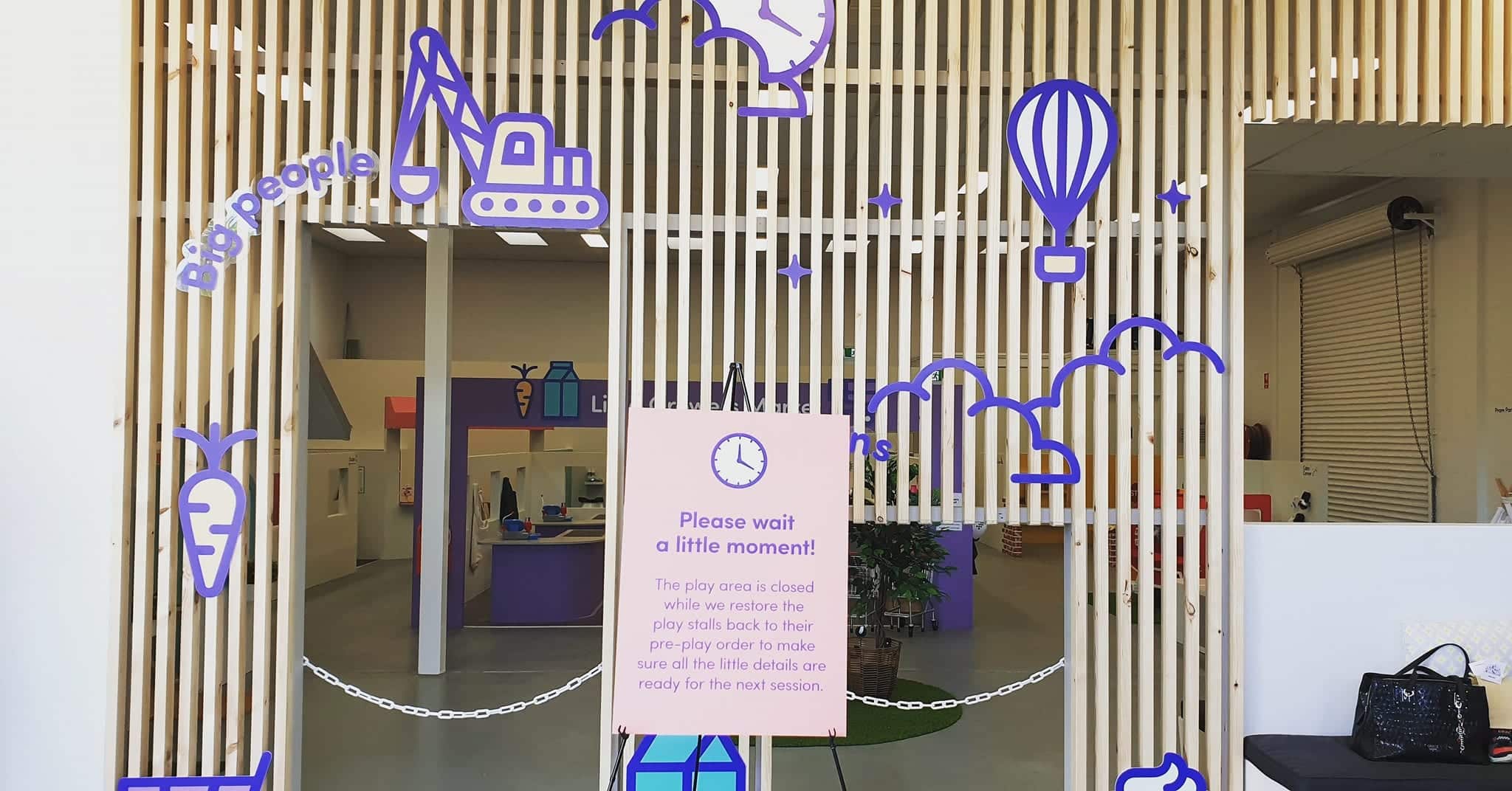 Little Land
76 Erindale Road, Balcatta
Open Tuesday – Saturday, with 4 play sessions daily at 9am, 11am, 1pm and 3pm.
Little Land Wanderers, $15 per 90-minute session
Very Little Land Explorers, $10 per 90-minute session, or free with a paid sibling entry
Online bookings are recommended.
Find more play centres in Perth