Australia Day Family Events in Perth 2022
Australia Day is a time for all Australians to come together to celebrate this great country. Whether you come together to share a meal or just to have fun and watch the fireworks, Buggybuddys has a list of events and family-friendly places for you to enjoy with your family and friends this Australia Day.
As a community, we also wish to respectfully acknowledge the traditional custodians of the land we will be meeting on, the Whadjuk Noongar (Perth region) people. We wish to acknowledge and respect their continuing culture and the contribution they make to the life of this city and this region. It is a privilege to meet on these lands.
Please check back often as we will be adding new Australia Day Events for 2022 as they become available.
With the current climate of COVID-19, please check the event details before attending as circumstances may change. Please take care to observe hygiene guidelines and any government advisories.
** UPDATE ** 
Down Under Bricktacular (Australia Day) – Bricks 4 Kidz
"Aussie-Aussie-Aussie!" Come celebrate all things Aussie in our Bricks Down Under special preAustralia Day workshop! Build a Kangaroo with LEGO® Technics and make it hop, find a Koala, fight off crocodiles, and then create a great bridge. Explore what makes this great country unique. Great fun for both girls and boys alike, with challenging models suitable for the age of the child.
Ages 5+ Full Day (9:00 am to 3:30 pm) – $95
✶ ✶ ✶ Children will take home a BRICKS 4 KIDZ® Merchandise, Santa Hat and Gift Bag at the end of the workshop.
Australia Day in Armadale Alcohol Free
Lions Club of Stirling's annual community Australia Day Breakfast
Australia Day 2022 Mosman Park
We're joining the Shire of Peppermint Grove and Town of Cottesloe at the Australia Day 2022 event on 26 January.
Where: Manners Hill Park, Johnson Street, Peppermint Grove When: 8am start
Citizenship Ceremonies for each council will take place and we will be also presenting our Citizen of the Year 2022 Awards.
Join us afterwards for a free sausage sizzle. Everyone is welcome!
This is a sustainable event please BYO drink bottle or water bottle for use at the water fountains.
* * *
Why not think of the environment and consider walking or riding to Australia Day this year?
Those who are unable to choose the more active transport modes might consider catching public transport or carpooling. It can be a cheap, easy and convenient way to travel.
Australia Day 2022 – Town of Cottesloe
Join us on Wednesday, 26 January 2022 to celebrate Australia Day! Cottesloe, Peppermint Grove and Mosman Park residents are invited to enjoy the combined Council event hosted by the Shire of Peppermint Grove commencing at 8am. This special day will see us come together to welcome new citizens to our wonderful country. We will also recognise outstanding community members as we present each Council's Community Citizen of the Year Awards. Enjoy entertainment and refreshments. Bring a picnic rug or chair and join in the celebrations from 8am at Manners Hill Park, corner of Johnston Street and Lilla Street, Peppermint Grove.
Celebrating Birak at Mary Crescent Reserve
Join us at Mary Crescent Reserve for a morning of celebrating our diverse community. Birak is the Noongar season from December to January, a time of rising temperatures and afternoon sea breezes. Enjoy a free community BBQ breakfast, Welcome our newest Australian citizens, Celebrate Indigenous culture with performances from Gina Williams and Guy Ghouse, the Gya Ngoorp dance group, and Bassendean Primary School.
Australia Day Multicultural BBQ Breakfast Picnic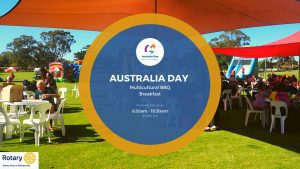 Family Fun Australia Day – City of Canning
The marking of 26 January is an important date in Australia's history and has changed over time: starting as a celebration for emancipated convicts and evolving into what is now a celebration of Australia that reflects the nation's diverse people and our great land.
Join us at Shelley Foreshore for a morning of family fun, and by family we mean your DOGS!
In between activities, you can chill out and soak up the summer atmosphere while you tuck into tasty offerings from our food trucks (listing to come).
There will also be two off lead areas (one for small pups the other for large) so your furry friends can do some zoomies and burn off some energy.
** UPDATE ** 
Please be advised that in line with Western Australian government health directions, masks will be mandatory at the City of Canning's Australia Day Event.
Australia Day Multicultural Dance Performance
Australia Day Multicultural Dance Performance invites all to celebrate Australia Day together at Chung Wah Cultural Centre.
FREE EVENT: Joint Celebration of AUSTRALIA DAY and INDIAN REPUBLIC DAY 2022
FREE EVENT from FIAWA: Joint celebration of "AUSTRALIA DAY " and " INDIAN REPUBLIC DAY" on 26th JAN 2022 from 12PM to 6 PM
2022 Australia Day Celebrations
Enjoy a bacon and egg burger from Pinjarra Lions Club from 7:45am, adults $5 and kids eat free!
Plus! Sweets on the Run will be there to offer soft serves, sundaes, iced coffees, iced chocolates and more delectable desserts!
Take a stroll through the Pinjarra Markets whilst the kids are kept busy with free water slides and face painting between 7:30 and 11:00am.
Live entertainment by Lionel Morris and Nate Lansdell.
Australia Day Celebrations – Shire of York
7.30am – Community BBQ Breakfast, live music, bouncy castle, water slides – bring your towel! 9.00am – Flag raising, Presentation of Community Awards Guest Speaker – Holly-Ann Martin, Australia day Ambassador, MD Safe4Kids and Child Protection Advocate FORREST OVAL at the YRCC ~ 10.00am – Pool Party at the York Pool Free entry and free sausage sizzle, inflatables and lawn games YORK MEMORIAL POOL Brought to you by Shire of York
Australia Day Community FUN Day
Join us as we celebrate Australia Day with water slides, games, stalls, and FUN FUN FUN!
Australia Day Concert
Our annual Australia Day Concert on January 26th is our main fundraising event, to fund the many worthy community and youth projects our club conducts.
Where better to have such a concert than at Woodbridge House, a beautiful historic, fully restored National Trust homestead in Guildford, nestled between the Swan river, Guildford Grammar and Governor Stirling Senior High School where there is ample parking.
Featuring Daniella Sicari, Briana Louwen, Chelsea Kluga, Jake Bigwood, Eljo Agenbach, Adrian Soares, Jesse Chester-Browne and Laurence Westrip.
The concert is family-friendly picnic style, outdoors with BYO blanket, chairs (preferably low), food and drink. A Coffee & ice cream van will be on site, and hampers are available to pre-order.
The concert commences at 5.00 pm, after the heat of the day, and concludes by 7.00 pm to not make it a late night for those who work the following day.
Children under 12 free.
** UPDATE ** 
Australia Day Breakfast and Citizen of the Year Awards
The Australia Day breakfast is a wonderful opportunity for our Chittering community to come together to celebrate what it is to be Australian. Come and join us for breakfast at the Lower Chittering Hall from 8.30am, followed by a Citizenship Ceremony and presentation of the Australia Day Awards. Thanks to the Lower Chittering Volunteer Bush Fire Brigade will be running the BBQ and activities!!
Australia Day in Byford
Join us to Reflect, Respect and Celebrate this Australia Day at the Shire's FREE Community BBQ Breakfast and family-friendly Backyard Cricket Match. 8.00am – 11.00am: Briggs Upper Oval.
Australia Day Awards and Citizenship Ceremony (invite only).
10.00am – 12.00pm: SJ Community Recreation Centre Function Room.
Australia Day 2022 Multicultural Night – City of Kalamunda
Australia Day 2022 Celebrations
2022 Australia Day Morning Ceremony & Great Aussie Breakfast
Morning Ceremony
8-9.30am, Wednesday 26 January 2022 Sir James Mitchell Park, South Perth (opposite Forrest St)  The City of South Perth invites all residents to attend the special Australia Day flag raising Ceremony at Sir James Mitchell Park. The program includes:
Blessing of the flag and flag raising ceremony
Citizenship Ceremony attended by representatives from both state and federal governments and presided over by television presenter Haley Thompson
Traditional Welcome to Country
Presentation of the AUSPIRE Community Citizen of the Year Award, acknowledging those special individuals and organisations who make a difference in our community
Presentation of the Ted Maslen Award for the student (resident of the City of South Perth) who achieves the highest score of all year 12 students within the City of South Perth.
Great Aussie Breakfast
9.30am-10.30am, Wednesday 26 January 2022 Sir James Mitchell Park, South Perth (opposite Forrest St) The Great Aussie Breakfast is set to sizzle after the Citizenship Ceremony with the Rotary Club of Como providing a BBQ breakfast with a choice of fruit and a cup of tea, coffee, juice or water for the small cost of $5 each, which goes back into the local community. There will also be free kids' entertainment.
Act Belong Commit
The City is committed to supporting positive mental health and wellbeing within the community, and has partnered with Mentally Healthy WA to promote the Act Belong Commit health campaign.
For more information visit the State Government website.
More information
BAYSWATER COMMUNITY BBQ BREAKFAST
Enjoy a relaxed morning of live music, free activities and a BBQ in the sunshine outside the City of Bayswater Civic Centre. The City is working to reduce single use plastic at all our events. Please bring along your own reusable drink bottle and refill at our free water stations.
Celebrating our Contributions to Australia
Celebrating South Sudanese Contributions to Australia as part of Australia Day celebrations.
Event highlights include live South Sudanese cultural performances, kids activities and traditional food.
Australia Day Coogee Beach Festival ** Event Changed **
Join us and one of our favourite MC's Christina Morrissy for our annual Australia Day celebrations! There's a fantastic line-up of entertainment by:
You can also park your bike safely and for free with secure bike parking and get a bike check-up while you're there.
Activities in the park
Free sausage sizzle (while stocks last)
Free water amusement rides and slides
South Coogee Volunteer Bush Fire Brigade demos
Multicultural food available to purchase on-site.
On the beach
Mermaids
Sandcastle building competition.
Food and drink vans will be available on-site for you to purchase from.
More information
** UPDATE ** 
Australia Day Coogee Beach Festival is going ahead with a few precautions. Close contact activities like face painting, waterslides, mermaids, arts and crafts, health checks & animal farm have been removed. We have live performances on stage, a free snag for brekky and you could win a trip to Rotto! Please remember to wear your masks and to check in. More: https://bit.ly/3rcLZBG
Australia Day BBQ Toodyay
Celebrate Australia Day with a free barbeque breakfast and live music. Reflect, Respect, Celebrate. This Australia Day we reflect on our nation's past which began more than 65,000 years ago, the impact of European settlement on our First Australians and the waves of immigration that have helped us become one of the world's greatest multicultural success stories. At the same time, we respect the contributions of everyday Australians and we celebrate by coming together and connecting with family, friends, community. Breakfast will be followed by the Australian Citizenship Ceremony and Community Citizen of the Year awards.
Australia Day Big Breakfast 2022 – City of Gosnells
The Australia Day Big Breakfast is held annually in partnership with the Rotary Club of Gosnells in Pioneer Park.
This family friendly event is for newly naturalised Australian citizens and local residents and includes a range of free entertainment and activities for all ages. Enjoy a full line-up of live stage entertainment, food trucks, native Australian animals, Australian themed arts and crafts, roving characters and much more. Cooked breakfast is offered for sale by the Rotary Club of Gosnells. The Australia Day Big Breakfast is proudly supported by the Department of Social Services.
SkyFest Australia Day Bunbury
Family Fun Day – Claremont
As the weather heats up what better way to cool off then at one of the Aquatic Centre's family fun days these Summer Holidays. Mermaids, prize giveaways, carnival rides, pool inflatables, sausage sizzle there's plenty to keep the kids happy all day Family Fun Day's: 19 December 2021 – 11am to 3pm 16 January 2022 26 January 2022 – Australia day BBQ 27 February 2022
The Great Aussie Buffet
Join us January 26th 2022,  for a delicious Great Aussie Buffet dinner. This year Gusti Restaurant will have all your favourites, offering marinated lamb cutlets, crispy skin salmon, chargrilled chicken and more. It's the perfect way to enjoy all the events in the city whilst you sit back overlooking the Swan River & Skyworks, relax, and enjoy the atmosphere of the  day. Check out the amazing "Great Aussie Buffet" menu below. Wednesday, 26th January 2022  | Serving from 6 pm – 9 pm
Australia Day @ The Brook Bar and Bistro
Aussie Day
Wednesday 26th January Live entertainment from 1 -5pm with everyone's favourite Aussie classic playlist, delicious food and cocktail specials.
Australia Day Community Breakfast
Reflect, Respect, Celebrate
Australia Day Fireworks & Movie
Join us for a picnic under the stars from 6:30pm, head out for Perth's best view of the fireworks at 8pm, then come on back for our 9pm screening of Ghostbusters: Afterlife. Tickets on sale now, all proceeds to the Telethon kids!
Australia Day Beach and Ocean Clean
Beach Cleaners, we will be meeting at Palm Beach Jetty at 8.30am – 9.30am. As with all of our events, volunteers must be responsible for your own safety and bring any PPE you need. Please avoid bringing drinks in single use/takeaway cups.
Australia Day Breakfast 2022 Spencers Brook
Come, enjoy and celebrate our beautiful location of paradise together.
See you there.
Australia Day at Busselton Jetty
Save the Date: Wednesday January 26 we will "put another shrimp (aka prawn) on the barbie" at the end of the Busselton Jetty. Buckets of Prawns, Prawn Salads, Prawn Pizza, Prawn Kebabs – all washed down with the best Wills Domain Wine and Eagle Bay Beers! 12pm to 8pm with Live Music. Put it in your calendar now! #australiaday #australiaday2022 Reflect, Respect, Celebrate. We're all part of the story. #busseltonjettyofficial Wills Domain Winery Eagle Bay Brewing Co
RISING SUN Tribute to Chisel and Jimmy – Australia Day 2022
Australia Day BBQ – Australian Arab Association
Celebrate with Australian Arab Association this Australia Day
EVERYONE WELCOME. This year the Australian Arab Association will host family-friendly events 26th January 2022, giving local residence and families the chance to enjoy Australia Day through a variety of activities and free entertainment. The AAA Australia Day events encourage acceptance, inclusion and respect for all people and invite our whole community to enjoy an Australia Day full of fun performances and kids rides. For many people, Australia Day is about celebrating the values, freedoms of our country. This events is a COVID safe environment
Australia Day at Uma
Celebrate Australia at UMA for a 4-course South American feast with wine pairings, followed by a rooftop viewing of the Australia Day fireworks.
Executive Chef Alejandro Saravia and team are culinary geniuses and have created a unique and original 4-course set menu utilising local and seasonal produce. The menu allows you to share a wide variety of dishes from ceviche, to street and high-end cuts, each with influences from the ancient Incans, coupled with recent immigrant groups Spanish, Africans, Chinese and Japanese.
*Guests will take the lift to level 8 and then walk up the stairs to L9 rooftop.
 Bookings are ESSENTIAL, reserve your spot by calling 0458 036 552 or by clicking HERE.
Dietaries: Please let them know when booking and the team will accommodate you.
Australia Day 2022 at Bluewater Bistro
Enjoy Australia Day 2022 overlooking the Swan River and City Skyline!
Australia Day 2022 at Fraser's Restaurant
Enjoy delicious food and drinks overlooking the Swan River, city and fireworks with an uninterrupted view of the Australia Day action!
Join us for an entertaining Australia Day 2022 Summer Cocktail Party on Fraser's terrace with delicious canapes, food stations, beverages, a kids corner and DJ entertainment. Parking included!
Fireworks are finally back! They are expected to kick off at 8 pm along the South Perth foreshore and can be enjoyed from our terrace and lawn, which is fenced in exclusively for our guests.
Fraser's Australia Day 2022 Summer Cocktail Party
Wednesday, January 26 5 pm – 9 pm $165 adults $75 youth (12 – 17 years old) $50 kids (up to 12 years) -Five food stations -Beverage package included -DJ entertainment -Kids corner – face painting -Special parking included —————————————————————————————————— Book our exclusive Private Dining Room on Australia Day – the perfect space for larger groups Same offer as above For up to 50 people Private terrace included $500 room hire (tickets not included)
——————————————————————————————————
Australia Day 2022 – Perth Flying Squadron Yacht Club Inc
Come and join us for a fun-filled Australia Day! Bring your own rug and enjoy the fireworks from our foreshore!
From 12pm enjoy;
Zumba class – City of Rockingham Summer Series
Looking for a fun, new way to workout? Join experienced Zumba instructor, Nicole Garcia-Lobos, for a free outdoor Zumba class on Wednesday evenings from 6pm-7pm at The Lookout. No experience necessary and no registration required. The class is open to all ages and abilities. BYO water bottle.
Wannamal Long Table Dinner
Join with the community of Wannamal from 6.30pm at the Wannamal Oval on Saturday 29 January to celebrate Australia Day under the stars.
Complimentary meal
BYO drinks
Family friendly
Rsvp to Angela 0419043960 Bookings essential, limited places, please advise any dietary reqs.