Family Friendly Events for May
We have a great month of family events coming up in May. Mother's Day is just around the corner, which is a great opportunity to spend some quality time together. If you're looking for family-friendly events and activities for the month of May, then Buggybuddys has you covered! Check out our list of fun events around Perth including live performances, charity events, festivals and more for the whole family.
Thomas Dambos Giants of Mandurah
The GIANTS OF MANDURAH is a free outdoor exhibition celebrating the extraordinary beauty and importance of protecting our natural world, including Mandurah's globally significant Ramsar-listed wetlands, unique waterways, bushland and wildlife. Begin at Mandurah's Visitor Centre and choose your own adventure on your journey to discovering each of Thomas' hidden Giants. Collect clues along the way to reveal the location of the final Giant, but shhhhh…..don't tell anybody else. The GIANTS OF MANDURAH has been initiated and produced by FORM Building a State of Creativity and delivered in collaboration with the City of Mandurah. The project is supported by the State Government through Tourism WA's Regional Events Program, the Department of Local Government, Sport and Cultural Industries, and Lotterywest. Visitors will have plenty of time to explore the GIANTS OF MANDURAH, which will be on display for at least 12 months from 12 November 2022. For more information visit giantsofmandurah.com.au.
Read the Buggybuddys review of the Giants of Mandurah
Australian Heritage Festival
THE Australian Heritage Festival is back for 2023, running between 10 April – 14 May 2023. The annual Australian Heritage Festival is the country's largest festival celebrating natural and cultural heritage that runs throughout April and May 2023. For more than 40 years the National Trust has connected the nation through the Australian Heritage Festival. From the city to the region across Australia, this is an opportunity for the community to immerse themselves in our rich and diverse heritage, offering unmatched access to special exhibitions, tours, talks, workshops, food fairs, ceremonies, demonstrations, dinners and more. The 2023 festival theme is Shared Stories and invites event organisers to help us reveal Australia's layered history by sharing stories of our natural and cultural heritage that encourages the community to build deeper connections by sharing their own rich and diverse stories along the way. You're invited to celebrate Western Australian heritage with us across 5 weeks.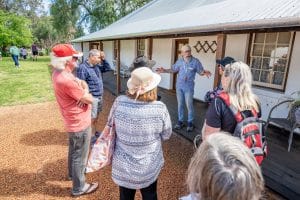 Padbury Community Kindergarten Open Day
Mindfulness in May: Raising Resilient Children (Frye Park)
Come along to these FREE workshops for parents and early childhood educators to learn about mental health and wellbeing in young children.
Food Sensations for Children by Foodbank WA
Food Bank is hosting another Food Sensations for Children at our Centre!
Heart Beat Club Free CPR
Could you save your child's life in an emergency?
Autism Early Access Session
On the first Saturday of the month the DFES Education & Heritage Centre hosts an early access session to support children with autism and their families to explore and enjoy the Old Perth Central Fire Station. It's an opportunity to visit the Centre your own way and without the crowds. Bookings are essential – educationandheritage@dfes.wa.gov.au
Heat-wave proof your home
Join environmental educator Chris Ferreira to learn how to cool your home with clever tree planting.
Tree Hugging!
Let's get together to show some love to the trees in South Beach!
Make & Take Manga workshop
Learn to make your own Manga and take home your Kawaii art piece!
'May the Fourth' Light Saber Workshop for Teens
Light Saber Combat Workshop
Hillarys Boardwalk Mini-Market – Mother's Day
Hillarys Boardwalk are excited to put on a mini-market for you to shop lots of goodies that are going to be perfect as Mother's Day gifts. Don't leave it to the last minute, come the week before Mother's Day to shop up a storm and enjoy the stunning surrounds of Hillarys Boardwalk as well as the multitude of dining options.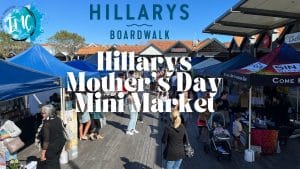 Leederville Community Yard Sale
Leedy's best community market is pulling in to your favourite neighborhood courtyard!
Tree tasting with the Forever Project
Taste the food from trees and get some practical ideas on how to grow food in your garden!
Worm farming at home
Learn how to recover food scraps and improve the health of your garden by worm farming at home.
Scenes from the Schoolhouse
Discover school life of days gone past at the Wanneroo Schoolhouse! Dress up for an old school photo, practise your copperplate, and more!
Flinders Indoors Winter & Mothers Day Markets
Come along and keep warm this winter while shopping for wonderful Mothers Day presents (other people too). Featuring candles, crystals, gifts, art and so much more.
WE ARE SEEKING: Crystals, Soaps / Body Products, Oils, Resin Products, Baby Clothing & accessories, Kids & Adult Clothing, Jewellery*, Toys/Novelties, Artisans, Personalised / Vinyl gifts, Plants, and any new, imaginative items we may not have thought of!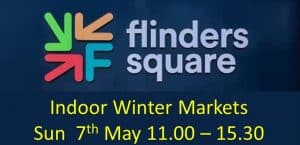 High Voltage
Join us for the ultimate Sunday in Freo on 7 May, 1 – 6pm

Inspired by Perth Festival 2020's smash hit Highway to Hell, High Voltage is taking to the streets of Fremantle! Seven flatbed trucks become live music stages on the move making their way around a 5km street circuit with the sounds of great Aussie rock done differently on board. Stop by a truck stop on the route or kick back at one of three entertainment zones for an arvo of music and activities.
High Voltage is a rock'n'roll street circuit for the whole family. It's the ultimate Sunday afternoon to take to the streets and parks of Fremantle to celebrate live music, community and the legend himself – Bon Scott.
From 1pm to 6pm, a convoy of music acts on flatbed trucks will take a 5km street circuit around Freo, taking in Esplanade Reserve, South Terrace, Fremantle Oval and Wilson Park at South Beach.
Fans and families are encouraged watch the passing parade at a series of designated truck 'stops' along the route and enjoy diverse free activities, performances and 'mini-concerts' at three special zones – Fremantle Oval, Wilson Park and Esplanade Reserve. With performances from Australian rock icons to soulful singer-songwriters and from powerful punk to Aboriginal bush bands performing in traditional language, there will something for everyone.
SAGE – Sexuality and gender equality
Do you identify as LGBTQIA+ or even just unsure? Want a safe place to hang out, make friends and learn more? We are excited to launch this new program! Come join us from the beginning to have your say in what you want this group to cover. Lots of opportunities to make friends and hear from people who identify as being part of the community.
Date: Tuesdays (Begins second week of term) Times: 3 – 5pm 12 – 15 years 5 – 7pm 16 – 24 years Location: Billy Dower Youth Centre, 41 Dower St, Mandurah Phone: 9550 3670 Email: youth@mandurah.wa.gov.au Register online by completing the online membership form
Girls/Ladies Only Bibra Lake Skateboard Clinic
Beyond Skate are running free Girls/Ladies Only Skateboarding Clinics at Bibra Lake Skatepark this summer. Register now!
Bayswater Twilight Markets – Mother's Day Market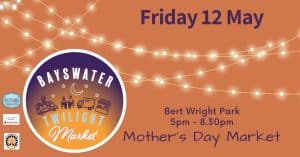 Autumn Festival – Mother's Day Weekend
Join us this Mother's Day weekend for afternoon live music, art and craft workshops, and incredible autumn colour!
Our vintage train will be running all weekend, providing great photo-ops and good fun for the whole family; and the Roundhouse Cafe will be open serving coffee, ice creams, and grab-and-go food options.
The Freedom Fairies will be visiting on Sunday for face-painting fun and their iconic bubble show! Enjoy afternoon live music on the Roundhouse lawn, and attend art and craft workshops all weekend, hosted by Cabernet and Canvas and Jotterbook Flowers (bookings essential).
Book online now and come in on the day and enjoy a spectacular autumn weekend in the Perth Hills, all while celebrating Mum!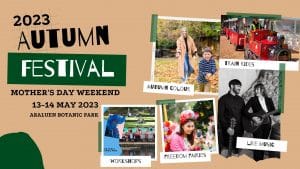 Interview Skills: An intro for teens
Tips to shine in a job interview!
Mother's Day Planters in The Patch
Make Mum's day with a special handmade gift! Kids can get creative decorating their own terracotta pot, and then planting their own seed that can be tended to together at home.
Sessions start at 9:30am, 10:15am, 11am, 11:45am, 12:30pm and 1:15pm. Recommended for ages 3+.
Northlands Shopping Centre Mother's Day Markets
Come along and keep warm this winter while shopping for wonderful Mothers Day presents (other people too). Featuring candles, crystals, gifts, art and so much more.
Community Clothes Swap
Time for a wardrobe refresh? Have you got clothes, shoes, and accessories you no longer wear? Then join us at City's Administration Centre for our Community Clothes Swap with special guest speaker. We will be provide a brief presentation on how to dress more sustainably, shop mindfully and get tips and tricks to help reduce textile waste. In under two hours, you could have a whole 'new' wardrobe for free. All you need to do is bring along quality clothes, shoes, and accessories you don't wear anymore (any style or season) and exchange them for items you will. Bring whatever you have and take whatever you like, and best of all, it's FREE. Any left over clothes are donated.
Mother's Day Craft Workshop // Free Fun for the Kids!
Location: Outside IGA Craigie, 15 Perilya Rd, Craigie WA 6025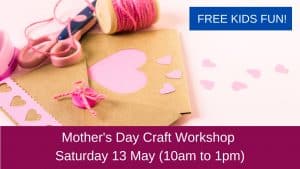 Mother's Day Mini Market at Brookfield Place
Get mum the perfect gift this Mother's Day at our curated Mini-Market at Brookfield Place.
Running over lunch hours we have made gift giving easy by brining together stunning gifts in a central location for you to shop during your lunch break.
Running Tuesday – Thursday May 9, 10 & 11 from 11:00am – 2:00pm you will be sure to find the perfect gift for that special mother figure in your life (or for yourself!).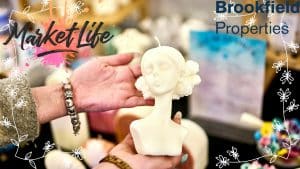 Mother's Day Craft Workshop
Saturday 13 May – 10am to 1pm
*Free Fun for the Kids*
Location: Outside IGA Aveley, 77 Swanleigh Parade, Aveley WA 6069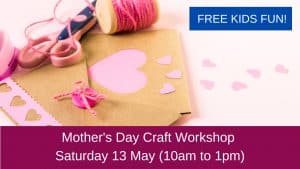 The Wonderful World of Worms – Ages 5-12
Find out about these amazing creatures.Easy to look after, they eat all your scraps giving you beautiful fertiliser. Special take home gifts
Anime Club for Teens
It's a monthly meet-up at the library for anime fans aged 12-17! Come and make new friends to discuss what manga you're reading, have fun with lots of anime-themed crafts and games, watch some anime episodes and enjoy some Japanese snacks. Bookings are essential and can be made online, in person, email or phone.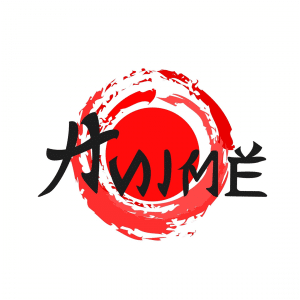 Tax, Super and Banking: An intro for teens
Looking for or just landed your first job: How do I file for a TFN? What is superannuation? And, HELP! I need a bank account!
Dungeons and Dragons
Ever wanted to try your hand at being a brave adventurer fighting to survive in a world beset by evil and magic?
Parents and Bubs Program – Parent's and Bubs Yoga
Spend a morning with your child being guided through positive poses and blissful meditation in flow yoga.
Buckle Up for National Road Safety Week @ Wanneroo Library
Think about safety when experiencing a ride: Seatbelts, helmets, protective gear…
Community Board Games Social Club
Bring your family or friends, your favourite board games and a plate of nibbles and have some old school fun! Games start at 2.00 pm until late. The Board Games Social Club run every 3rd Saturday of the month. Connecting with people offline is more fun!
Go Bananas with Lisa and Minky Album Launch – Do You Know Your Poo?
Don't miss the opportunity to see Lisa and Minky perform live at the launch of their first album release, Do You Know Your Poo?
Mother's Day Market
Mother's Day Market
15 Old Great Northern Highway, Midland.
11th-13th of may 9am-5pm.
Browse the collectives permanent stall holders and pop ups. Specials in store and entertainment. Also get a coffee and cake.
Anime Taster
Get a taste for amazing anime!
CELEBRATE THE FORESHORE
Family fun at the beautiful Claremont Foreshore!
Celebrate the Foreshore will be a family-friendly event set against the beautiful backdrop of the Claremont Foreshore. There'll be all sorts of fun activities taking place on the day including:
Kayaking, Paddle boats and other water-based fun
Sandcastle building
Kite flying
Face painting
Sustainability stalls
Food vendors
Live music and performances
Plus a whole host of other activities are planned for the day! Come down and enjoy the natural wonder of our beautiful Foreshore at what is set to be a fun day out for the entire family.
National Simultaneous Storytime – Speedy the Sloth
National Simultaneous Storytime (NSS) is held annually by the Australian Library and Information Association (ALIA).
Mindfulness in May: Raising Resilient Children (Armadale Library)
Come along to these FREE workshops for parents and early childhood educators to learn about mental health and wellbeing in young children.
Tokyo Alley 11: Marine
Tokyo Alley is Western Australia's longest running, active anime convention and artist market! As a non-profit organisation, we're on a mission to create opportunities for local artists and fans! For all things anime, gaming, and Japanese culture, join us for an exciting weekend of activities, entertainment, and more!
Mother's Day Market
We want to help you celebrate that beautiful, strong, amazing female role model in your life and are holding a Mother's Day Market so you can come and enjoy choosing something special for her this Mother's Day. There will be the chance to win a hamper full of goodies too!
Rave at the Library
Libraries are not quiet places anymore!
Time For Stories at the Ferry Tram
Join the City of South Perth and the South Perth Historical Society for Story Time at the Ferry Tram!
Strategies in Self-Defence Dynamics | 12 – 16 Year Olds
Self-defence is a defence permitting reasonable force to be used to defend one's self or another.
Find more Perth events for Families here.
Why not check out our amazing Mother's Day Events Ideas in Perth list for more things to do with Mum or as a family?