Where can I pick grapes in Perth?
There's no denying Perth families love fruit picking! What's there not to love, it's an inexpensive activity for the whole family and there is nothing better than biting into a freshly picked fruit! Padbury Pickings located in Herne Hill has opened their gates to allow the public to pick their own grapes – at a bargain price of $5 per kilo for red and black grapes and $6 per kilo for green grape! CASH ONLY.
The friendly owners who are originally from Croatia have over 50 years experience in the grape growing industry, so they really are grape experts! There is an awesome variety of grapes available for picking, including seedless red, green and black grapes, you can pick any or all of the types of grapes – my kids favourite was the Sultana Grape which is nice and sweet.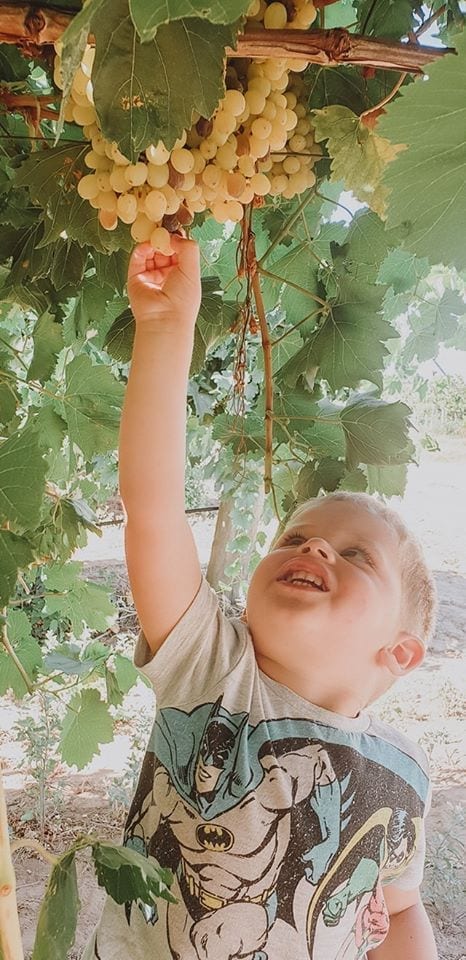 Entry to Padbury Pickings is free, you will be provided with boxes, scissors and bags. Tasting as you pick is allowed and encouraged, meaning you will leave with a full belly!
As we arrived one of the owners introduced the kids to the neighbouring horse, who it turns out loves eating grapes too.
We spent a good hour and a half at the vineyard, taking our time picking out grapes that looked and tasted just right. We also had lots of fun taking some nice family snaps.
I would recommend wearing enclosed shoes or be prepared to get sandy feet. If your toddlers are anything like mine they might leave a little grubby too. If you are accompanied by a baby then it may be better to take along a carrier rather than your pram.
Grape season usually runs from December to February, Padbury pickings is usually open weekends from 9am – 3pm (seasonally) but make sure you visit their Facebook Page or Instagram for up to date information.
Padbury Pickings
62 Padbury Avenue,
Herne Hill.
Located just off Great Northern Highway, easy to find with ample street parking available.
Find more places to pick fruit in Perth