With the borders closed, it was time for us to visit somewhere different within WA. Geraldton had been on my to do list for a while. I'd visited lots as a child to see my family, but I hadn't stayed in the mid-west port city for decades. I had no idea on the things to do with kids in Geraldton, so we packed up the car, set off to "Wander out Yonder" and check out what Gero has to offer!
City
The main street, Marine Terrace, is just one block back from the ocean and home to plenty of shops and cafes. It's lined with vibrant street art and the lighthouse roundabouts are lovely too.

Geraldton Foreshore
The Geraldton foreshore has been transformed in recent years. Once home to ugly railway lines and industry, the city has reclaimed the area for long, grassy promenades along the beach, cafes and playgrounds. The sunny city makes the most of its near perfect weather with a tonne of fantastic playgrounds dotted along the foreshore. The wide footpaths make it perfect for scooters too.
Geraldton Water Playground – There's a fun'n free water playground near the city center, perfect for a sand-free paddle. Right next to the water splash zone is a great little playground, as well as a dedicated toddler and crawler play area, that is fenced and gated. Find out more in the Buggybuddys review.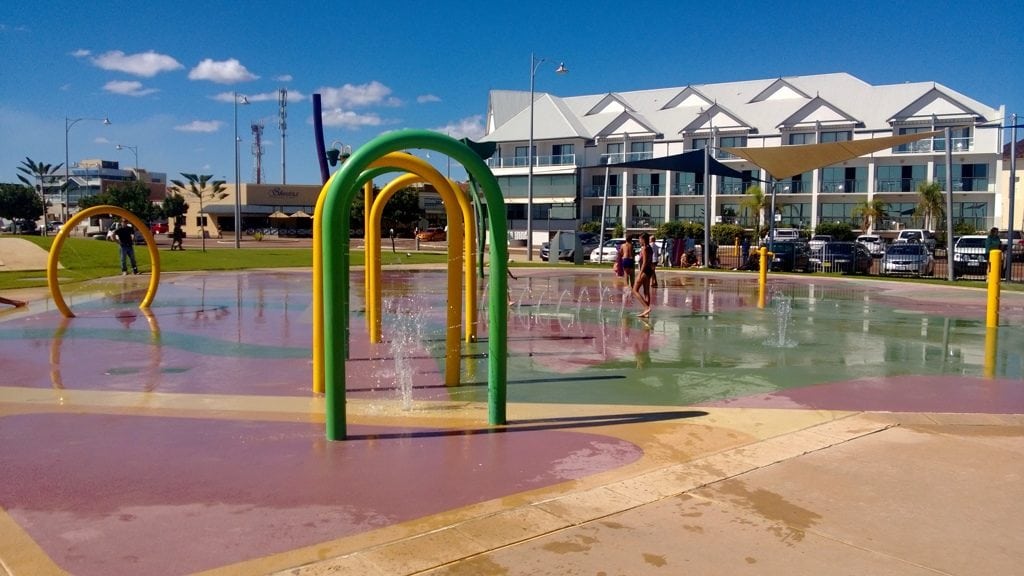 Youth Precinct – this is aimed at older kids, with a big emphasis on climbing and some BIG slides. There's also foosball tables, ping pong tables (BYO bat and ball) and some very cool electronic activity games to play, though my 11 year old was better at figuring out how they work! Find out more in the Buggybuddys review. 
Beresford Foreshore Playground – found 5 mins north of the city centre is the newest part of the foreshore redevelopment. Here there's more wide-open pathways along the beach (north to Buff Point), plenty of grassed picnic spots, a café and a fun, fenced playground. Find out more in the Buggybuddys review.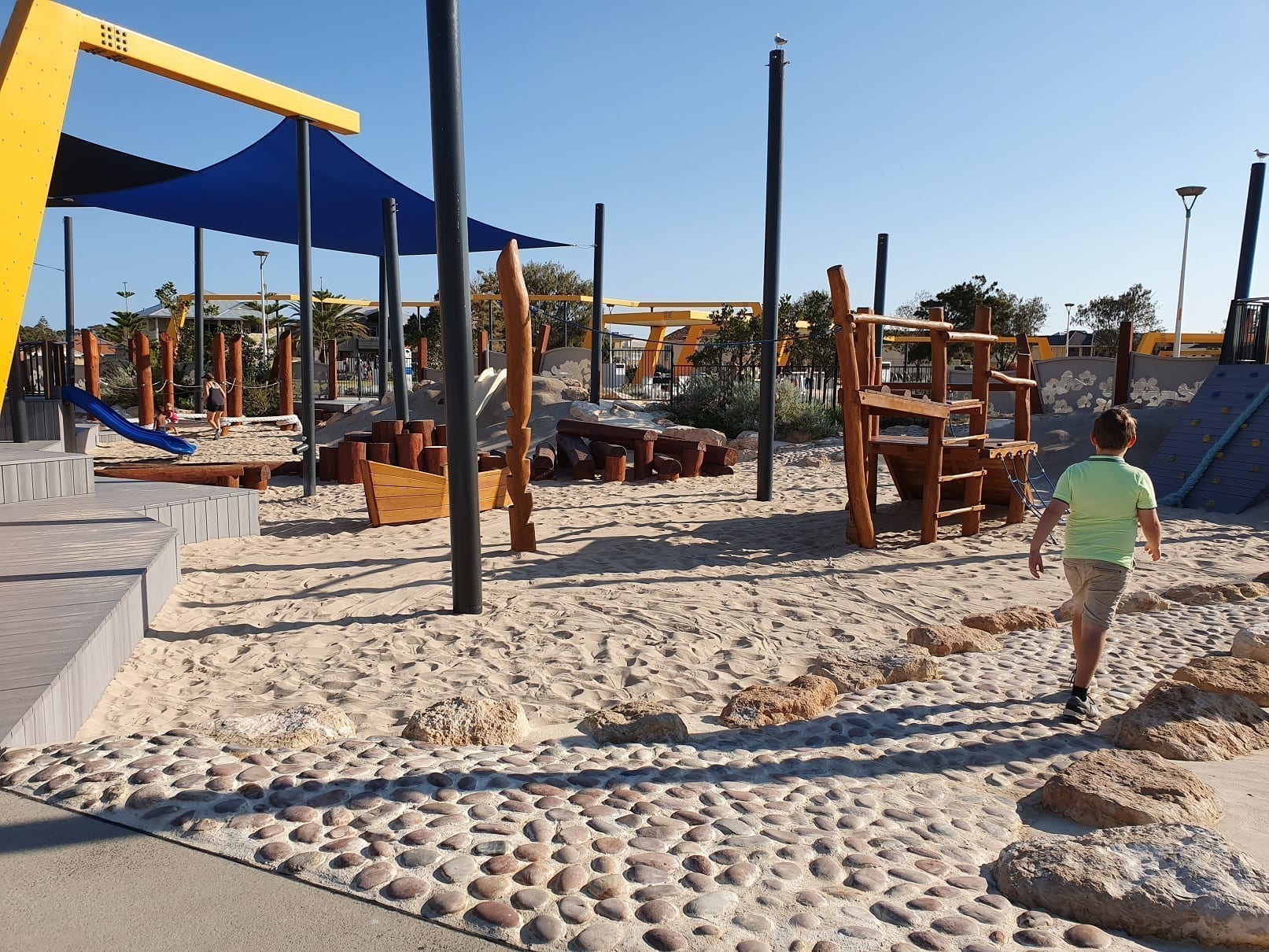 Kids will also love the "giant marble". An art installation that was displayed at Sculptures by the Sea.
Museum of Geraldton
The Museum of Geraldton is a great place to spend an hour or two to delve a little deeper into the city's history. This modern museum has many interesting exhibits which beautifully tell the story of the Midwest region. From its checked past (like the tales from the Batavia shipwreck), colonial days, to a HMS Sydney 3D video, and right up to the present day. Children's activities are held during school holidays. Entry is free, though a $5 donation is appreciated. Read more in the Buggybuddys review.
HMAS Sydney Memorial
The truly magnificent memorial to the HMAS Sydney is a must see. The site honours the 645 Australian sailors who were lost off the West Australian coast during a World War II battle with German raider HSK Kormoran. The dome features 645 seagulls to represent each of the lost Sydney sailors. There is also a wall of remembrance with their names, as well as photographs of the ship and info. A bronze statue of a woman represents the wives who looked desperately out to sea awaiting news of the ill-fated ship. A huge artwork also represents the bow of the ship. The spot perched high on a hill also offers a brilliant view of the city and ocean.
The Esplanade
The Esplanade is just west of Geraldton's foreshore and offers sweeping views over the ocean back to the city, as well as over to the port. Here there's look out points, binoculars and you may even spot a sealion!
Lighthouse
The vibrant Point Moore Lighthouse is almost 150 years old and well worth a visit for some happy snaps.
Beaches
Geraldton is blessed with so many white, sandy beaches! The most popular are found along the foreshore, as well as at St George's Beach (Bluff Point), St George's Beach, Pages Beach (Point Moore), and Tarcoola Beach, (Tarcoola Beach) are all worth a dip.
Eating Out
Being a foodie I was interested in the quality places where I could dine in Geraldton, particularly those that are also child friendly. For casual beach side eats, you can't go past Gero icon – The Jaffle Shack, which pumps out gourmet toasties at several outlets in town. Their sister café, Café Fleur was so good we brunched there twice. We also enjoyed a delicious lunch at Salt Dish and sunset dinner at Skeetas on the marina. All offer kids menus.
We really enjoyed our family break – there's so many things to do with kids in Geraldton. There's definitely enough to keep the whole family  occupied for a couple of days, particularly if the weather is fine, making it perfect for a stop off on a long trip up north. Be sure to check out sunny Gero too!
Find more information on Geraldton here. 
Find more places to holiday in WA here.