We've been camping in WA for 5 years now and had heard that Mandalay Resort in Busselton was THE place to go in the school holidays. Which meant we couldn't get in as it was booked up a year in advance! But perseverance paid off and we managed to get a cancellation quite easily for a 2 week stay over Xmas and New Year. So don't be discouraged if it's booked up, keep trying.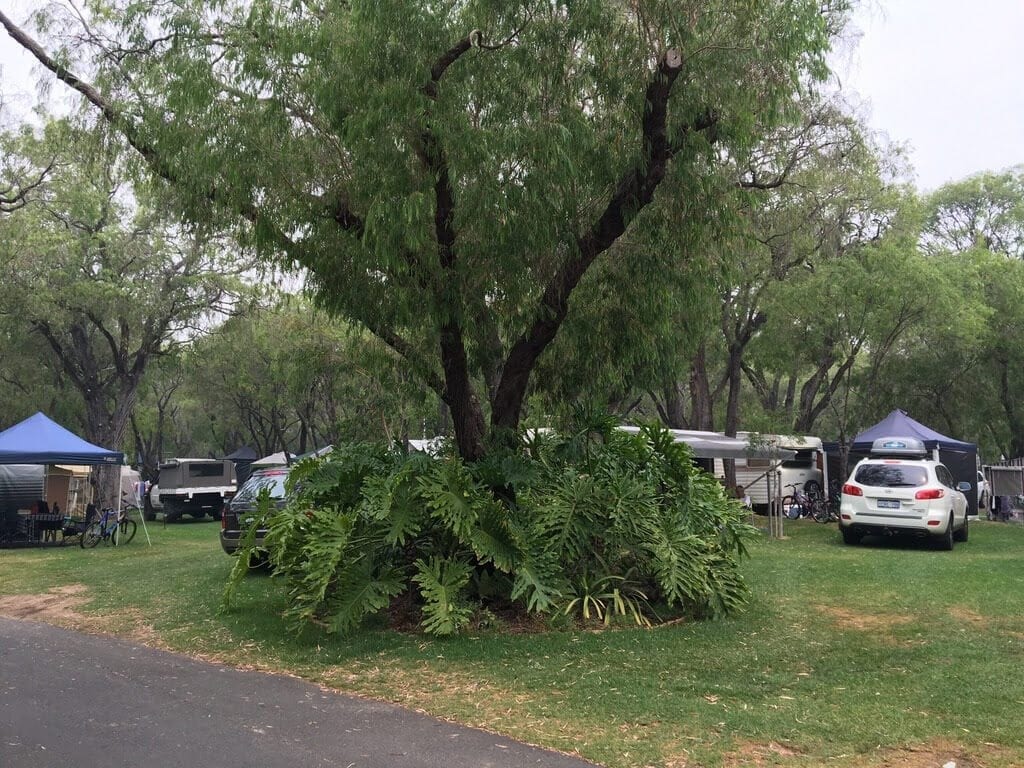 Mandalay isn't just for camping, they have plenty of cabins, some with spas and en-suite sites for the glampers. We had a powered site towards the back of the campground opposite the chalets. We found it quiet and lovely to have plenty of shade from the mature trees. There are possums in some of the trees which made for great night time walks around the park with a torch trying to spot them.
The facilities are fantastic including 3 playgrounds scattered around the park, a massive jumping pillow, games room, tv room, playing field, nice road/path around the site for scooters and bikes, 3 solar heated swimming pools (including a toddler pool) surrounded by sun loungers and the main attraction the "rainbow" slide.
Recently installed is a giant tower playground. There is a mix of metal ladders and rope ladders to help climb to the top of the tower. Although high, the tower is fairly easy to climb even for the smaller kids because of the ladders between levels. There are 3 slides coming off different levels of the tower. The smaller slide at the back is best for little kids – it's not too high and straight down so kids will be able to see their parents waiting at the bottom.
The tallest slide is great fun! It's the slide that attracts all the bigger kids as it's so high up. All the turns make it feel like you're spiralling down and kids were saying they felt a bit dizzy after. The last slide is the unsuspecting scary slide! It's straight down and a medium height so on the surface it looks simple enough. I went on this slide and was not expecting just how fast or how vertical it felt once in it. I flew down the slide and fell out with a crash. Definitely fun but probably not recommended for little ones. Overall, the new playground is so much fun and is a big attraction in the evening when all the families are out on the grassed area. Lots of bigger kids were busy making games chasing each other up and down the tower. It was great to see the playground appealed to such a broad range of ages.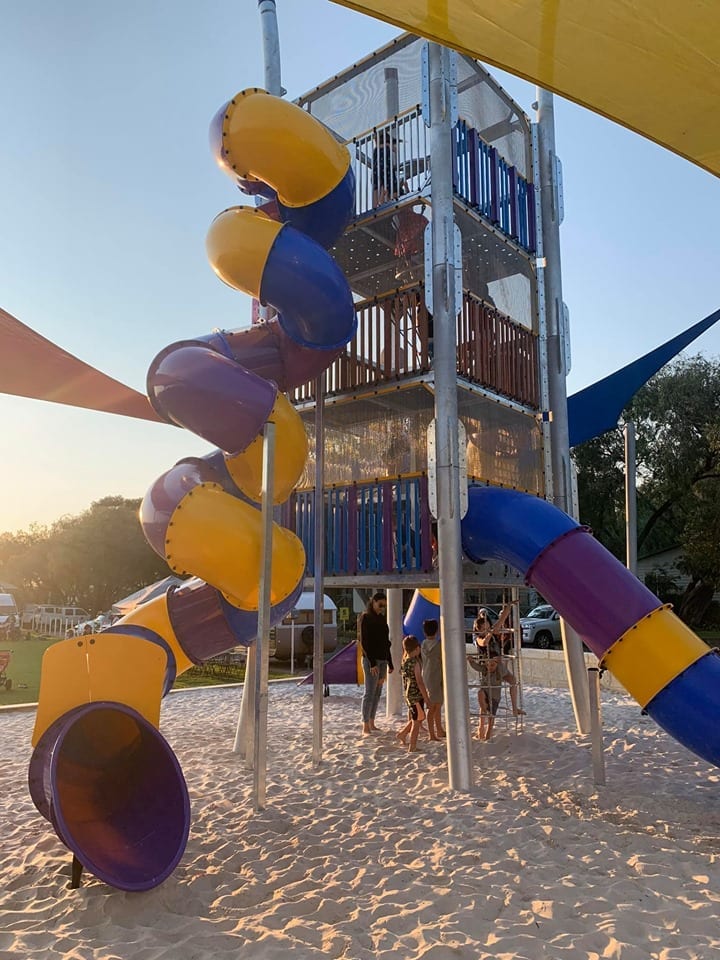 If that's not enough luxury for you then add on the on-site entertainment and services. Movie nights showing popular kids films, games nights and laser-tag which are all accompanied by a food van for those bored with camping food.
We thoroughly enjoyed the curry food van, pancakes, pizza and burger nights. Every morning a mobile shop will pass your campsite selling freshly baked goods including croissants and pastries. There's also a healthier option with a raw juice van visiting the site a few times a week. I noticed quite a lot of people getting pizza delivery as well!
Our kids are aged 5 and 7 and we had a few other families scattered around the holiday park so they spent a lot of time scootering from one family site to the next. We also spent a copious amount of time chilling by the pool while the kids went down the rainbow slide and played in one of the 3 pools.
The camp kitchen is also fully equipped with gas hobs, fridge (also available to hire), ovens, microwaves and kettles.
The camp facilities are also pristine, they even had hairdryers in both bathrooms and the showers and toilet areas were exceptionally clean.
The staff and maintenance at Mandalay are also amazing, we were personally escorted to our site in the park, regular watering of the grassed sites and security walking around the site at all times. They are quite particular about their rules and they do have LOTS of them including the type of wheels you can ride around the camp and also compulsory wearing of helmets. No riding at night time either.
There are plenty of local attractions if you want to venture out of the site, including a short stroll to the beautiful sandy beach, which is shallow and flat, making it great for toddlers. Do be careful of seasonal stingers!
Find more places to visit in Busselton and Bunbury