If you're looking for a family friendly holiday destination in WA, there are loads of fun things to do in Yallingup! The coastal spot, to the north of the Margaret River region in Western Australia is a brilliant spot for a holiday with kids. There's plenty of fun activities in Yallingup, as well as child friendly places to eat. Plus, it's a great base to explore the wider south west area. We've done all the hard work for you, see our guide to the best dining and attractions in Yallingup here…
Things to do in Yallingup
Yallingup Maze
Like a challenge? The Yallingup Maze, found on Caves Road, is a fun filled family attraction rain, hail or shine. At Yallingup Maze you'll find something for everyone – toddlers, children, teenagers and adults – and the wooden maze is VERY tricky! There's new water pistol fun too, great on a warm day. Plus a fantastic mini golf course. See more in the Buggybuddys review.
Ngilgi Cave
Hidden within the limestone ridge which forms Cape Naturaliste, lies Ngilgi Cave at Yallingup. The cave is one of Geographe Bay's most renowned tourist attractions, with a semi-guided tour. Visitors can explore at their own pace; kids will love descending staircases as a world of crystals opens up. There is also a 15m tunnel crawl you can explore. See more in the Buggybuddys review.
Yallingup Playground
The Yallingup playground overlooks the surf break and has to be one of the very best kids' playgrounds in the whole of the Margaret River region. Found at Yallingup Foreshore, the main feature of the play area is a giant beach shack! See more in the Buggybuddys review.
Gabriel Chocolate
At Gabriel Chocolate chocoholics can learn all about the process of making chocolate from the collection and extraction from the bean, to the chocolate that they produce in the onsite factory. The showroom has taste tests, plus taste bud tempting chocolate inspired gifts to buy. See more in the Buggybuddys review.
Yallingup Beaches
Pack the bathers and towels, your family will be spoilt for choice with many beautiful beaches in Yallingup! Popular beaches in the area include Yallingup Beach itself, plus Injidup Beach and its rocky Natural Spa, plus Smiths Beach. Some experience big swells, so be careful with little ones.
Kid Friendly Yallingup Wineries & Restaurants
Wild Hop Brewing Co.
Wild Hop Brewing Company is a brilliant family-friendly brewery found about halfway between Yallingup Maze and Simmos Ice Creamery. The super popular place is a combo of brilliant brews, better than your average brewery food, chilled beer garden vibes and a quirky kids playground. If you have a holiday planned in the area, I recommend you either book a table many weeks in advance or turn up when the doors open to secure a spot. See more in the Buggybuddys review.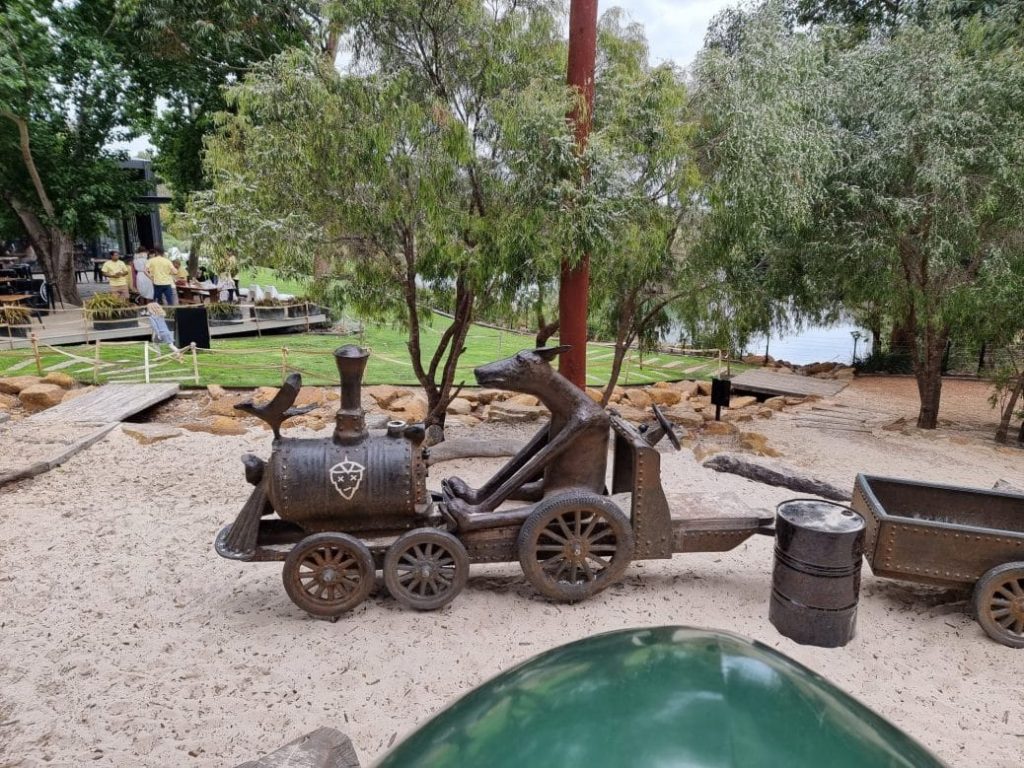 Swings and Roundabouts
Swings and Roundabouts is a family-friendly winery and restaurant featuring open fires, delicious gourmet pizzas, cosy corners and a huge lawn with a fantastic wooden play area! See more in the Buggybuddys review.
Cape Lavender Teahouse
Cape Lavender Teahouse is a lovely spot for a spot of morning tea. Their musky lavender ice cream is a must-try too. See more in the Buggybuddys review.
Aravina Estate
If you love nothing more than a delicious meal over a glass of wine, but don't always feel comfortable taking your little ones along, Aravina is a brilliant winery that welcomes kids. As well as a fenced playground, there's a boutique luxury car and surf museum. See more in the Buggybuddys review.
Yallingup Gugelhupf Bakery
The scrumptious Yallingup Gugelhupf Bakery is a must visit if you're visiting Yallingup with the fam. There're freshly baked brownies, croissants, quiches and much more on offer. See more in the Buggybuddys review.
The Barnyard 1978
If you love fresh pasta and wine, be sure to check out Barnyard 1978. The family friendly spot has a play area and climbing frame, where there are tables on the veranda, meaning you can enjoy delicious food and watch the kids. Pre-covid, they ran pasta making workshops for kids during the school hols too. See more in the Buggybuddys review.
Where to Stay in Yallingup
Smiths Beach Resort
Situated right across the road from its namesake, Smiths Beach Resort offers luxury beachfront accommodation. It is in close proximity to Yallingup. Spacious 2-bedroom garden view villas are ideal for families of 4 or 5. There are other accommodation options to suit everyone's needs and budget, ranging from the beach shacks to a 4-bedroom beach house. The resort is also home to a swimming pool, Lamonts restaurant, and deli. See more in the Buggybuddys review.
Heading to Dunsborough too? Check out our big things to do in Dunsborough guide.
Have we missed your favourite things to do in Yallingup? Let us know in the comments below!
Save 5% off the entry fee of Margaret River Attractions with Klook
Get 5% off your first booking on the mobile app – use code BetterOnApp
Discover more holiday in WA ideas here.