The Museum of Geraldton is a great place to spend an hour or two to delve a little deeper into the history of this West Aussie city by the sea. This modern museum has many interesting exhibits which beautifully tell the story of the Midwest region. From its checked past (like the tales from the Batavia shipwreck), colonial days, links to WW2, right up to the present day. While there is no charge to visit the museum, a donation of $5 per person is appreciated.
In the main gallery there's a hovering bi-plane, as well as exhibits on everything from the culture of the indigenous Yamaji people of the region, to native wildlife, ocean creatures, to stories of the rabbit proof fence and John Hawes, who built Geraldton's stunning St Francis Xavier Cathedral.
Kids will love to see the impressive big red kangaroo, that stands well over six feet tall. There are various preserved birds, spiders, snakes, fish, lizards and spiders all common to the area.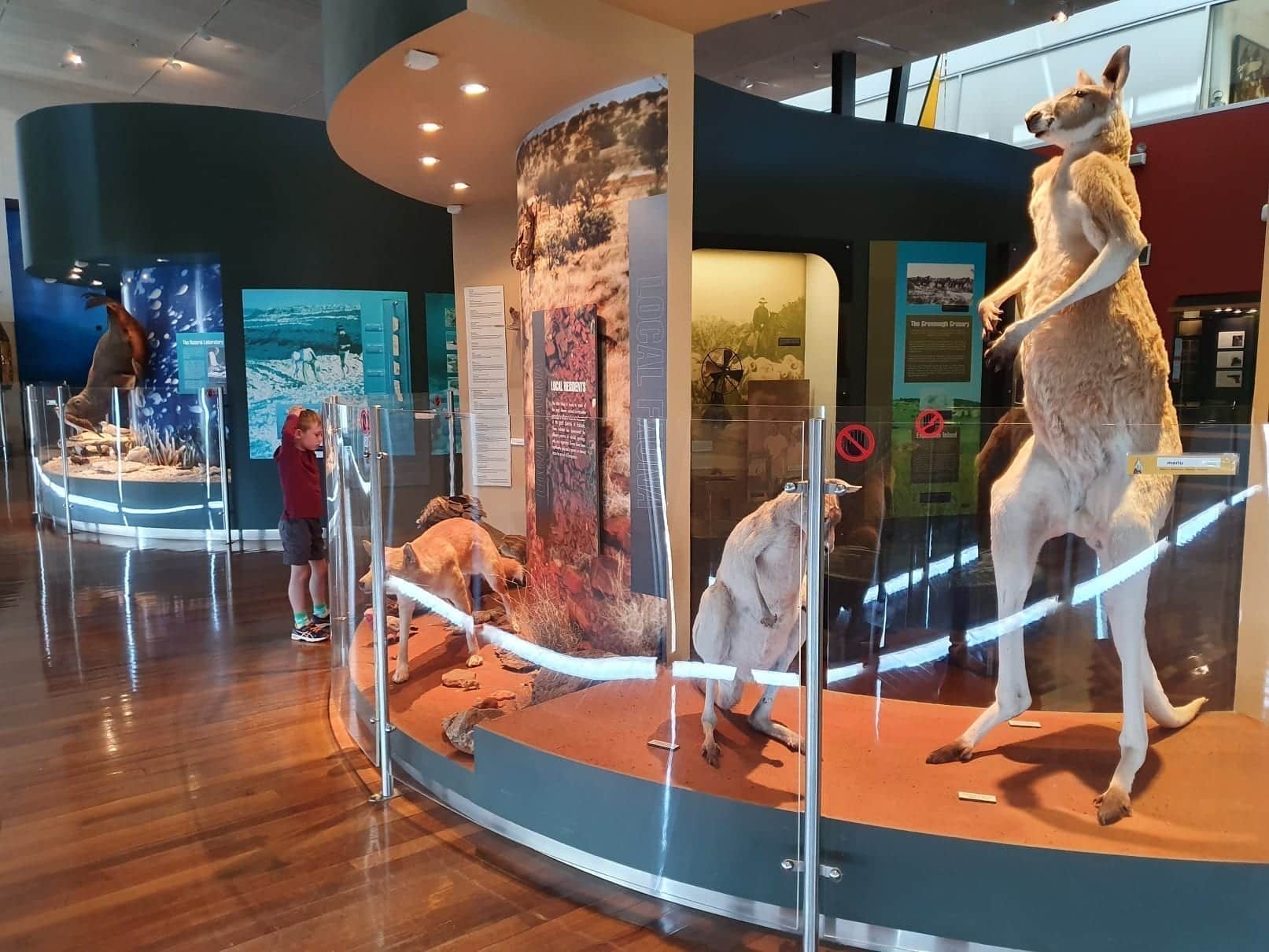 There are tributes to local heroes from those who fought in wars, to football greats like the late Chris Mainwaring, as well as a spotlight on Geraldton's local industries – fishing, mining and farming.
We really enjoyed the shipwreck gallery and the haunting story of the Batavia. The Dutch Ship ran aground in 1629 on the remote Abrolhos Islands with many survivors, who tragically mainly succumbed to mutiny and murder. Fascinating relics from the Batavia, and other Dutch shipwrecks – the Gilt Dragon, Zuytdorp, and Zeewijk are on display. Visitors can join a guided shipwreck tour available daily at 11.30am.
You can see the wrecks of HMAS Sydney (II) and HSK Kormoran 2,500 metres deep on the ocean floor, in the "From Great Depths" a 3D film. Little Chef particularly enjoyed this, especially as we'd also visited the Sydney memorial – so it added another layer to that story for us.
The "Lustre" exhibition about WA's pearling industry is also worth a look. It's showing till the 10th of Jan 2021.
We visited during the school holidays, when there was plenty of activities on offer for kids. The Museum's gift shop has a great range of souvenirs and educational items suited to all ages. A visit to the Museum of Geraldton is a must to discover the interesting and rich heritage of the Mid West region.
Find the Museum of Geraldton at 2 Museum Place, Batavia Coast Marina, Geraldton.
Open 7 days – 9.30am to 3pm (May be closed on public holidays)
Get more info on their website.
Find more things to do ibn Geraldton with Kids here.