In late 1914, over 41,000 Australians and New Zealanders left Albany, bound for the First World War. This is their story.
It was a cold and blustery day we reluctantly trekked (well, in the car) up "the mountain" that is Mt Clarence to the National Anzac Centre. It's an impressive building both in and out and still has that nice shiny newness about it. 
Warm inside, footage of soldiers marching to their fate and the echo of boots pounding the ground, filled the reception. 
We were greeted by a gently spoken guide who explained the unique way to experience the museum. She handed us each a card with a picture of an Anzac and a barcode on the back.
As you make your way through the museum, there are stations to place the card onto and information relating to your characters personal journey will appear on a touch screen. I had Captain Arthur Smith who commanded the First Convoy of Australian and New Zealander troop ships leaving from Albany.  
As I meandered through the museum I followed Arthurs story, learning a little more about his person, achievements and bravery. I found myself avoiding the final station aptly titled "Counting the Cost" as each characters fate unfolds. 
Fortunately he survived the war and retired a naval hero. Here you can go through the ANZAC's story in its entirety as well as type a personal message. This was a really special touch to finish on. 
At the final station near the exit all of this information can be pulled up on the massive touch screens where you can see your message convert into a postal letter from you to your character. It really is quite amazing and very effective. While researching for this story I discovered my message was also on Arthurs bio under the Explore section of the National Anzac Centre website (which is also very impressive and worth a look).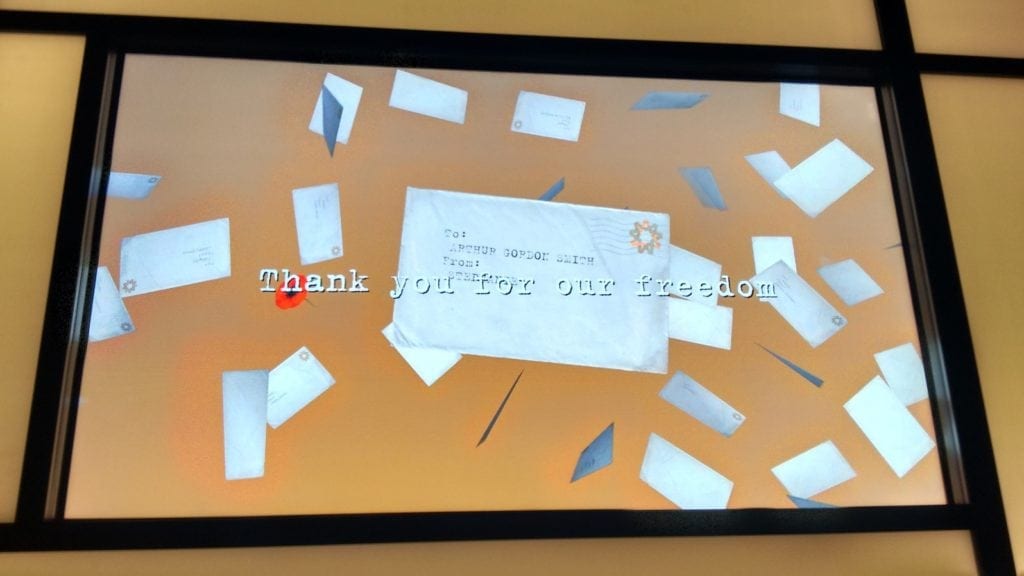 The museum has a great balance of traditional displays and many impressive interactive multimedia stations, particularly the convoy map table. 
Fortunately, my husband had been shown by the guide how to use it which was a bonus as it really was remarkable. 
The card character can be used here, placed anywhere on the table, as long as the convoy specific to your character is displayed, their details will come up with what ship they were on and where it was in the harbour.
We also discovered the spy glass on each edge of the screens. These bring up a keyboard that allows the user to search the database of over 40000 Anzac's. It was really interesting and I actually found a few relatives. I was so enthusiastic about this table that I accosted some reluctant baby boomers and explained the system to them. A few minutes later a larger group had gathered as they began eagerly searching for family and a connection to their past with the help of the guide. 
The rest of the museum houses some amazing displays of war artefacts and there is rarely a wall free from pictures, stories, maps, or amazing details of the period on show. On entry, as well as the character card, visitors are presented with an audio device that works on a swiping system. 
This was perfect for two time poor parents such as us, as we could stop, pause and play whatever story was of interest rather than join a guided tour. I liked that whilst wondering around looking at displays of love letters from soldiers and dodgy cans of coffee the poor men had to endure to survive, I could listen to Sister Olive Haynes story of nursing in the war.
The spectacular views of the harbour are a key feature of the museum as each strategically placed window tells its own story. A large room filled with natural light housed an amazing Light Horse sculpture and a bench that ran the full length of a massive harbour view to sit down and take it all in. 
This room also had iPad displays which we later found out, if you hold up to the window, the ships of the convoys will appear on screen in line with the view, as they were before departure.
The Pool of Reflections is a memorial list of the Anzac's who left Albany in World War 1. In a moving tribute, the names forever ripple towards the harbour. It's a beautifully designed room that leaves an emotional impact. 
I originally planned to take my 6-year-old son with me as the Anzac ceremonies were still fresh in his mind, however, my Mum recommended we not take children. At the time I was a little disappointed, but now having been I can understand why. Please don't be put off taking your little ones, just be aware the tone is somewhat sombre. The museum by no means shuns its younger visitors, however, it is definitely a space that has been created for quiet observation and reflection by adults and youth alike. Our little "youth" likes to fill every available bit of space with his tenor-like pipes. The day before he "Heave-ho'd" his way through the meek streets of Denmark, belting out the Dockers chant (not my choice!) at the top of his lungs. The forest still shudders, so home with his Grandmother, he stayed. But we will definitely take him to the centre next year. In the Commonly Asked Questions section of their website they do state:
Is the National Anzac Centre suitable for young children?
Due to the presence of strong war themes, the National Anzac Centre is not generally recommended for children seven years old or younger.
I did see a few families with sleeping babies in prams and even a few toddlers, but mainly the common age of children seemed to be around 8+. 
There are plenty of interesting things to see at the Albany Heritage Park for little ones and some great walks up to the memorial with some amazing views and lots of wildlife to spot along the way. 
www.nationalanzaccentre.com.au
  Find more things to do in Albany and Denmark