On a recent stay in Dunsborough we just had to check out the Country Life Farm. There's a huge old red double-decker bus accompanying the sign on Caves Road, so you can't miss it! On arrival you can see the two paddocks which house most of the animals, with ponies, a bull, sheep, alpacas, a llama and goats. You walk down between these to pay entry, which is $20 for adults or $18 for children, under 2's are free. Each child's entry fee includes a bucket of carrots to feed the animals and a warning not to let the llama reach the bucket! All the animals can be hand-fed, and they were all keen to come up to the fence to get some food.
Towards the back of the farm there is a large enclosure with a range of birds, guinea pigs and rabbits. They were also happy to be fed, and we managed to pick up a rabbit or two to cuddle but the guinea pigs were too fast! In this area there are chairs to sit on if you are holding a guinea pig or rabbit.
Entry to the farm also gets you one paddleboat or canoe ride. Life jackets are provided for the kids, though looking at the water, I don't think you'd like to fall in. This looked like a lot of fun but my little ones were too hesitant to wear a life jacket so we didn't get to give it a go.
The bank along the little stream area was lovely, with grass and some seating. It would be the perfect spot for a picnic.
Entry to Country Life Farm also gets you one ride on the carousel which runs every hour.
There is a huge indoor play area within a large shed with baby, under 2's and under 4's sections and the main area for all ages. There was everything you can think of, toys, ball pits, ride-on toys, climbing, slides. This had the potential to keep kids amused for ages. There were a few portable air conditioners in there which helped cool it down a little on a hot day. There were facilities to make your own tea and coffee, plus tables and chairs to sit at for a snack or for the parents. This area kept my two entertained for a good while.
In addition to the indoor play area there is a large bouncy castle with a huge slide, and just next to this area are about 5 plastic cubby houses all in a row. There were so many play areas that if one got a bit busy it was easy to find a quieter area to play which was perfect with two younger ones.
At the back of the farm the wild kangaroos sometimes come down to the fence to get fed which my two thought was very exciting.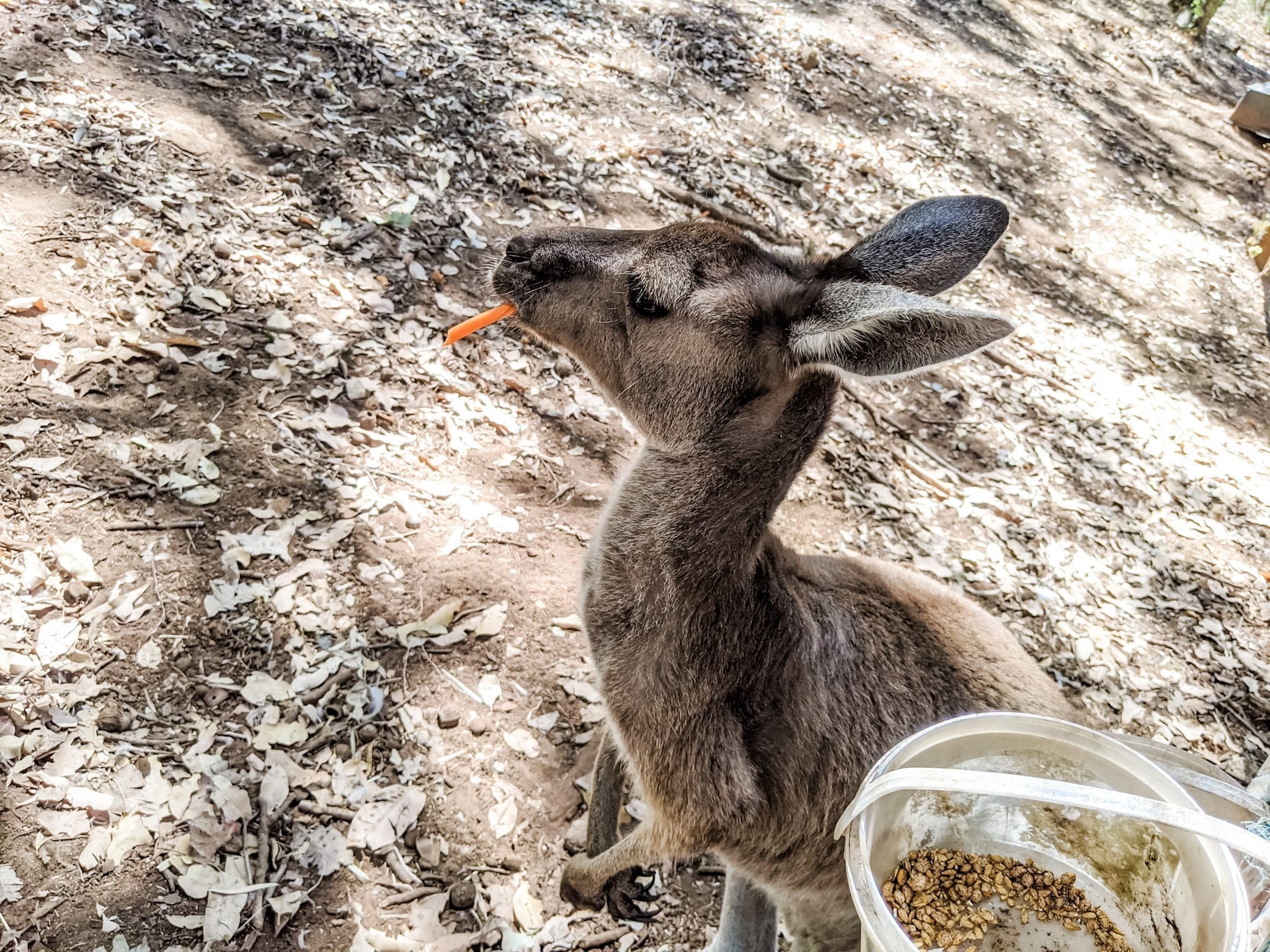 There was a virtual reality experience which was an extra fee however we didn't do this and there are dodgem cars which also have an additional charge.
There are several different areas that are perfect for picnics and I saw some bbqs near the reception too. We also saw several large lizards around, with a few very interested in our picnic! There are toilets and outside the ladies is a change table and bin. This is in the shade, but outside nonetheless, so I would recommend having your own mat to pop over it.
Country Life Farm kept our two little ones amused for about 2 hours, they enjoyed feeding the animals and playing in the play areas. If they had been a little older they would have enjoyed the paddle boats/canoes and the dodgem cars too.
Country Life Farm Dunsborough
1694 Caves Rd, Dunsborough WA 6281
www.countrylifefarm.com.au
Find more things to in the Margaret River Region